Eastern Trail Alliance E-News July 2018
Our first ever 10K happened Sunday July 1st and it was a huge success!
We had over 90 registered runners from ages of 8-77.
$3430 was raised for the Close the Gap Campaign!
Thanks to everyone for coming out and supporting MEND and the Eastern Trail!
And thank YOU MEND Health & Wellness of Maine for thinking of US!
2nd Annual John Andrews 5K brings in $17,840 for the
Close the Gap Campaign!!!


Patrick and Sue O'Reilly (Proprietors), Carole Brush, Executive Director of ETA present a check to Tom Hall, Scarborough Town Manager
HERE COMES IRONMAN….
No, it's not Robert Downey, Jr. or a Black Sabbath concert of the trail…
2000 athletes from across the country and the world will be competing in this year's IronMan Triathlon, Sunday, August 26th. Based in Old Orchard Beach, a section of the running portion will be on the Eastern Trail. And BOY do we need YOUR help!
The Eastern Trail will have an Aid Station at the Ironman Triathlon
AND WE ARE LOOKING FOR 60 VOLUNTEERS TO JOIN US!
For each volunteer registered at the ETA station, ETA will receive a $15 donation!
Go here to sign up!
Please search for "Eastern Trail" to find the two time slots available at our Aid Station. We will be providing water & goodies to 2,000 runners at the Milliken Mills section of the trail in Old Orchard Beach.
Parking will be available, but carpooling is encouraged if possible.
This is a great opportunity for teenagers looking for volunteer hours
UH OH, THERE ARE FEWER THAN 300 SPOTS LEFT FOR THE
15th ANNUAL MAINE LIGHTHOUSE RIDE
Call your cycling buddies….the rates increase on August 1st (12:01 am)
There's no time to lose – Don't miss out on this great event!
Prices until August 1 –
Members - $75.00/Non –Members $95.00
Prices will increase on August 1st by $10.00
And don't miss out on our great Lobster Bake on Friday, September 7th at SMCC. Only registered cyclists are eligible (along with 1 guest)
Price is $50 per person – More details can be found here.
Economic Impact Study for the Eastern Trail A LOT TO READ BUT WORTH THE TIME
- News Flash: It takes financial support (short form, MONEY) to build the Eastern Trail. Really! On average about $600,000 per mile. While the ETA provided some matching funds toward the successful $4.1 million Close the Gap campaign, our essential function is to persuade and convince others— individuals, families, towns, and business and corporations— to contribute toward more safe off-road miles for the thousands of trail users who enjoy the ET (over 200,000 counted in the last twelve months). One strategy that seems to be working is to publicize just how much value the ET offers to users AND to the towns and businesses who benefit from those thousands who bring some of their MONEY while visiting southern Maine and using the ET, and leave it at local businesses: hotels/motels, restaurants, bicycle and clothing shops, and numerous merchants and towns. Some, we found, will even pay more for a house (primary or vacation) if it is close by the ET. We make our case every day just by providing the miles of off-road trails, but we will also complete and distribute a second edition of our Economic Impact Study to towns, Chambers of Commerce, and numerous merchants and businesses. And you can help supply some of the evidence we are collecting for the 2018 Eastern Trail EIS, simply by picking up a survey form, filling it in, and sending it to the ETA office.

Eastern Trail Full Moon Walks
July is the month of the Full Buck Moon. At this time, a buck's antlers are in full growth mode. This Full Moon was also known as the Thunder Moon because thunderstorms are so frequent during this month.
Friday July 27 - ET Full Moon Walk, 8 - 9:30 pm, Scarborough - ETA Parking lot - Pine Point Road - Scarborough Marsh. FMI please call 207-284-9260.
Friday July 27 ET Full Moon Walk, 8 - 9:30 pm, Biddeford - Southern Maine Health Care, 1 Medical Center Drive. FMI please call 207-283-4487.
And last but NOT least….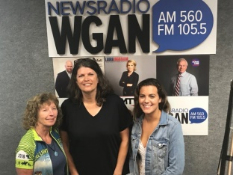 (left to right- Carole Brush, Nancy Borg, Liz Victor)
We were thrilled to have been invited to meet with Portland Radio Group to promote some of our events, and to speak with Dan Martignetti, Executive Producer about the ETA.
Our interview will be broadcast on Sunday, August 5th – you may want to set your alarms…
Here are the times and stations to listen to Carole, Nancy and Liz speak about the ETA.
WGAN AM 560/FM 105.5 4 am - Coast 93.1 5 am
Rewind 100.9 5:30 am - WCLZ 98.9 6 am
WPOR 101.9 6:30 am - The Bay 107.1 7 am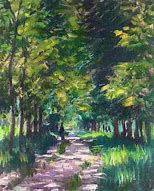 Study nature, love nature, stay close to nature. It will never fail you. – Monet
Membership:
(n) Being part of a group
There is no doubt the Eastern Trail is a wonderful resource in all our lives – but we need your support. Becoming a member of the ETA not only supports this vision, but also helps with the construction of future miles, maintenance, safety, and enjoyment for generations to come.
For the price of a good meal, or a family going to a movie, your membership can help us achieve our goal of 65 miles of off road trail.

Please join the Eastern Trail Alliance.
www.easterntrail.org/index.php/join-us

Check out the always-improving look and content of our website. Lots of information about events and opportunities to enjoy, promote and help build the trail.
Join us on Facebook!