Eastern Trail Alliance E-News March 2018
Let's Get Through March Together!!!! Spring is ALMOST HERE!!!!
We would like to give an appreciative SHOUT OUT to Bull Dog Media for a magnificent video they prepared for the Eastern Trail – We hope you enjoy this as much as we do!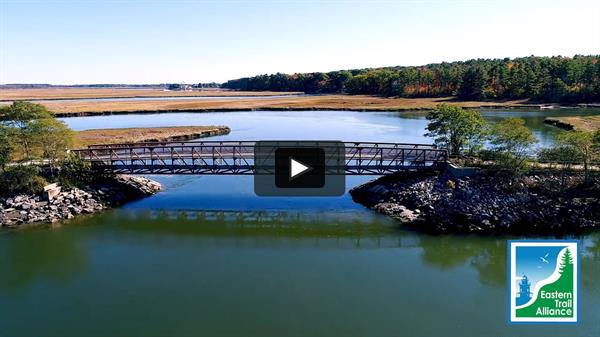 Thank you Todd McKee of BullDog Media - https://www.bulldogmediame.com
A message from our Executive Director, Carole Brush
"Spring is Nature's way of saying, 'Let's Party!' " - Robin Williams
Welcome to March…..true to form, this one came in like a lion! Soon, though, we'll be trading those snowshoes and skis for sneakers and cycles.
Join us as the Eastern Trail moves forward to put more of those off-road miles on the ground. We're in the final stages of fundraising for closing the 1.6 mile gap between South Portland and Scarborough which will result in over 16 miles of continuous off-road trail from Bug Light to downtown Saco in 2019. We hope to see on April 7th as we celebrate nearing completion of the "Close the Gap" campaign, recognize our major campaign donors, and share what's next for the Eastern Trail! Go here for more information about the April 7th event.
Along with Closing the Gap, we are "springing" forward with plans for the next off road sections – the Over the River connection between Saco and Biddeford and Blazing the Trail South from Kennebunk through the Berwicks.
Get out there on the trail and enjoy this month of transition - longer days, shorter nights, warmer temps, a time of renewal and moving forward. Stay tuned for updates on all three of these exciting campaigns.
See you on the trail!



TICKETS ARE GOING FAST!!!!!
1st Annual Taste of the Town Gala –
A Fundraiser for the Eastern Trail Close the Gap Campaign!!!
Saturday, April 7th - 7:00 to 10:30pm - Camp Ketcha, Scarborough
Join us for a unique and delicious event this spring! Sample signature dishes from local establishments, bid on exciting items in our silent auction, then dance the night away to music by the Time Pilots! We will also be honoring and thanking our major campaign donors. Cash bar serving local beer and wine! Cocktail Attire for this special night on the town!
Go here to buy tickets

Sponsored by:

Eastern Trail

All of these events, AND more can be found on our online Events Calendar
Saturday, March 31 – Full BLUE Moon Walk – Biddeford or Scarborough
Saturday, April 7 – Taste of the Town Gala – ETA Fundraiser
Saturday, April 14 – Eastern Trail/McArthur Library fun walk
Saturday, April 28 – Missa Gaia Concert – ETA Fundraiser
Wednesday, May 16 – ETA Annual Meeting
Saturday, May 19 – 2nd Annual John Andrews 5K
Monday, May 28 – Snowy Egret 5K
Sunday, July 1 – MEND the Gap 10K – ETA Fundraiser
Saturday, September 8 – 15th Annual Maine Lighthouse Ride – ETA Fundraiser
Missa Gaia Concert to benefit the Eastern Trail

– Saturday April 28, 2018
Saco's Voices in Harmony Choir Director, Camille Saucier is producing a concert with Paul Winter & his Consort to support the Eastern Trail on April 28th at 7:30pm. This 7-time Grammy Award Artist's composition honors the earth and our responsibility to maintain & respect her gifts. This performance includes three choirs with over 180 singers and will take place at Portland's St. Luke's Cathedral on State Street. 'The Missa Gaia' (Mass for Mother Earth) tickets will be on sale March 8th at www.voicesinharmonychoirs.com and they are sure to sell out. You will not want to miss this incredible experience!


2018 Eastern Trail Alliance Annual Meeting
Wednesday, May 16, 2018 6:00 – 8:00PM
Vinegar Hill Music Theatre
"The Health and Economic Benefits of the Eastern Trail"
Please join us to discuss the health and economic benefits of the Eastern Trail and hear about recent developments to continue the trail south through Kennebunk toward South Berwick.
Light appetizers provided; cash bar available.
ALL are invited; however space is limited.
RSVP by May 2, 2018 to Nancy@easterntrail.org
2nd Annual John Andrews Memorial 5k Run/Walk
Saturday, May 19th – 9:00 am – O'Reilly's Cure, Scarborough
Lace up your running shoes and meet us at O'Reilly's Cure for our 2nd Annual John Andrews Memorial 5k Run/Walk in honor of John Andrews, Eastern Trail founder, mentor, and friend who passed away in February 2017.
Registration fees are $20 prior to the event, $25 on the day of the event. For those over 21, one beer is included with registration fee.
Go here for more information and to register for the 5k
Sponsored by:
5th New England Bike-Walk Summit – Boston
Join fellow trail advocates and partners for the East Coast Greenway Summit on April 26-27 and hear what's new in the world of greenways. Portland Area Comprehensive Transportation System's Paul Niehoff and Eastern Trail's Carole Brush will be sharing the value of collaboration and the positive impact on adding trail miles in their session "Collaboration Multiplier" 9:15 – 10:30 AM on the 27th.
For more information and to register:
https://www.greenway.org/new-england-bike-walk-summit
Thank you to all that participated in our contest to rename our next project
"Blazing the Trail South"
Sadly, none of the entrees were any better….so "BTTS" it is!
☹
We'll save the $25 Gift card for our next contest.
Membership:
(n) Being part of a group
There is no doubt the Eastern Trail is a wonderful resource in all our lives – but we need your support. Becoming a member of the ETA not only supports this vision, but also helps with the construction of future miles, maintenance, safety, and enjoyment for generations to come.
For the price of a good meal, or a family going to a movie, your membership can help us achieve our goal of 65 miles of off road trail.

Please join the Eastern Trail Alliance.
www.easterntrail.org/index.php/join-us

Check out the always-improving look and content of our website. Lots of information about events and opportunities to enjoy, promote and help build the trail.
Join us on Facebook!