May is also Mental Health Awareness month and this first week of May is designated Children's Mental Health Awareness Week. On Thursday, May 4, the US Substance Abuse and Mental Health Services Administration (SAMHSA) hosts National Children's Mental Health Awareness Day.


See our Q & A below for more resources for the week, month and all year round.
We Sprang - Spring Forward Family Fun Day was a Success!

This past Saturday, April 29 found

foster, adoptive and kinship families laughing, learning, playing and creating at

our 4th annual

Spring Forward Family Fun Day

at the Providence Community Center in Fairfax

.

Some images from the day...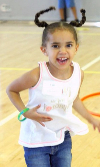 Thank you to all the families who shared the day with us and made family fun a priority.

We could not have done it without our sponsors: NewFound Families of Virginia, For Children's Sake of Virginia, First Home Care, PEATC, INTotal Health, and Fairfax County Neighborhood and Community Services.
We greatly appreciate the bunches of GMU student volunteers, led by our fearless spring intern Ms. Courtney Boone, who jumped in and helped with everything from registration to playing games to creating pipe cleaner spiders. Go Patriots!
Seats Left for Three Lucky Middle School Students!

LifeSkills Training starts May 10

Wednesdays, May 10 - June
14

5
- 6:30 PM in Fairfax city

Formed Families Forward is offering LifeSkills Training to middle school students, FREE of CHARGE! Students must commit to six sessions. Dinner served and gift cards to teens who participate.

Get the event FLYER HERE.
Drowning in Paper? Clear the Clutter with the


Piles to Files Workshop
Wednesday, May 17, 6:30 - 8 PM
at FFF Offices,
4031 University Dr., Fairfax VA 22030


Join Presenter Marjorie MacArthur Veiga, founder and editor of www.MyLymeGuide.com. Learn how to use websites, apps, and smart devices
to set reminders; manage tasks with school officials, doctors, and other professionals;
track patients' symptoms and medications; and other family management tools. Hard
copy, paper-based methods will also be covered. Free and open to all interested parents and caregivers.

REGISTER HERE.

Q & A:


Mental Health Resources





Q: When I Google mental health treatments, I seem to find a lot for adults but not so much for children and teens. Do you have suggestions?

A:

As noted above, May is Mental Health Awareness month, so it is a great time to identify resources for addressing mental and behavioral health issues.


The awareness month helps increase people's understanding of the complexity of mental illness. Events and media stories through the month help dispel myths, educate the public and show support for the many people affected by mental health that are working to improve their lives. Several organizations that help promote the awareness month include:

These groups offer resources specifically for children, teens and adolescents, and their families.

Closer to home, Formed Families Forward hosts a webpage with mental health resources for foster, adoptive and kinship families dealing with mental and behavioral health challenges.

There are several sources of information about what research says about specfic treatments and interventions for children and youth who have psychiatric or other disabilities and special needs.

Dr. Bruce Thyer, our recent guest speaker, shared these databases as examples of sources of reliable information on evidence-based practices:

Regardless of the intervention suggested for a child in your care, treatment providers should be able to offer research evidence that supports use with children or youth with similar conditions or needs.

"May" We Share These Trainings & Events?

May 4-

Community Matters Children's Mental Health event and Paper Tigers screening

, hosted by Trauma-Informed Community Workgroup of the Prevention Alliance of Greater Prince William, Woodbridge.

May 5-

People with Disabilities Encounters with the Criminal Justice System,

hosted by the Arc of Northern Virginia, Falls Church.



May 6-

Family and Youth Leadership Summit

hosted by Virginia Family Network at NAMI of Virginia, Richmond. FFF will see you there!

May 10 - June 14-

LifeSkills Training for Middle School Students

. Wednesdays in Fairfax. Free activities and dinner for middle school students!

May 10 - National GrandRally: Building a Community of Hope to raise awareness of grandparents and other relative caregivers, Washington, DC.

Contact us

if you are interested in joining a Virginia bus, stops planned in Henrico, Spotsylvania, and Alexandria.

May 10 -

State Complaint Procedures workshop

, hosted by PEATC, Springfield.

May 12-

Calming the Anxious Waters workshop

hosted by Fairfax County Public Schools Parent Resource Center, Dunn Loring.

May 17-

Control the Clutter: Turn Piles into Files workshop

by

Marjorie MacArthur Veiga

, hosted by FFF, Fairfax.



May 18-

Mindful Parenting: Remaining Calm While Improving Family Dynamics,

hosted by Loudoun County Schools Parent Resource Services, Ashburn.

May 19-21-

Project Life Statewide Youth Conference

, Midlothian.

May 23-

Understanding the Impact of Trauma: What to Do at Home and at School webinar

,

presented by FFF Director Kelly Henderson, hosted by PEATC.

June 1-

PEATC Advocacy Symposium

with VDOE, in Richmond.

June 9-

Family Movie Night at FFF. Screening

of Resilience

for adults; kids get their own movie!



June 22-23-

PEATC Parent Institute

for parents and caregivers new to special education, Charlottesville.

June 29- July 2-

NewFound Families Campference

for families and professionals, Glen Allen. A conference for parents, caregivers and professionals, while children enjoy day camp. FFF will see you there!

Programs just for Teens and Young Adults
Formed Families Forward provides training and support to northern Virginia families formed through adoption, foster care and kinship care who are raising children and youth with special education needs. We also serve professionals who work with our families. Consultations and most trainings are free of charge to parents and caregivers raising children and youth with special needs.




Moving Formed Families to Better Outcomes


Reach us at www.FormedFamiliesForward.org, info@formedfamiliesforward.org or call (703) 539-2904.

Kelly Henderson, Ph.D., Executive Director
This project is supported in part by the U.S. Department of Education, Office of Special Education Programs (OSEP). Opinions expressed herein are those of the project and do not necessarily represent the position of the U.S. Department of Education.
| | |