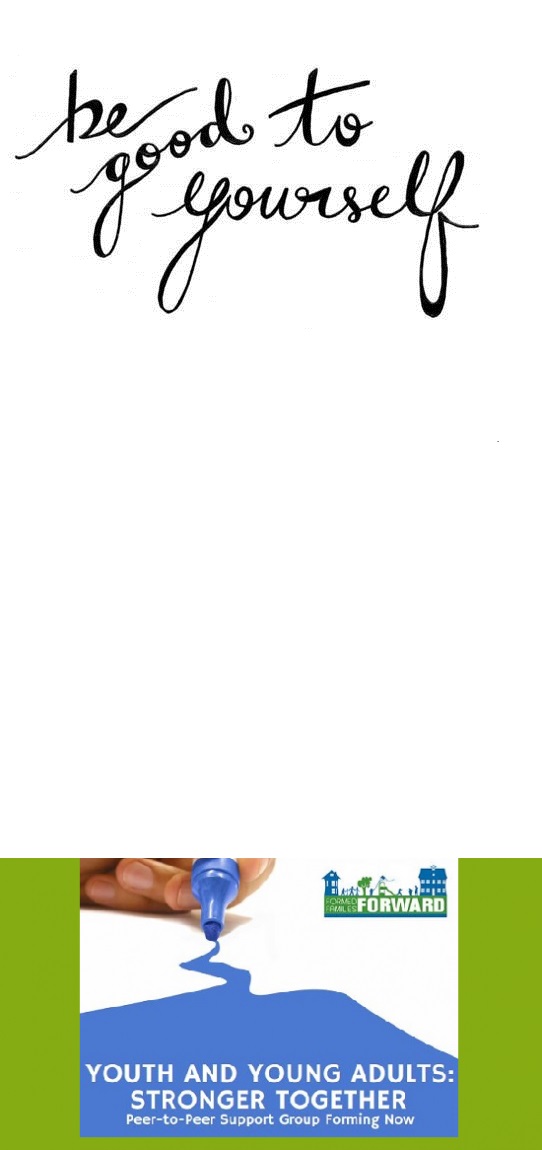 Caring for the Caregiver!

Fall is here and many children and youth are back at school! As the seasons change, we welcome this opportunity to consider the the needs of you - parents, caregivers, teachers, therapists, social workers and others who give their best to children and youth with special needs.
Caregivers who pay attention to their own physical and emotional health are better able to handle the challenges of supporting someone with special needs. Parents and caregivers who care for themselves are better able to care for others. Emotionally healthy caregivers adapt to changes, build strong relationships and recover from setbacks.

Take a couple hours this Wednesday evening, October 7 from 6:30 - 8 pm and gain some practical stress-busting strategies with therapist Joy Koeppen.

REGISTER HERE

for our free Back to School: Practical Tips for Dealing with Caregiver Stress and Avoiding Burnout.

The

Stronger Together

Youth and Young Adult peer

support g

roups start up again Tuesday, October 6. Youth and young adults ages 14- 22 who have lived experiences in one or more service system such as special education, mental health, or family services are invited to join in these twice-monthly groups. At the same time, parents and caregivers meet with their own facilitated support group. A light dinner is served to all participants and the groups are free of charge, thanks to support from

YouthMOVE Virginia at NAMI of Virginia and

Fairfax County's System of Care.

Learn more and register HERE

.We look forward to seeing returning families as well as brand new ones!

Come learn about trauma, how to address it at home and school and get a treat at our Trauma Awareness Training for Families and Professional Partners on October 27.

Bring your favorite education, social service, counseling or other professional with you to this free training and you both go home with a Panera gift card!

Learn the basic signs of trauma and how to respond at home and in the classroom with experts from the Trauma Informed Care Team of the Partnership for A Healthier Fairfax.

Tuesday, October 27, 6:30 - 8 PM in Fairfax

Thoughts on Residential Treatment?

Share your experiences at a Parent/Caregiver Focus Group session with Virginia's Department of Medical Services (DMAS) to discuss Residential Treatment Services for children and adolescents.

DMAS is interested in finding out from parents what their experiences have been with RTS and/or what questions they have about how to obtain RTS for their youth. Susan Clare, Special Advisor for Children's Behavioral Services, DMAS, will lead the session.

The focus group in Northern Virginia will be held on October 20th at 1:00 pm at Formed Families Forward's building, 4031 University Dr., Fairfax VA 22030, Please RSVP.

Caregivers Staying Healthy


Q: Now that the kids are back at school, I feel more stressed than ever. We get calls and emails from the school about their behavior. Then there are the homework battles. I feel like I am losing it! Any suggestions for managing the challenges of back-to-school stress?

A: We at Formed Families Forward - Board members, staff and volunteers alike - completely "get" this question! Raising children and youth with special needs is a special kind of challenge! Research is pretty clear that parents and caregivers of children with disablities are at higher risk of stress-induced health issues.

Moreover, because many of the children in our care have experienced trauma,we may feel stress resulting from helping or wanting to help a traumatized or suffering person. This is often called secondary trauma.

If we are not in good emotional or physical health, we cannot give our best to our families.

So take a moment, carve out a little time and choose an activity or two off this list and do it for yourself and for those in your care.


Regress! Do something you loved to do as a kid. Run through the sprinklers, hang from the monkey bars, or color a picture.
Take a Risk! Do something you've always wanted to do. Bake or cook a new dish. Try a new sport. Take a class (there are many online learning options) or find a group of others with the same interest.
Laugh! Watch or listen to a comedy video, podcast, or website. Find a great joke.
Touch!. A therapeutic massage can relieve muscle tension, stimulate the body's natural painkillers and boost your immune system.
Take a Nature Break. Get outside if you can. Walking in - or even just looking at - nature calms our nerves and relieves mental fatigue.

Find additional suggestions from NAMI and Mental Health America.

Remember if behaviors are becoming a big issue at school, there are assessments and interventions that can support children with disabilities and their teachers, Call or email us and we can help!

Nothing Scary about these Trainings and Events!


October features a spook-tacular selection of trainings and events sponsored by other organizations and agencies, around the region and state.



October 7 -

The Message of Behavior

, hosted by Loudoun County Public Schools Parent Resource Center, Ashburn.

October 8 -

Life Planning Tools - Medicaid Waivers webina

r, presented by The Arc of Northern Virginia

October 15, November 4 & November 13 -

Kinship Care and Child Welfare Systems

sessions across the region,

October 17 -

ADHD Connection: Perspectives on Self, Family and Community

, hosted by CHADD and the ADHD Resource Group of Northern Virginia, at Argosy University, Arlington. Use d

iscount code MEET20 before 10/11 for 20% off.



October 21 -

Understanding the IEP Process

, hosted by Alexandria City Public Schools Family Resource Center.

October 22 -

You and The Affordable Care Act: What it means and how you can benefit?

Project LIFE session for youth in foster care, Alexandria.



November 5-

1st annual

Adoption and Foster Care conference

, hosted by Connecting Hearts, the Deborah J. Johnson Foundation, in Richmond.

November 7 -

Circle of Support conference

, hosted by The Arc of Greater Prince William, Woodbridge.

November 14 -

FutureQuest conference

, GMU Fairfax Campus



November 13-15 -

Project LIFE Youth Conference

for foster youth and young adults, Bristol.

January 26-29, 2016 -

School Resource Officer, School Security Officer, & School Administrator Training: Building a Team to Support Students and Ensure School Safety,

sponsored by Va DCJS, in Ashburn

Time to Read


The Foster/Adoption book club meets October 22, 10 am at UMFS offices in Alexandria. This month's book is 'A Piece of Cake' by Cupcake Brown. Learn more HERE.


Formed Families Forward provides training and support to northern Virginia families formed through adoption, foster care and kinship care who are raising children and youth with special education needs. We also serve professionals who work with our families. Consultations and most trainings are free of charge to parents and caregivers raising children and youth with special needs.



Moving Formed Families to Better Outcomes
Reach us at www.formedfamiliesforward.org, info@formedfamiliesforward.org or call (703) 539-2904.

Kelly Henderson, Ph.D., Executive Director
This project is supported in part by the U.S. Department of Education, Office of Special Education Programs (OSEP). Opinions expressed herein are those of the project and do not necessarily represent the position of the U.S. Department of Education.
| | |