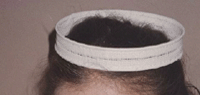 Supplies you'll need:

Measure and cut 16 inches of 1 inch Buckram Ribbon
Measure and cut two 16 inch lengths of #19 covered Millinery Wire
Measure and cut two 17 inch lengths of French Elastic
1. Over lap cut edges of buckram 1/2 inch, sew together to make a circle.
2. Attach one piece of millinery wire on one edge of the the circle using a buttonhole stitch or on the machine with a zig zag stitch wide enough to avoid the wire. Over lap the wire at the end and sew with a few extra stitches closer together over the overlap of the wire. (Overlap should be in the back at the seam.)
3. Repeat #2 on the opposite edge of the buckram frame.
4. Fold the French Elastic in half length wise. Make sure you don't stretch it.
5. Place one piece of the French elastic over one of the wired edges of the frame. Stitch around complete circle avoiding the wire.
6. Repeat #5 on the opposite edge of the buckram frame.