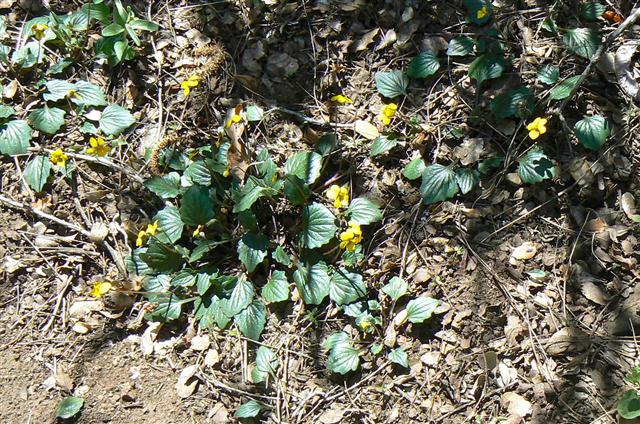 Yellow Pansy ( Viola quercetum) flowering near Rose Valley Falls.
Rose Valley Falls
Herb Walk

We're going there on April 13.

The late March and early April showers we've had should produce a nice flow at the waterfall this spring. At any rate, the short hike downstream from the Falls is beautiful regardless of how much or how little water is cascading down its travertine face. We'll walk in the shade of California Bay, a natural insect repellent, and search for the elusive Yellow Pansy, our local representative of the edible and delicious Viola genus of the Violet family.

On the drive there, we''ll stop to explore Rose Valley's Howard Creek in search of Giant Stinging Nettles and the valley's namesake California Rose among other wonderful native herbs.

Our day in Rose Valley is always a highlight of the year
. It''s accessible for walkers and hikers of all ages and levels of ability. Please join us on Sunday, April 13, by registering on the website at
Rose Valley Falls Herb Walk
.
Can you guess what this is? I discovered and photographed it on Franklin Trail in Carpinteria.
Click here
to read the barkstory, I mean backstory at the HerbBlog.
I created this page to provide you -- my readers and Herb Walks participants -- with a central location for information on the plants and topics we cover on our outings. Here is a
step-by-step guide
to getting the most out of this page. I hope you find the guide and page itself useful. Please let me know how it works for you by emailing
lanny@herbwalks.com
.
For your consderation: the latest addtion to the Herb Walks Bookstore
The Drought Landscaping Walk with guest presenter Jessica Thompson in February inspired me to add this book to the Books department of the Herb Walks Store.
Featuring more than 500 plants and illustrated with 450 color photos, this beautiful reference book describes the best California species for gardens and provides detailed advice on their cultivation–from landscape design and installation to watering, pruning, and pest control.
If you haven't browsed the
Herb Walks Store
, please take a few minutes and
see for yourself what you've been missing.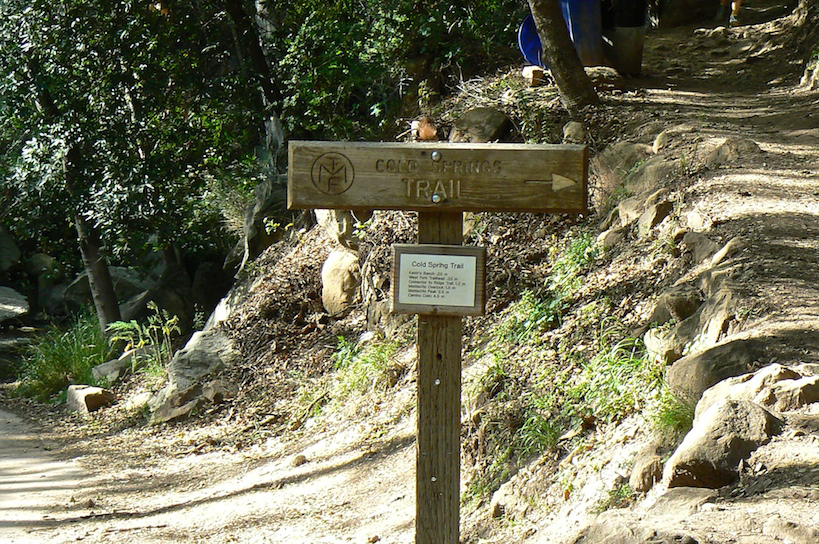 The trailhead at the Cold Spring Trail Loop awaits you.




Are you ready for a Nature Hike?





There is a difference.



This year I'm being careful to distinguish between shorter, easier "Herb Walks" and longer, more strenuous "Nature Hikes." I'm offering both to be able to meet the needs and preferences of my diverse clientele.

Herb Walks are shorter in distance and time but longer on time spent identifying and discussing plants. Nature Hikes cover more ground and/or elevation gain and, by necessity, have less time for stopping at individual plants and more time for immersing ourselves in nature and our surroundings as we hike together.

The first Nature Hike of the year will be on the Cold Spring Trail Loop in Santa Barbara. As you can see from the cover photo above, the views are spectacular, especially when you're lucky enough to be there on a fairly clear day as Rondia and I were the other day when I shot that pic.

The reason this one is a hike and not a walk is the 682 foot elevation gain in the course of a 1.8 mile round trip. It's a great workout even at our slow pace and well worth the effort if you're physically fit enough to do it.

Register at the Cold Spring Trail Nature Hike page on the website.


A discount code worth 15% off all  items (except Gift Certificates) in your April order at the
Herb Walks Store
is hidden behind one of the images or photos in this newletter. Can you find it?
Join me and Rondia at Oak Grove School on Saturday, April 19, for Ojai's official Earth Day event. We'll have our
Herb Walks Store
table set up and I'll speak (and maybe sing) from the presentation stage at 1 p.m. and lead an Herb Walk at 2 p.m. Of course, there is much, much more for the whole family to enjoy.