Dr. Adams holding forth in Horn Canyon.

(Photo: Lorenz Schaller)
Jim Adams in
Santa Barbara
Join me and special guest Professor James Adams of USC School of Pharmacy on Saturday, May 16, from 9 a.m. to 1:00 p.m. for a Medicinal Plant Walk on San Antonio Creek Trail in Goleta.
We will identify wild native plants in riparian and chaparral habitats and discuss their indigenous and modern medicinal uses. This will be an easy, slow-paced walk of about 2 miles round-trip on a maintained dirt trail through changing plant habitats. The walk will be suitable for hikers of all levels of ability who are capable of walking that distance and standing for periods of time.
Read more and register now at this link.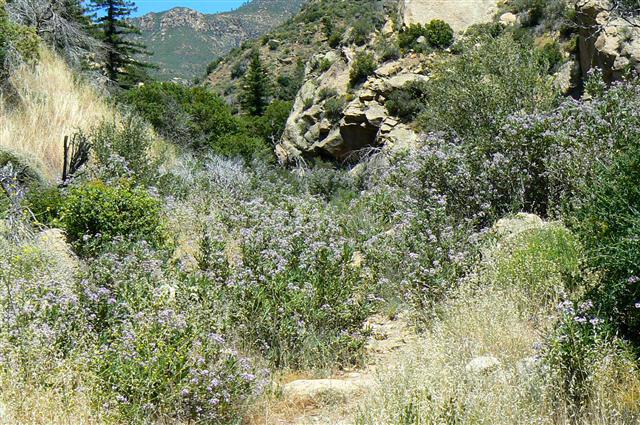 Yerba Santa blooming in
the mouth of the gorge.


(Photo: Lanny Kaufer)
Memorial Day Nature Hike to Potrero John
 This canyon is as wild and beautiful as it gets on this side of Pine Mountain.

We will honor Memorial Day (and our friends who work weekends in the hospitality industry and at farmers markets) with a Nature Hike to Potrero John Camp deep in the Sespe Wilderness of the Los Padres National Forest on Monday, May 25. The hike will take place on Potrero John Creek, 20 miles north of Ojai.

We will cover 1.7 miles each way on a mostly level trail with very gradual elevation gain through chaparral and riparian settings, starting at 3700 feet.

The focus, as usual, will be on identifying both useful and poisonous wild plants and learning about the many ways that they have been used by the Chumash people, herbalists, campers, and gardeners for food, medicine, wildcrafting, survival, landscaping and more.

Read more and register at this link.
European Honeybee ( Apis mellifera) on Black Sage ( Salvia mellifera)
(© 2015 Lori Nowaski)

Lori Nowaski captured this European Honeybee on the Horn Canyon Herb Walk doing what he does best, gathering nectar for Black Sage honey. Did you notice that the bee and the sage have the same species name? The Latiin "mellifera" means "honey-bearing."

Thanks, Lori, for taking some great shots and taking the time to send them to me.
In spite of the drought, this year has been a great one for wildflowers and the insects that pollinate and feed on them. The latest addition to our Herb Walks Store,
Butterflies of Southern California
, is another in the QR Guides series, joining
Wildflowers of Southern California
and
Birds of Southern California
.
This pocket-sized guide is made of 6 laminated fold-out panels and features color photos in a side-by-side format that makes it ideal for field use. Included along with most of the more common species are several of the most unique species of the region.
Common and scientific names, adult size, season when they can be found, and their caterpillar host plants are listed.
Use the discount code found elsewhere in this newsletter to order it now at
this
link
.

Photo by James Wapotich
James Wapotich is an experienced backpacker and has hiked many of the trails in our local backcountry. He is a Volunteer Wilderness Ranger with the Forest Service, has led groups into the wilderness, and is the author of the weekly hiking column "
Trail Quest"
in the Santa Barbara News-Press.
His blog,
Songs of the Wilderness
, is loaded with his great backcountry photography as well as guides to trails, local outdoor info, and an archive of all his "Trail Quest" columns, otherwise viewable only for News-Press subscribers. I joined his blog and I enourage you to check it out, too.
As our thank-you to you for opening and reading this newsletter, here is a discount code worth 10% off all items (except Gift Certificates and event admission charges) for the months of April and May at the
Herb Walks Store
. We are always adding new books to our collection. Have you looked lately?
Just click on the Herb Walks logo below to get the code. Then copy and paste it when requested at checkout.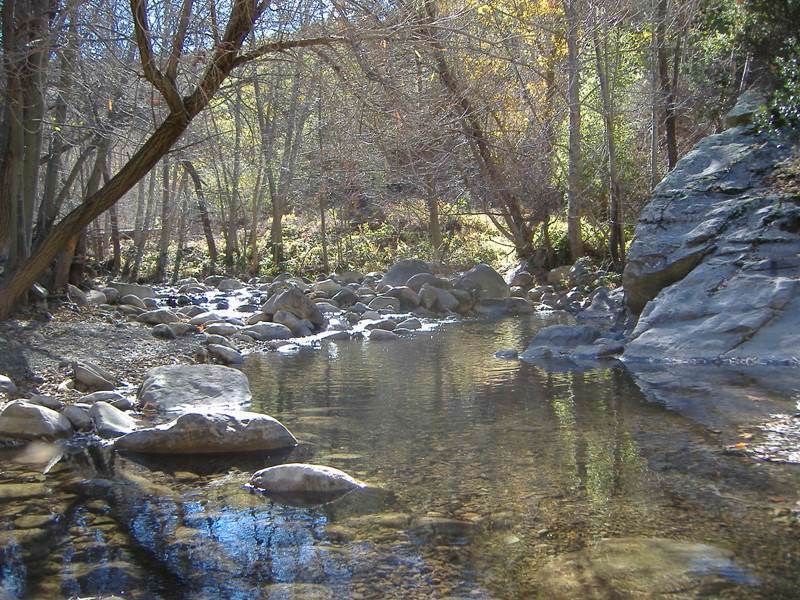 Upper North Fork Matilija Creek  (

Photo courtesy of Heidi Anderson, U.S. Forest Service)
Matilija Canyon Nature Hike
Did you realize you can hike into the wilderness just 30 minutes from Ojai?

Ojai's Matilija Canyon is renowned for the beauty of its landscape and the diversity of plants and wildlife to be found there. Please join me for a Nature Hike on Saturday, April 25, as we return to one of my favorite locations at the gateway to the Matilija Wilderness of the Los Padres National Forest.

The views are breathtaking and, even with the current drought, there is a great diversity of riparian and chaparral life to identify, sample and discuss.
We'll stop on the way to Matilija Camp to discuss and demonstrate some of the plants' many uses as well as explore their relationships with birds, insects, and other organisms in their environment. I am operating under a Special Use Permit from the Los Padres National Forest for guides offering interpretive services to the public..
Read more about it and register at
this link.
Ventura Wild!

Register now for Summer Camp.

Ventura Wild!
, under the direction of eminently qualified naturalist Heather King, offers children programs and camps designed to inspire active engagement and hands-on discovery of our local ecosystems.
Programs include after school programs, weekend camp-outs, mommy and me and home school programs, class field trips, and week long summer camps during June and July. With a staff to child ratio of 1:4, groups are small intimate groups conducive to trust, personal responsibility, skill development and terrific fun.
Now is the time to sign up for their 2015 Summer Programs. For registration and information, send an email to
info@venturawild.com
.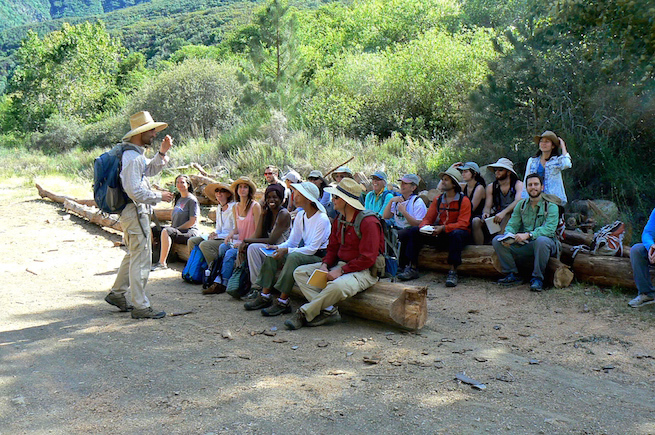 Tellur Fenner teaching outdoor class in Matilija Canyon
We had a huge turnout on Saturday, March 14, for Tellur Fenner's field class on
Edible and Medicinal Plants of Ventura County.
We hiked the Wheeler Gorge Nature Trail, stopped at the Visitor Center for lunch, and walked into Matilija Canyon in the afternoon. 
Tellur is pictured here making good use of some White Alder logs that were removed from the creek by the USFS as a result of a drought-related die-off. We look forward to having him back when his travels bring him this way again.