Transcendental Vegetation (TV)




Follow the White Lotus, Alice, into the natural wonderland of plant wisdom.



To be honest, I came up with this punny phrase to make my newsletter subject line sound more intriguing. If you're reading this, perhaps it worked. Little did I know, however, what a rabbit hole I was venturing into when I tried to coin a new term. Turns out (surprise, surprise) someone else already did, but not in the sense I intended.

What I had in mind is the ability of plants -- those very real manifestations of physical materiality -- to expand our consciousness into unseen realms.The classic example, shown above, is the Lotus Blossom, ( Nelumbo nucifera), the symbol of elegance, beauty, perfection, purity and grace for Hindu, Buddhist and other Asian spiritual traditions.

Purple Nightshade ( Solanum xanti), to use a local example, carries with it all the mystery, medicine -- and poison -- of the Nightshade family (Solanaceae), for which it serves as the type genus. This delicious, sometimes dangerous, genus Solanum also includes tomatoes, potatoes and eggplant, the fruits of which are edible, as are the Purple Nightshade berries when they are fully ripe. Lurking beyond our vision, however, is the alkaloid solanine, rendering the leaves and other parts of some Solanum species poisonous to humans. On further investigation, it turns out that solanine is a natural pesticide and fungicide protecting these plants from disease and insects.

The larger Solanaceae family includes some highly poisonous plants like our native Jimson Weed ( Datura wrightii) as well as Deadly Nighshade ( Atropa belladonna), Tobacco ( Nicotiana tabacum) and Mandrake ( Mandragora officinarum). Even so, shamans the world over, including the Chumash, have found ways to prepare all these plants for use in transcendent rituals.

When I searched the web for my new term I discovered that it had already been promoted as a new clever meaning for the acronym "TV" as in television. I found another transcendent meaning here, too. Aren't Herb Walks the perfect antidote for too much time spent vegetating in front of the tube?

April's Featured Book of the Month
If you could own only one comprehensive book on this subject, this would be it.

I know. You caught me. If you've been reading these newsletter since last April, then you know I featured this book exactly one year ago. But that was before we had our own Herb Walks Store at HerbWalks.com. And, just a few days ago, we were able to add this essential reference to the Books section. So, we're featuring this book again.

Western Medicinal Plants and Herbs by Steven Foster and Christopher Hobbs is an official Peterson Field Guide with a water-resistant binding, thick glossy pages, and over 500 color photos. It's the ultimate combination of an identification tool along with up-to-date information on the medicinal uses of the plants, including warnings and contraindications. Both authors are renowned herbalists with many books published. This is a must-have for field study of medicinal plants in our area.

You can buy it here.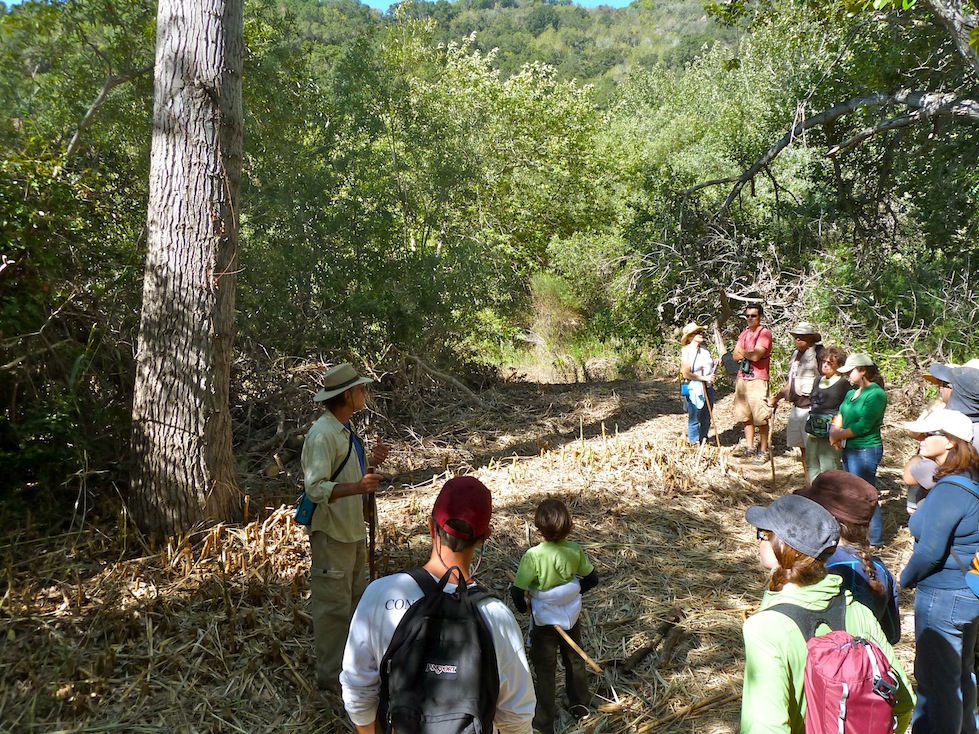 Each walk or hike begins with
Lanny's orientation/safety talk
"In every walk with Nature one receives far more than he seeks." John Muir

Here's a link to the rest of the
Spring 2013 Schedule.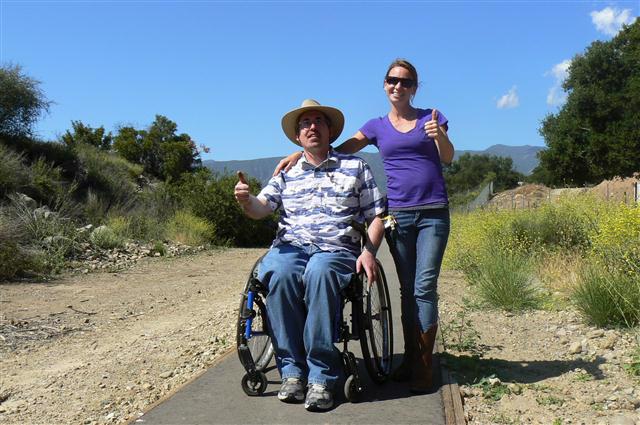 Threus Foundation President Joe DeVere with his sister Marie DeVere McClain at the ADA trail dedication




So what is an Herb Walk 'n' Roll?





Yes, besides being another one of my plays on words, what is it? Simple. It's a walk (or roll) on a paved ADA accessible trail specially designed to allow those using wheelchairs and walkers or parents with strollers to enjoy the Ojai Valley Land Conservancy's Ventura River Preserve.

The Old Baldwin Trailhead was dedicated on May 19, 2011, with a ceremony that included a blessing by local Chumash elder Julie Tumamait.




The new trailhead was a multi-agency project primarily funded by a Proposition 50 grant from the California Natural Resources Agency to improve access along river parkways. It includes a large equestrian trailer parking area, 24 off-street parking spaces, and two ADA-compliant handicap parking spaces.

The centerpiece of the facility is the wheelchair-accessible, 4-foot-wide paved trail extending from two new ADA parking spaces for 1500 feet to a scenic vista.

Since the dedication, I've offered several Herb Walk 'n' Rolls in collaboration with the Threus Foundation who have generously offered scholarships to those in wheelchairs with financial need.

The next Herb Walk 'n' Roll is on Saturday, April 27.



Great info on ethnobotany from the USFS website





I applaud this use of our tax dollars and I'm proud to be offering interpretive walks and hikes in association with the USFS



Refecting a building wave of interest in the science of ethnobotany, the study of how people of a particular culture and region make use of indigenous (native) plants, the U.S. Forest Service website now includes several pages of excellent information. Found under the larger heading of "Celebrating Wildflowers," here is a link to their Ethnobotany page. Of particular interest to me is the linked page devoted to Medicinal Botany.

Starting last year, I have been offering Herb Walks and Herb Hikes in the Los Padres National Forest under an Operating Agreement with the Ojai Ranger District of the USFS.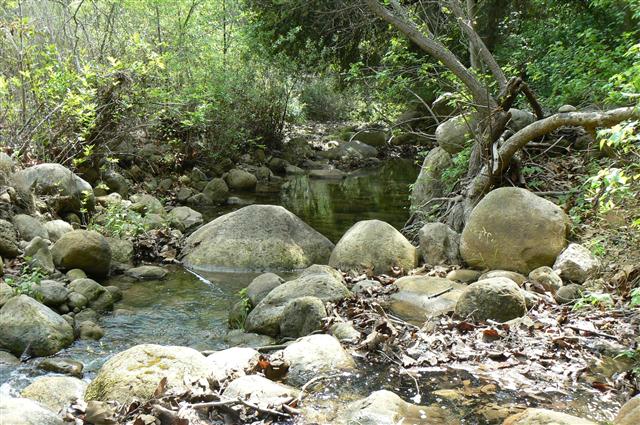 San Antonio Creek as seen
one year ago this month
Bringing it all back home to SB

Join me April 7 for an Herb Walk down Memory Lane (AKA San Antonio Creek Trail)

"Herb Walks" originated in Santa Barbara in the early 1970′s, the term coined by the late William LeSassier, at that time a young herbalist who was living in the Montecito foothills. I was a neighbor, friend and student of William and began leading my own Herb Walks around the Ojai Valley in 1976 after he moved east to eventually achieve great renown as a medical herbalist and teacher.

In the mid-'70s I also studied with Juanita Centeno, the late Chumash plant expert, on field trips including one on the San Antonio Creek Trail out of Tucker's Grove County Park in Goleta. After 36 years of leading native plant walks and hikes in Ojai and Ventura County, I brought them back to Santa Barbara last year to where it all began for me.

Sunday, April 7, is the next Herb Walk on San Antonio Creek Trail.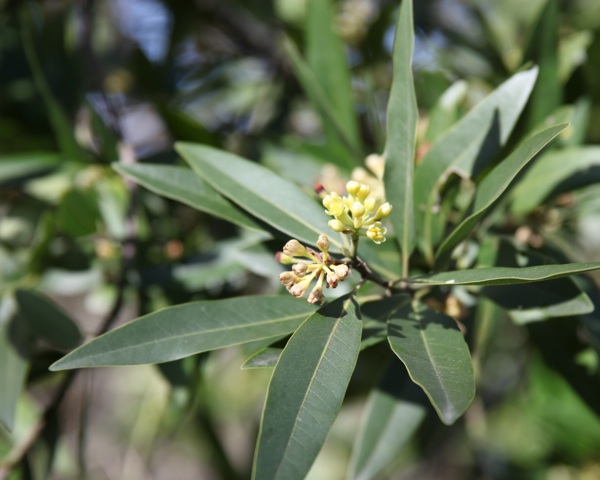 Photo of California Bay by Val Schorre
Kaufer's Kwiz
Here's one for the animal lovers....

Last month's kwiz involved solving a "Wild Edible Greens"
Double Puzzle
featuring 12 plant names that had to be unscrambled, then used to form the letters in a sentence. The winner...drum roll, please...was..........well, we can't tell you because she prefers to remain anonymous, known to her email correspondents as "Anita Cocktail." We look forward to meeting her on her complimentary Herb Walk real soon.
The link above will take you to the original blank puzzle if you still want to give it a try just for fun. Feel free to
email me
if you need a clue or two.
Now on to this month's Kwiz. In a fascinating example of primitive use of sophisticated tools, one of our local animals places the fragrant leaves of California Bay (
Umbellularia californica
) around the edges of its nest to control levels of ectoparasites such as fleas. The leaves contain volatile organic compounds which are toxic to flea larvae. Among the terpenes most toxic to flea larvae in the Bay leaves are umbellelone, cineole, and cymene.
The first person to
email me
the full name of that animal is the winner of a free Herb Walk.



New pricing and three discounts




A little fine-tuning in search of the perfect balance



In case you missed this in the last newsletter I want to be sure you know that this year I have reduced my price to $20 for shorter "Herb Walks" of about 1 mile taking about 2 to 2.5 hours. Longer "Herb Hikes" of 3-4 miles taking 3.5 or more hours are $25. Occasional events with special guests are $30. A $5 discount is available for seniors 62-and-up and fulltime students.

In addition, I'm offering the 4th walk in a season free to anyone who attends 3. Also, to encourage carpooling for walks or hikes with remote trailheads, 4 or more adults arriving in the same vehicle will each receive a $5 discount. How's that for economic stimulus?