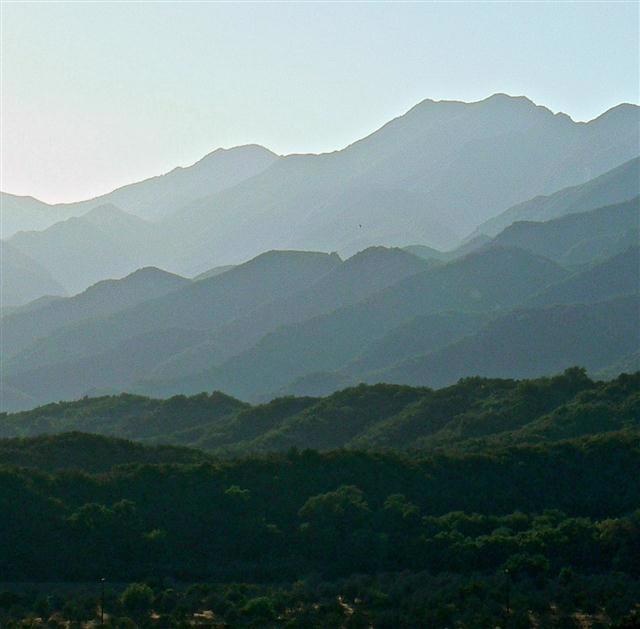 Looking west at the Santa Ynez Mountains from Meiners Oaks through the natural late afternoon haze over the Ventura River
Cool August Nights in Ojai

It's our staycation month in beautiful downtown Meiners Oaks
As you can see from the schedule in the next column over, there are no events planned for August. This is the appointed month every year when Rondia and I take a summer break. We might go for long walks on the beach, in the mountains, or around the neighborhood with no particular purpose or destination. We might visit the Ventura County Fair (we already did; see column below), or just enjoy the warm days and cool nights of the Mediterranean climate in our backyard, among other variations on the themes of rest, relaxation and recreation.

Even so, I can't stop the wheels from turning in this brain as I think of more ways to share a lifetime of knowledge and experience with you. So, please scroll down to the blue article in the middle column and give me some valued feedback. In the meantime,  enjoy this newsletter and your summer as you make plans to walk, hike and learn with us again this fall.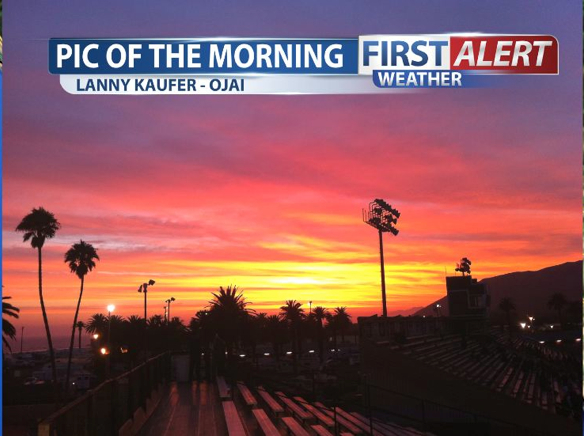 The view from the top of the grandstand at the VC Fair. Click on it to see the original image.

My "Pic of the Morning" on KEYT Ch. 3
Rondia and I kicked off our staycation month on Saturday, August 2, at the Ventura County Fair with a stint at the
Veterans for Peace
booth followed by a concert featuring the legenday funk band War. (Did you catch the irony of our booth and the band's name?)
After Rondia encouraged me to cliimb to the top of the grandstand, we discovered a spectacular 360 degree view of the concert stage, the sunset, the waves breaking, and the lights of the fair.
On Monday morning, August 4, KEYT NewsChannel 3 weather anchor Meredith Garofalo chose my photo above as the "Pic of the Morning."
Admittedly, it's last Monday's forecast which is old news by now but if you want to see it,
here's a link to her broadcast
. Don't worry. The photo is featured in the first 15 seconds.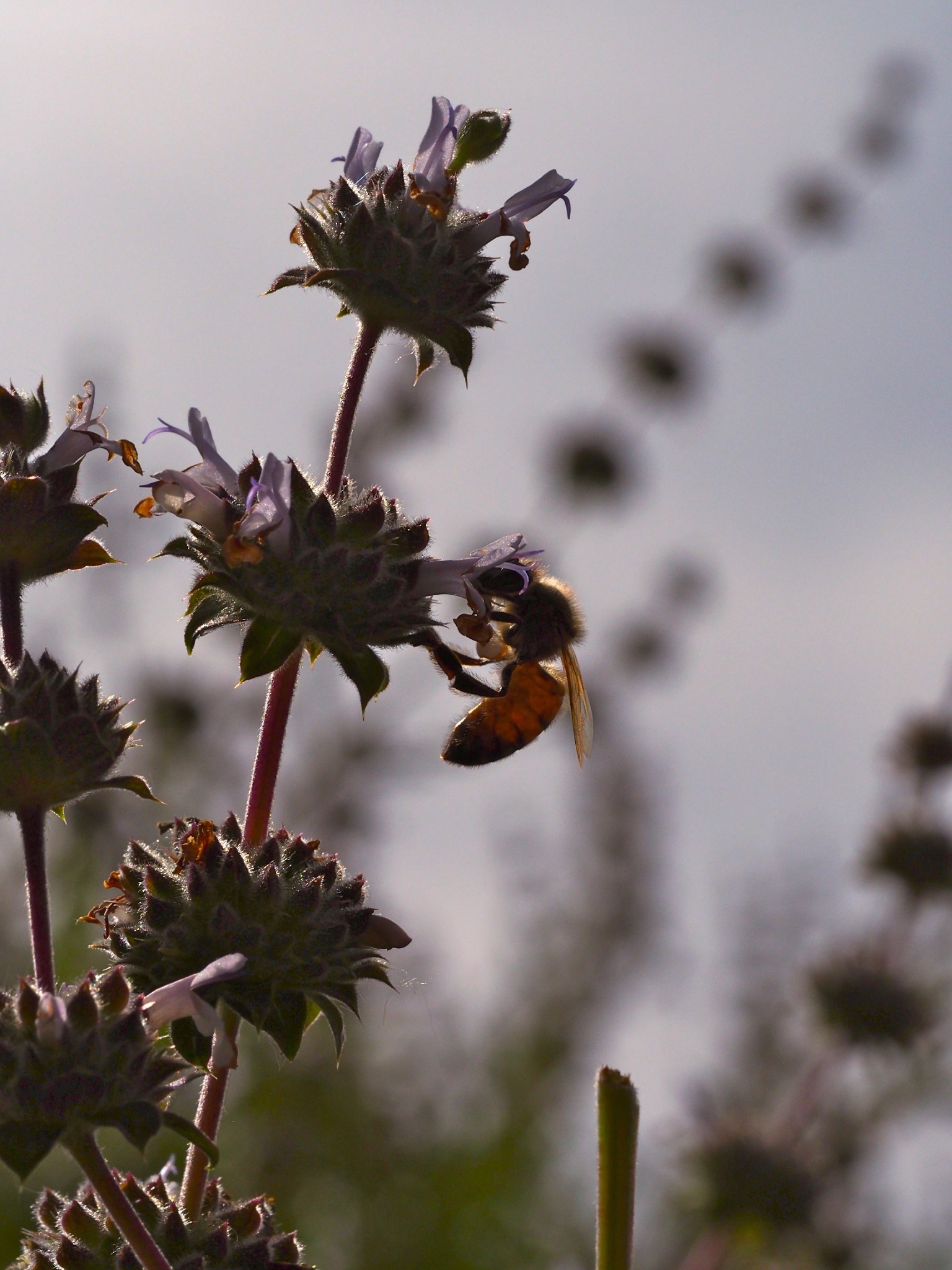 European Honeybee enjoying a native Black Sage flower. Photo by Ben Grangereau.
After each Herb Walk I send the participants a follow-up email with a detailed list of the plants we identified and discussed as well as other information about the flora or other topics that came up during the walk. I also put out a request for photos. Then, if and when I receive some, I create an album on my website -- or a link to yours -- labeling each plant photo for your future reference. Here is a link to the
Photo Gallery
.
This column is the first of a hoped-for series featuring your photos of Herb Walks and the native plants we meet on the trails. I hope you will send me some. If it's just a handful you can email them as attachments directly to me at
lanny@HerbWalks.com
. For more than a few, it's best to post them to an FTP site like Google Drive, Photobucket, or Flicker where I can download them to share.
Today's guest photographer is Ben Grangereau. You can view an album of his photos at
San Antonio Creek Herb Walk: April 7, 2013
. Thanks, Ben!
The Farmer & The Cook

Mention "the farmer and the cook" anywhere in Ojai and everyone will know you're sayng more than naming two professions. But actually trying to describe this iconic Ojai business takes more than those 5 words.
Yes, there is a farmer: his name is Steve Sprinkel. Yes, there is a cook: Steve's wife Olivia Chase. Together they have realized a shared dream of a market and cafe based around a certified organic farm.
To fully grasp what they have accomplished you must understand that virtually everything they sell or serve is grown organically. Many have tried but few have succeeded in this noble ambition. You can read more about these two remarkable people at
this link
.
As a resident of Meiners Oaks myself, I've watched the business grow at 339 West El Roblar Drive. Today it's a bustling but laid-back hub for a large community of people -- locals and visitors alike -- who value their health and the health of the planet.
Steve and Olivia have been great supporters of Herb Walks with Lanny Kaufer (thank you!) and we often bring groups in for lunch and continuing discussion after a morning walk or hike on the west side of the valley.
Visit their website
to learn more or, better yet, stop in for some healthy cuisine or farm-fresh produce.
Cedar Creek, one of many beautiful places in the Los Padres National Forest near Ojai
Anyone up for an Herb Campout?
On the heels of the success of our Primitive Skills Day and overnight campout with Jim Robertson, a few of you have asked about the possibility of more overnight adventures. I'm open to the idea but, as it will require modifying my outfitter-guide permit with the USFS, I thought I'd ask you first for some feedback. Is that something you would attend? Do you have other ideas for expanding on what we do? New locations to visit? Suggestions for other special guests we can collaborate with?
I'd like to hear from you at
lanny@HerbWalks.com
. Thanks!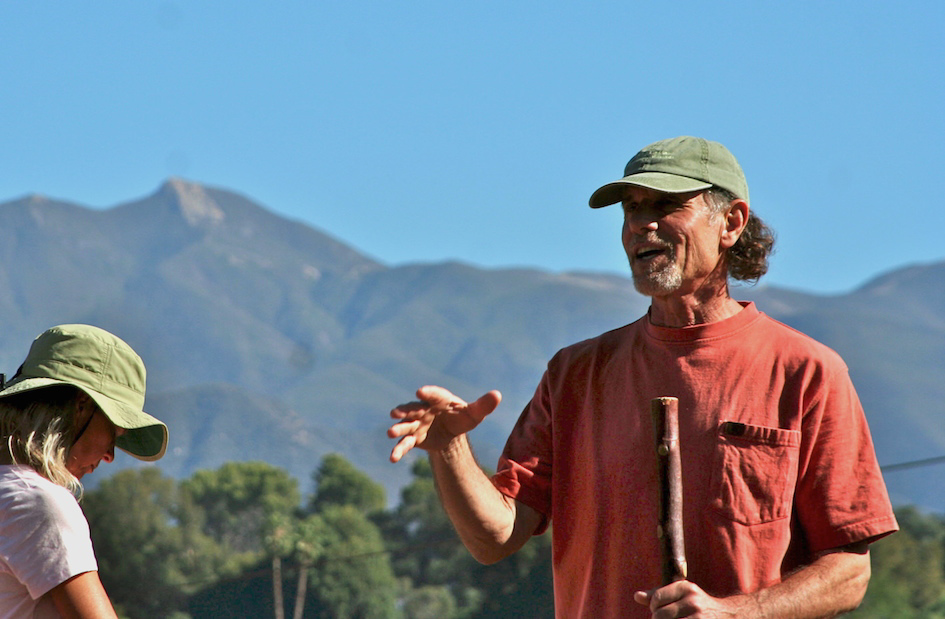 Photo by Lauren Ward.





These may be the perfect option for you



Every year I'm finding that more individuals and organizations are opting to take a private walk or hike with me on their own schedule so as to have my undivided attention and focus on specific topics. I am available year-round on weekdays or weekends for outings in the Ojai/Ventura area.

My hourly rates, both corporate and non-profit, are quite affordable and I can take up to 20 people for one hourly rate, potentially bringing the cost down to below the regular fee for a public Herb Walk or Nature Hike.


For more information, please contact me at lanny@HerbWalks.com.


"Mediterranean Climate" continued
 Monsoonal moisture is the exception that proves the rule.

Did you have a chance to read the article last month about the Mediterranean climate that we enjoy here on the west side of Central and Southern California? If not, here is a link to the July newsletter where you can see the article in the column with this same purple background. As promised, I'll pick up from there.

In the abovementioned July article, I referred to the occasional thunderstorm that passes through here during an otherwise long, dry summer that can last up to 6 months. Over the past two weeks we  experienced an unusual amount and intensity of this "monsoonal" activity,  including high humidity, a fatal lightning strike at Venice Beach, and severe mudslides and flash floods on Mt. Baldy that also took a man's life.

A front page article in today's Los Angeles Times (August 5, 2014) entitled "Warm Pacific brings heavy storms" offers this explanation:

"Changes in ocean temperature thousands of miles away have delivered Arizona-style summer weather to Southern California, driving up humidity and causing sporadic destruction.

"Warm equatorial water in the Pacific, from mainland Mexico to Peru, normally pumps monsoonal air up the Sea of Cortez into the Southwest, with mountains blocking it from the coastal plains of Southern California.
"But this year, the ocean temperatures are higher than normal, climatologists say, producing a more powerful "tropical wave" that made it all the way to the coast."

The typical Mediterranean climate, found in only 5 places on the planet, always occurs on the west side of continents, with the exception of the original Mediterranean basin for which it is named. This means that all of these locales are situated next to an ocean, a major contributing factor to the unique climate they enjoy.

The recent monsoonal episode, though more extreme than usual, is normal for this time of year. It remains to be seen if the warmer Pacific Ocean that caused it is becoming increasingly hotter due to global climate change or just going through one of its regular cycles.

In the next newsletter I'll describe how our local native plants have evolved adaptations that allow them to survive our long dry season.
As our thank-you to you for opening and reading this newsletter, here is a discount code worth 10% off all items (except Gift Certificates) for the month of August at the
Herb Walks Store
.
Just click on the Herb Walks logo below to get the code, then copy and paste it when requested at checkout.
What I'm about to share may not have anything to do with Herb Walks but since I'm the founder, publisher and editor of this newsletter I guess I can include it anyway and you, the reader, can decide if you want to read it or not. I hope you do.
My focus in August shifts to contacting schools, retirement homes, and other organizations about my musical multimedia presentation "Martin Luther King and the Spirit of the '60s." It's based on my experiences in Dr. King's SCOPE Project in 1965 and I'd love to bring it to your community. With the help of a richly embedded slide show I share my stories, teach the history of the Civil Rights Movement, and sing songs of the era.
Please visit my other website,
CivilRightsVet.com
, to learn about my show and about the SCOPE Project, see some video excerpts, and read testimonials from students, teachers and administrators. Please contact me
at this link
if you can suggest a venue, share a school contact, or just give me some feedback. Thanks!