Dr. Adams teaching to the masses in Horn Canyon in May, 2014
Photo: Lorenz Schaller
Professor Jim Adams back again this year by popular demand
There must be a reason why so many people come back for him each year
Why stop when you've got a good thing going, right? Please join me and special guest Professor James Adams of USC School of Pharmacy on Saturday, February 28, from 9 a.m. to 1:00 p.m. for a Medicinal Plant Walk on West Sulphur Mountain Trail in the Casitas Springs area between Ventura and Ojai.
Jim and I will identify wild native plants in riparian and chaparral habitats and discuss their indigenous and modern medicinal uses. This will be a slow-paced walk of about 2 miles round-trip on a wide dirt road that gradually gains elevation with corresponding views and changing plant habitats.
Read more and register at
this link
.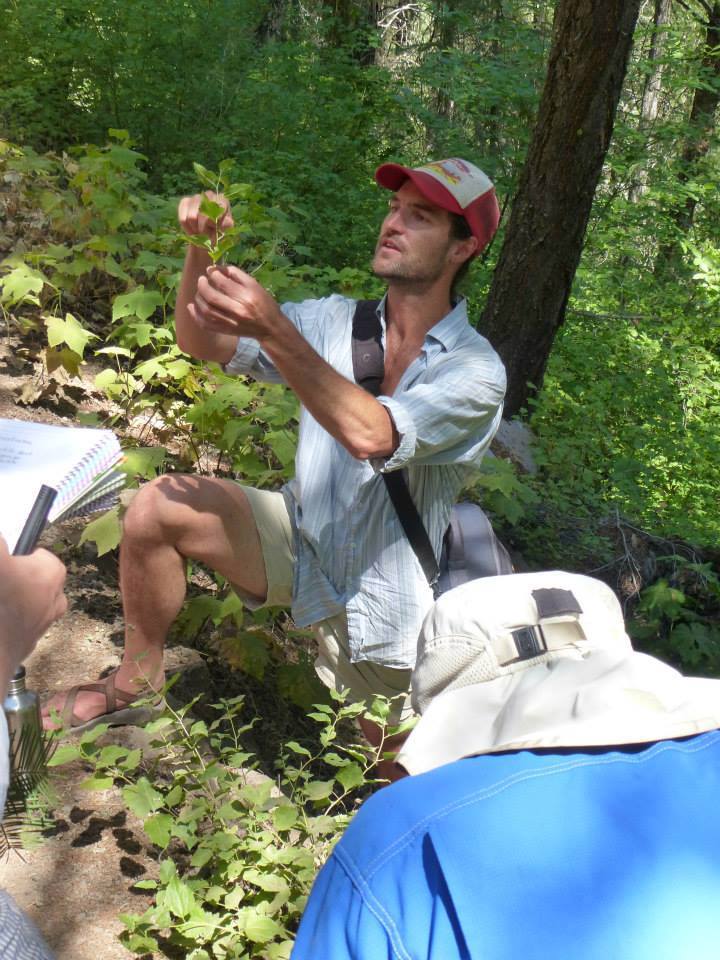 Tellur Fenner teaching in the woods of Northern California
Looking ahead: A rare opportunity in March
  Don't miss the early-bird discount  available until February 20
Join our very special guest from Northern California, Tellur Fenner, for the first of what we hope will be a series of explorations with him of the diverse array of both edible and medicinal plants found growing within the contrasting yet closely interconnected micro-climates of Ventura County. This hike will take place in the upper Ventura River watershed north of Ojai.
Tellur Fenner is a clinical herbalist/educator and has traveled extensively throughout the U.S while studying, collecting, and using plant medicines from all the major bioregions.

Read more and learn about the early registration discount at this link.

Rondia and I wish you a Happy New Year and thank you for your participation and support in this past year. Is one of your New Year's resolutions to walk more in nature and get to know your relatives in the plant world? Good! Then we look forward to walking and hiking with you in 2015.


Cluff Vista Park Planting Day
I'll be volunteering along with you to ensure the health of this garden
I am joining forces with the Ojai Valley Land Conservancy's Stewardship Director Rick Bisaccia for a day of planting, weeding and plant identification and information at Ojai's premier native plant demonstration garden on Saturday, January 24.
Participants will identify native plants in the context of a professionally designed landscape and gain hands-on experience planting and maintaining natives. It's free but space is limited so sign up right away.
Please visit t
he event page at the OVLC website
for registration information or call Marti Reid at the OVLC office at 805-649-6852.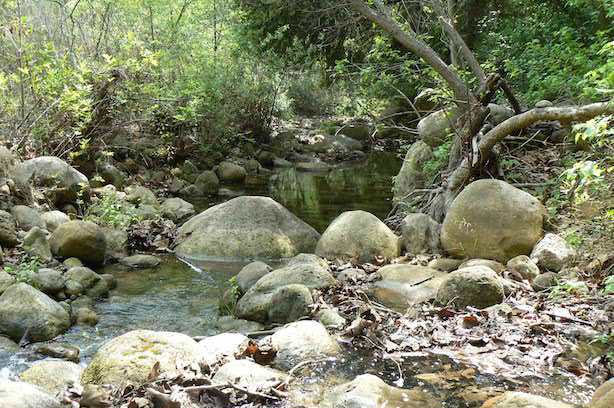 San Antonio Creek
Santa Barbara, here we come!
I'm excited to see what the rains have brought up along San Antonio Creek


Thanks to decent winter rain so far, water has returned to San Antonio Creek at Tucker's Grove in Goleta. I will lead a 3-hour Herb Walk there on Saturday, February 21 from 9:30 a.m. to 12:30 p.m.
On this walk, we will identify, demonstrate and discuss the many uses of wild plants for foragers, herbalists, and naturalists seeking out plants for food, first aid, home remedies, survival, crafts, ceremony and more. Poisonous plants will also be identified.

Trailside discussion will include humankind's role in the ecological balance, sustainable harvesting, the healing power of nature, and other topics generated by the participants.

Read more and register now at this link.
As our thank-you to you for opening and reading this newsletter, here is a discount code worth 10% off all items (except Gift Certificates and event admission charges) for the months of January and February at the
Herb Walks Store
. We are always adding new books to our collection. Have you looked lately?
Just click on the Herb Walks logo below to get the code. Then copy and paste it when requested at checkout.