January 2023 HerbWalks & OjaiHerbal Newsletter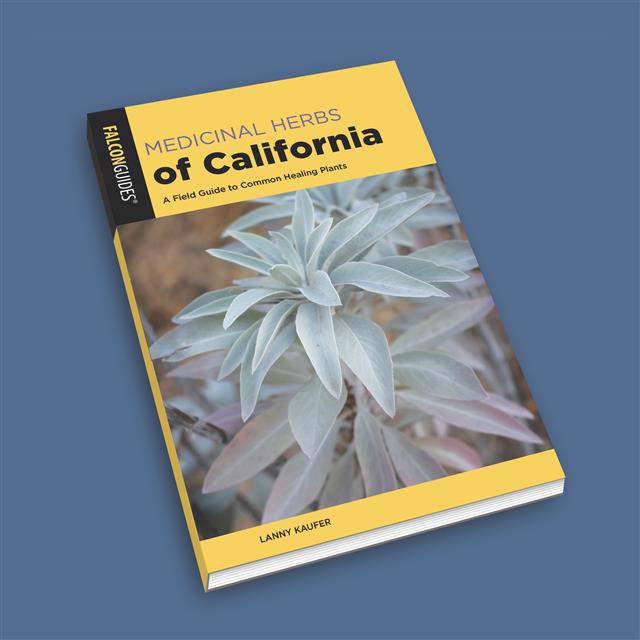 Here's another reminder for those of you who own my book or are considering it. Please see the article below about the free
hyperlinked bibliography
I created to save you the hassle of following links from the printed page to web journal sources cited in the book.
You can order the book on my website by visiting
this link
or clicking on the book cover image above. Use the "Order notes (optional)" field at checkout to request a simple autograph or a book signed to you. This is something not available when purchasing on Amazon. Plus you can support my authorship by buying directly from me. Thank you!
If you don't care about a signed copy, you also can find them locally on the shelf
in Ojai
at
Bart's Books, Crystal Corner, Farmer & the Cook, Ojai Valley Brewery, Ojai Valley Museum, Rainbow Bridge, Sespe Creek Collective, Shangri-La Care Cooperative, and Wheeler Gorge Visitor Center
;
in Ventura
at
Ema's Herbs, Green Thumb Nursery, Timbre Books
, and
Ventura Spirits
;
in Oxnard
at
REI
;
in Calabasas
at Santa Monica Mountains Visitor Center Store;
in Santa Barbara
at
Chaucer's Books
and
The Book Den
;
in Solvang
at
The Book Loft
; and at
Barnes & Noble
in
Ventura, Thousand Oaks, Calabasas
and
Valencia
.
On Saturday, January 14, 2023, I'll continue my series of monthly Natural History Walks at Taft Nature Preserve, begun in 2022. All the 2022 walks filled up, due in large part to the increasing awareness of - and appreciation for - Taft Gardens and Nature Preserve. If you heard about this walk first right here while there's still time to sign up, please read the article below to learn more and register. Or just click on the photo above to go straight to the event listing page at HerbWalks.com.
Book signing at Bart's Books in June. Photo by Eliane White

Hyperlinked bibliography for Medicinal Herbs of California

Do you own a copy of my book, Medicinal Herbs of California?

Have you noticed that it

has over 350 citations referencing the sources of information I present? Those citations required 176 bibliography entries for books and online journal articles to back them up.

As you know, URLs are long and there's no convenient way to transfer them from the printed page to a web browser. So I created a free hyperlinked bibliography for you, my loyal readers. You can find it on my website at this link. Please share with others you know who have the book.

Natural History Walk at Taft Nature Preserve on Saturday, January 14


Please join me for a Natural History Walk at Taft Nature Preserve on Saturday, January 14, from 10:00 a.m. to 12:00 p.m., meeting at 9:45 a.m. We will explore trails through the wild parts of the property, identify and discuss native plants, observe the continuing regrowth of the property since the 2017 Thomas Fire, and look for birds and animal tracks in the context of local ecology.

Taft Gardens and Nature Preserve is an amazing place! According to the Los Angeles Times (November, 2021), "This garden is SoCal's hidden treasure." You must visit now that the rains have come, especially if you've never been there.

To read more and sign up, visit this link.

Established in 1988, Turning Point Foundation began with a single clubhouse. Today, with continued community support, they have grown to 14 programs across 11 locations throughout Ventura County. TPF-VC serves more than 1200 clients each year through its shelter, supported housing and rehabilitation programs.

Growing Works Nursery is one such program of special interest to me. It's an innovative, wholesale California native and drought tolerant plant nursery established to provide job training, employment, and horticultural therapy to people with mental health challenges. Growing Works Nursery now offers monthly retaill sales days. The next one is on January 14. Please read more here and consider supporting them with your next native plant purchase.

Thanks to volunteer extraordinaire and friend of Herb Walks, Mardi Caruso, for making me aware of Growing Works Nursery and TPF-VC.

Grandfather Semu Huaute (Aug. 8, 1908 - Nov. 11, 2004)

Grandfather Semu Huaute's Chumash Welcoming Song

If you've attended one of my events, you've probably heard me open by singing the Chumash Welcoming Song, a gift to all people from Grandfather Semu Huaute, founder of the intertribal, interracial Native American communites of Red Wind and Muhu Tasen. I'll write more about Grandfather Semu in future newsletters but, for now, here is a

recording of the welcoming song

if you would like to learn it and be able to sing along.

I share it to welcome you to 2023, the 47th year of Herb Walks. And here are some wise words I wrote down when I heard Semu speak at the Ojai Foundation in November of 1982: "We lose our protective power shield, bringing on disease, when we lower ourselves by putting down or hating others." Wise words, indeed.

Click on the USFS logo above or the hyperlink below to visit the Ojai Ranger District (ORD) webpage for the latest info on trails, fire conditions, campgrounds, closures and more.

December 2022 updates:

"Snow and rain across Los Padres National Forest have provided sufficient moisture to reduce fire restrictions on the forest effective immediately."

"Reyes Peak Rd (Pine Mountain Recreation Area) and Reyes Peak and Pine Mountain campgrounds are closed for the winter season. Will re-open in May 2023."


"Nordhoff Ridge Rd is temporarily closed for the winter season. Will re-open in May 2023. Call (805) 724-0079 or (805) 967-3481 for more information."

Interested in collecting small amounts of plants in the Los Padres National Forest for personal use? Contact Forest Botanist Heidi Guenther at

heidi.guenther@usda.gov

to apply for a free permit.
|