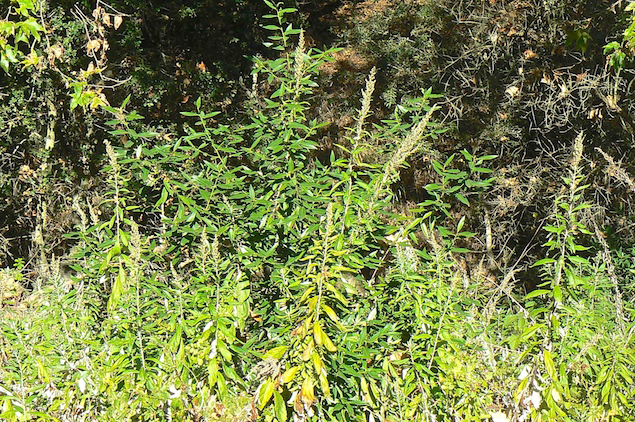 Mugwort seems to thrive along San Antonio Creek
San Antonio Creek Trail in Goleta

This will be our first time visiting this location in the mid-summer

Have you figured out by now that this is my favorite frontcountry trail in Santa Barbara? For one thing it has a creek running alongside it, at least most years. Even when the creek is dry, as it is this year, the riparian habitat remains.
Tucker's Grove County Park is in a "sweet spot" between the coast and the foothills, giving it a wonderful diversity of plants. My plant list for lower San Antonio Creek Trail numbers 46 native trees, plants, and ferns along with another 20 non-native species.
What's different this time around is that, after visiting this trail in March, April and October over the past two years, this will be my first time leading a walk here in the summer. As with any trail, it takes repeated visits to the same locale at different times of year to be able to see the plants go through their annual cycles.

Read more and pre-register now by clicking on the event listing or by calling 805-646-6281.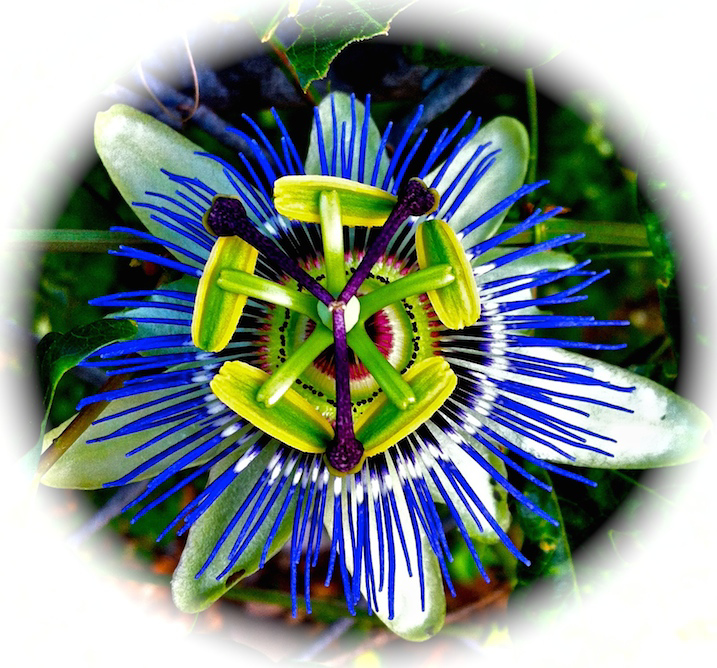 Blue Passion Flower ( Passiflora caerulea) in our garden
(Photo: Lanny Kaufer)
Ventura Spirits

Some of you who have walked or hiked with us this year and last may have heard me talk about a new distillery opening soon in Ventura. One of the partners is Henry Tarmy whom I first met when he attended an Herb Walk. He and his partners are on the verge of their dream coming true and you can say you heard it about it first in the Herb Walks newsletter.
What sets
Ventura Spirits
apart, aside from the fact that the partners painstakingly designed and built it all themselves, is their focus on wild-harvested native California botanicals. Their Wilder Gin, for example, is distilled from California Sagebrush, Purple Sage, California Bay, Yerba Santa, Pixie Mandarin peel and Chuchupate. I've had the privilege of tasting it and all I can say is, wow!
Join their mailing list
here
and find out about upcoming events including the rollout of their exceptional hand-crafted products.
"Mediterranean Climate" explained
           Are we blessed or what?

Did you know that those of us lucky enough to live in Southern California reside in one of only 5 places on the planet to enjoy what is known as the "Mediterranean climate?" Okay, maybe you did. In any case, it's my way of explaining that we will have two coastal walks in July and take the month of August off. That's how we spare our participants the peak summer heat of Ojai.

Also described as "dry-summer subtropical,"  the 5 rare zones shown on the map above are found on the west side of continents at a certain distnace from the equator and "have an average temperature above 10 °C (50 °F) in their warmest months, and an average in the coldest between 18 to −3 °C (64 to 27 °F)," according to an informative article at Wikipedia.

Most importantly, precipitation is dictated by this climate type. "During summer, regions of Mediterranean climate are dominated by subtropical high pressure cells, with dry sinking air capping a surface marine layer of varying humidity and making rainfall impossible or unlikely except for the occasional thunderstorm, while during winter the polar jet stream and associated periodic storms reach into the lower latitudes of the Mediterranean zones, bringing rain, with snow at higher elevations.

As a result, areas with this climate receive almost all of their precipitation during their winter, autumn and spring seasons, and may go anywhere from 4 to 6 months during the summer without having any significant precipitation."

Watch for more about this climate and its effect on our native plants in next month's newsletter.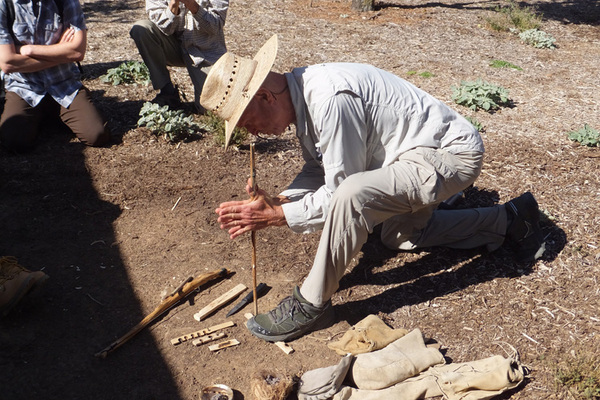 Jim starting a fire in less than a minute with his hand-drill kit
(Photo by Keith Farrar)
A big thank-you to Jim Robertson

For the second month in a row we had a sold-out event with a special guest, this time with primitive skills teacher Jim Robertson. I feel bad that we had to turn so many people away. Thanks to our gracious hosts (you know who you are), we were able to set up what Jim likes to call our "aboriginal village" where everyone contributed toward a great learning experience.
You can see my photos at t
his post on the HerbBlog
which will also link you to lots more photos by Keith and Nhan.
We hope to bring Jim back soon.
Let me know by email
if you want to be notified about early registration.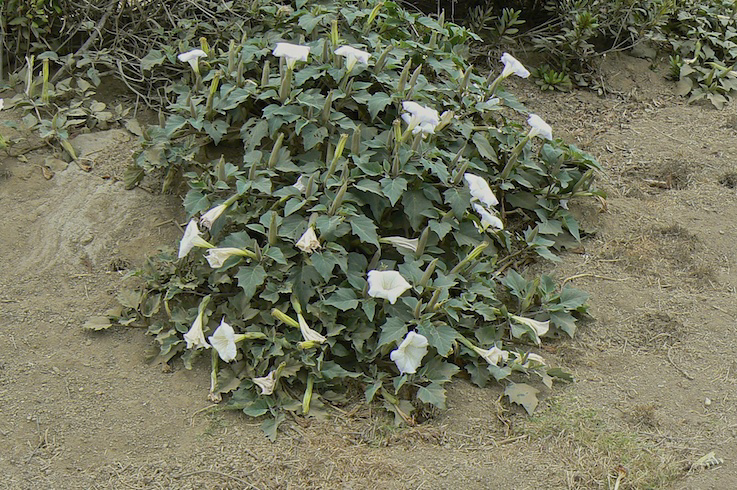 Momoy ( Datura wrightii),
the sacred visonary plant of the Chumash, near the trailhead
The Ocean's Edge Trail is calling

It seems to be our pattern to herb walk down by the seashore in July

Just as the Chumash villagers of Ojai used to make a summer pilgrimage to the ocean, we've become creatures of that habit, too. Given our local Mediterranean climate (see article to the left) and Ojai's distance from the cooling influence of the sea, it just seems like the natural thing to do.
This easy walk is a 1.3 mile round trip on a loop comprised of the River's Edge and Ocean's Edge Trails. The entry point is in Emma Wood Group Camp.

The focus, as usual, will be on identifying both useful (and poisonous) wild plants and learning about the many ways that they have been used by the Chumash people, herbalists, campers and gardeners for food, medicine, wildcrafting, survival,  landscaping and more. Last year at this time we sampled Hottentot figs, Pickleweed, Nightshade berries, and Sea Rocket among others.


The cost is $20 for adults and $15 for full-time students and seniors 62 and older.  Kids 5-12 can go free with an adult by prior arrangement.

Read more and register at Seaside Wilderness Park Herb Walk.
July's Featured Plant Book

It's easier if you're a bibliophile like me, but try to imagine my delight when, whilst perusing my book distributor's shelves, I came across this wonderful little volume from the esteemed Naturegraph Books in northern California. It's one of the first plant books I ever bought for myself in the late 1960s. I still have my well-worn original copy. It was a value then at $1.95 and, you know what, it's still a value at today's price of $6.95.
Author Muriel Sweet has organized the plants into five categories for easy identification: water plants and ferns and their allies, trees, shrubs, herbs, and vines. Each plant is accompanied by a well-executed illustration, usually showing the leaves, overall size, and close-up of fruits/flowers.
While some of the plants are not found in our area, given the scope of the book, there are many local favorites such as Stinging Nettles, Woolly Blue Curls, Blackberry, Yarrow and more.
Read more and order it now at this link.

 



Personal note: Purchasing your new books at our online store or at the trailhead enables me to put in the time and expense to collect and offer these books for your enjoyment and edification. Thanks, Lanny
As our thank-you to you for opening and reading this newsletter, here is a discount code worth 10% off all items (except Gift Certificates) for the month of July at the
Herb Walks Store
. Just click on the Herb Walks logo below to get the code, then copy and paste it when requested at checkout.