Photo of Clint Elliott climbing
Piedra Blanca by Jack Elliott

Jack Elliott's
Santa Barbara Adventure

Check out one of my favorite blogs
Last issue I began a regular column featuring an interesting blog that can be found on my website's page of "Links to Resources." In this second installment, allow me to introduce you to the ever-adventurous Jack Elliott and his blog "Jack Elliott's Santa Barbara Adventure."
Jack is an entertaining writer with a pen in one hand and a camera in the other who has a passion for local history, natural history, hiking, flora, fauna, and other stuff that I'm sure many of you will find interesting.
For example, he reprinted this magazine article, "Camping in California," first published in 1887. It's one man's narrative of a group camping expedition on horseback from Ojai to Pine Mountain. Having hiked and camped in the same places described in his story, I found it utterly fascinating. Maybe you will to. If not, I'm sure Jack has something else that strikes your fancy.
Mystery plant




Kaufer's Kwiz





Be the first to email the correct answer and win a free Herb Walk





Congratulations, Erin Parker! You were the first to name a local native plant that is a non-leguminous nitrogen fixer: White Alder ( Alnus rhombifolia). There are actually 3 local natives that are not in the Pea family but still practice nitrogen fixation. Besides White Alder (Birch family), they are the various species of Ceanothus (Buckthorn family) as well as Mountain Mahogany (Rose family). Erin wasted no time in claiming her prize, attending the June 30 Herb Walk up Sisar Creek with butterfly expert Michelle Dohrn.

So are you ready for something a little tougher, something that you can't easily search on the Web but that you may remember from one of my walks? This month's prize of a free Herb Walk goes to the first person who can provide the common and Latin names for the ubiquitous plant that was used by the Chumash and other California Indians for basketweaving (the stems), to wrap food in the earth oven (the leaves), and to get rid of warts (the sap).

The first person to answer correctly at this email

link

will be the winner. His/her name and the answer will be published in the next newsletter.
Featured Book-of-the-Month for July
This is still the classic introduction to the natural history of our local chaparral habitat


The featured book for this month is one of my all-time favorites, The California Chaparral : An Elfin Forest. This delightful book by the late Winfield Scott "Bud" Head was published posthumously in 1972 by his wife Grace after his untimely death in 1967 at the age of 58.

The author's love for -- and knowledge of -- our local habitat is apparent from his first words and infuses every page of this compact little parperback.

From the Foreword: "After a day or a weekend in the Elfin Forest, most individuals admit that there is fascination here...Within a short time, the newcomers to this country were asking questions. Then I knew I had them hooked. That is the purpose of this book, to hook you! You may have to be a bit more observant; walk a little softer; and crouch a little lower; but what wonderful fascinating world you will discover."

You can order this or other great handpicked selections at this link: BOOKSTORE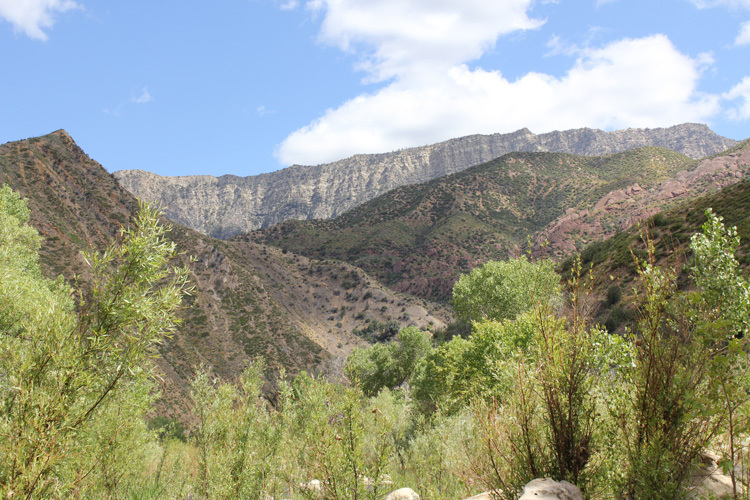 A view of the Sespe Wilderness from Willett Hot Springs
Our Own World Class Wilderness in the Sespe

We're going there twice in July. Are we lucky or what? Wanna join us?

In August of 2009, Backpacker Magazine ran an article entitled "Where Solitude Rules - Wilderness Hideaways" featuring the 5 most overlooked "private paradises" in North America. First on the list was our Sespe Wilderness. The other four are in remote areas of Maine, British Columbia, Colorado and Minnesota.

From the article: "Escape suburbia in this surprise-a-mile wilderness. Fifty miles northwest of downtown Los Angeles, the Sespe Wilderness harbors a 219,700-acre refuge of unusual attractions: natural hot springs, a condor sanctuary, multihued sandstone formations stretching from chaparral hillsides to pine-covered mountains, and centuries-old Chumash Native American rock art."

The namesake of this Federally designated Wilderness Area is Sespe Creek, the closest thing we have to a real river in our backcountry. In fact, of the Sespe's 55 miles, 31.5 were given federal Wild & Scenic River status in 1991.

See the July Schedule of Events on this page for details about the July 8 Potrero John Creek Herb Walk on a tributary of upper Sespe Creek and the Sespe River Trail Herb Hike on July 14.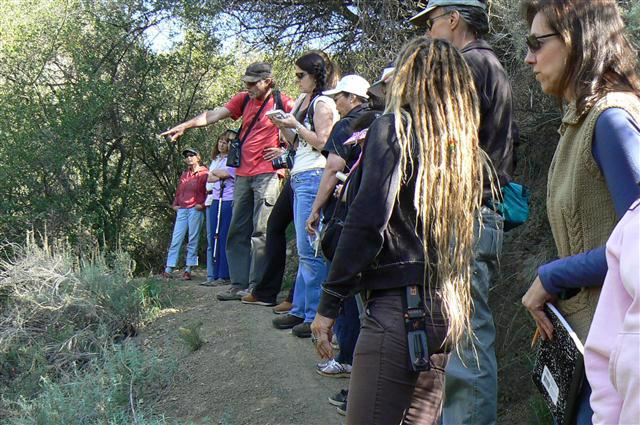 Photo by Rondia Kaufer
Fourth Herb Walk is free after three
Here's how you can have one, too

Congratulations to Herb Walkers LeeAnn Dawson and Rayetta Stanley, this year's first recipients of a free Herb Walk! It's very simple. Attend 3 walks or hikes and the 4th one is free. The offer is good for the current calendar year and the free walk must be used this year unless your 3rd walk happens to fall on the last one of the season. This offer was very successful last year and I believe it enhances everyone's experience to have returning Herb Walkers along affirming and advancing their plant knowledge with the rest of the group.

You can sign up now for your first, second or third walk of the year at this link:

REGISTER