Click photo to watch my YouTube video of Jim Robertson in action
Primitive Skills Day in Ojai with Jim Robertson

Our first time collaborating with this renowned survival teacher

Once again, the early birds get the prize. Thanks to advance notice in last month's newsletter, another special event is nearly full before this month's newsletter goes out. There are still a few spaces left at the time of this writing so don't delay if you want to attend. We are now asking those already signed up to confirm their reservations with payment which may result in a few more openings.
Spend an amazing day — and night if you choose — with me and my special guest Jim Robertson. Jim is one of the most highly regarded and in-demand teachers of primitive skills in the western U.S. This will be his first class held in Ojai.

This class is for beginning to advanced students of Aboriginal Skills. No prior experience is necessary.

You will learn to build a fire using the aboriginal hand drill "friction fire" method with native plant materials, grind acorn meal in a traditional stone mortar and pestle, and practice archery. An Herb Walk up Sisar Canyon is included in the day's schedule for a first-hand experience of the plants that the indigenous Chumash people and modern survivalists use. Other activities are planned if time permits.

Read more and pre-register now by clicking on the event listing or by calling 805-646-6281. If space is available, registrants will receive a confirmation email with all necessary info including method of pre-payment. Otherwise, they will be placed on a waiting list in the order received.
Father's Day Gift Certificates
Why not pass up the tie and cologne this year and give Dad a gift certificate for an Herb Walk, Nature Hike, or other event where he can learn how to harvest his own "cowboy cologne?" If we receive your order by mid-day on Wednesday, June 11, you should receive it no later than Friday, June 13, via first-class mail.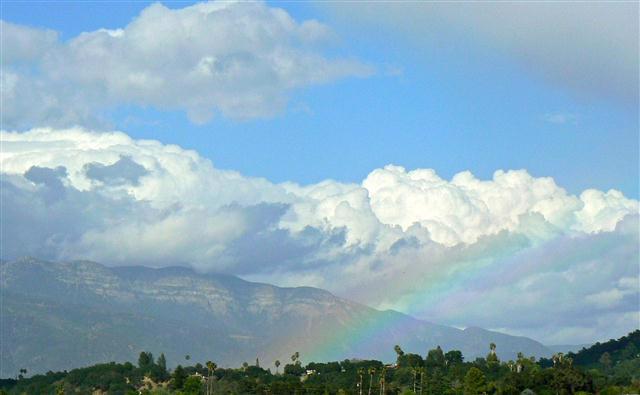 Rainbow over Ojai: May 20, 2014

(Photo by Lanny Kaufer)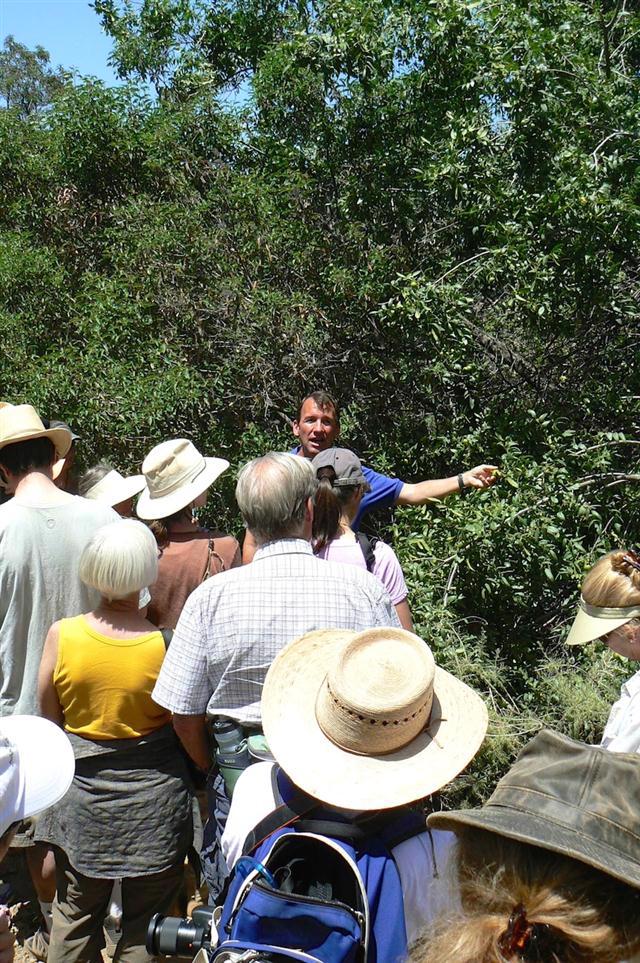 Dr. Adams talks about a
Black Walnut tree


(Photo: Lorenz Schaller)
A sold-out crowd enjoyed hearing
Dr. James Adams
      Don't worry! He'll be back!

I know, I know. I put on the event, so can I really be objective about what a great time we had on the Medicinal Plant Walk with Dr. James Adams? Of course not, but trust me, Jim was passionate, entertaining, and informative as always and everyone seemed to be thoroughly enjoying themselves. Thirteen of the 30 who attended joined us afterwards for a delicious lunch at HIP Vegan Cafe and kept the conversation going for another hour or two.

The only downside was that we had to turn away another dozen for lack of space on the trail. So Jim has agreed to come back to Ojai this fall. We just yesterday set a date of Saturday, October 11, with the place to be determined as the date gets closer. Please mark your calendars or contact me now if you want to be added to the priority reservation list. 

Thanks, Jim, Rondia, Lorenz, the plant community, and all of you who attended and made it a morning to remember.
As our thank-you to you for opening and reading this newsletter, here is a discount code worth 10% off all items (except Gift Certificates) for the month of June at the
Herb Walks Store
. Just click on the Herb Walks logo below to get the code, then copy and paste it when requested at checkout.
Lois Capps' Wilderness Bill
Representative Lois Capps of Santa Barbara has introduced the Central Coast Heritage Protection Act! The bill will add roughly 300,000 acres of wilderness, scenic areas, and other protections and 159 miles of wild and scenic rivers in the Los Padres National Forest and Carrizo Plain National Monument. Read the entire story
here
.
Rondia finds some shade under a fragrant Incense Cedar tree
Solstice Herb Walk on Potrero John Creek in LPNF

If you've never been there,
what are you waiting for?

We will celebrate the Summer Solstice with an Herb Walk deep in the Los Padres National Forest on Sunday, June 22, on Potrero John Creek, 20 miles north of Ojai in the Sespe Wilderness. The walk will cover less than 1 mile each way on a mostly level trail through chaparral and riparian settings, beginning at 3700 feet. The trail goes over two short rises; otherwise it is level.
The focus, as usual, will be on identifying both useful and poisonous wild plants and learning about the many ways that they have been used by the Chumash people, herbalists, campers and gardeners for food, medicine, wildcrafting, survival,  landscaping and more.

Discussion will include traditional and modern methods of sustainable foraging and resource conservation. This walk is presented under a Special Use Permit from the Ojai Ranger District Office of the U.S. Forest Service designed for outfitters and guides who provide recreational and interpretive services to the public.
The cost is $20 for adults and $15 for full-time students and seniors 62 and older.  Kids 5-12 can go free with an adult by prior arrangement.

Read more and register at Summer Solstice Herb Walk.
After a couple of years of patiently waiting for Heyday Books to reprint this indispensable book, we can now offer it to you in our
Herb Walks Store
.This painstakingly researched and scrupulously documented book, intended for the layperson interested in gaining a deeper understanding of a significant California Indian culture, reveals a landscape seen daily by thousands of people but understood by very few.
Author Jan Timbrook, an anthropologist and ethnobiologist who specializes in the indigenous Chumash people of the Santa Barbara region—particularly their uses of plants in food, medicine, and basketry—is now in her thirty-second year in the anthropology department at the Santa Barbara Museum of Natural History.
Read more and order it now at this link.

 




Personal note: Purchasing your new books at our online store or at the trailhead makes it possible for us to put out the time and expense to collect and offer these books for your edification. Thanks, Lanny