Follow
this link
to watch the world premiere of the 9-part docuseries,
Remedy: Ancient Medicine for Modern Illness,
featuring Rosemary
Gladstar, Sayer Ji, Stephen Harrod Buhner, Dr. Tieraona Low Dog and many more noted herbalists.
The view

exiting the canyon

of cave-pocked, snow-carved rocks and Bigcone Douglas-Fir. Photo: Lanny Kaufer
Nature Hike to Potrero John Camp on June 15
Thanks to a wet winter and spring, the wildflowers and herbs in the mountains above Ojai are thriving, even as we approach the summer months. Join me, on Saturday, June 15, from 9:00 a.m. to 4:00 p.m. for a Nature Hike to Potrero John Camp, deep in the Sespe Wilderness of the Los Padres National Forest.


The hike will take place on Potrero John Creek, 20 miles north of Ojai. We will cover 1.7 miles each way on a gradually ascending but mostly level trail through chaparral and riparian settings, beginning at 3700 feet. The destination is a (bring-your-own) lunch stop in the shade of a large oak along the creek at Potrero John Camp.

No pre-payment required. Read more and register at this link.
Obi Kaufmann & The State of Water on June 29
Author of the bestselling and award-winning California Field Atlas, Obi Kaufmann, will make a return appearance in Ojai on Saturday, June 29, on the statewide book tour for his next published work, The State of Water, Understanding California's Most Precious Resource (HEYDAY, June 2019).
Obi's February 2018 visit here included a nature walk, painting demonstration, and book signing. It was a sold-out event. This time we are stretching our legs to get to a free-flowing stream in Matilija Canyon, the fitting place to learn about his latest book. The hike will be a fairly easy walk of about one mile each way with one creek crossing.

As we did last time, we will return to a downtown Ojai lecture space for the afternoon indoor session to include an on-the-spot, live painting in the watercolor-and-calligraphy style of the book's illustrations.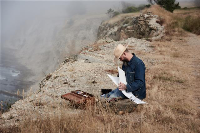 Obi will have copies of his brand new, just published The State of Water for sale and signing.
Professor James Adams of USC School of Pharmacy delivers a lecture on "Medical Uses of Full-Spectrum Cannabis."
Photos from the first Ojai Medical Cannabis Conference
The first-ever
MediCannaCon
packed the house! Here's a hearty thank you(!) to our sponsors, presenters, volunteers and all who attended and helped make it happen.
Were you there? Follow this link to see a gallery of photos from the Ojai Medical Cannabis Conference on May 4. Thanks to Dina Pielaet and Cheryl Brown of High Exposure for the photos!
Summer Solstice Nature Hike on June 23
Celebrate the Summer Solstice with a Nature Hike on Pine Mountain. We'll visit some of the most spectacular scenery and habitat that Ventura County has to offer just when many late spring wildflowers are blooming up there at an elevation of 7000 feet.

According to Craig Carey, author of Hiking and Backpacking Santa Barbara & Ventura
, the Reyes Peak Trail along the northern slope of the peak is "quite simply one of the most beautiful stretches in the southern Los Padres."

Read more and register at this link.
Los Padres National Forest Updates
Here is a link to the USFS webpage with the latest info on Ojai Ranger District trail and road closures, fire restrictions, etc. Hikers, bookmark it for easy reference before heading for the hills.
Please do me a favor and leave a review on my
HerbWalks
page on Facebook and follow me on Instagram
@ojaiherbal.