Rondia Kaufer on top of Pine Mountain (7000 ft. elevation)

The Reyes Peak Trail through the Yellow Pine Forest plant community

Summer Solstice Nature Hike on Pine Mountain: Sat., June 26

Help me celebrate the 40th anniversary of Herb Walks with a Summer Solstice Nature Hike on Pine Mountain. We'll visit some of the most spectacular scenery and habitat that Ventura County has to offer just when many late spring wildflowers are blooming up there at an elevation of 7000 feet.
According to Craig Carey, author of
Hiking and Backpacking Santa Barbara and Ventura
, the Reyes Peak Trail along the northern slope of the peak is "quite simply one of the most beautiful stretches in the southern Los Padres."
Read more and register here.
Sacred Datura growing in disturbed ground near the River's Edge Trailhead
Seaside Wilderness Park Herb Walk on Sat., July 23
Discover the variety of native plants that live in the interface between land and sea. We'll start by walking through the Ventura Rivermouth and Estuary, identifying and demonstrating uses of the plants. Then we'll complete the loop on the Ocean's Edge Trail in the sand dunes on the beach.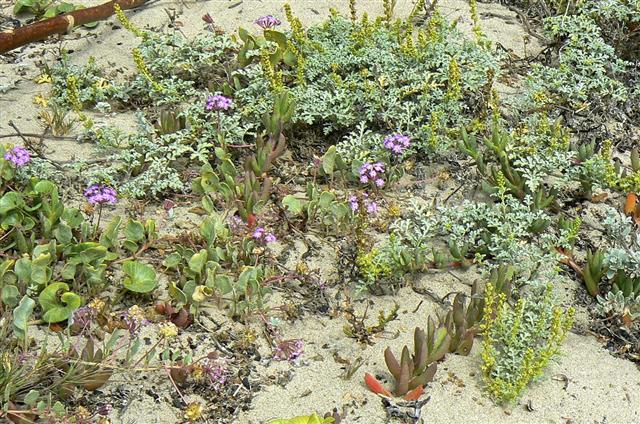 We will see plants of the Riparian Woodland, Coastal Sage Scrub, and Coastal Strand plant communities, all of which can be found in Seaside Wilderness Park.
Read more and register here.
Studying and enjoying Nature
Nature Hikes are good for your health!
In a Huffington Post article entitled "Taking A Walk In Nature Could Be The Best Thing You Do For Your Mood All Day," author Carolyn Gregoire shares ample evidence to support what most of my readers already know. She cites researchers at the University of Michigan who "found that taking group nature walks is associated with a whole host of mental health benefits, including decreased depression, improved well-being and mental health, and lower perceived stress."
Read the entire article here.
This low price looks better all the time

The only other way I know of to buy this classic flora at this unheard-of low price is to walk into the bookstore at the Santa Monica Mountains National Recreation Area headquarters. That's why I'm featuring it again here. Long considered out-of-print, it's selling new on Amazon right now for $60! You can buy it from me on my next walk for the original 1996 price of $19.95 or order it from me online.
Here's a link to it in the Herb Walks bookstore.