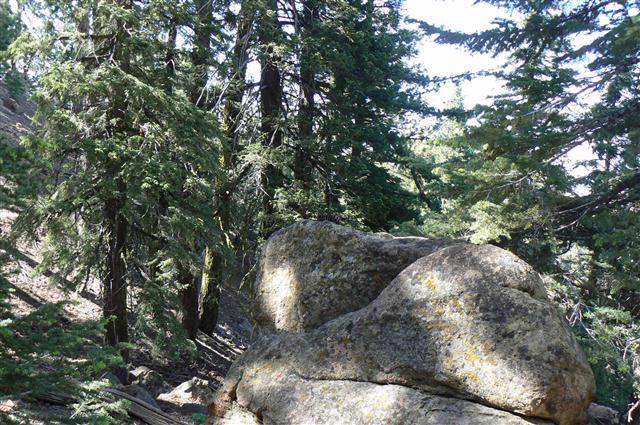 On a favorite trail in the Sespe Wilderness of the LPNF
Keep Sespe Wild Requests Comments on U. S. Forest Service Proposal


Please read the letter from Alasdair Coyne on my facebook page

I recently received a letter from Alasdair Coyne of Keep Sespe Wild asking for comments to be sent to the Forest Service regarding a proposal to designate new roadless and wilderness areas in the 4 Southern California National Forests.

The good news is that across the 4 forests, the USFS now proposes to designate about 300,000 acres as Back Country Non-Motorized, and 80,000 acres as Recommended Wilderness. The not-so-good news for us in Ventura County is that none of the areas recommended for Wilderness status are in our Los Padres National Forest.

Alasdair, who was recently honored with the Wilderness Legacy Award from Los Padres ForestWatch, is asking for letters to be sent to the USFS with specific recommendations. The deadline for comments is fast approaching: June 11. You can read the text of his entire letter on my facebook page, Herb Walks with Lanny Kaufer.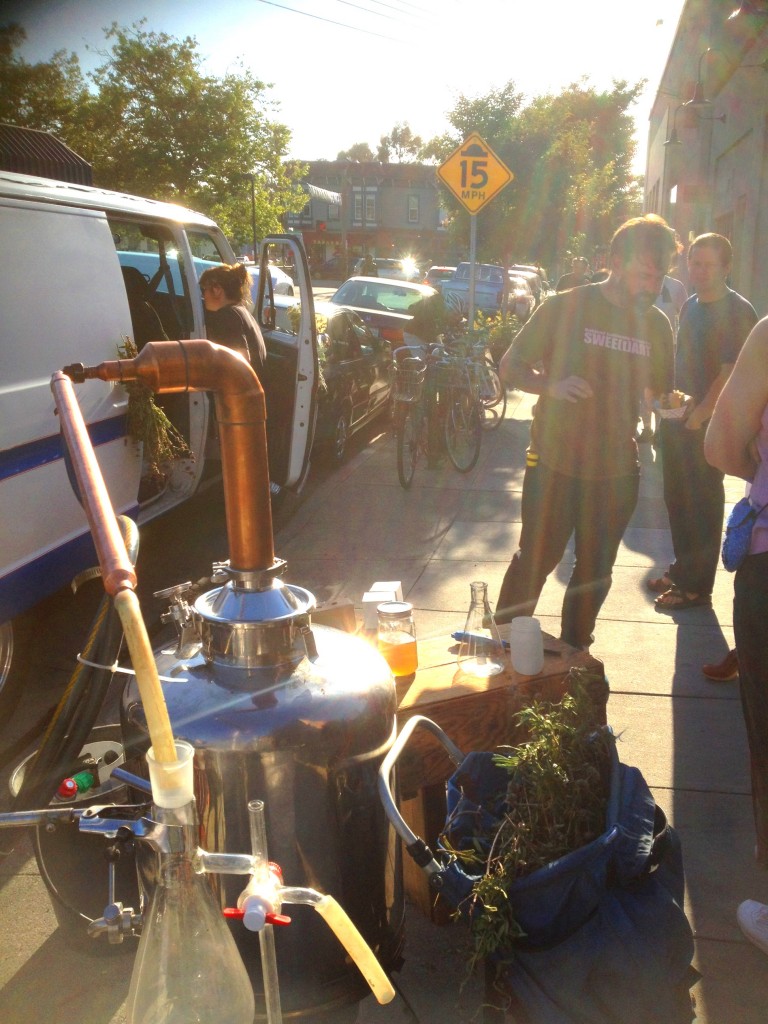 Obi Kaufmann and his portable herbal still on the streets of Oakland
Juniper Ridge

Check out our new friends' cool business based in Berkeley, CA
I recently volunteered at the annual barbeque fundraiser for Los Padres ForestWatch where Alasdair received his award (see article above). Rondia and I met Obi Kaufmann and his partner who were distilling Black Sage Oil out of the back of their van. Turns out they have a great company, Juniper Ridge, that harvests wild plants up and down the west coast and makes awesome naturally aromatic products from them including room sprays, soaps, incense and more. If that isn't cool enough already, they also donate 10% of their profits to groups working to protect Western wilderness. Check them out at www.juniperridge.com or on facebook at https://www.facebook.com/juniperridge
Juniper Ridge is one of many resources to be found on my
Evan Austin
Meet my friend and local graphic artist Evan Austin of Ojai

No doubt you've noticed my new logo complete with a caricature of me. All that work was done by graphic designer and social media helper Evan Austin of graphics (and more!) by evan austin

Besides running a business and raising a family, this purposeful young man is a stalwart in the local peace community.

Thanks for everything, Evan!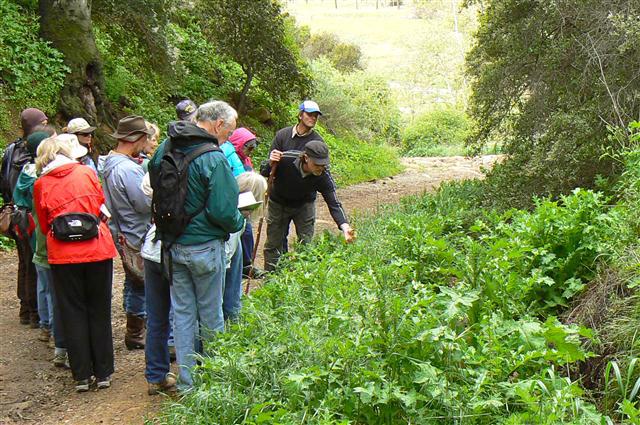 Photo by Rondia Kaufer
Special Discount
Offer Extended
Help me spread the word and earn a discount on Herb Walks and Hikes

Here's an easy way to knock $5 or $10 off the price of an Herb Walk, Herb Hike or Herb Walk 'n' Roll in the month of June. Bring one or two new people along who have never attended one before and I'll give you a $5 discount on your own admission for each person. (This offer does not apply to already discounted Senior and Student rates.)

The Nitrogen Cycle




Kaufer's Kwiz





Be the first to email the correct answer and win a free Herb Walk





Congratulations to Joanna Gentry for being the first to send me the exact correct answer to last month's quiz question: What is the local allelopathic plant that appeared on the cover of Science magazine in 1964? Thanks to those of you who submitted correct answers including other plants that practice negative allelopathy such as Coastal Sagebrush and Black Walnut. The winning answer, however, was Purple Sage ( Salvia leucophylla).

So, continuing with that theme, if negative allelopathy is defined as "the suppression of growth of one plant species by another due to the release of toxic substances," then there also are plants that have beneficial effects on neighboring plants, either through

positive allelopathy or by other means.



The most common way that plants encourage the growth of other plants around them is by providing much-needed nitrogen, often deficient in overused or eroded soils. Legumes of the Pea family (Fabaceae) have nitrogen-fixing bacteria on their roots that convert atmospheric nitrogen (N2) to ammonium (NH4+) which, after a couple more steps, becomes available nitrogen in the soil.

While the great majority of this activity is carried out by legumes, there are a few non-leguminous plants that also provide this valuable soil-building service, earning them the name "pioneer species." One of them grows in the mountains around Ojai. The prize goes to the first person who can provide the common and Latin names for this plant.

The first person to answer correctly at this email

link

will be the winner. His/her name and the answer will be published in the next newsletter.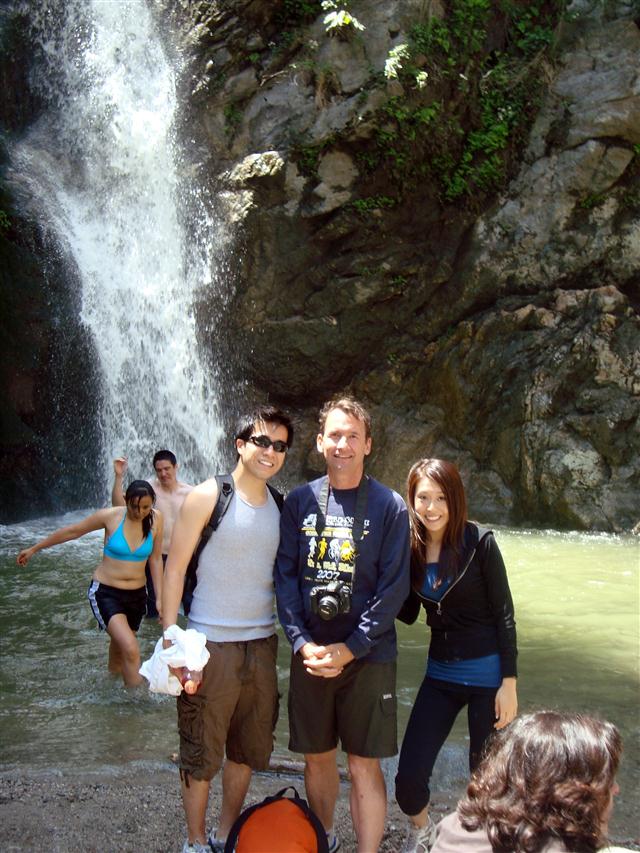 Jim Adams on a field trip with
USC Pharmacology students
Professor Jim Adams of USC School of Pharmacology

A man who walks in two worlds takes an Herb Walk with us this month

I'm thrilled to announce that Dr. James D. Adams, Jr., Associate Professor of Pharmacology at USC will be our special guest for the Herb Walk on Saturday, June 23 , at Wheeler Gorge. Professor Adams is the co-author, with the late Cecilia Garcia, of Healing with Medicinal Plants of the West (see book column below).
Jim, as he prefers to be called, has been teaching pharmacy students, medical students, doctors and other healthcare professionals for over 25 years and has over 200 publications.
Running parallel with his academic career, Jim Adams has worked with the Chumash people since 1998 and has been able to learn about Chumash healing from Cecilia Garcia. In addition to their book, they have written almost 30 journal articles together. Cecilia Garcia passed away just a few weeks ago. This walk will be dedicated to her memory.

On his personal connection to traditional healing practices, Jim says, "My family came to Virginia in 1635 and has always survived by using American Indian healing. On the frontier, there were no doctors. American Indian healing was better than European medicine anyway. I continue this tradition."

This Herb Walk is another in a series I'm leading in the Los Padres National Forest under my new Special Use Permit from the Ojai Ranger District Office of the U.S. Forest Service.

You can read more about this event in the June Schedule of Events column to the left or register right now at this link:
Register
Featured Book-of-the-Month for June
JIm Adams, the book's co-author with Cecilia Garcia, will be our special guest on Saturday, June 23!


This month's featured book is Healing with Medicinal Plants of the West: Cultural and Scientific Basis for Their Use, co-authored by the recently deceased Cecilia Garcia and Dr. James Adams, Jr., Associate Professor of Pharmacology at USC. Dr. Adams studied with Chumash healer Cecilia Garcia for many years. Together they co-wrote almost 30 journal articles in addition to this wonderful book, bringing together the worlds of modern medicine and traditional healing in a new and refreshing way.

From the back cover: "For each plant, the book provides: a photograph and description, traditional uses, active constituents, recommendations for use. This book is unlike any other because spirituality is presented as a necessary part of healing."

In my opinion, this book is truly one-of-a-kind in that it combines firsthand Chumash plant knowledge with the latest and most responsible descriptions of the phytochemicals,including their uses and contraindications.

Jim will bring a few copies of the book for purchase and signing at the walk.



My Bookstore is linked directly to Amazon so you can leave the browsing to me and order from my personally selected list without having to leave my site.

You can order this or other great selections at this link: Bookstore