March 2023 HerbWalks & OjaiHerbal Newsletter
SAVE THE DATE! The Ojai Herbal Symposium is back November 11-12. Watch for all the details in the April newsletter.
I'll be leading three Natural History Walks at Taft Nature Preserve in March: the afternoon of March 4 and both the morning and afternoon of March 11. Click
here
or on the photo above to visit the Taft Gardens & Nature Preserve events page.
One of the first challenges that the Ojai Valley Land Conservancy took on in its early days was the restoration of the historic wetland at the site now known as the Ojai Meadows Preserve. Join the Wetland Walk on Sunday, March 5, to experience this wildlife oasis in all its glory. Click
here
or on the photo above to learn more.
Photo: Nathan Wickstrum for Ojai Valley Land Conservancy
Although photos cannot fully capture the splendor of the full moon rising above the Topa Topa Bluffs, Judy Cheske came as close as you can get with her photo from the March 2022 Full Moon Sunset Nature Hike. Join us on Tuesday, March 7, to experience it for yourself. Click
here
or on Judy's photo to read more and sign up.
Ojai herbalist Carol Wade is best known for her
Ojai School of Herbal Studies
but a few lucky people have visited her passion project, the
Earth Island Medicinal Herb Garden
. Become one of the lucky few on March 25 when I join her for a tour and a cup of homegrown tea. Click
here
or on the photo above to read more and sign up. This one is filling up fast!
You are invited to attend my in-person interview with award-winning journalist Kit Stolz at the Ojai Art Center on Saturday afternoon, March 25. This event is presented by the Art Center's Literary Branch free with a suggested donation of $5. No RSVP or registration required. You can learn more about it by clicking
here
or on the poster above.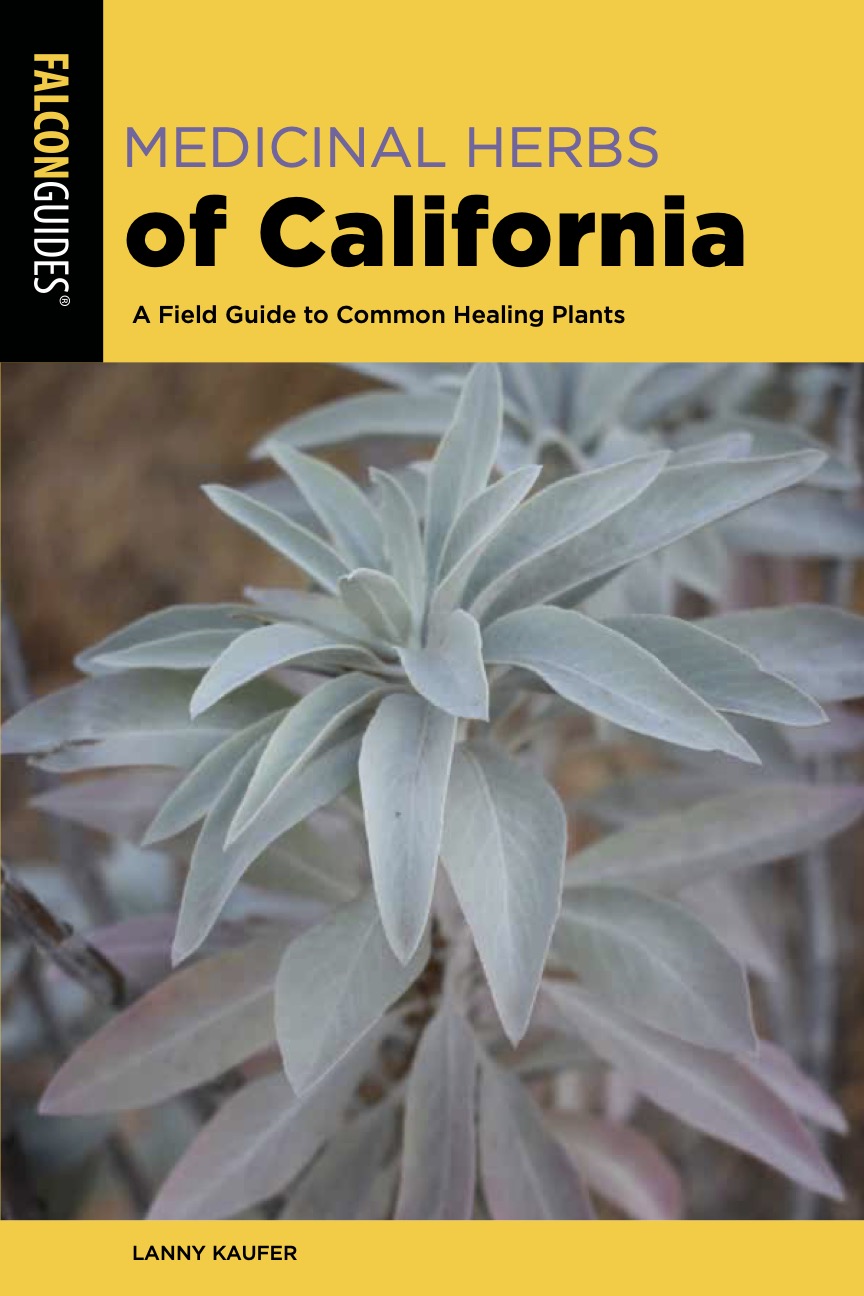 Here's another reminder for those of you who own my book or are considering it. Please see the article below about the free
hyperlinked bibliography
I created to save you the hassle of following links from the printed page to web journal sources cited in the book.
You can order the book on my website by visiting
this link
or clicking on the book cover image above. Use the "Order notes (optional)" field at checkout to request a simple autograph or a book signed to you. This personal touch is something not available when purchasing on Amazon. Plus you can support my authorship by buying directly from me. Thank you!
You also can find them locally on the shelf
in Ojai
at
Bart's Books, Crystal Corner, Farmer & the Cook, Ojai Valley Brewery, Ojai Valley Museum, Rainbow Bridge, Sespe Creek Collective, Shangri-La Care Cooperative, and Wheeler Gorge Visitor Center
;
in Ventura
at
Ema's Herbs, Green Thumb Nursery, Timbre Books
, and
Ventura Spirits
;
in Oxnard
at
REI
;
in Calabasas
at Santa Monica Mountains Visitor Center Store;
in Santa Barbara
at
Chaucer's Books
and
The Book Den
;
in Solvang
at
The Book Loft
; and at
Barnes & Noble
in
Ventura, Thousand Oaks, Calabasas
and
Valencia
.
Three Natural History Walks in March at Taft Nature Preserve


With two natural History Walks cancelled due to rain so far this year, Taft Nature Preserve is offering three in March to accommodate those already signed up and make room for more. You can join me on Saturday, March 4, from 1:00 to 3:00 p.m. or Saturday, March 11, from 10 a.m. to 12 noon or 1:00 to 3:00 p.m. to explore trails through the wild parts of the property, identify and discuss native plants, observe the continuing regrowth of the property since the 2017 Thomas Fire. We also keep an eye out for birds, and animal tracks and other signs of life in the local ecosystem.

To register, visit the links in the March Herb Walks Events calendar above.

If you have questions or if any of the walks are sold out by the time you read this, please contact taftgardensvisitors@gmail.com.

Author Interview by Kit Stolz

Please join me and renowned journalist Kit Stolz as he interviews me about my book, Medicinal Herbs of California, for this event sponsored by the Literary Branch of the Art Center. Read more at this link.

Click on the logo above or the link below to read the latest (February 18) Trails Update for the Ojai Valley Land Conservancy preserves. Some that were damaged by the flooding are already open again! Volunteer help is needed to open more. Or please consider joining their "$100,000 Give or Get Muddy Challenge"

The boulder-strewn riverbed to the right of me in the photo was the site of an easy trail to a seasonal pool before the rains.

Wetland Walk at Ojai Meadows Preserve

There's not been a better time in recent memory to experience the wetland at the Ojai Valley Land Conservancy's Ojai Meadows Preserve. Please join me and my wife Rondia for a leisurely nature walk at this historic wetland on Sunday, March 5, from 9:00 to 11:30 a.m.

We'll identify native plants that have been used for centuries by the Chumash and other Indigenous people of California for shelter, food, medicine, fiber, ceremony and much more.

In the main pond at the lowest spot in the wetland, we'll see waterfowl and typical wetland plants such as tules and cattails. This winter's rains have brought up several smaller vernal pools, as well.

Full moon during March 2022 Nature Hike Photo by Judy Cheske

March Full Moon Sunset Nature Hike

On Tuesday evening, March 7, from 5:00 to 7:30 p.m., I'll lead a Full Moon Sunset Nature Hike to a vista point above the Ojai Valley where we can watch the near-simultaneous sunset and moonrise. We'll meet at the trailhead at 4:45 p.m. for a 5:00 p.m. start, then gradually hike about 1.5 miles to the viewing site, experiencing some elevation gain on a well-worn, dirt fire road with uneven footing in places.

Along the way we'll stop to meet some valuable edible and medicinal plants, including:

Black & Purple Sage

Blue Elderberry

Coastal Sagebrush

Prickly-Pear

Horehound and

Toyon

We'll also identify Poison Oak.

OpenTrails:

Los Padres National Forest Regional Trail & Road Status

by Los Padres ForestWatch

My trusty trail assistant, Richard Flowers of Green Thumb Nursery in Ventura, shared this new computer app created by Los Padres ForestWatch. It's an interactive map tool to help you determine the public access status of your favorite places to go hiking, biking, horseback riding, or driving. LPFW promises to constantly update the data and the map itself, especially as conditions change and roads and trails reopen — or as they close.

Tour the Earth Island Medicinal Herb Garden with founder Carol Wade

I invite you to join me and professional herbalist Carol Wade in Ojai on Saturday, March 25, at her Earth Island Medicinal Herb Garden — miraculously spared by both the 2017 fire and the 2023 flood— to appreciate the nature still standing, the rebirth and renewal of the natural world and of our human bodies, and the many ways plant medicine lends itself to whole body/mind health.

You will spend a lovely morning visiting this East End jewel with me and Carol, the garden's founder, as your guides. You'll enjoy the beautiful vistas as you learn about how to grow and care for some of the many native and non-native herbal allies that live in the Garden. We'll gather a few that are just right for the season and prepare a hot tea under Carol's direction.

Read more and sign up at this link.

Book signing at Bart's Books in June. Photo by Eliane White

Hyperlinked bibliography for Medicinal Herbs of California

Have you seen this column before? Good! That means you're reading the newsletter. I like to know that. And if you own a copy of my book, Medicinal Herbs of California, or are thinking of buying one, even better! If you do, I hope you'll check out the free hyperlinked bibliography I created to save you from having to

transfer URLs from the printed page to a web browser.

Northbound Highway 33 into the Los Padres National Forest from Ojai is still closed indefinitely and the 60-day forest closure ordered on January 16 is still in effect.

For the latest info on road closures, trails, campgrounds, and more, c

lick on the USFS logo above or the hyperlink below to visit the

Ojai Ranger District

(ORD) webpage. Other district pages are there, too.
|