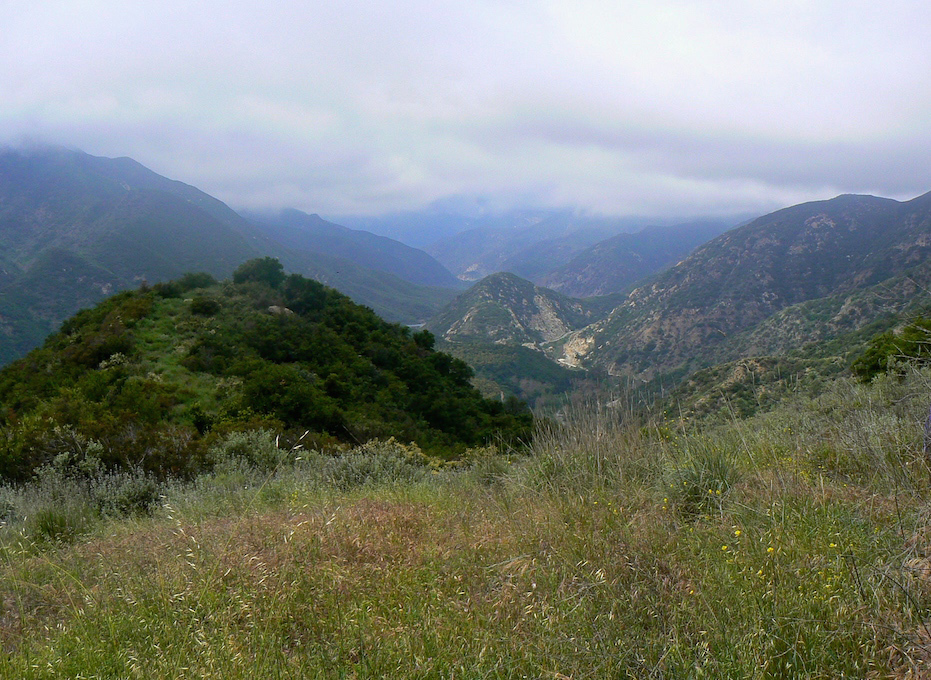 View north from Cozy Dell Trail
This Sunday:
Cozy Dell Trail

For views, plants,and exercise this trail is one of the best around

Join me and guest naturalist
Bruce Vincent
for a Spring Equinox Nature Hike on Cozy Dell Trail in the Los Padres National Forest near Ojai on Sunday, March 22, from 9 a.m. to 2 p.m. We'll start at the west end trailhead on Hwy 33 by the Friend's Ranch warehouse for a moderately steep, switchbacked climb of about 0.8 miles.
The trail has lots of shade from oak trees and features unique plant habitats found mainly in canyons with north-facing slopes. The tread is firm but rocky in spots with many rock steps. This section of the trail is rated T4 on a scale of T0-T5.

We will move slowly and carefully up the trail, stopping often to identify and discuss edible and medicinal plants and, when possible, demonstrate their uses. We will also identify birds and other wildlife. Our lunch destination will be a vista point overlooking the Ojai Valley.

Read more and register now at this link.
One of my go-to books for Southern California plant identification has been sold in my
Herb Walks Store
and elsewhere for $15.00 for a long time. Suddenly, the publishers slashed the price to $7.95. What was already worth the money is now a steal.
According to Barbara Salzman, writing in the Los Angeles Times, "Belzer devised this guide for the person who enjoys the outdoors and wishes to know more about the native plants of Southern California but may not have much botanical training. It serves that purpose nicely. Belzer's striking color photos and concise plant descriptions also may whet the gardener's appetite."
Use the discount code in this newsletter to order it now at this
link
.
As our thank-you to you for opening and reading this newsletter, here is a discount code worth 10% off all items (except Gift Certificates and event admission charges) for the months of March and April at the
Herb Walks Store
. We are always adding new books to our collection. Have you looked lately?
Just click on the Herb Walks logo below to get the code. Then copy and paste it when requested at checkout.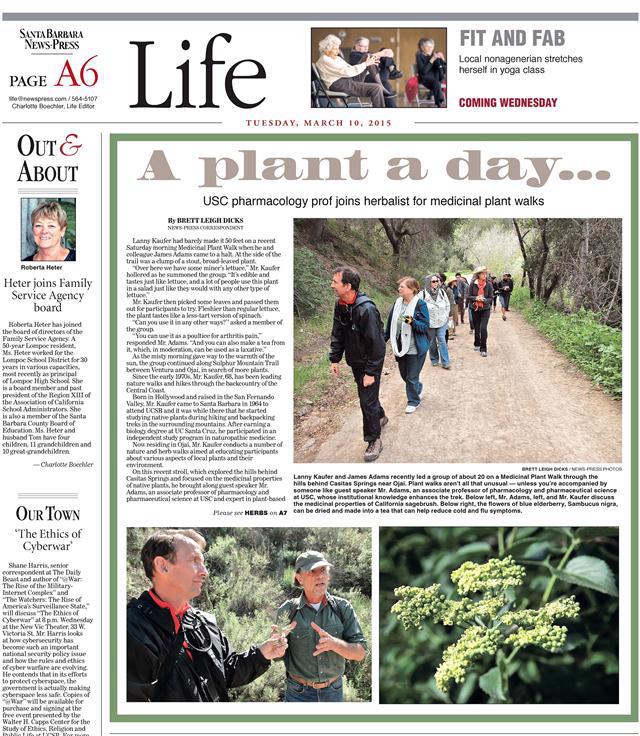 Click on image for enlarged article
Click on image for rest of article
Santa Barbara News- Press feature story on Lanny and Jim Adams
 This writer got the point and has the skills to share it with his readers

Santa Barbara News-Press Life section editor Charlotte Boechler thought our event sounded interesting enough to send out a reporter and Brett Leigh-Dicks was the perfect person for the job.

A writer, photographer, and botanist in his own right, Brett showed up early on a chilly morning in February with a 60% chance of rain. He understood the passion that Professor Adams and I share for our wonderful Southern California native plants. Brett's excellent article is the result.

If you're a News-Press subscriber, you can read the article here. Otherwise, you can read it by clicking on the images above or see it and other articles at Herb Walks in the News at HerbWalks.com.

The article and photographs are reprinted with permission from Santa Barbara News-Press, copyright 2015 Ampersand Publishing, LLC

Dr. Adams will join us again in, you guessed it, Santa Barbara, on Saturday, May 16. Here's a link to the event listing.
One in an occasional series of nature photos from my ramblings around Ojai. This was shot up a canyon in the Sespe watershed at a spot known to some as the "Emerald Pool."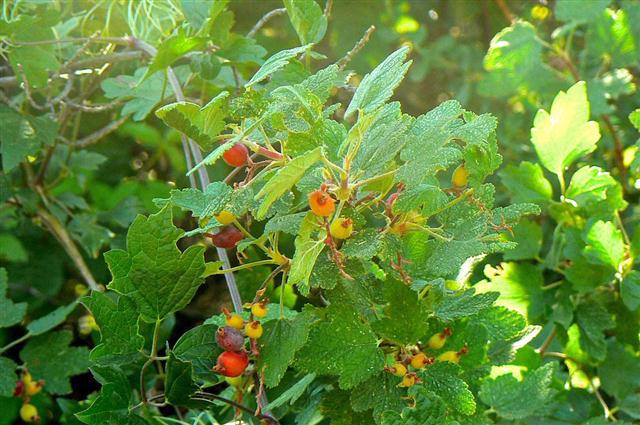 Chaparral Currants in Horn Canyon: April, 2009
Horn Canyon Trail: Sunday, April 12
With minimal drive time from downtown, Horn Creek is great for a morning walk

Please join me at 9 a.m. for a 3-hour Herb Walk in the "East End" of the Ojai Valley as we identify and sample wild plants in riparian and chaparral habitats. We'll discuss and demonstrate their indigenous and modern uses for food, medicine, first aid, survival, drought-tolerant gardening, and much more.
This will be a slow-paced walk of about 1.5 miles round trip with very gradual elevation gain. The trail crosses Horn Creek which will provide the plants of the riparian (creekside) habitat. This walk is suitable for hikers of all levels of ability who are capable of walking that distance and standing for periods of time.
After the walk, participants will receive a list of all plants identified and discussed including common and Latin names for genus, species and family of each plant. While these names are useful for continuing research online and in books, there is no substitute for first-hand plant identification in the field.
Read more about it and register at
this link
.
Wheeler Gorge Visitor Center Open House

A family-friendly event for kids of all
ages from 9 months to 99 years old

On Saturday, April 11, Rondia and I will once again be setting up our booth with books, plant samples, a slideshow and more at this fun and informative annual event sponsored by
Los Padres Forest Association
. The event runs from 10 a.m. to 2 p.m. and is free to the public.
At 12:30 I will lead a Nature Hike on the nearby Wheeler Gorge Nature Trail. The walk is $10. You can read about the Nature Walk and sign up
here
.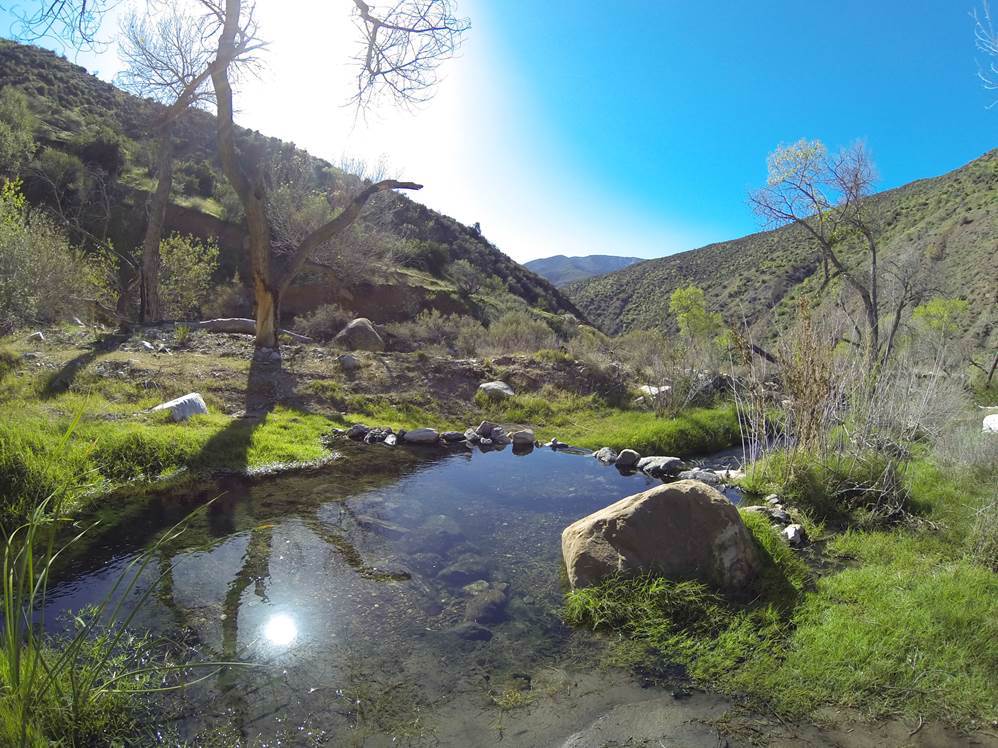 Sespe Hot Springs on the Ojai Ranger District. Photo: Shawn Hoff
I recently visited the offices of the USFS Ojai Ranger District of the Los Padres National Forest to renew my Special Use Permit for Outfitters and Guides.
I encourage you to stop in sometime to see the displays, maps, books and more and meet the friendly folks there.
For the latest alerts and information on campgrounds, road closures, etc., bookmark this
Ojai Ranger District
page on the USFS website.
For volunteer opportunities, contact Wilderness/Trails Manager Heidi Anderson at
handerson@fs.fed.us
.