New email service will require opt-in




If things go as planned, "a change is gonna come" in March.



If you are reading this, then I hope you want to continue receiving these newsletters. So please be sure to watch for an email later in March asking you to opt-in to my new email service.

If you are not reading this, then there's no point in going on here. Agreed? I'll take your silence as a yes.


Kaufer's Kwiz
Here's one for the overachievers...

The last couple of kwizzes were solved within hours or even minutes of hitting the inboxes so I decided to try to make it a little more challenging.
The Double Puzzle above was constructed using
Puzzlemaker at DiscoveryEducation.com
. Once you click on the puzzle to open it, you can click on it again to enlarge it for easier viewing but you will probably need to print it out to be able to solve it. Warning: the printed version is a little small. I couldn't figure out how to make it larger.
Unscramble each of the clue words representing wild edible greens found on our Southern California Herb Walks. Copy the letters in the numbered cells to other cells below with the same number to create two sentences. Clue: two of the plants have are two-word names.
The first person to email me those two sentences is the winner of a free Herb Walk just like
Sarah Termondt
who correctly identified Johnny-Jump-Up
(Viola pedunculata
) as the mystery plant in the January Kwiz.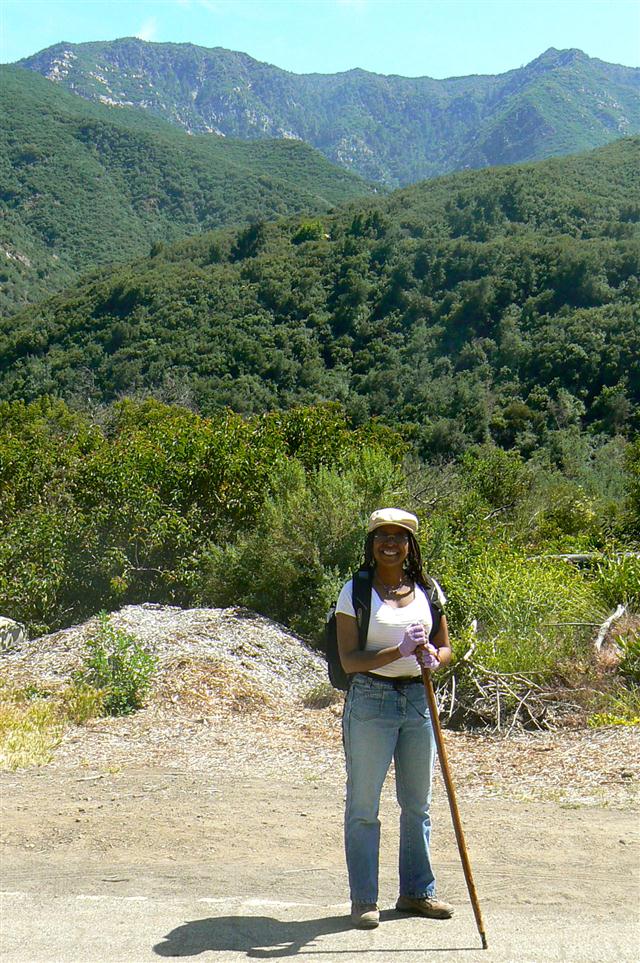 Rondia Kaufer enjoying a hike in the spring in scenic Matilija Canyon
Herb Walking or Herb Hiking, we're always learning about herbs and nature.

Here's a link to the full
Spring 2013 Schedule.



March's Featured Book of the Month




My newest favorite book for identifying local wild plants in the field






This wonderful book has quickly become the first reference that I recommend to people who want to learn to recognize the most common wild plants of the Southern California foothills.


The information and descriptions are thorough and the photos are excellent representations of the plants. The pages are printed on thick, glossy stock with a heavy-duty spiral binding, suitable for carrying in your pack.

I was able to find only one minor inaccuracy which I am duty-bound to share here. The authors, Hugh Margerum and David Powdrell, fell for the common misconception that the plant with the common name "Yellow Yarrow" (genus Eriophyllum) is a true Yarrow (genus Achillea). Alas, it is just one more of many misleading common names. As a result, they attribute true Yarrow's medicinal properties to it. Other than that, their research is impeccable.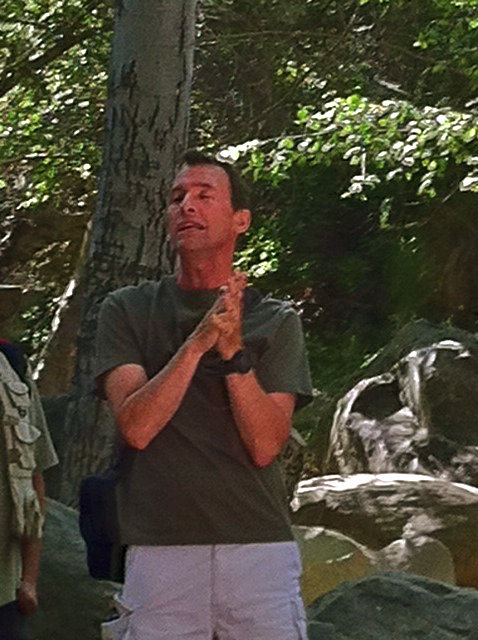 JIm Adams sings Chumash song on Herb Walk last year
Dr. Jim Adams returns to Ojai
We've lured him away from USC again so don't miss this extraordinary teacher.

Herb Walks with Lanny Kaufer is pleased to announce the return of author and medicinal plant expert Dr. James Adams of the USC School of Pharmacology on Sunday, March 24. Experience riparian and chaparral habitats on the Ojai Valley Land Conservancy's Ventura River Preserve as I identify native and naturalized plants and Dr. Jim discusses their medicinal properties.
Professor Adams brings a wealth of knowledge and experience as well as a unique perspective on herbal medicine. He is the co-author — with the late Chumash healer Cecilia Garcia — of the groundbreaking book, Healing with Medicinal Plants of the West: Cultural and Scientific Basis for Their Use. An Associate Professor of Pharmacology at the University of Southern California School of Pharmacy, he has been teaching pharmacy students, medical students, doctors and other healthcare professionals for over 25 years and has over 200 publications.

READ MORE



New pricing and three discounts




A little fine-tuning in search of the perfect balance



This year I am asking $20 for shorter Herb "Walks" of about 1 mile taking about 2 to 2.5 hours. Longer Herb "Hikes" of 3-4 miles taking 3.5 or more hours are $25. A $5 discount is available for seniors 62-and-up and fulltime students. In addition, I'm offering the 4th walk in a season free to anyone who attends 3. Also, to encourage carpooling, 4 or more adults arriving in the same vehicle will each receive a $5 discount. How's that for economic stimulus?