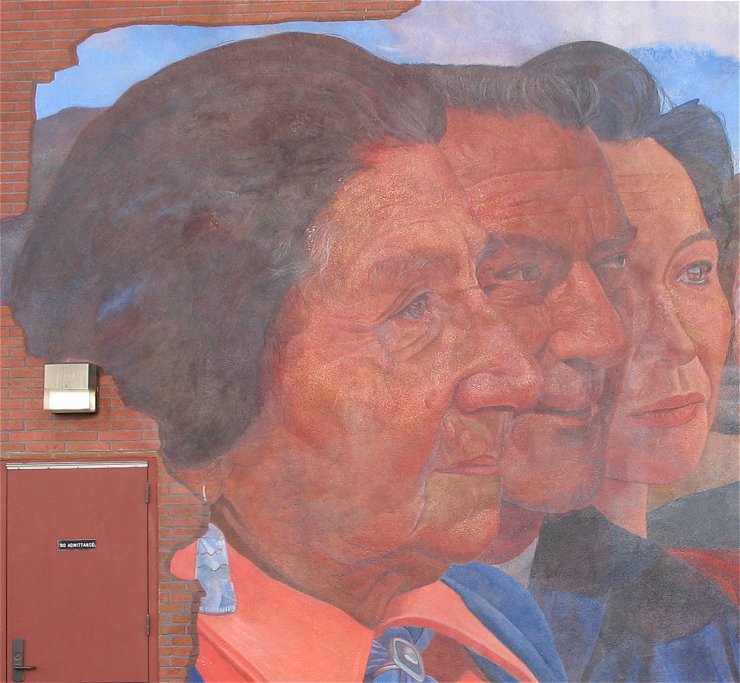 Juanita is memorialized on the "Ethnic Diversity" mural in Lompoc
San Antonio Creek: memories of Juanita Centeno
I feel privileged to have known her

Tucked way in the back of Tucker's Grove County Park in Goleta is a jewel of a trail along San Antonio Creek. It's my favorite site for Herb Walks in Santa Barbara (although I'd love to hear your suggestions of others). I'll be leading one there on Saturday, March 15.

For me, the attraction is more than the natural beauty of the creek or the plant diversity of the coastal riparian habitat. This is one of the places I first studied with the late Juanita Centeno (1918-1993), the Chumash crafts artist and plant expert.

Juanita was born in Lompoc and grew up on the Santa Ynez Valley Chumash reservation, returning to Lompoc for much of her life. There she gathered her native plant materials to make baskets, combs, sandals, paints and much more. Crafts were her specialty but she had much knowledge of medicinal plant uses that she learned from her aunt and other elders. Sustainable living, we would call it today.

I attended a series of classes and field trips in the mid-1970s with her and UCSB Archaeology Professor Larry Spanne and then invited her to Ojai as a special guest on several Herb Walks in the late '70s including an all-day crafts workshop among the tules at the now-dormant Matilija Environmental Science Area just
upstream from Matilija Lake.
Juanita taught us about the ancestral Chumash people's relationship with -- and reverence for -- the Earth,.....
Read more at this HerbBlog post.

Register here for the San Antonio Creek Herb Walk on March 15
For your consderation: the latest addtion to the Herb Walks Bookstore
After years of seeing
Ethnobotany of the California Indians
referenced by many authors writing on the uses of native plants, I finally tracked it down. Amazon and Google Books list it as out-of-print and unavailable, respectively, but I can now offer the 2-volume set brand-new at a great price. 
This scholarly and comprehensive work is a must-have for serious students of California ethnobotany. The first volume, authored by Beatrice M. Beck of Rancho Santa Ana Botanic Garden, is an exhaustive bibliography of just about everything ever written on the subject and includes a useful subject index as well.
The second volume by Sandra Striker is a thoroughly researched book of 209 8.5" X 11" pages that presents exactly what one would expect from its title:
Aboriginal uses of California's indigeous plants
.
If you haven't browsed the
Herb Walks Store
, please take a few minutes and
see for yourself what you've been missing.
A discount code worth 10% off all the items in your March order at the
Herb Walks Store
is hidden behind one of the images or photos on this page.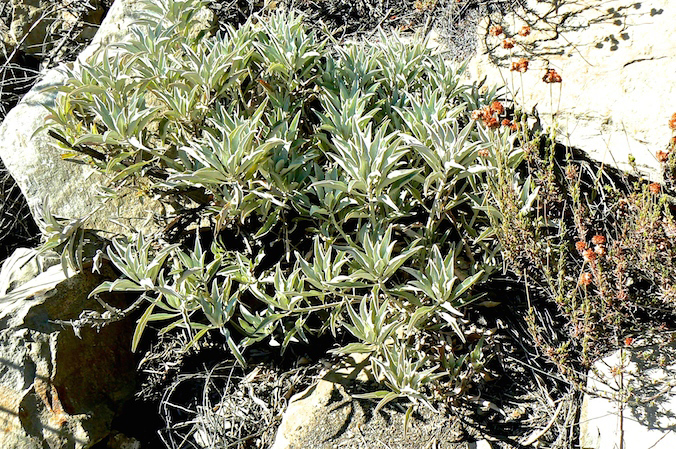 White Sage enjoying some southern exposure in Matilija Canyon




Matilija Canyon: the eternal call of the Wilderness





I just can't stay away from this place..... and why should I?



Wh

enever people ask me to recommend a hiking trail within 30 minutes of d

owntown Ojai, I say "Matilija Canyon" without hesitation.*

As the gateway to the Los Padres National Forest's Matilija Wilderness, the trail beginning at the end of Matilija Canyon Road can start you on a wilderness experience ranging from a one-hour dayhike to a backpack or horsepack tour limited only by your strength and provisions.

Before the tunnels were blasted through Wheeler Gorge and Highway 33 was built, the Upper North Fork of Matilija Canyon was the original route for pack trains to reach Pine Mountain. What a journey it must have been! You can read a fascinating first-hand account of just such an expediition at Jack Elliott's Santa Barbara Adventure blog in a post entitled "Camping Out in California: Pine Mountain Narrative (1887)."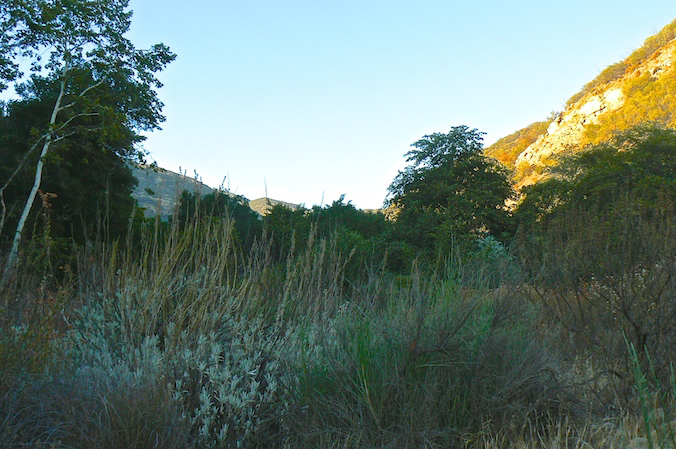 Looking up the mouth of the
Upper North Fork
Matilija Canyon is home to a tremendous diversity of useful native trees, shrubs, and plants
including White Alder, Bigleaf Maple, Western Sycamore, Islay Cherry,
Manzanita, Yerba Santa, the eponymous Matilija Poppy, and the spectacular Wooly Blue Curls.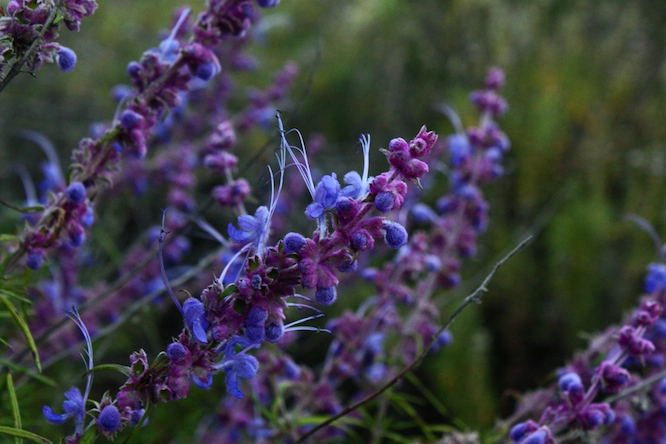 Woolly Blue Curls is in the Mint family (Photo by Jack Elliott)
Register here
to join us on March 23 for the Spring Equinox Herb Walk in Matilija Canyon.
* I would be remiss if I didn't remind you to drive safely and observe the speed limits and other posted signs when driving through the communities on Matilija Canyon Road.
Many thanks to Jessica Thompson of
Green Goddess Gardens
for sharing her expertise on drought-tolerant plants on the
February Herb Walk
.
In response I've updated my links to SoCal nurseries that stock natives. Just scroll down the LInks page.