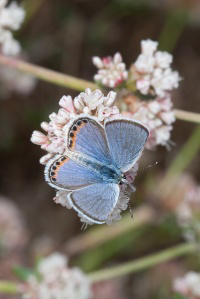 Acmon Blue ( Plebejus acmon) on a wild Buckwheat flower




Herb & Butterfly Walk on May 19





Learn how to plant a native garden designed to attract butterflies



Please join us Sunday, May 19, as we welcome back Michelle Dohrn, our resident butterfly expert, for a plant and butterfly identification walk on Horn Creek in Ojai's east end.

Michelle has a BS in Zoology and Botany from Cal Poly Pomona. Her passion is butterflies. Formerly with the California Wilderness Coalition and the U. S. Fish and Wildlife Service, Michelle volunteers at the Ojai Valley Land Conservancy and organized a butterfly restoration site at their Ojai Meadows preserve.

Michele has a butterfly garden at her home and will share with us how to plan one with native plants that we will encounter on the trail.

Sign up here for this special event.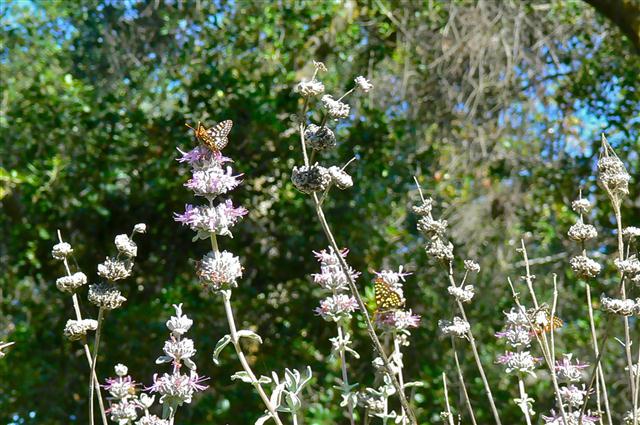 How many Variable Checkerspots
can you spot on the Purple Sage?
Cattails and Bigcone Douglas-Fir along the Sespe




Sespe River Trail
Herb Hike





Wanna get away from it all with us?



In what we hope will become -- with your participation -- an annual tradition, we wll return to the Sespe on Saturday, May 25, for an Herb Hike. Last July, Santa Barbara writer Rachel Hommel joined us and wrote a great article for LoaTree entitled "A Walk on the Wild Side − Herb Walks with Lanny Kaufer." On that hike, we identified 27 native trees and plants including edibles that we sampled like Chia seed, Cattail stems, and Manzanita berries.

The Sespe is one of the last wild rivers in Southern California with 31 miles of its total 55 designated as a "National Scenic Waterway" thanks to the tireless efforts of the Keep Sespe Wild Committee (www.sespewild.org).

This is another in a series of backcountry walks and hikes under a Special Use Permit from the Ojai Ranger District Office of the U.S. Forest Service designed for guides who provide recreational and interpretive services to the public.

Sign up here for this hike.



May's "Book" of the Month




It's actually not a book at all; it's cards.




Introducing the latest addition to the Books section of our Herb Walks Store: Tri-County Medicinal Plant Cards: Medicinal Plants of Santa Barbara, Ventura and San Luis Obispo Counties by Sue Reinhart. After years of leading medicinal plant walks in Santa Barbara, Sue has created her magnum opus.

Each plant is featured on a separate card to allow you to sort them according to your needs. Each card has a full-color collage of photos of one plant, with quick-find color tabs around the edges to help you sort for the following:

Toxicity
Organ System of Action
Herbal Action
Chinese Medicine Meridians
Ayurveda 6 Tastes
Edibility
Practical Uses
Habitat
Flower Color
Month of Bloom
The text

on each card is a detailed summary of the medicinal information for each plant. Also covered are descriptive and habitat information, other uses and warnings. A red card background highlights poisonous plants. A key to the color tabs is also included.

The companion Handbook, included in the box, gives instructions for use, along with the historical, theoretical and cultural foundations of herbal and holistic healing.
There's nothing else like it and we're thrilled to be able to offer it to you either online or onsite when you attend a walk (where you can skip the shipping).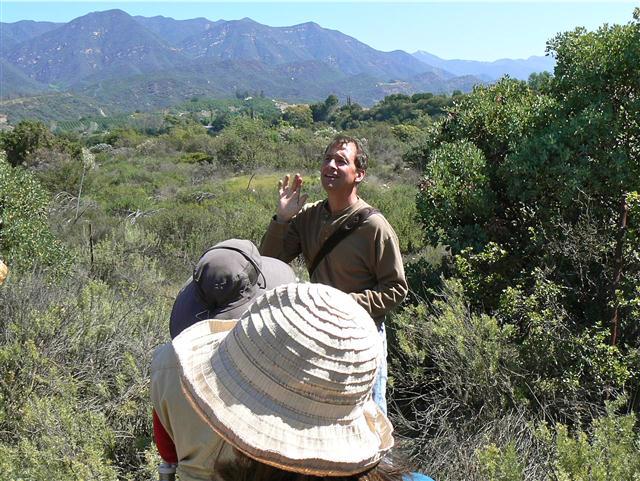 Dr. James Adams, the source of this month's Kwiz, will return on June 16.
Kaufer's Kwiz
It pays to pay attention to what Jim says

Congratulations, Erin Parker, for identifying the Dusky-footed Wood Rat (
Neotoma fuscipes)
as the animal that places the leaves of California Bay (
Umbellularia californica
) around the edges of its nest to control fleas. The nest itself is inside the house of sticks that these industrious rodents build. See photo below by Ben Grangereau from the San Antonio Creek Herb Walk on April 7.
This month's Kwiz is based on something Dr. James Adams of USC shared with the group when he was our special guest on March 24. He talked about 5 herbs that our ancestors carried around the world with them because "they knew we would them." They are common plants found in every temperate zone including ours.
The prize of a free Herb Walk goes to the person who can name the most. It's open to everyone (except Jim) but obviously you have an advantage if you were there. You get 5 guesses and the contest ends when someone names all 5 or, if not, by May 25. Send your answers to
lanny@herbwalks.com
.
Looking ahead, Jim Adams will return by popular demand on Sunday, June 16, for a
Medicinal Plant Walk and Acorn Demonstration
at Wheeler Gorge. Don't miss this engaging and knowledgeable author and presenter!
Secluded Rose Valley Falls on the north side of Nordhoff Ridge
Discover the real Ojai mystique....

We are blessed to have some very scenic locations in the mountains surrounding Ojai. Few can rival Rose Valley Falls and even fewer are as easy to walk to.

First we'll carpool from the Maricopa Plaza in Ojai up State Route 33, a designated State Scenic Highway, to Rose Valley. After a brief stop in a sunny spot in Rose Valley to see some chaparral plants, we'll walk 1/4 mile in the shade of the California Bay trees to this local water wonder.

Not much else to say. Sign up here.