Purple Sage flowering in Horn Canyon: May 15, 2010
Medicinal Plant Walk with Dr. James Adams

We're heading to a new location
with Dr. James Adams this year.

This special event is already filling up fast. If you weren't able to meet and learn from Jim on his previous visits to Ojai, don't miss him this time!
Please join me for a Medicinal Plant Walk with special guest Professor James Adams of USC School of Pharmacology on Sunday, May 18, on Horn Canyon Trail in Ojai. We will identify wild plants in riparian and chaparral habitats and discuss their indigenous and modern medicinal uses. This will be a slow-paced walk of about 1.5 miles on a mostly level trail through chaparral with gradual elevation gain. The trail crosses Horn Creek which will provide the plants of the riparian (creekside) habitat. This walk is suitable for hikers of all levels of ability who are capable of walking that distance and standing for periods of time.
Dr. Adams brings a wealth of knowledge and experience as well as a unique perspective on herbal medicine. He is the co-author — with the late Chumash healer Cecilia Garcia — of the groundbreaking book, Healing with Medicinal Plants of the West: Cultural and Scientific Basis for Their Use.

The new 3rd edition of their book is available here if you want to begin studying the plants ahead of time. Anyone who orders a book will receive a list of all the plants we are likely to see on this trail. Dr. Adams will also have copies with him to sell and sign on May 18.

An Associate Professor of Pharmacology at the University of Southern California School of Pharmacy, Jim has been teaching pharmacy students, medical students, doctors and other healthcare professionals for over 25 years and has over 200 publications.

Running parallel with his academic career, Dr. Adams has worked with the Chumash people since 1998 and was able to learn about Chumash healing from Cecilia Garcia.
Participants are invited to join me and Jim after the walk for lunch at HIP Vegan Cafe in Ojai for continued discussion.
Read more and pre-register now by clicking on the event listing or by calling 805-646-6281. Registrants will receive a confirmation email with all necessary info during the week before the event.
Mother's Day Gift Certificates
Mom like to hike? Interested in herbs, native plants, folk medicine? How about giving her a gift certificate for an Herb Walk, Nature Hike or other event? If we receive your order by mid-day on Thursday, May 8, you will receive it by Saturday, May 10, via first-class mail.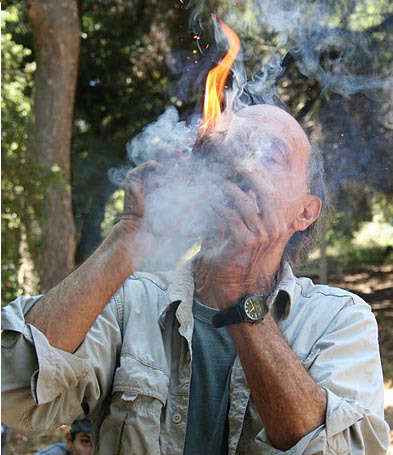 Jim lights a fire he started with the aboriginal friction method
Primitive Skills Day with Jim Robertson
Register now as this one is likely to sell  out at just $45 for a full day with an optional campout at no extra charge.
Spend an amazing day -- and night if you choose -- learning primitive survival skills with me and special guest
Jim Robertson
on Saturday, June 14. Jim is one of the most highly regarded and in-demand teachers of primitive skills in the western U.S. This will be his first class held in Ojai. Read more and register now at
Primitive Skills Day
.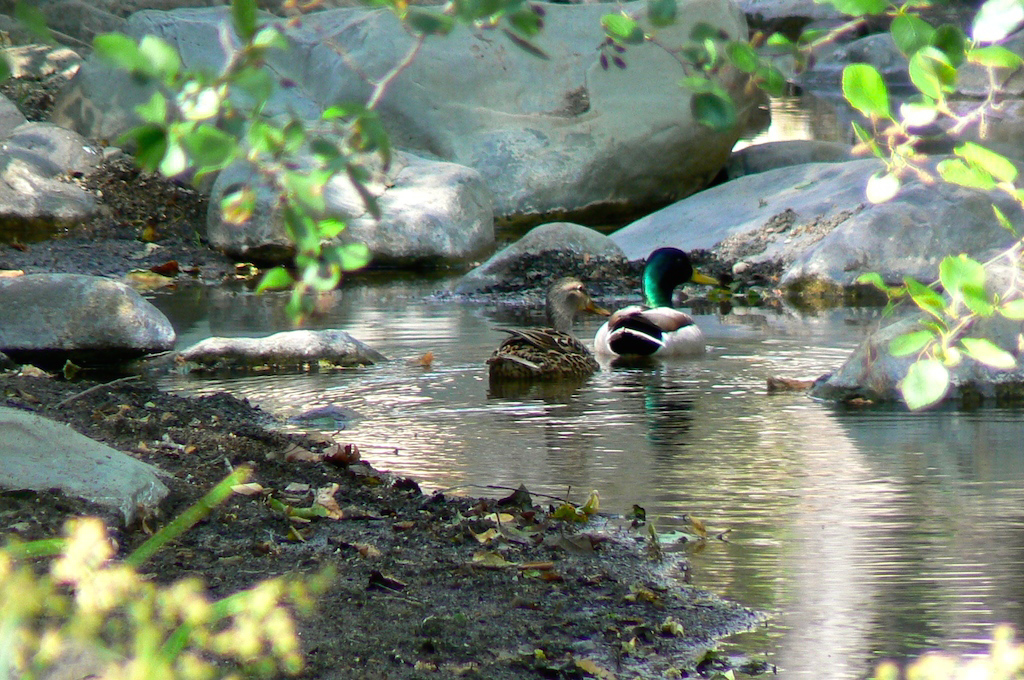 Mallards in the creek at Wheeler Gorge Campground
Wheeler Gorge Nature Trail Herb Walk
    This one specially priced at just $10!

Join me for a short 1.5 hour Herb Walk in conjunction with the annual Wheeler Gorge Visitor Center Open House. I'll take a break from my booth among the day's events and displays at 11:30 a.m. to walk up the nearby Wheeler Gorge Nature Trail.

The trail climbs very gradually alongside the creek and then up and out of the creek's riparian plant community to loop back to the trailhead through the sunny chaparral plant zone. The walk is classified as an "easy" hike by the Los Padres National Forest.
As usual, on this walk, I will demonstrate and discuss the many uses of wild plants by traditional Chumash and modern herbalists and foragers alike. Poisonous plants will also be identified.
This walk is specially priced at just $10 as it is being presented in association with the Open House and shorter than usual to allow people plenty of time for the rest of the displays and presentations. Kids 5-12 can attend free with an adult.

There is no admission to the Open House itself which runs from 10 a.m. to 2 p.m. For more information on the Open House, please visit the Los Padres Forest Association website.

To register for this Herb Walk, please visit Wheeler Gorge Nature Trail Herb Walk.
Adventure Pass Parking Fees Struck Down

Thanks to Alasdair Coyne of Keep the Sespe Wild for sending this info.
In a ruling on 4/28/2014, Senior U.S. Judge Terry J. Hatter Jr. found that the United States Forest Service (USFS) cannot charge Adventure Pass fees to hikers who park their vehicles and head off down the trail without using any developed facilities, such as picnic tables and bathrooms, that may be adjacent to the parking area.
The USFS has been levying fees and ticketing parked cars at trailheads across Southern California, and around the nation, since the enactment of the nationwide Federal Lands Recreation Enhancement Act (FLREA) in 2004, whether or not the forest visitors used any nearby facilities.

Read the entire press release here.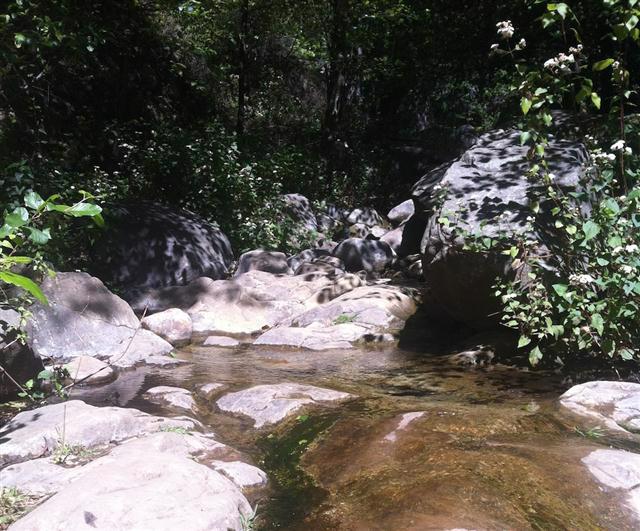 This year-round stream flows through a riparian forest.




Cold Spring Creek Herb Walk in Santa Barbara





We can't seem to stay away from this beautiful and tranquil creekside habitat.



Cold Spring Creek, nestled in the foothills of the Santa Ynez Mountains in the Montecito area of Santa Barbara, seems like a wonderful destination for a late spring afternoon Herb Walk. So we're breaking from the morning routine to try something new.

Please join us to explore this lush riparian environment. If it's a hot day, this will be a welcome respite in the late afternoon shade. More likely, if June gloom has set in early, we'll be far enough from the coast to escape the fog or it will have burned off by this time of day.

Yes, the creek is low this year, as they all are, but it's running and the plant life is abundant. We'll see California Bay, Western Sycamore, White Alder and Willow representing the trees of the creekside habitat. Herbs we've found there recently include Cacomite ("Brodiaea"), California Blackberry, Canyon Pea, Meadow-Rue and Mugwort. among other native and non-native plants of interest.

Read more and register at Cold Spring Creek Herb Walk.


We just added another amazing brand new guide to the local flora and fauna.
The Santa Barbara region is at the cusp of Northern and Southern California, where animals and plants from both areas mingle and create ecosystems of great diversity.

In the first-ever comprehensive nature guide to the area, accomplished author, teacher, and Santa Barbara native Joan Easton Lentz shares her lifelong knowledge of this region renowned for its unique natural resources and legendary scenery.
Read more and order your copy at A Naturalist's Guide to the Santa Barbara Region to deepen your understanding of our region and its array of inhabitants. It will inspire you to head outside.
If you haven't browsed the
Herb Walks Store
, please take a few minutes and
see for yourself what you've been missing.
As our thank-you to you for opening and reading this newsletter, here is a discount code worth 10% off all items (except Gift Certificates) for the month of May at the
Herb Walks Store
. Just copy and paste it when requested at checkout.
Discount code: 8okEzzfcZUeH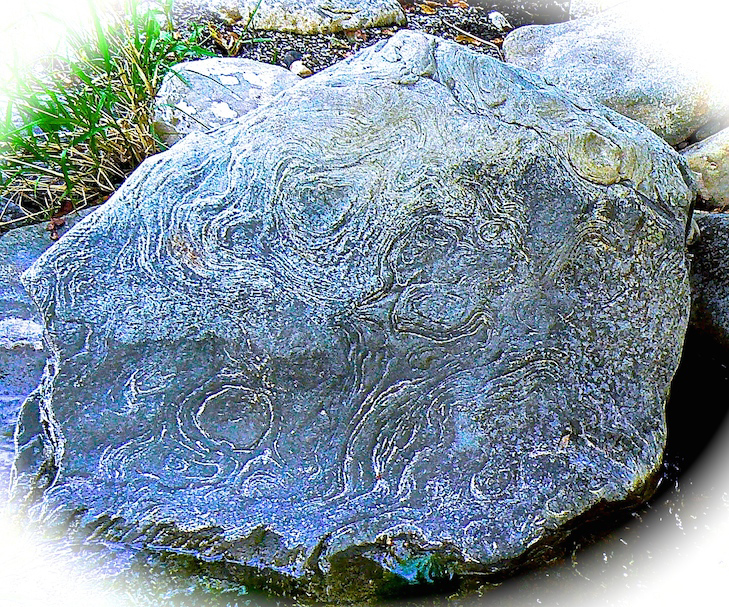 Altered perception of a boulder in the creek at Wheeler Gorge Campground.