Urban Herb Walk and Workshop with Amanda McQuade Crawford on Sunday, May 20


The latest in our ongoing series of very special herbal guest presenters, tops in their fields.

Please join us Sunday, May 20, for an enlightening day with one of the brightest lights in the world of herbal medicine. Beginning at 11 am, Amanda McQuade Crawford will join me for an Herb Walk around downtown Ojai, an unlikely but surprisingly rich source of useful native and non-native plants of

nutritional and medicinal

value. We'll stop at Rainbow Bridge for lunch and a visit to their Herb Room, then on to our downtown kitchen at 2 pm for a 2 hour herbal food prep class.
Following a theme of Herbal Foods for the Whole Family, participants will join Amanda in preparing a protein herb smoothie, an herbal salad, and two teas, one for building "serene stamina" throughout the day and the other a relaxing tea blend safe for ages 1-91. All recipes will be vegan, dairy-free, gluten-free, soy-free and appealing to family members of all ages.
Amanda is a world-renowned herbalist now living in Ojai. An Adjunct Professor at the Massachusetts College of Pharmacy, Boston, she is the author of three popular books on women's health: The Natural Menopause Handbook, Herbal Remedies for Women, and The Herbal Menopause Book. She earned her degree in Phytotherapy (Herbal Medicine) from Britain's College of Phytotherapy (Phyto, Greek for "plant"), and is currently pursuing her Master's degree in Clinical Psychology.
Amanda regularly contributes to texts on natural medicine, recently The H.E.R.B.A.L. Guide: Evidence-Based Dietary Supplement Resources for the Clinician, Botanical Medicine for Women's Health, and Traditional Medicines for Modern Times: Antidiabetic Plants. She can be seen on TV sharing herbal information in her show, What a Relief! on the Veria network (www.veria.com).
At $35 for this 5 hour workshop, it should fill up fast. You can register right here at this link. And if you sign up by Monday, May 7, there will be enough time for you to order a book to have signed at the event.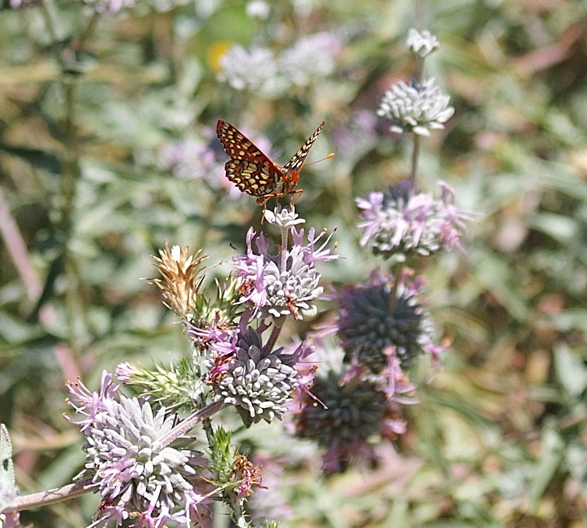 Photo by Chris Jensen
Native Butterflies

Native flowers and butterflies go together like, well, like flowers and butterflies.
You don't have to be a professional photographer to get a shot like the one above...but it helps. It also helps to be in the right place at the right time. That's what Chris Jensen did. He found this Variable Checkerspot (Euphydryas chalcedona) on a Purple Sage bush during an Herb Walk in Sisar Canyon in June of 2010.
According to the informative website of Las Pilitas Nursery, Ceanothus and Buckwheat are the best shrubs for attracting butterflies, Lupine is the best wildflower, and Oaks and Willows ae recommmended trees. All Sages and a lot of the Aster (Sunflower) family are also popular with butterflies. Their favorite -- and easiest to grow from seed -- is Narrowleaf Milkweed. Native Violets and Deerweed are also important nectar sources. You can read more about native butterfly gardens at this Las Pilitas link to be found, among many others, on my website's page of "Links to Resources."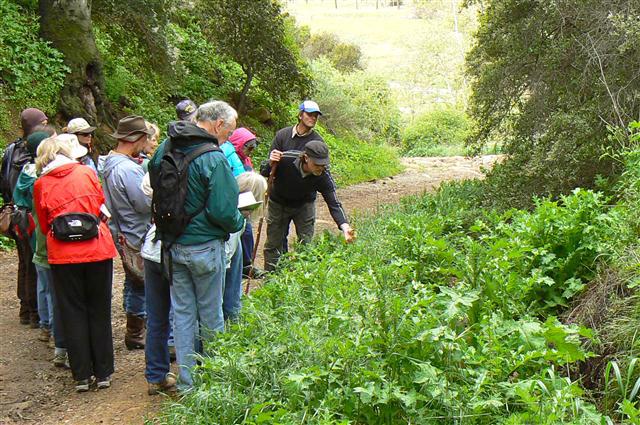 Photo by Rondia Kaufer
A Special $$ Offer!!
Help me spread the word and earn a discount on Herb Walks and Hikes

Here's an easy way to knock $5 or $10 off the price of an Herb Walk, Herb Hike or Herb Walk 'n' Roll in the month of May. Bring one or two new people along who have never attended one before and I'll give you a $5 discount on your own admission for each person. (This offer does not apply to already discounted Senior and Student rates.)

Featured Book-of-the-Month for May
Did you know there's a Bookstore on my website? I've selected the best books I know and put them all here.

My Bookstore is linked directly to Amazon so you can leave the browsing to me and order from my recommended list without having to leave my site.

This month's featured book is Medicinal Plants of the Pacific West by the late Michael Moore. No, not the filmmaker Michael Moore, the other one, the renowned herbalist and undisputed expert on medicinal plants of the western U.S. His vast knowledge, meticulous attention to detail, and engaging style of writing make this an all-time classic of herbal literature, especially for those of us on the West Coast. A companion volume, Medicinal Plants of the Mountain West, extends the range of plants north and eastward to the Rockies.

You can order those or other great selections at my

B

ookstore.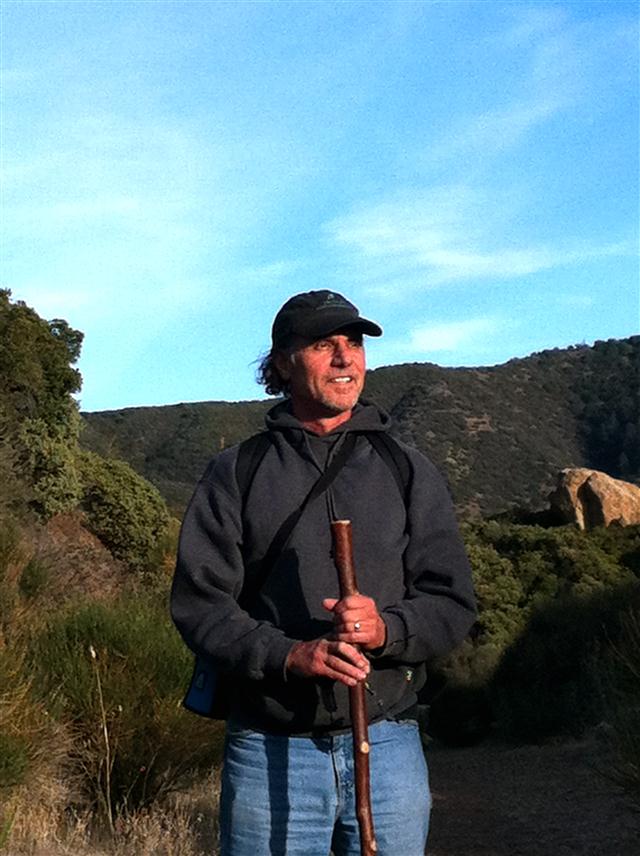 Lanny on the Howard Creek Trail,
Los Padres National Forest

Herb Walks with Lanny Kaufer Receives Special Use Permit from U.S. Forest Service





Los Padres National Forest trails, here we come!





I'm happy to announce that I am now operating Herb Walks with Lanny Kaufer under a Special Use Permit for Outfitters and Guides with the Ojai Ranger District of the Los Padres National Forest. We'll celebrate in May by visiting 3 locations in the Los Padres: Rose Valley Falls, Murietta Camp, and Wheeler Gorge.

With this permit comes the privilege and pleasure of introducing people to our beautiful backcountry along with the responsibility to educate the public on the proper use of, and respect for, our natural resources....our national treasure.

And on that note, the Ojai Ranger District Office will be hosting its monthly Volunteer Trail Day on Saturday, May 5, on the Piedra Blanca Trail. It's a great opportunity to find out how trails are built and maintained, meet some like-minded folks, and make a difference in the forest. For more information or to volunteer, contact Heidi Anderson at 805-646-4348.
Allelopathy




Kaufer's Kwiz





Be the first to answer and win a free Herb Walk in the second round of this new feature





Congratulations to Erynn Smith for being the first (of many) to provide the correct answer to last month's quiz question: What is the 5th taste (after sweet, sour, salty and bitter)? She said "umami" and won a free Herb Walk. Umami is a Japanese word that means "pleasant savory taste." You might also hear it described as "brothy" or "meaty." The amino acid L-glutamate is responsible, which also explains why monosodium glutamate became an indispensable flavoring for a generation of chinese restaurant cooks. You can read all about umami on this Wikipedia page.

Now on to this month's quiz. Merriam-Webster's Collegiate Dictionary defines allelopathy as "the suppression of growth of one plant species by another due to the release of toxic substances." These substances, known as allelochemicals, are often

destructive (negative allelopathy)

but

can also have beneficial effects

(positive allelopathy)

that have inspired theories of companion planting to increase garden yields.

Eucalyptus is a prime example of negative allelopathy, as evidenced by the dead zone under its canopy (save for eucalyptus seedlings). One of our local Ojai shrubs has been hailed as a classic example of toxic allelopathy, even appearing on the cover of Science magazine in 1964 to illustrate the phenomenon. Name that shrub!

The first person to answer correctly at this email

link

will be the winner. His/her name and the answer will be published in the next newsletter. Scholars, start your engines.