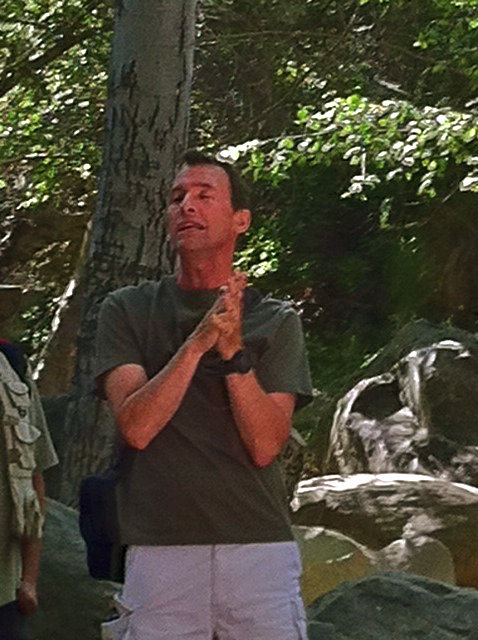 Jim Adams at June Herb Walk




The Return of Dr. Jim Adams




Sounds like a movie title, doesn't it? But this is for real, so don't miss it


Twenty-three of you turned out in June for Professor Jim Adams' first Herb Walk with us. Information and enthusiasm flowed non-stop from him for about 3 hours. So we're bringing him back on Saturday, October 20, for an Herb Walk in beautiful Matilija Canyon.

Dr. Adams (who prefers to be called Jim) brings a unique and valuable perspective to the study of plant medicine. On the one hand, he is an Associate Professor of Pharmacology at USC with 200 journal articles to his name. On the other hand, he spent the last 10 years studying with Cecilia Garcia, a native healer of Chumash descent. They wrote almost 30 journal articles together and published a book before she passed on earlier this year.

In addition to the plant knowledge, Cecilia passed on her family's Chumash songs to Jim. He's seen here in the video by my wife Rondia singing the "yamaquideh" song in honor of the burrowing owl of that name, also known as the healing owl.



Jim's interest in botanical medicine is rooted in his family's history. They came to Virginia in 1635 and have always relied on American Indian medicine. He represents the integration of modern pharmacology and traditional healing that could be a model for the holistic medicine of the future.

Abedus Press just published the 3rd edition of Jim and Cecilia's book, Healing with Medicinal Plants: Cultural and Scientific Basis for Their Use. It will be available shortly in my new soon-to-be-opened online store at www.HerbWalks.com and is currently available in my Amazon Associate Bookstore at www.HerbWalks.com/Bookstore.

Jim will have copies with him on October 20 to sell and sign. You can read more about the event in the schedule in the column to the right.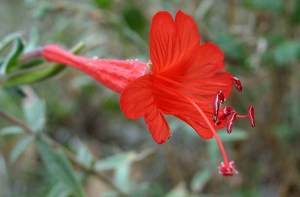 California Fucshia ( Epilobium canum) is also known by its former Latin name Zauschneria.
OVLC Native Plant Sale this Saturday,
October 6
A great opportunity for those of you who open this newsletter before Saturday.

Ojai Valley Land Conservancy Nursery Managers Ron Singer & Elisa Neville have harvested native seeds from all over OVLC's nine nature preserves. They have watered and weeded and coddled these local natives and now they are ready to be transplanted into your yard. A Native Plant Sale will take place outside the OVLC headquarters this Saturday October 6 from 8 am to 12pm. OVLC is located at HELP of Ojai's West Campus at 370 W Baldwin Rd.

Ron tells us that they will have seedlings of California Fucshia (pictured above), Purple Nightshade, White Yarrow, Mugwort, Buckwheat, Hummingbird Sage, and Coastal Sagebrush, among several others. You can see photos of the plants and read more about the sale on Ron's blog, The Ojai Rambler.




Ladies and gentlemen, we have a winner for our September Kwiz


Congratulations to Kate Curtin who correctly identified the seed that the Chumash named "Hutash" (or "Khutash") after the Earth Goddess. It's Red Maids, known to botanists as Calindrinia ciliata.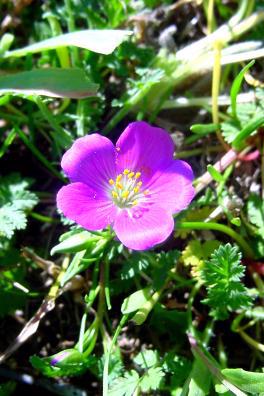 Red Maids is in the Purslane family (Portulacaceae), a group of small succulent herbs that includes our native Miner's Lettuce ( Claytonia perfoliata) along with the type genus, Purslane ( Portulaca oleracea), the edible garden weed. Red Maids is found in grassy areas that retain some moisture through the spring so is not often seen around Ojai except in the year or two after a fire. The leaves, flowers, stems and seeds are all edible though it is not a good practice to pick this somewhat rare flower unless it is found in abundance.

Now on to October's quiz. This 2-part question will require you to do a little scholarly information foraging (or "inforaging") on my website but both answers are there for the taking. As you may know, it's acorn season in Ojai now. As I write this, they are dropping outside. First, by scrolling down the "Links to Resources" page at www.HerbWalks.com to the appropriate link, find out how many milligrams of Omega-6 fatty acids are found in 100 grams (3.5 ounces) of dried acorns. Second, tell me the protein-fat-carbohydrate percentage breakdown of acorns from the Valley Oak ( Quercus Lobata). Hint: This second part can be found in a PDF of a book by Charles Francis Saunders.

First person to email me the correct answers will win a complimentary Herb Walk. Scholars, start your engines!