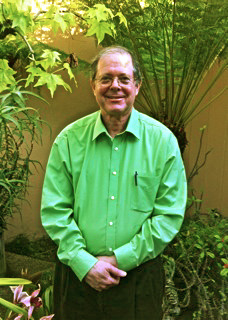 Could this be the Sicilian version of
the "Green Man" of ancient lore?
Make a smooth herbal transition from Summer to Autumn with Dr. Fred Siciliano

Join us for the latest in Dr. Fred's series of seasonal herb preparation workshops
Join me and Master Herbalist Dr. Fred Siciliano, LAc, OMD, MH, in Ojai on Sunday, September 30, as we prepare our bodies and minds for the changes of the Autumn season and prepare for Winter. In this workshop, learn how to make infusions, decoctions and powders for respiratory and immune defense and a tonification soup for Autumn/Winter health building.
Herbs and foods will include: Burdock, Marshmallow, Mullein, Coltsfoot, Knotgrass, Elder Flower, Garlic, Okra, Kun Bu (seaweed), Licorice and Walnuts.
Fred Siciliano is a Licensed Acupuncturist & Medicinal Herb Specialist who has more than 25 years experience in formulating and combining herbs for various medical conditions. He has trained under the late Sidney Yudin, learning how to use herbs from all over the world, including those found in America, Europe, Asia and South America. He has a private practice in Ventura, CA, to be found at
www.FredsOffice.com


Here's a link to this event on my website's calendar. Or you can sign up right now at Register.


Photo of the lower Ventura River by Karen Bednorz




Ventura Hillsides Conservancy



We visited their newest Preserve
on a sunny morning in July



On Sunday, July 29, Herb Walks began what we hope will be a long association with the Ventura Hillsides Conservancy when we led an Herb Walk on their newest property. The Foster Park Area Preserve is composed of three separate parcels totalling just over 16 acres. It lies just south of Foster Park and is accessible from the Ventura River Trail, directly across from the Watershed Mural.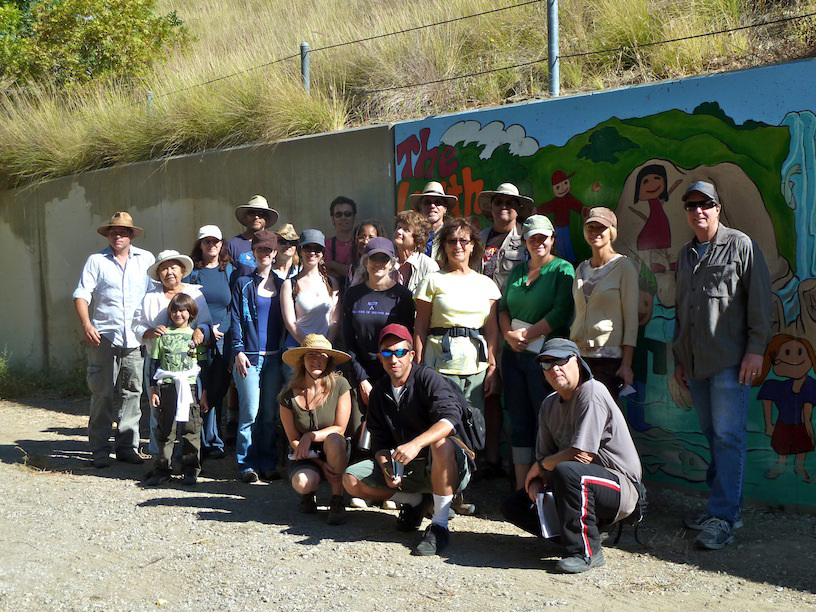 Photo by Karen Bednorz


The part we explored represents a small portion of the property but is the first to undergo the restoration process necessary to bring back native plants that have been crowded out by the invasive Giant Reed ( Arundo donax). To their credit, the VHC is attempting this enormous task with the use of volunteer labor rather than toxic herbicides. The stalks are cut by hand and the resulting mulch left on the ground serves to stifle new growth.
One of the special features of the Foster Park Area Preserve is the presence of the endangered Southern California Steelhead Trout. Some of our group were lucky enough to spot one during our visit! The Steelhead are actually Rainbow Trout, members of the Salmon family, that have become anadromous, meaning that the are freshwater fish that spend part of their life cycle in the ocean before returning up the rivers to their spawning grounds.
Helping with the Arundo removal project is just one of many opportunities to help the VHC with it's important mission. Please visit their Volunteer page and see if your talents match one of their needs. Remember, you can truly make a difference when you think globally and act locally.
Kaufer's Kwiz





Be the first to email the correct answer and win a free Herb Walk





I finally stumped you! Though some of you tried mightily to answer the July quiz question, no one could provide the name of the common plant used by the Chumash and other California Indians for all 3 of these purposes: basketweaving (the stems), to wrap food in the earth oven (the leaves), and to get rid of warts (the sap). The answer is none other than........Poison Oak! You can read all about it in Jan Timbrook's Chumash Ethnobotany, available in my Bookstore. By the way, Jan got much of her first-hand information from one of our mutual teachers, the late Chumash plant expert Juanita Centeno.

So, are you ready for this month's Kaufer's Kwiz? Okay, I'll take your silence as a "yes." As described in Audrey Woods' modern-classic children's book The Rainbow Bridge (beautifully illustrated with paintings by Robert Florczak and also available in my Bookstore as well as in Google Books), the first Chumash people were created when Hutash, the Earth Goddess, scattered

the seeds of a sacred plant on Limuw (Santa Cruz Island). Traditional Chumash still celebrate a Hutash Festival at this time of year around the Autumnal Equinox. What are the English and Latin names for the sacred, seed-bearing plant named Hutash after this goddess?



The first person to answer correctly at this email

link

will be the winner of a free Herb Walk. His/her name and the answer will be published in the next newsletter.
Garden of
Native Plants

This month's featured blog
Back in February I joined a Trail Day with the Ojai Ranger District's volunteer trail crew. I had the pleasure of meeting Lorraine Jones and learned about her blog Garden of Native Plants. Lorraine's passion for growing native plants and her down-to-earth writing style hooked me and I've been a subscriber ever since.

Sometimes Lorraine's blog entries are few and far between but you could easily spend all those in-between times exploring her many links to other blogs, native plant nurseries and much more.

The photo at the top of this column represents the fruits of Lorraine's labors. Here below is a look at how it started 5 years ago. Inspiring, isn't it?

Herb Walks are now on YouTube
Let your eyes do the walking on an armchair Herb Walk

Though it's still true, as Marvin Gaye and Tammi Terrell reminded us, that there "ain't nothing like the real thing," if you want to go on an Herb Walk from the comfort of your computer chair or smartphone, here are some opportunities.

First, the video at the top of this column from my talented 14-year old nephew Coby Kaufer is a short introduction to Herb Walks for the uninititated. When Coby's not attending the Engineering Academy at Dos Pueblos High School, he's part of the team at Santa Barbara's Teen News Network or uploading original news and comedy footage to his own Youtube channel, BlueJayke.

For a full-length Herb Walk series from a professional videographer, check out Robert Barrett's five-part YouTube series, Gardens of the Wild. Here's Part 1 below, shot at the Ojai Valley Land Conservancy's Ventura River Preserve with host Patty Pagaling. From there you can continue the journey through the next four episodes.
Robert puts in countless hours filming and editing content for his YouTube channel venturaevents where you can find local bands featured along with local gardens, Ventura County politics, and events such as the Ojai Mardi Gras, the Ventura County Fair, Earth Day, and whatever else strikes his fancy. He's available, too, for your own business or family video.

We'll share more Herb Walk related videos in our next newsletter, so please "stay tuned."
September

's Book Recommendation
A hard-to-find essential reference


This month, I decided to feature an indispensable reference book that I use more than any other to identify plants of the Ojai-Santa Barbara area. I started by going to my own online Bookstore to find Clif Smith's Flora of the Santa Barbara Region, California only to discover that it is out--of-print and unavailable on Amazon which is where my Associate bookstore actually lives.

Determined not to take "no" for an answer, I embarked on a search that led to what looked like a copy for sale as well as a library in Santa Barbara where you can, at least, look at it. Of course, a book like this is meant to sit on your shelf within easy reach so my first priority was to find you a copy for sale.

Los Padres ForestWatch displayed it in their online bookshop so I contacted Executive Director Jeff Kuyper to see if they really had a copy in stock. Alas, not only had they sold their last one a week before I called, but all other known copies burned in the 2009 Jesusita Fire! So if you have one, cherich it. If not and you can find a copy anywhere, I suggest you buy it (and please tell me where so I can share the good news).

In the meantime, the Blaksley Library at the Santa Barbara Botanic Garden has several copies. As you'll find at that link, however, "The Library is currently open by appointment only. The library collections are non-circulating but may be used onsite." At least you can sit down in the physical presence of this great work of scholarship by one of our area's preeminent botanists, the late Clifton F. Smith.

Your turn now.......

Please let me know what you think
Aside from those of you who send your answers to Kaufer's Kwiz, I rarely hear back from the rest of you who might be reading this newsletter. Maybe it's because I haven't asked for your feedback. Got a minute to click on this link? Please let me know what you like, what's missing, what you'd like to see more of, or whatever comes to mind. Or if you're on Facebook, visit my page "Herb Walks with Lanny Kaufer" and say hello. That's also a good place to stay in the know between newsletters. Thanks!