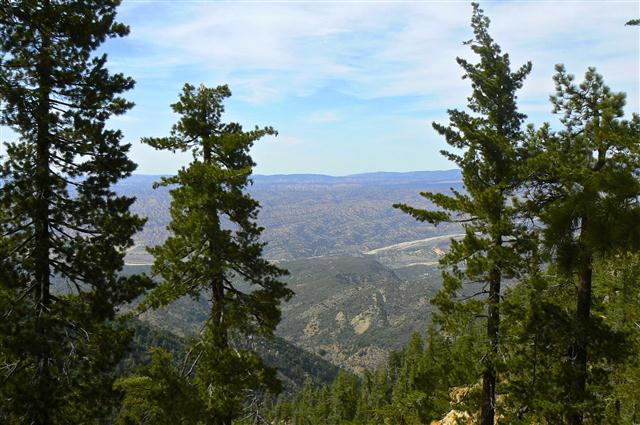 View north across the Cuyama
Valley from Pine Mountain

Pine Mountain Herb Hike

Pine Mountain is as close to heaven as you will find in Southern California.

Let me and Rondia guide you through some of the most beautiful backcountry that Ventura County has to offer. Please join us as we celebrate the Fall Equinox with an Herb Hike on Pine Mountain, elevation 6650 feet.
The day will begin at 9:00 a.m. with a carpool caravan of about 30 miles up Highway 33 to the Reyes Peak trailhead from the Maricopa Plaza, 1201 Maricopa Highway, Ojai, CA 93023.

We will start walking into the Sespe Wilderness from the trailhead at 10:00 and return to the trailhead at 1:30. That should put us back at the Maricopa Plaza by 2:00 p.m.
We'll hike on a well-marked level trail on the north side of Pine Mountain Ridge through Jeffrey and Ponderosa Pine, Sugar Pine, Bigcone Douglas-Fir and White Fir.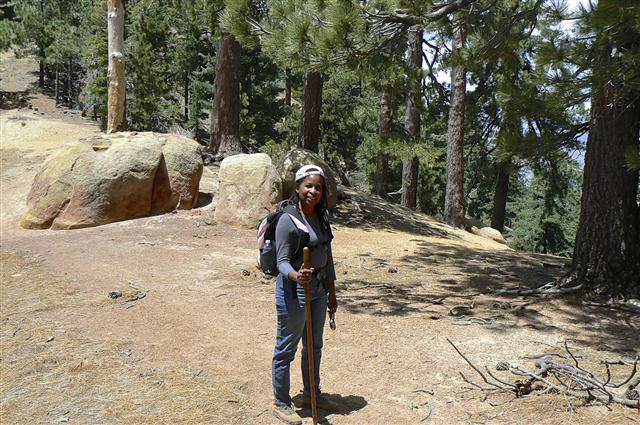 Rondia at the trailhead

There will be very gradual elevation gain and loss as we skirt the north side of Reyes Peak. This easy-to-moderate hike is suitable for hikers of all levels who are physically able to be on their feet for 3 hours. If time permits, we will make a complete loop all the way around the peak.

We'll have spectacular views of the Cuyama Valley to the north and the Pacific Ocean to the south (marine layer permitting).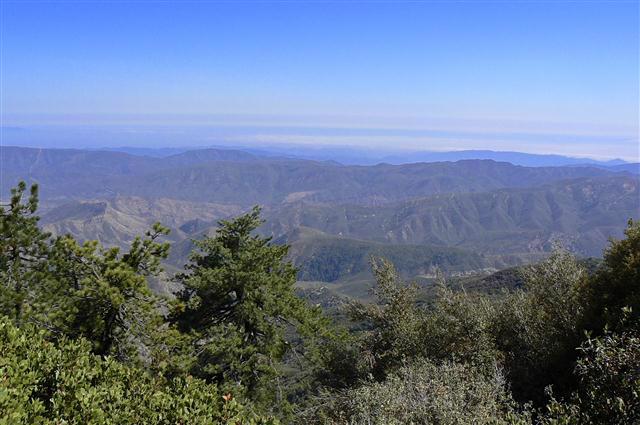 View south to the Pacific Ocean
from PIne Mountain
Read more and sign up here.



September's Featured Book




Another herbal classic now added to the
Books section at the Herb Walks Store



There will never be another herbalist-author like like the late Michael Moore. His encyclopedic knowledge, extensive field experience, and wickedly funny writing style put him in a class by himself. At long last, we are finally pleased to be able to add Medicinal Plants of the Mountain West and its companion volume Medicinal Plants of the Pacific West  (previously featured in this newsletter) to our Herb Walks Store.

I was privileged to be able to meet Michael through our mutual friend Amand McQuade Crawford. The three of us co-led a multi-day workshop in Ojai wherein I served as the local plant guide. The experience only confirmed my admiration for Michael. This book is an essential part of my herbal library.

From the back cover:
"Herbalist Michael Moore, one of the founders of the modern herbal medicine movement in the United States, here updates in expanded form his classic work Medicinal Plants of the Mountain West, the indispensable field guide to identifying southwestern medicinal plants and their preparation and use. Drawing on a thirty-five-year career as a teacher, merchant, and alternative-medicine practitioner, Moore has produced the most accessible herbal available for professionals and non-professionals alike. Practical and user-friendly, this guide to one hundred twenty-nine medicinal plants, with its extensive therapeutic index covering hundreds of common ailments and conditions, provides essential herbal remedies for the panoply of nonacute diseases left unaddressed by standard-practice medicine."

By purchasing this book from the Herb Walks Store, you are supporting Herb Walks and the HerbWalks.com website. Thank you!

Colorful dune landscape including Beach Sand Verbena


Seaside Wilderness Park Herb Walk

Enjoy the beautiful September beach weather and learn the local flora


We had a great Herb Walk outing here on a Sunday in July and it's still an ideal location in September when the inland canyons and valleys are drying out. So I'm offering it again, this time on a Saturday.

Seaside Wilderness Park offers closeup looks at a variety of native plants that live in the interface between land and sea. Last time around we saw Giant Stinging Nettles, Wild California Rose, Mugwort, Datura and many more on the inland side of the dunes. On the beach side we sampled Sea Figs, Pickleweed, and Sea Rocket pods among others.

We will park on the far end of West Main Street in Ventura, just before it enters the northbound 101 to Santa Barbara, outside the entrance to Seaside Wilderness Park, also known as Emma Wood Group Camp (NOT the Emma Wood Beach RV Camp which is further on under the overpass). You are welcome to drive into the Group Camp to park but it costs $10.
From there, we will walk into the Group Camp and start the walk on the River's Edge Trail at the east end of the Group Camp.
We'll start by walking through the Ventura Rivermouth and Estuary identifying and learning about the plants and complete the loop on the Ocean's Edge Trail in the sand dunes on the beach.
Read more and sign up here.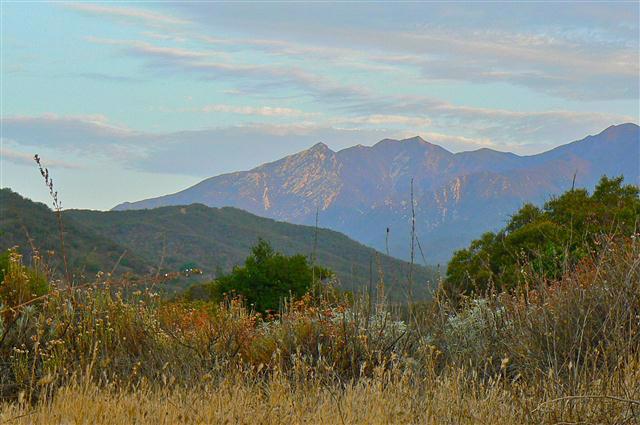 Old Man Mountain and Monte Arido photographed at sunrise
Have you seen the HerbBlog?


Follow my thoughts and adventures on our recently launched weblog


During our annual August break from Herb Walks, I used the time to take some personal hikes, by myself and with my wife Rondia. I recorded some of my adventures, including photos, in a new feature at HerbWalks.com, the
HerbBlog
. I also installed a "Follow" button in the bottom right corner of every page on the website to make it easy for you to subscribe. I encourage you to use it so that we can begin an online dialogue about native plants, foraging, herbal medicine, and the many other topics that come up on Herb Walks and Herb Hikes.
Here are a few of the latest entries: