Hungry for Music is an organization that supports music education and cultural enrichment by acquiring and distributing quality musical instruments to underserved children with willing instructors and a hunger to play.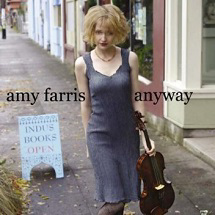 We are on our way to Austin, Texas to deliver six violins to the Austin Independent School District. Since 2009, violin and viola donations have been made in memory of musician and music teacher Amy Farris.

An Austin, Texas native, Amy was a fiddle player and singer/songwriter. She performed with Brian Wilson, Ray Price, Alejandro Escovedo, Kelly Willis, Bruce Robison, Dave Alvin, and Exene Cervanka; in addition to recording her own solo CD - Anyway.

Amy was also a music teacher in the Austin Independent School District. She passed away in September of 2009 and had designated Hungry for Music as her memorial charity. In Amy's honor, students nominated by their orchestra directors, receive their own violin or viola, with the stipulation that they continue to be involved in orchestra throughout high school.

"This has not only benefited the students themselves but the orchestra programs that they participate in as well. In these tough financial times for Texas schools, the Hungry for Music donations are greatly appreciated and have been a wonderful tribute to Amy Farris." Elizabeth Chappell, Austin Music Teacher
Reader's Digest Plugs HFM
We're honored! A recent article published on the
Reader's Digest
website featured Hungry for Music. The article -- titled
Where to Donate: These 7 Places Will Put Your Old Stuff to Incredibly Good Use
-- listed organizations that accept used items. Other charities included were Dress for Success, Operation Prom, Second Chance Toys, DVDs4VETS, One Warm Coat, and Kars 4 Kids. You can read the article
here
.
Christmas Eve in New Orleans
Above, Derek Tabb, Founder and Director of
Roots of Music
, checking out the instruments we delivered on Christmas Eve. We have supported this fabulous New Orleans program since 2009.
Hungry for Music Feeds Feel Good Tour
Last week, Hungry for Music donated a truckload of instruments and equipment to the Feel Good Tour. Created and run by
Bill Hudson and Al Coffey, the Feel Good Tour has been handing out free musical instruments since 2005.


Bill and Al made the trip from Roanoke, Virginia to our Chantilly warehouse and loaded up their truck with 24 keyboards, 10 amplifiers, 8 electric guitars and two acoustic guitars, as well as a complete sound system, music books, and accessories.

The instruments will be distributed in the Roanoke community and in Richwood, West Virginia. Bill and Al were featured on WDBJ, a local Roanoke station. Check it out here.
One Instrument at a Time...
From Savanna's Mom in McKinney, Texas:

"I wanted to give you an update of Savanna's progress since you sent her a cello a few years ago. She is doing very well and has been first chair in her class as you can see in the photo from last night's performance.

I can never thank you enough for providing her the beautiful cello, allowing her to become the wonderful musician that she is! We still have it and she probably will forever as she loves it so much!"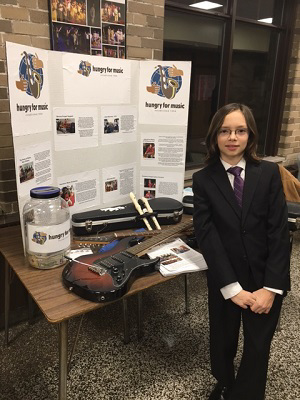 Jaden Tyler is off to a great start with his bar mitzvah service project. In the photo above, he is standing at his Hungry for Music fundraising table during a school band concert.
Below is a snippet of the email he sent to us:
Hello, Jeff -
I'm Jaden Tyler. I want to tell you what a great event we had.
Prior to the concert, I posted flyers all over the school. My band teacher also sent an email to all of the parents in the school and we posted to our town facebook page. During the concert, my band teacher told everyone in the audience about Hungry for Music and the project I am doing. I had a table set up outside the auditorium.
Thank you so much for your help.
-Jaden
Stories of Music, Volume 2 Coming Soon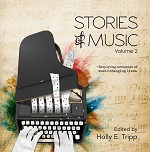 Hungry for Music Founder and Director, Jeff Campbell, has been asked to write the foreword to the second collection of
Stories of Music
, a series of anthologies centered on the inspiring impact music has on people's lives.
The first collection benefited Hungry for Music and Music & Memory and received much critical praise.
We are proud and grateful to be a part of Holly Tripp's very worthwhile and inspiring project. Please consider submitting a music story for possible inclus
ion in a future volume.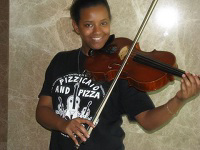 In the photo above, the last of 533 music instruments that Hungry for Music donated in 2014 - a viola to an aspiring string musician. This donation was made through the Pick Me Up Foundation in Maryland.