December 17, 2015 | IGSHPA News | Geothermal News
From the President
Moving Closer to One Voice
We have talked for years about needing to bring the ground-source heat pump industry together as "one voice." This month IGSHPA signed a Memorandum of Understanding with GEO (GeoExchange Organization), and is in the process of updating the existing one with NGWA. These agreements are more than symbolic. They represent acknowledgement by all three organizations that working together is the most effective way to make a real impact-one voice-a sum greater than its parts. These new and refurbished agreements will have an immediate impact on IGSHPA's efforts in the areas of training, research, and advocacy.
Yesterday there were representatives from NGWA, GEO and IGSHPA in attendance at the Government Affairs meeting of the Geothermal Heat Pump subcommittee at the NGWA 2015 Groundwater Expo in Las Vegas. The value of having the perspectives of three different organizations was apparent, and will help our industry have a cohesive message when reaching out to our representatives and legislators in the future.
Moving forward our Executive Director, Bob Ingersoll, and special consultant from OSU, Dean Kirtley, see recent press release, will be working to develop MOU's with other state, regional, and international groups. Watch for more announcements in the near future!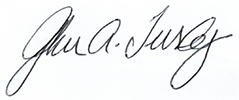 John Turley
President
GEO Signs MOU with IGSHPA
The Geothermal Exchange Organization (GEO) and the International Ground Source Heat Pump Association (IGSHPA) have signed a memorandum of understanding to strengthen and expand the complementary relationship that currently exists between the two associations.
GEO President and CEO Doug Dougherty and IGSHPA Executive Director Bob Ingersoll signed the MOU as the two organizations share a common interest in advancing the geothermal/ground-source heat pump industry. read more
IGSHPA Member Renewals Due by December 18
Membership renewal and recertification letters have gone out for members who need to renew by the end of the year. In order to comply with IGSHPA's financial office and the holiday schedule, your form and payment needs to be in the IGSHPA office by 5 p.m. on December 18.
Advertising Opportunities
Want to get your name in front of IGSHPA members and newsletter subscribers on a monthly basis? Now you can in the new year with our new advertising opportunities. Visit the IGSHPA website for information on how you can advertise to IGSHPA members your products or services. Geo Outlook advertising information is available in the guide also.
Geo Outlook
This quarter's GeoOutlook issue on retrofits has been published and sent out, please contact IGSHPA at 1-800-626-4747 or (405) 744-5175 if you have not received yours. This will be Janet Reeder's last issue with IGSHPA. We wish her well and thank her for her service.
You can view the entire issue online by going here
.
Certified GeoExchange Designer (CGD) Training at NY-GEO Conference
Ed Lohrenz will be teaching an IGSHPA CGD training course beginning on February 23rd via online webinars and culminating at the NY-GEO conference April 19-20. Contact IGSHPA for more details on the course.
Since 1999, HomeAdvisor has connected millions of project-ready homeowners to the nation's largest network of pre-screened home service pros. Over 95,000 pros rely on HomeAdvisor to grow their business.
New!
HomeAdvisor is now offering
exclusive membership benefits
to IGSHPA pros. To learn how you can win more jobs with HomeAdvisor visit
homeadvisor.com/igshpa
or call
877-800-3177
.
IGSHPA Connect
A new community inside IGSHPA Connect has been created for companies to place press releases or highlight products. This community is open to all but you do need to join the community from the all communities list. Keep the conversation going on
IGSHPA Connect
.
Happy Holidays from IGSHPA!
All of us here at IGSHPA want to wish every one of our members a happy, joyous, and safe winter holiday season! Just a reminder, the offices will be closed starting on December 24 and we will re-open on January 4th. Please make note of this when filing any paperwork or payments with us.
2017 IGSHPA Technical Conference & Expo, Denver-March 15 & 16
IGSHPA's 29th Technical Conference and Expo will be March 15-16, 2017, in Denver, Colorado, with IGSHPA training beginning prior to the conference. The event will be held at the Crowne Plaza Hotel & Convention Center Denver International Airport. Additional information will be available in future Loop issues.
Conference Presentations

Did you miss out on a presentation at the 2015 conference you really wanted to see? 2015 Conference videos and presentations are available for you to view on the
conference website
.
Kirk T. Mescher Scholarship Fund

The geothermal industry lost a dear friend in the passing of Kirk T. Mescher this past summer. A scholarship fund in his name has been established at the Central Bank of Boone County, P.O. Box 678, Columbia, MO 65205. Contact the bank by phone at (573) 874- 8100, or (800) 842-2262. The scholarship award is meant to assist

Teaching Faculty interested in developing course material on GSHP or otherwise providing GHP information to students.
Students interested in a career in HVAC and interested in attending an ASHRAE Conference or course addressing GSHP.
Practicing Engineers, Teaching Faculty, or Students who have an idea for an elegant way to achieve more energy efficiency, and could use this award to test and put the idea(s) into practice.
New York City Now Requires Consideration of Geothermal
Dec. 8 – The New York City Council passed, without opposition, a new law requiring that geo-thermal heat pumps must be considered for all new construction and retrofits of city owned buildings after February 2017—and also requires that this technology "must" be implemented if found to be cost-effective over a 20-year period. In the process of evaluating the costs, the law requires that the Social Cost of Carbon be considered. The Mayor is expected to soon sign this bill. "This is the first time that a U.S. city has required consideration of geothermal, and the first time that a major U.S. city has required the use of Social Cost of Carbon in evaluating alternatives," said Councilman Costa Constantinides (D-Astoria). See details about the bill here. Read an article about it here. ( Times Ledger)
Have News?

Do you have news you want to share with IGSHPA for consideration for The Loop or Geo Outlook? Email
Erin Portman
with your news.