February 25, 2016 | IGSHPA News | Geothermal News
From the President
Voting for Your Board Members
Before writing this month's Board update, I decided to look back at the first one I wrote last February 22nd. This was just after the first meeting of the Board in Stillwater. In that newsletter I emphasized that the new IGSHPA, some call it 2.0, was being built as a "ground up" organization.
The Board quickly realized that in order to be truly ground up, every member needed to have, not only a voice, but also a vote. Our new bylaws at the time were not in line with that. Voting was still limited to corporate members. As I mentioned last month, we changed that last year during the Kansas City Conference. If you are a member, individual or corporate, you have a vote.
Voting for four Board seats has been open since February 1st and will close on March 1st. If you have not yet done so, please participate in the future of IGSHPA by voting by logging onto the member's login site!! http://www.igshpa.okstate.edu/membership/login.asp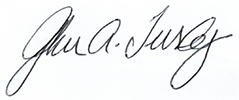 John Turley
President
Voting Open for the IGSHPA Board of Directors Election
Attention IGSHPA Members:
It is time to cast your ballot for the next IGSHPA Board of Directors. Seventeen candidates have been nominated for four positions on the board based upon their industry sector.
You will login using your IGSHPA login information to vote for the candidates of your choice at http://www.igshpa.okstate.edu/membership/login.asp.
Voting will close March 1 at 5 p.m.
Candidate bios can be found at http://igshpa.org/membership/BOD/nominee.

Save the Date: International GSHP Industry Convention in Sweden
Stockholm, Sweden 15-16 September 2016
In cooperation with KTH Royal Institute of Technology and the Swedish AVANTI drillers association, IGSHPA is proudd to to announce an international GSHP convention.
On September 15 the KTH department of energy technology will host an international audience to will focus on discussing their ongoing research on ground source heat pumps. Venue will be the KTH campus www.kth.se
On September 16 the Swedish AVANTI drillers association will hold its traditional drillers day (Brunnsborrardagen), a members meeting that has successfully been running for two decades where drillers meet and interact with other organizations, product manufacturers, policy makers, and real estate owners. Venue will be at the Wenngarn castle http://www.wenngarn.se/
KTH is the largest and oldest public technical university in Swedena, covering all branches of engineering. The department of energy technology works with several ground source heat pump related projects financed by the Swedish Energy Agency and the EFFSYS Expand research program. More info about GSHP projects here www.energy.kth.se/energibrunnar
AVANTI is a non-profit member driven association for Swedish drilling contractors founded in 1973, supporting the GSHP and water industry through the promotion of courses, events, member and market support, and sponsoring research, among others.
All IGSHPA members are welcome to attend this convention to bolster the international view and discussion of ground source heat pumps and groundwater questions.
MORE INFO WILL COME SOON BUT BOOK YOUR FLIGHT NOW!!
Questions: kansli@avantisystem.se
IGSHPA Accredited Drillers Now Have Opportunity to Convert to NGWA's CVCLD
A recent Memorandum of Understanding (MOU) signed between IGSHPA and the National Ground Water Association (NGWA) will provide an opportunity for you to convert your IGSHPA driller accreditation into the Certified Vertical Closed Loop Driller (CVCLD) professional designation through NGWA.
As part of the new agreement, IGSHPA is in the process of sunsetting the current IGSHPA Accredited Vertical Loop Installer accreditation. NGWA will be sending you information on the requirements to convert your IGSHPA accreditation into their industry recognized Certified Vertical Closed Loop Driller professional designation.
IGSHPA and NGWA share common goals for the ground source heat pump industry. This partnership and MOU not only reinforces the commitment of each organization, but also gives the existing driller accreditation status more industry recognition through the NGWA – CVCLD professional designation.
Please watch your email and mail for information from NGWA on how to convert your IGSHPA Accredited Vertical Loop Installer accreditation to the Certified Vertical Closed Loop Driller (CVCLD) professional designation.

For any questions please contact IGSHPA Manager Roshan Revankar at roshan.revankar@okstate.edu or (405) 744 - 5175.
Accredited Installer Workshop


IGSHPA would like to welcome the following members to Stillwater this last week of February for our Accredited Installers Course:
Gerry Battles, Oklahoma State University
Rick Downie, Bard Manufacturing
Steven Fontas, Molten Mechanical
Stuart Frassman, Kutscher Drilling LTD
Colby George, George and Sons Water Well Drilling
Tim Leon, Chesapeake RV Solutions
Stephen Pelletier, Modine Manufacturing
Frank Stidman, Evolution
Geo Outlook
The communications staff is excited about this year's Geo Outlook. You can expect articles on safety, deep boreholes, designing residential systems, designing commercial systems, recent research, international updates and more in the edition that will hit your mailboxes mid-March! Interested in contributing to Geo Outlook future articles? Contact Erin at
erin.portman@okstate.edu
for more information.
IGSHPA Connect
IGSHPA Connect is the online home for all discussions related to the GSHP industry. Connect with industry members from across the world, learn from their experiences, and share your own.
Having an online presence is no longer a suggestion to stay in front of your competition – it's crucial. Be seen with HomeAdvisor! We receive over 8 million requests for a home service pro every year. That's a new project request every 5 seconds.
Ready to win more jobs? This is the perfect time, because IGSHPA pros will now receive a 25% discount on ProFinder leads for the first 30 days of joining the HomeAdvisor network.
Questions? Email
igshpa@homeadvisor.com
or call 866-849-1112.
ANSI/CSA C448-2016 Design and installation of ground source pump systems for commercial and residential buildings – NOW AVAILABLE!
There are a number of related GHP standards, guidelines and best practices available but stakeholders identified the need for standardization through a neutral third party accredited process for the design and installation of ground source heat pump systems as a priority. CSA is pleased to announce that the C448 bi-national Standard has just been published.

The Standard has been developed by subject-matter-experts from across North America with a vision to harmonize the differences between existing resources, simplify referencing in regulations and contracts, incorporate the latest advancements, clarify compliance using standards language, and provide credibility through an accredited neutral standards development process.

The bi-national Committee members included leaders from industry trade & professional associations, utilities, drillers, installers, manufacturers, regulators, designers / engineers and researchers / academia and endorsed by IGSHPA's Standards Committee. With a performance-based approach, the best practices and requirement from equipment and material selection to commissioning and decommissioning is now included under one cover.

If you are in the ground source heat pump industry or wish to know more about this ultra – efficient heating & cooling technology, the CSA – C448 Bi – National Standard is a "must have" resource. If you have any questions, please contact Muktha Tumkur by email at muktha.tumkur@csagroup.org. To learn more or to purchase a copy, please visit our website http://shop.csa.ca/en/canada/energy-efficiency/ansicsa-c448-series-16/invt/27014712016
Industry Mourns the Loss of Tom Huntington
It is with sorrow that WaterFurnace International, Inc. announces the passing of its President and CEO, Tom Huntington, after a battle with cancer. Tom passed away peacefully, surrounded by his family at the Kansas City Hospice House in Kansas City, Missouri.
Before joining WaterFurnace in May 2009, Tom had a distinguished career in the heating, ventilation and air-conditioning (HVAC) business. He served in many different roles throughout his career: a division marketing general manager at Carrier Corp., director of sales and marketing at KeepRite, vice president of corporate marketing at Climatic Corporation, vice president and general manager of Evcon Industries Inc., vice president of global marketing and sales at Bristol Compressors, and president of Unitary Products Group of York International/Johnson Controls. He proudly served as chairman of Geothermal Exchange Organization (GEO) and Gas Appliance Manufacturers Association (GAMA). Additionally, he served on the board of directors for North American Technician Excellence (NATE) and the planning board for the Air-Conditioning, Heating, and Refrigeration Institute (AHRI).
At WaterFurnace, Tom came to be known as a strong leader, a colleague and a friend. Under his leadership, the company grew its core business to represent a wider portfolio of clean, sustainable solutions. WaterFurnace was rewarded with market share gains in both the residential and commercial space, as well as a number of awards for the innovation of its new products. During Tom's tenure, the company also continued to grow its footprint around the world through strategic acquisitions and a joint venture.
Gerteric Lindquist, president, CEO and chairman of the board of NIBE Industrier AB, stated, "On occasions like this we are all reminded of the facts that life is only a borrowing and good health is a gift. Tom was an outstanding individual, a good friend, a very nice colleague and an unchallenged leader. He was also a formidable fighter, keeping up the spirits until the very end. Our thoughts and prayers are with Tom's family and all of our employees at WaterFurnace International."
WaterFurnace CFO, Fred Andriano, has been appointed by the Board of Directors as the interim President and CEO.

Courtesey of WaterFurnace
ARRA Geothermal Heat Pump Projects Making a Difference
In 2009, the U.S. Department of Energy (DOE) selected 26 geothermal heat pump (GHP) projects, and awarded them funding under the American Recovery and Reinvestment Act (ARRA). The projects were selected and funded through the agency's Geothermal Technologies Office and administered by the Building Technologies Office. Through this effort, DOE sought to advance GHP technology as well as reduce initial costs of deployment. In doing so, the agency also documented a range of consumer bene-fits from using this energy efficient technology.
After Oak Ridge National Laboratory (ORNL) selected six of these projects for a case study, researchers found that GHP systems saved 33% to 65% in energy use compared with baseline heating, ventilation and air-conditioning systems, and cut carbon dioxide emissions by 25% to 65% (see paper, posted here). An earlier report by ORNL ( here) that analyzed the national benefits of GHP systems found that replacing all existing residential space-heating, space-cooling and water-heating systems in U.S. single-family homes with properly designed, installed and operated state-of-the-art GHP systems would yield the following benefits every year:
Cut more than 270 million metric tons of carbon dioxide emissions (a 45.3% reduction) from existing U.S. single-family homes;

Save more than $50 billion in energy (a 48.2% savings); and

Reduce 216 gigawatts in summer peak electrical demand (a 56.1% reduction)
Although this study represents a best-case scenario, it demonstrates the consumer benefits that could result from widely adopting the energy-efficient option of GHPs. The energy savings unleashed can far outweigh the initial costs of such systems. Additionally, GHPs installed in new or existing homes by Dec. 31, 2016, are eligible for a 30% federal tax credit. As GHP technology is phased into new buildings in the future, it will save money for families and businesses nationwide—illustrating yet another way that DOE works at making a difference for America. (DOE / GEO)
Courtesey of GEO
Have News?

Do you have news you want to share with IGSHPA for consideration for The Loop or Geo Outlook? Email
Erin Portman
with your news.