January 28, 2016 | IGSHPA News | Geothermal News
From the President
Board Elections in February
You should have received an email last Friday requesting nominations for the IGSHPA Board of Directors. There will be four openings this year. Two of our first year directors, Jeromy Cotton and Allan Skouby will be rotating off the Board, opening up positions in the Utility and Distributor sectors. This year the Board added a General Membership seat which will represent members who do not work in any of the six industry sectors. There will also be a "floating" seat representative elected, who can come from any of the six sectors, or general membership. Our bylaws state that there will be at least one Board representative from all the sectors at all times

For the first time, all members of IGSHPA will have a vote. Previously, only corporate members voted. With a majority of membership being individual members, the Board made it a priority over the past year to change that. This week the Advisory Council and Board will determine the final slate of candidates based on the call for nominations. The election will be open for thirty days and a new Board will have its first meeting early in March.

This election is the next step for IGSHPA in becoming a truly member-driven organization. Please support the process by voting in February!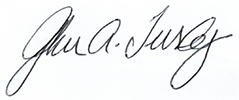 John Turley
President
New Initiative
IGSHPA is building a liaison group of different state geothermal organizations to learn how IGSHPA and other states can support each other in state-level legislative efforts. Key discussions early on will revolve around the Clean Power Plan and states requirements to have a submit a plan to reduce carbon pollution emissions to the EPA by September 6, 2016. Currently, 16 states have expressed interest in being a part of this group. If your state is interested in joining the liaison group, please email IGSHPA at info@igshpa.org with your name, state, and contact information.

IGSHPA is also looking for an individual (State Liaison) who will facilitate a bidirectional flow of information between state Geo-groups as well as local ASHRAE, NGWA, AEE, and similar organizations as well as state regulators and legislators who have a vested interest in promoting renewable technologies. Please email info@igshpa.org with your name, contact information and a brief description of your interest in serving in this role.
Renewal Letters Mailed
Accredited Installer and Accredited Vertical Loop Installer (driller) renewal letters have been mailed for Dec. 31 expirations. It is mandatory you complete the IGSHPA Continuing Education Credit Form. If you do not have the required 8 points needed for continuing education, please call our office for assistance. Also if you do not receive a letter, please call our office to update your address. You can call 800-626-4747 or 405-744-5175.
Adapting IRS Definitions Regarding Renewables


The Internal Revenue Service (IRS) is seeking input from industry stakeholders on adapting their definitions for various renewable energy measures and/or technologies in section 48 which covers tax credits and depreciation for GSHP.
Please visit this link to learn more and provide your input:
https://www.irs.gov/irb/2015-43_IRB/ar01.html
Accredited Vertical Loop Installer Workshop

Four drillers from Oklahoma, Texas, and New York are atteding the accredited vertical loop installer workshop in Stillwater this week. Dominique Durbin with Durbin Geothermal is teaching the class. The class runs from January 27-29, 2016. Attendees are Joseph Dalba, Island Geo Drillers, Northport, NY; Michael DeChellis, Austin, TX; Ryan Maletta, Island Geo Drillers; Dion Sherman, Just Geo Loops, Inc., Pawnee, OK; and Seth Webb, Just Geo Loops, Inc, Stillwater, OK.
Geo Outlook
The communications staff is excited about this year's Geo Outlook. You can expect articles on safety, deep boreholes, designing residential systems, designing commercial systems, recent research, international updates and more! Interested in contributing to Geo Outlook future articles? Contact Erin at
erin.portman@okstate.edu
for more information.
Certified GeoExchange Designer (CGD) Training at NY-GEO Conference
Ed Lohrenz will be teaching an IGSHPA CGD training course beginning on February 23rd via online webinars and culminating at the NY-GEO conference April 19-20. To register for the course, visit NY-GEO website. You can also learn more about the conference on the conference website.

IGSHPA Connect
Join in the technical conversations about city and state codes with other members on IGSHPA Connect.
Having an online presence is no longer a suggestion to stay in front of your competition – it's crucial. Be seen with HomeAdvisor! We receive over 8 million requests for a home service pro every year. That's a new project request every 5 seconds.
Ready to win more jobs? This is the perfect time, because IGSHPA pros will now receive a 25% discount on ProFinder leads for the first 30 days of joining the HomeAdvisor network.
Questions? Email us at
igshpa@homeadvisor.com
or call 866-849-1112.
Advertising Opportunities
IGSHPA has a variety of advertising opportunities for members to promote their product or service to other members through our Geo Outlook magazine as well as our newest advertising opportunity in the monthly newsletter, 'The Loop'. Anyone interested in advertising with IGSHPA in 2016 is encouraged to contact the communications specialist Erin Portman at erin.portman@okstate.edu as soon as possible to secure your spot.
GEO Call for Projects


Examples of Successful Geothermal Installations Will Help Win Extensions of Residential and Commercial Tax Credits
The Geothermal Exchange Organization (GEO) is working hard in Washington, DC and across the country, advocating public policies to help grow the residential and commercial markets for geothermal heat pumps (GHPs).
GEO's #1 priority during 2016 will be convincing our nation's leaders to extend the income tax credits for residential (IRS Sec. 25D) and commercial (IRS Sec. 48[a]) GHPs that are set to expire at the end of the year.
"As the GEO Board and staff work the halls of Washington with their DC-based advocacy team, it is important to convey the energy efficiency and economy of GHPs to members of the Senate Finance and House Ways & Means committees," says GEO Chairman Steve Smith (Enertech Global LLC – Green-ville, IL). "One of the best ways to impress the value of our technology is by showing them descriptions, articles and case studies of a variety of GHP projects from every state."
GEO asks everyone in the industry to send us information about your best geothermal installations of all types. Your input will make our state GHP project files as impressive as possible to our nation's legislators. Please send project information to GEO HERE.
Tax Credit Update

The Omnibus spending bill passed by Congress on Dec. 18 extends for five years the Wind Production Tax Credit (PTC), the 30% solar Investment Tax Credit for commercial installations (ITC - including 5-year depreciation), and the 30% solar income tax credit for residential applications. Though GEO was assured that GHPs would be included in the bill, they were left out during last-minute, closed-door negotiations over lifting the U.S. ban on crude oil exports. The wind PTC and solar tax credits were hurriedly inserted into the final Omnibus bill, but GHPs, fuel cells, small wind, microturbines, and combined heat and power were left out of the measure. "Just like those industries, GHP advocates were blindsided by the 11th-hour deal," said Dougherty. Immediate backlash whipped up by the GHP and other industries left out of the tax credit extensions made key congressional staff well aware of the problem. House Ways & Means Chairman Kevin Brady (R-Texas) publicly acknowledged concern that the ITC and income tax credit extensions for solar did not include other eligible technologies, as did Senate Minority Leader Harry Reid (D-NV). House Minority Leader Nancy Pelosi (D-CA) said she has been promised action in early 2016. GEO believes that the situation has created an easier path to get commercial and residential tax credits for GHPs extended through 2021. During the first quarter of 2016, GEO will work to include GHPs in an amendment that will provide parity with the solar industry tax credit extensions. GEO Industry News Page 3 The message? Congress should not be in the business of picking winners and losers among renewable energy options. It must remain technology neutral and market sensitive. This is especially important as the nation reaches for lofty environmental and economic goals. (GEO)
Have News?

Do you have news you want to share with IGSHPA for consideration for The Loop or Geo Outlook? Email
Erin Portman
with your news.