June 23, 2016 | IGSHPA News | Geothermal News
From the President
What's the Downside?


"A man stands up at a climate summit and asks, 'What if it's all a big hoax and we end up creating a better world for nothing?'"
I saw this joke recently in an article about Ontario's new $7 billion plan to reduce its carbon footprint. The goal of the plan is to cut Ontario's carbon emissions "to 15 percent below 1990 levels by 2020, 37 percent by 2013, and 80 percent by 2050." A big part of the reduction will come from upgrading the thermal efficiency of buildings and replacing heat produced by burning natural gas with heat from heat pumps. Ground source should play a major role in this and will receive financial incentives. Ontario intends to fund the plan through a cap-and-trade carbon pricing system that will be implemented next year.
In some circles, there is still a debate over carbon and climate change. Programs like Ontario's will reduce pollution, benefit health, lower utility bills and create jobs in industries like ours. Whether there is a correlation between carbon and the warming of our planet or not, there is no doubt large-scale adoption of ground source heat pumps will improve our quality of life and reduce our carbon footprint. What's the downside?


Sincerely,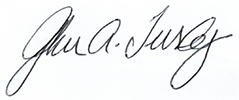 John Turley
President
Membership and Certification Expirations: RENEW NOW!
Please check your membership and certification expiration dates as many of our members will expire on June 30. Please contact us right away to find out your expiration date if you are unsure or to renew today.
For the corporate and individual members whose membership expires June 30, you should have received a membership renewal packet last month. We are please to announce the new membership options for you. Now, every member has a vote in the association and membership and certification are no longer tied together. Individual members have the option to recertify their accreditations and join as a member separately. The graphic below shows these changes in detail.
These changes address our members' concerns and serve to create a more beneficial and cost-effective membership and certification environment for the GSHP industry through IGSHPA.

For more information, or if you have any questions, please visit http://www.igshpa.okstate.edu/membership/ or call 405-744-5175.
Committee Updates
Training Committee-The training committee is hard at work ensuring training is meeting the needs of IGSHPA members. The Geo Inspector course has been offered two times since it was first rolled out to trainees in Kansas City in October 2015 with the next class in Bohemia, New York, July 20-21. The next CGD course will be held in conjunction with the World Energy Engineering Congress (WEEC) September 19-21 in Washington, D.C. New courses are being developed with training committee members and other industry groups: Dominique Durbin, Garen Ewbank, Jack Henrich, and Cary Smith are working with the National Ground Water Association to develop the new driller course; and Ryan Carda and Ed Lohrenz are working with a curriculum development specialist to develop the new Residential Designer class.

Standards Committee-The standards committee has been working on section 3 of the IGSHPA Standards which include but is not limited to buried piping, interior piping, water quality, specialty equipment, pumping, pipe fittings, antifreeze solutions, water treatment, and water monitoring. The committee is looking at industry codes to make sure IGSHPA standards are covering sections of those codes.

The standards committee also made multiple recommendations to the Uniform Solar Energy & Hydronics Code for updates to the geothermal section. This request was coordinated with ASHRAE and the ASHRAE geothermal committee, which supported the comments.
Four students attended the Certified GeoExchange Designer Course taught by Ed Lohrenz, GEOptimize, Inc., in Stillwater, Oklahoma, June 22-24, 2016. Participants were Corey Chinn, Colorado Springs, Colorado; Julio Gayta, Mexico City, Mexico; Fernando Sanchez, Mexico City, Mexico; and Douglas Wall, Guthrie, Oklahoma. Also pictured is Roshan Revankar, IGSHPA manager.
NEW Geo Outlook Available!
IGSHPA Training and Accreditation Opportunities
IGSHPA has several opportunities across North America during 2016 for you to become certified or accredited through one of our programs. Please visit our training homepage for more info and to register to attend a class.
Geo Inspector Workshop
Trainer:
John Turley
Date:
July 20-21, 2016
Location:
New York
(Learning units available through AIA)
Accredited Installer Workshop

Trainer:
IGSHPA
Date:
August 24-26, 2016
Location:
Stillwater, OK
Geo Inspector Workshop

Trainer:
Cary Smith
Date:
September 28-29, 2016
Location:
Salt Lake City, Utah
(Learning units available for course through AIA)


IGSHPA GEOTHERMAL INSTALLER ACCREDITATION TRAINING - HeatSpring

Trainer:
Ryan Carda, P.E.

Date:
Rolling - Begin Immediately

Location:
Online


IGSHPA CERTIFIED GEOEXCHANGE DESIGNER (CGD PLUS) TRAINING - HeatSpring

Trainer:
Ryan Carda, P.E.

Date:
Rolling - Begin Immediately

Location:
Online
Massachusetts Offers $25,000 for Commercial Geo Projects

The Massachusetts Clean Energy Center (MassCEC) announced an update to the ground source heat pump program (GSHP) as part of its commitment to growing the clean heating and cooling market in Massachusetts. "Beginning today, grants of up to $250,000 are available for efficient, commercial-scale ground-source heat pump installations that provide lifetime consumer cost savings, while reducing greenhouse gas emissions in the Commonwealth. Greater incentive levels available for affordable housing developments, non-profits and public agencies to allow a broader range of customers to access GSHP technology. For more information on how to participate, visit our Get Clean Energy page. To sign up as a system designer or installer, please visit our GSHP Installer Resources page." (MassCEC)
Have News?

Do you have news you want to share with IGSHPA for consideration for The Loop or Geo Outlook? Email
Erin Portman
with your news.