March 23, 2017 | IGSHPA News

| Geothermal News
From the President
2017 Conference
The 2017 IGSHPA conference in Denver was fantastic. It was well attended and sessions packed. I wish to thank all of you that worked through the year to deliver to our members an event of excellence.
As we move forward I would like to encourage all standing committees to keep up the good work.
The standing committees are: Advocacy chaired by David Thomison, Conference Planning chaired by Tim Litton, Marketing chaired by Kent Kuffner, Membership chaired by Chris Smith, Research chaired by Xiaobing Liu, Standards chaired by Ryan Carda, and Training co-chaired by John Turley and Rick Clemenzi. These chairs will help the industry and public as IGSHPA and ground source moves out into the main stream.
From a technical view ground source is alive and well as the tracks at the conference put together by Jeff Spitler, Ph.D., demonstrated. Professionals from all segments shared their work and thoughts for our industry. It is great to see such robust discussions.
Going forward two things must be addressed. Read More
Committee Updates
Conference Planning Committee
After months of planning and preparation, the IGSHPA Conference & Expo took place on March 14-16th in Denver, CO. The event was well attended and the Conference Committee received many compliments on an upbeat, professional meeting that helped prepare attendees for success in a post-tax credit environment. The research track and awards dinner were two new events that were well received. The full committee is scheduled to meet in April to discuss things that went well along with things we could do better for next year's conference. If anyone would like to help out with the 2018 Conference & Expo, please email Roshan Revankar or Tim Litton.

International Chapters Committee
The International Chapters Committee met in Denver with attendance from Australia, Canada, China and Sweden, the issues that were discussed are as follows:
1-It was agreed upon that communication between members will be through the new IGSHPA app, we will ask for the International committee to have a section dedicated to that committee.
2-We will develop an "in Country trainer" for each chapter, the particulars to be determined through negotiations with IGSHPA Stillwater. Dr. Lu Xing has volunteered to represent China along with one other person, we also have a volunteer for Australia.
3-All "in Country" training will go through the Chapter of that Country.
4-We will continue this dialogue with the various chapters through the app.
5-We agreed that we would support the next IGSHPA Sweden's conference.

Jack DiEnna also met with In Ki Jun from Korea to discuss the forming of a chapter in that country, Garry Sexton will also shepherd that initiative. We would welcome any other countries that want to start a chapter to contact us through the IGSHPA app.
Marketing Committee

Kent Kuffner of Carrier Corp. has been selected as the Marketing Committee Chairman. The marketing committee exists to inform the geothermal industry of the opportunities and benefits that exist within IGSHPA. Areas of opportunities include, but are not limited to, training, membership, publications, and IGSHPA discussion board. Current platforms used for marketing IGSHPA are: Geo Outlook quarterly magazine, The Loop monthly newsletter, social media platforms, discussion board, and paid-for advertising in trade publications or websites. The committee will manage all marketing aspects of IGSHPA to the geothermal industry approved for work by the IGSHPA Board of Directors.
Many of this year's conference participants have shared feedback and ideas on how the committee can move forward to grow the industry. That feedback will be key topics of discussion and action by the committee. Additional marketing committee members are welcome.
The board and committee would like to thank the previous marketing committee chairman, Brian Urlaub of Enertech, for his past leadership and guidance.
Membership Committee

All IGSHPA members had the opportunity to vote on the new board members for the second year as a member benefit. The membership committee would like to welcome Dominique Durbin and Mike Hadley to the board, along with board member at large Paul Bony.


The next membership renewal cycle is in June. Start watching your email and mail for information on how to renew!


Research Committee
Research committee has an in-person meeting on March 13. We discussed the ongoing GSHP related R&D at ASHRAE and DOE. We also discussed the recent Minnesota GSHP report and made a plan to develop a response to this report. Given the current low price of natural gas, active R&D becomes essential to make GSHP systems more economically competitive. Particularly, the committee identified two research topics that are essential with this regard, including (1) evaluating emerging ground heat exchanger designs, and (2) cost effective solutions for measuring performance of GSHP systems. Potential international collaborations for these two R&D topics were suggested by International members of the committee. The research track in this year's IGSHPA conference is a success with 42 technical papers being presented. More than half of the presenters were from three countries—Canada, China, and Sweden. US was ranked the 4
th
place (see the pie chart below). The top four research topics ranking based on the number of presented papers are modeling and simulation (13), fluids and materials (7), optimal design, control and operation (5), and thermal response testing (5). The research track provided a valuable opportunity to learn the worldwide development in GSHP related R&D and thus is highly desirable to continue in future conferences.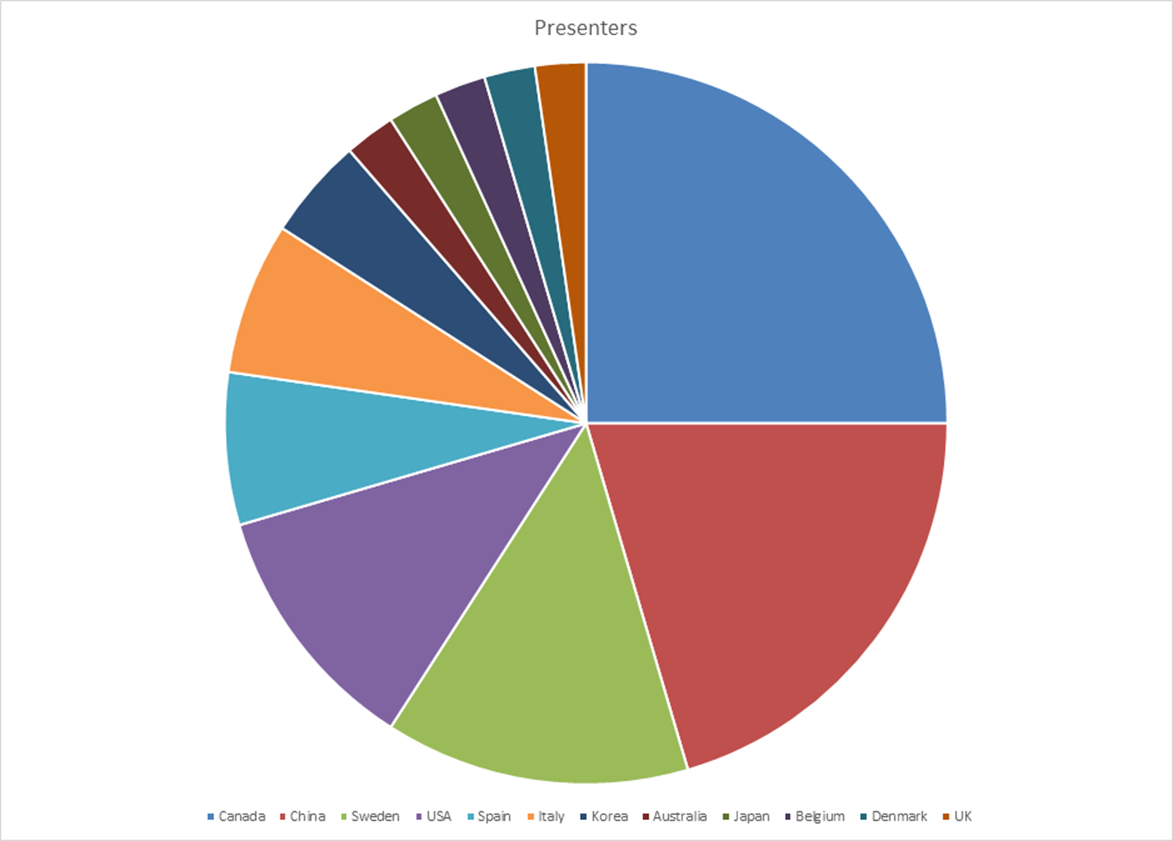 Standards Committee
The following items were presented during the Standards Committee Meeting March 13.
An updated Manual of Procedures (MOP) was voted on and approved.
Attached to the MOP is a

basic organizational chart

. Four primary objectives were identified for the Standards Committee. Each member was asked to serve in at least one area:

Continued standards development

An update to the grouting content (Section 2B) was introduced but has not yet been submitted for a vote.
A liaison to the Training Committee was identified to ensure that all training development agrees with current standards.

Code/Standard Oversight

NGWA was added to the list
A liaison to the Advocacy Committee was identified to ensure that code development and state regulations are being monitored for agreement with the current standards.

Special Projects

A standard ground-loop specification is being developed by a subcommittee of six members. The standard specification will serve as a starting point for system designers who are unfamiliar with GSHP systems.

Standards Transition

The tentative plan is for IGSHPA to be listed as a sponsor and co-developer of the ANSI/CSA C448 Bi-National Standard. If this happens, the IGSHPA Standards will be sunset and replaced by ANSI/CSA C448.
Representatives from CSA were invited to present and provide detail on CSA in general as well as the organization of the Technical Committee for ANSI/CSA C448, describe the standard revision cycle and to give an update on the current status of collaboration between CSA and IGSHPA. The status of approval for IGSHPA as a sponsor of the standard would be known within 4 weeks of the Denver conference.
Several members were identified to serve on a subcommittee to track and report on the transition of the IGSHPA Standards to ANSI/CSA C448.

A representative from McElroy was asked to present on sidewall fusion techniques, tools and fittings.
Training Committee
The IGSHPA Training Committee had their annual meeting in Denver on March 13th. Training Committee Chair Ed Lohrenz will be rotating off the committee. Many thanks go out to Ed for his hard work the past two years in this role. Of particular note was the creation of the IGSHPA Residential Designer course, which he worked on with Ryan Carda. Rick Clemenzi and John Turley will be replacing him as Co-Chairs this coming year. Anyone interested in volunteering on the Training Committee this year should contact Rick or John, or reach out to the IGSHPA staff.
Board of Directors Voting Results
IGSHPA is pleased to announce the 2017 IGSHPA Board of Directors. For the second time, all IGSHPA members had the opportunity to vote for the next IGSHPA Board of Directors. Voting was conducted the month of February via electronic vote. Members voted for the two sectors with open seats and the new board met via teleconference to slate the at-large board of director.

Board Member At Large-Paul Bony, Electric Gas Industry Association
Dealer/Contractor-Mike Hadley, Climate Control Heating & Cooling Co.
GHEX-Dominique Durbin, Durbin Enterprises, Inc.

These newly elected board members join the following board members to create the 2017 IGSHPA Board of Directors:

Architects/Engineers/Designers-Garen Ewbank, Ewbank Geo Testing, LLC
Board Member At Large-Chris Smith, BSN Consultant
Floating-Don Penn, Don Penn Consulting Engineer/IEG Ltd.
General Membership-Jack DiEnna, Geothermal National & International Initiative
Manufacturers-Michael Albertson, WaterFurnace International, Inc.
OSU Appointee-Dr. Dan Fisher, CEAT-OSU
Product Distributor-Cary Smith, Sound Geothermal
Utilities-Mark Faulkenberry, Western Farmers Electric Cooperative

Congratulations Jeff Torgerson, UMR Geothermal, Inc.! Jeff entered into a drawing for the cooler by filling out the membership survey in the fall. Thank you to all who filled out the survey.
2017 IGSHPA Conference and Expo
Thank you to all who attended the 2017 IGSHPA Conference and Expo in Denver, Co. Conference highlights included more than 400 attendees, 50 exhibitors, 6 training courses, 8 committee meetings, 42 research presentations, 34 technical/commercial/residential presentations, 2 industry panels, and an inaugural awards dinner hosted by the manufacturers.
IGSHPA Training and Accreditation Opportunities

IGSHPA has several opportunities across North America for you to become certified or accredited through one of our programs. Please
visit our training homepage
for more info and to register to attend a class.
Accredited Installer Workshop
Trainer:
Ryan Carda, P.E.

Date:
April 25-27

Location:
Amherst, New Hampshire
Trainer:
Ryan Carda, P.E.

Date:
Rolling - Begin Immediately

Location:
Online

IAPMO Seeks USEHC Geothermal Piping and Photovoltaic Task Group Members
Ontario, Calif. (March 17, 2017) — The International Association of Plumbing and Mechanical Officials (IAPMO®), publisher of the Uniform Solar Energy and Hydronics Code (USEHC), is accepting applications and seeking technical experts to participate on task groups relating to geothermal piping and photovoltaic systems.

The scope of the Geothermal Piping Task Group is to review Items 97, 98, 99, and 100 from the 2016 USEHC Report on Proposals (ROP) regarding testing of u-bends and headers in Geothermal Systems, Section 703.4.2. The task group will review the proposals and develop recommendations to combine all four into one in order to evaluate the combined effects in Section 703.4.2, and will develop recommendations regarding testing requirements based on industry best practices. The recommendations, along with a report of underlying issues, will be forwarded to the USEHC Technical Committee for review.

The scope of the Photovoltaic Task Group is to review Items 122, 123, 124, 125, and 126 of the 2016 USEHC ROP regarding Photovoltaic (PV) Systems, Sections 901.0, 902.0, 903.0, 908.0, and 909.0. The task group will review and develop recommendations to the new proposed language to ensure technical accuracy and to avoid conflicts between NFPA 70, Appendix B of the USEHC, and Chapter 9 of the USEHC. The recommendations, along with a report of underlying issues, will be forwarded to the USEHC Technical Committee for review.
Task group members will participate via conference call or web meeting; provide their perspective on the code; and assist in drafting recommendations for action by the USEHC technical committee. Applicants are not required to be members of the USEHC technical committee.

Interested parties for either/both of the Geothermal Piping or Photovoltaic task groups can submit an application at http://forms.iapmo.org/iapmo/committee/app_task_group.asp
The deadline to submit an application is April 7.
Have News?

Do you have news you want to share with IGSHPA for consideration for The Loop or Geo Outlook? Email
Erin
with your news.
| |