May 26, 2016 | IGSHPA News | Geothermal News
From the President
We Want You!

A couple of weeks ago membership and certification renewal letters went out to our members who have June renewal dates. When individuals and companies renew or join IGSHPA now and in the future they will choose to be classified into one of the six industry sectors defined in the new IGSHPA bylaws, or the general membership category. What does this mean? This means that we will be able finish the job of creating better ways for participants in different parts of our industry to communicate with each other, and to let their needs be known to the Staff and Board of Directors.
I cannot emphasize enough how important your continued financial support is to IGSHPA. Membership dues and certification fees provide the resources for IGSHPA to continue improving our existing programs and to develop new ones. Membership and recertification, along with volunteer hours, are the lifeblood of our trade organization. Please continue to support IGSHPA!

Sincerely,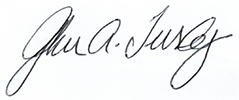 John Turley
President
Check Your Membership Cards For Expiration Dates!
For the corporate and individual members whose membership expires June 30, you should have received a membership renewal packet last week. We are please to announce the new membership options for you. Now, every member has a vote in the association and membership and certification are no longer tied together. Individual members have the option to recertify their accreditations and join as a member separately. The graphic below shows these changes in detail.
These changes address our members' concerns and serve to create a more beneficial and cost-effective membership and certification environment for the GSHP industry through IGSHPA.

For more information, or if you have any questions, please visit http://www.igshpa.okstate.edu/membership/ or call 405-744-5175.
IGSHPA Partners with State of Utah
The Department of Natural Resources for the state of Utah will allow state licensed well drillers to apply successful completion of the IGSHPA Geo Inspector Course as continuing education credit in respect to their Utah well driller licensing requirements (RE: R655-4-8.2 UAC). Continuing education credit will be allowed on a 1 hour of training equals 1 CE credit basis for this course.
IGSHPA recently held a Accredited Installers Course at the IGSHPA headquarters in Stillwater, Oklahoma. Participants were Brian Demaree - Tulsa, OK; Jerry Froemming - San Antonio, TX; Sam Halmick - Sullivan, MO; Destry Harber - Wilburton, OK; Kevin Kelsch - Half Way, MO; Arkadusz Koziol - Cherry Hill, NJ; Jae Kyu - Seoul, South Korea; Jeremy McCarthy - Half Way, MO; Ryan Stokes - Half Way, MO; and Richard Young - Cherry Hill, NJ.
Garen Ewbank facilitated the training.
IGSHPA Training and Accreditation Opportunities
IGSHPA has several opportunities across North America during 2016 for you to become certified or accredited through one of our programs. Please visit our training homepage for more info and to register to attend a class.
Certified GeoExchange Designer - CGD Plus Course:
Trainer:
IGSHPA
Date:
June 22 - 24, 2016
Location:
Stillwater, OK
(Learning units available through AIA)
Geo Inspector Workshop

Trainer:
John Turley
Date:
July 20-21, 2016
Location:
New York
(Learning units available through AIA)
Geo Inspector Workshop

Trainer:
Cary Smith
Date:
September 28-29, 2016
Location:
Salt Lake City, Utah
(Learning units available for course through AIA)


IGSHPA GEOTHERMAL INSTALLER ACCREDITATION TRAINING - HeatSpring

Trainer:
Ryan Carda, P.E.

Date:
Rolling - Begin Immediately

Location:
Online


IGSHPA CERTIFIED GEOEXCHANGE DESIGNER (CGD PLUS) TRAINING - HeatSpring

Trainer:
Ryan Carda, P.E.

Date:
Rolling - Begin Immediately

Location:
Online
IGSHPA Members Honored By HomeAdvisor
Seven IGSHPA members received the "Best of HomeAdvisor Award" for 2016. The top professionals in the network received this award for quality practices and premier service. Recipients were among the highest rated service professionals in the HomeAdvisor network and had to have at least three customer reviews submitted in the last six months.

IGSHPA members receiving this honor are:
Connecticut Cooling and Heating, Inc; Granby, Connecticut
Square One Heating & Cooling, LLC; Union Grove, Wisconsin
Simply Efficient, LLC; Lakewood, Colorado
On Demand Comfort, LLC; Portland, Oregon
GRC Mechanical Services; South Hackensack, New Jersey
Team Plumbing, Inc; Colorado Springs, Colorado
Johnston's Groundwater and Geothermal, LLC; Virginia Beach, Virginia
Standards Manual Updated
The latest version of our standards manual is ready for purchase on the IGSHPA website. Manuals can be purchased for $19 for members and $21.50 for non-members.
Iowa Geo Tax Credit Provides Stopgap for Federal Incentive

On the last day of its 2016 session, the Iowa Legislature passed HF 2468, which provides for a 10% standalone tax credit for residential installations of geothermal heat pumps (GHPs) in lieu of federal tax incentives. Both the House and the Senate voted unanimously in favor of the measure. Gov. Terry Branstad is expected to sign the bill into law within 30 days. It will take effect on Jan. 1, 2017. The measure is not capped, and does not offer a tax credit for commercial installations.

According to the legislation, the new Iowa tax credit "…shall not be available during any tax year in which the federal residential energy efficient property tax credit for geothermal heat pumps provided in section 25D(a)(5) of the Internal Revenue Code is available." Per existing Iowa law, there is a 6% state tax credit that is tied to the current federal tax incentive for residential GHP installations. If the current federal tax credit expires at the end of this year, the 6% state credit will expire as well. They will then be replaced with Iowa's new 10% standalone credit.

Expenditures for qualified geothermal heat pump property means an expenditure for geothermal heat pump equipment "…installed on or in connection with a dwelling unit located in Iowa and used as a residence by the taxpayer, whose taxes shall be reduced by 10% of qualified geothermal heat pump property expenditures made by the taxpayer during the tax year."

According to the bill, "…such expenditures shall be deemed to have been made on the date the installation is complete or, in the case of new construction or reconstruction, the date the original use of the structure by the taxpayer begins." The owner of the qualified geothermal property can apply the credit to his/her tax burden incrementally for a period of 10 years. (GEO)
Have News?

Do you have news you want to share with IGSHPA for consideration for The Loop or Geo Outlook? Email
Erin Portman
with your news.