November 19, 2015 | Geothermal Industry | Association News | Geothermal News
From the President
IGSHPA is YOUR organization. After writing a few of these newsletter messages this year, saying these words starts to feel awfully familiar- even to me. I hope the words are not lost on you. Last month I mentioned our new membership sector- General Membership. This category is made up of a majority of our current members. These are members who have joined through our training programs and others who are in the industry, but not from one of the current six sectors of membership. For the first time, these members now have a vote and voice in the governance of IGSHPA.
The size of the Board was recently increased so that when the new Board meets for the first time next February, there will be a "General Membership" Board member. To get there, our bylaws require that the nominees for this spot come from the Advisory Council. Which brings me to this-we need an Advisory Council representative for the General Membership sector of the Advisory Council before we can have nominees for that sector's Board position. If you are interested in filling this role, please contact the IGSHPA staff. Being on the Advisory Council does not preclude you from running for the Board.
IGSHPA is YOUR organization. Did I say that again? Sorry to be repetitious! We received feedback from our sponsors and exhibitors after the conference in Kansas City that fall is a tough time of year to get contractors to attend. This is because it is often their busiest time of year. The Board, Staff and Conference Committee looked into the possibility of moving our next conference from its scheduled date in October of 2016.
We are pleased to announce that our next technical conference will be in Denver in March 2017. We hope this will be a more convenient time for our membership and help fill our courses, seminars and the exhibit hall. Look for some exciting announcements in the coming months about the Denver conference, and information about smaller events that will be held in 2016. IGSHPA is YOUR organization- keep giving us feedback, and please get involved in the future of our industry!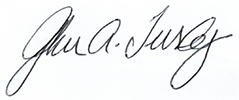 John Turley
President
Coming in January-New Member Benefit
Since 1999, HomeAdvisor has connected millions of project-ready homeowners to the nation's largest network of pre-screened home service pros. Over 95,000 pros rely on HomeAdvisor to grow their business. New! HomeAdvisor is now offering exclusive membership benefits to IGSHPA pros. To learn how you can win more jobs with HomeAdvisor visit homeadvisor.com/igshpa or call 877-800-3177.
Conference Presentations

Did you miss out on a presentation at the 2015 conference you really wanted to see? 2015 Conference videos and presentations are available for you to view on the conference website.
IGSHPA Connect
IGSHPA Connect has gone live. Conversations are happening on the site and you don't want to miss out. Ensure your daily digest report is coming to your inbox by adding DoNotReply@ConnectedCommunity.org to your safe sender list in your email.
Geo Outlook
McAlister Construction designed a housing development around energy efficiency in Moore, Oklahoma. Read about the why, the how and the benefits the group sees in this type of community in the most recent Geo Outlook.
IGSHPA Member Renewals Due by December 18
Membership renewal and recertification letters have gone out for members who need to renew by the end of the year. In order to comply with IGSHPA's financial office and the holiday schedule, your form and payment needs to be in the IGSHPA office by 5 p.m. on December 18.
HouseSmartsTV segment
HouseSmartsTV produced a nationally-aired segment on ground-source systems in the past month. Dr. Jim Bose, Bob Ingersoll, Jim Partin and Kyle Kelty (B&L Heating and Cooling) were all interviewed for this segment by host, Lou Manfredini. You can view the IGSHPA segment on HouseSmartsTV YouTube channel.
Come See Us at the NGWA Groundwater Expo
IGSHPA representatives will be present at the 2015 NGWA Groundwater Expo and Annual Meeting in Las Vegas December 15-17. This year's theme, "The Intersection of Today and Tomorrow," will be the focus of the industry's leading annual event and provide attendees cutting-edge educational programming, an exhibit hall with the latest in equipment and technological innovations and a multitude of networking opportunities as professionals from all industry segments and geographic areas gather. Registration for the expo is still open. We hope to see you there.
2017 IGSHPA Technical Conference & Expo, Denver-March 15 & 16
IGSHPA's 29th Technical Conference and Expo will be March 15-16, 2017, in Denver, Colorado, with IGSHPA training beginning prior to the conference. The event will be held at the Crowne Plaza Hotel & Convention Center Denver International Airport. Additional information will be available in future Loop issues.
Geothermal News

California GEO Webinar

Kirk T. Mescher Scholarship Fund

The geothermal industry lost a dear friend in the passing of Kirk T. Mescher this past summer. A scholarship fund in his name has been established at the Central Bank of Boone County, P.O. Box 678, Columbia, MO 65205. Contact the bank by phone at (573) 874- 8100, or (800) 842-2262. The scholarship award is meant to assist

Teaching Faculty interested in developing course material on GSHP or otherwise providing GHP information to students.
Students interested in a career in HVAC and interested in attending an ASHRAE Conference or course addressing GSHP.
Practicing Engineers, Teaching Faculty, or Students who have an idea for an elegant way to achieve more energy efficiency, and could use this award to test and put the idea(s) into practice.
GEO Update
GEO, NEGPA Team Up to Change NH Cost Calculator
Nov. 13 – Emeritus Chairman of the New England Geothermal Professionals Association Martin Orio (Water Energy Distributors, Inc. – Hampstead, NH) recently uncovered a heating and cooling cost calculator used by New Hampshire Climate Audit (NHCA) that posted the Coefficient of Performance (COP) of a geothermal heat pump (GHP) at an unrealistically low measure of 2.75. Upon inquiry, NHCA officials referenced a paper produced by the Jordan Institute, a renewable energy group in Concord, NH.
Orio shared his discovery with Geothermal Exchange Organization (GEO) President and CEO Doug Dougherty, who immediately contacted Jordan Institute Executive Director Laura Richardson to question the validity of the referenced paper. "She admitted that the technical paper was dated (2006) and should no longer be used, and asked for current GHP ratings, which I provided," said Dougherty. Richardson also agreed to accept additional documentation from Orio, which she will provide to NHCA organization with a request to update their cost calculator.
"GEO constantly uncovers erroneous and outdated data about GHPs in technical papers and cost calculators used by organizations and governmental agencies across the country," Dougherty said. "We need to encourage and assist local GHP professionals like Martin Orio to be vigilant in finding public documents that misrepresent the efficiencies of GHPs as a first step in getting them changed." (GEO)
Geo Ranch
Western Farmers Electric Cooperative hosted Geo Ranch on October 29 at Air Product Supply in Goldsby, Oklahoma, to inform customers, HVAC technicians, homeowners, and builders about the installation techniques, rebates, and efficiency advantages of geothermal units. For an overview of the day, watch this YouTube video about the impact the event had on attendees.