DONATE ONLINE TO SUPPORT OUR EFFORTS








All donations to The Corbett Foundation are exempt u/s 80-G from the Income Tax Act, 1961. The Corbett Foundation is registered under the Foreign Contribution (Regulation) Act, 1976 under registration 
no. 231650853. 
The Corbett Foundation is an activity partner with:
TCF is a recipient of the TOFT 'Wildlife Tourism Related Community Initiative 2014' and the 
'Vasundhara Mitra Award 2015':
The Corbett Foundation is accredited by Credibility Alliance under 'Desirable Norms' prescribed for the good governance of voluntary organisations in India. The Corbett Foundation is a Member of the Global Tiger Forum, the State Wildlife Advisory Board of Gujarat and the Indian National Committee of the IUCN.
PARTNERS IN
CONSERVATION

TCF would like to thank the AmeriCares India Foundation, Axis Bank Foundation, Bajaj Auto Ltd., Bombay Gowrakshak Trust, Born Free Foundation, Coca-Cola India Foundation, Earthwatch Institute India, EcoCare International Foundation, Exodus Travels Ltd., Friends of Conservation, Gujarat Biodiversity Board, Gujarat Forest Department, Kirloskar Oil Engines Limited, Madhya Pradesh Forest Department, Pirojsha Godrej Foundation, Rare Species Fund, Rufford Foundation, Wildlife Conservation Trust and WWF-India among others, for their support towards its activities and programmes. TCF thankfully acknowledges the infrastructure support given by Conservation Corporation of India Pvt. Ltd. 


BOARD OF TRUSTEES

Mr. Dilip Khatau, Chairman
Mrs. Rina Khatau, Co-Chair 
Dr. M. K. Ranjitsinh, Retd. IAS
Mr. B. K. Goswami, Retd. IAS 
Mr. Nirmal Ghosh
Mr. Sam Mistry 
Mr. Sharad Sanghi
Mr. Darius Udwadia
Mr. Akshobh Singh
Mr. P. R. Rajkotia 
Dr. Divyabhanusinh Chavda
Mr. Laxmikumar Goculdas
MISSION STATEMENT


The Corbett Foundation (TCF) consists of a group of dedicated men and women who are committed to the conservation of wildlife and nature, and fulfilling the ambition that human beings and nature must live together in harmony.



PROJECT SAKSHAM
The Corbett Foundation with kind support from Baja Auto Ltd. launched Project Saksham, a medical outreach programme, for tribal and forest-dependent communities at its Corbett and Kanha divisions. From April to June 2015, a total of 5085 patients were treated in camps and OPD. These communities and wildlife commonly share natural
ecosystems, and this often gives rise to conflict situations. The health and wellbeing of local
communities is directly linked to their willingness to participate in wildlife conservation efforts
towards maintaining healthy ecosystems. TCF believes that
only a healthy community can contribute to a healthy environment, and therefore it adopts a multipronged strategy to help create a harmonious co-existence between wildlife and human beings. The Corbett Foundation is grateful to Bajaj Auto Ltd. for its support towards this programme in 2015-16.

SUCCESS STORY OF THE MONTH
The women of Kalyani Self-help group (SHG) of village Nikkum-Kanha began training in sewing and tailoring in the year 2013-14  under TCF's sustainable livelihoods intiative 'PUKAAR'. Having successfully completed their training, they now manage a small sewing & tailoring business as a group, with each member saving ₹30 per month, making a collective profit of ₹6000 to date. They now have an alternative livelihood source, leading to empowerment, improved quality of life, reduced dependency on forests and a consciousness towards conservation.
CONTACT US

Registered Office:
P.O. Dhikuli, Ramnagar,
Dist. Nainital, Uttarakhand 244715
Administrative Office:
81-88, Atlanta, Nariman Point, Mumbai 400021, INDIA
Tel. No. +91 22 61466417
Fax No. +91 22 61466499



info@corbettfoundation.org

 

www.corbettfoundation.org



Copyright © 2015 
THE CORBETT FOUNDATION
All rights reserved.
Join us on
Facebook

FLOOD RELIEF IN KAZIRANGA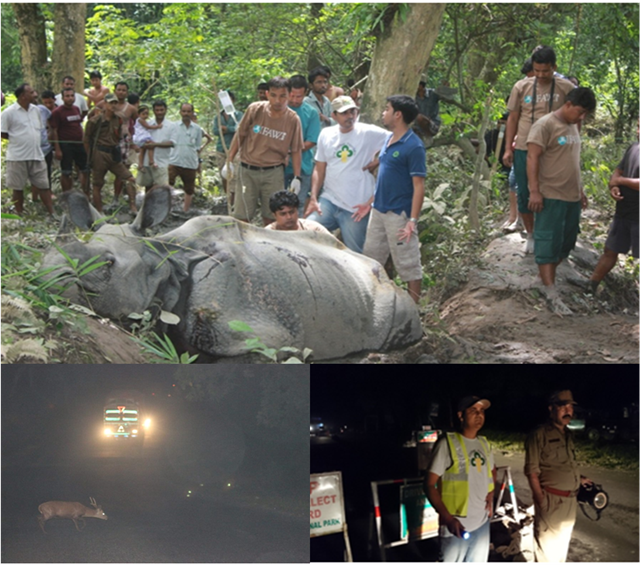 In Assam, catastrophic floods due to the overflowing of the Mighty Brahmaputra River running through Kaziranga National Park has caused devastation to around 700 villages on the its banks and large-scale destruction of roads, bridges, houses, embankments and wild habitat. This UNESCO world Heritage Site is home to nearly two-thirds of the world's Greater One-Horned Rhinoceros Population. They, along with the other resident wildlife like Tigers, Swamp Deer, Hog Deer, and Elephants struggle to swim to higher ground from where they will have to cross the National Highway (NH) 37 to reach the adjoining Karbi Anglong hills. This treacherous journey often results in animal death as road-kill, and the absence of sanctuary protection and forest cover makes them susceptible to poaching. TCF has been working in Kaziranga since 2013, where it runs a 24x7 rescue unit for flood-affected villagers and animals and also assists the Forest Department in streamlining traffic on NH 37 to minimize casualties from road-kill. Other programmes include minimizing man animal-conflict, increasing flood-preparedness of villagers and deploying our vehicle and boat with a team of veterinary experts and volunteers for rescue operations. To organize medical camps for flood victims, veterinary camps for injured animals and provide post-flood relief such as medicines, food, clothing and other necessities to the affected families, we are in urgent need of manpower and monetary assistance. Please write to info@corbettfoundation.org (Attention of Mr. Kedar Gore, Director, TCF) for more information. Do send in your donations to the Corbett Foundation at our Mumbai address. To donate online, please visit our website www.corbettfoundation.org
COMMUNITY BASED NATURAL RESOURCE CONSERVATION - PLANTATION ACTIVITY
TCF has undertaken a project titled "Community-Based Natural Resource Conservation (CBNRC)", supported by the Born Free Foundation. TCF is currently engaging the residents of Bakiguda village on the banks of the Jamunia river in conservation through sustainable use of natural resources. in August 2015, a 14-acre degraded patch of forest along the Jamunia river and forming the edge of Kanha Tiger Reserve was cleared of thickets of the invasive Lantana species. Here, plantation of 350 saplings of indigenous trees common to Central India was carried out. 200 Bamboo saplings were also distributed among the villagers for cultivation on private land. We aim at increasing the green cover around these villages and reducing their dependence on wood from the forests for timber and fuel wood.
WORLD ELEPHANT DAY CELEBRATION - KUNKHET GOVERNMENT HIGH SCHOOL
TCF-Corbett celebrated World Elephant Day on August 12, 2015 with 90 students and 7 teachers at Kunkhet Government High School, Uttarakhand. The school is surrounded by thick forest and Kunkhet village is frequented by elephants all year round, making this location and the target audience ideal for carrying out elephant awareness and conservation activity. TCF team members interacted with the students, following which a movie about elephants was screened.
MEDICAL OUTREACH PROGRAMME FOR THE PARDHI TRIBE 
The Pardhi tribe is a community notorious for their hunting activities, which often puts them in conflict with local authorities. In August 2015, The Corbett Foundation, WWF-India and Kanha Tiger Reserve have together launched a medical outreach programme for 3 Pardhi Tribe settlements in Kanha Tiger Reserve. Under this programme, medical treatment  camps will be conducted for the members of the tribe twice a month and free of charge, alongside creating awareness about personal hygiene and health-related matters. Providing them with basic healthcare, education  and generating sustainable livelihoods goes a long way in creating a generation of Pardhis instilled with a positive attitude towards conservation.
SNAKE AWARENESS AND CONSERVATION
On August 28, 2015, TCF-Corbett held an awareness programme for the students of Government High School, Kamola. The students were engaged in an introductory discussion on snakes, snake bite prevention and conservation. The students in this school belong to families in rural communities whose primary occupation is agriculture. wherein encounters with snakes are fairly common.
SOLAR LANTERN REPAIR
TCF-Corbett (North Zone) organized a training session for solar-lantern repair in the villlage of Daabru in August 2015. The villagers' lanterns were repaired free of cost and the community was trained to repair their own lanterns as well. TCF, supported by Anandana (Coca-Cola India Foundation) under the "Akshay Urja,Swastha Jeevan" project has distributed Over 3000 solar lanterns in the villages fringing Corbett Tiger Reserve and surrounding forest divisions. Villages receiving erratic electric supply now utilize lighting that is eco-friendly and renewable, to study, cook and keep vigil on their crop at dusk, while contributing to 50% of the cost of the lanterns.
SUSTAINABLE LIVELIHOODS - INTEGRATED FISHERIES TRAINING
Under TCF's sustainable livelihoods initiatve 'PUKAAR' supported by the Axis Bank Foundation, TCF-Kaziranga has begun an integrated fisheries training programme for groups of villagers in Bochagaon and Dumjan. Its objective is to reduce the frequency of fisherman venturing into water bodies inside Kaziranga National Park to fish, by developing their own fishery in a constructed pond in the village. This model includes the construction of an elevated platform over the pond, where ducks will be reared and the duck-droppings will serve as fish feed. Seen here are villagers constructing the duck-house.