Guest author Katie Bean, Executive Vice President at Thinking Bigger Business Media, Inc. introduces us to Richard Hu, NCARB, Licensed in AL, IL, KS, MO, NC, TN, VA, President, HJM Architects, and his story of overcoming significant uncertainty to keep his firm's doors open. Learn how Richard successfully moved his firm through a transition crisis.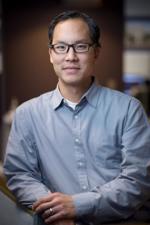 Growing up with an entrepreneur father may have made small business ownership seem natural for architect Richard Hu, but it didn't fully prepare him for taking over his father's firm.

There wasn't a succession plan in place, per se. Hu said he began considering taking over management of HJM Architects in early 2014, after working with his father there for about 10 years. But in all that time, they hadn't started any conversations about a transition.

Every year, Hu said, his father would say he'd retire in two years--so he didn't seem quite ready to let go. When Hu finally brought up the topic in the last quarter of 2014, he was surprised to hear his father say, "OK, let's do it."

"He just walked out and shut the door behind him, and that was it," Hu said, laughing.

Changing Course

Taking over wasn't as simple as building on the firm's current business--in fact, continuing that model was the last thing Hu wanted to do.

In the decade he'd been working at HJM, about 75 percent to 90 percent of the firm's revenue came from projects in China. Building those projects and relationships required monthly trips overseas.

As Hu mulled taking the reins of the business, he realized his passion was building up Kansas City, particularly the urban core. And especially with young kids at home, he wasn't keen on traveling to China every month.

So, as Hu took over as President of HJM in 2015, he nixed the China projects--and 85 percent of the firm's revenue. That freed him to build up the firm's business in Kansas City.

Meanwhile, he said, wading into running the business included "30 years of accounting to untangle," which included changing the business from a C-corp to an S-corp.

With a leaner budget, HJM had to work smarter.

"It got to the point where we were counting every single dollar, every penny," he said.

Planting Seeds

The first year and a half after taking over was a stressful time, Hu said. The entire family's income rested on the success of the business because his wife works as the firm's office manager. They didn't pay themselves in the first few months, and the firm took every job available.

"There were times when she would poke me at night and say, "We're not making any money! We've got to do something," Hu said. "And I told her, 'Just trust me! Trust me, we've got this figured out.' But then I wouldn't be able to sleep."

But as time went by, the pivot paid off, Hu said.

He described his first year as one of planting seeds, and the second year as the time when they started seeing projects sprout. Now, the company does 100 percent of its projects in the Kansas City area and has a steady flow of business. The projects are getting bigger, and the company is raising its profile in the local building community.

"I Aged a Lot"

HJM, which considers itself a project leader than can help clients with master planning and feasibility studies as well as design, counts among its projects the Lyric Opera of Kansas City, Richard J. Stern Opera Center buildings and the recently completed music venue The Truman Kansas City, both in the Crossroads Arts District.

Business is blooming for HJM. But looking back, Hu acknowledges the uncertainty.

It's worked out for the firm--"but at the same, I think I aged a lot in the early years," Hu said.

This article was originally published on ithinkbigger.com, December 28, 2017.