"The fear of the Lord is the beginning of knowledge; fools despise wisdom and instruction." Proverbs 1:7
"Fathers, do not provoke your children to anger, but bring them up in the discipline and instruction of the Lord." Ephesians 6:4
Encourage Newsletter
Rev. Dr. R. Lee Hagan


Teach All Children Well
Teaching children has been one of the primary areas of focus of our church body throughout its history. While we trace the history of Concordia Seminary back to a log cabin in Perry County, the students who were in attendance that first day were between the ages of 5 and 14 and included both girls and boys. A.C. Stellhorn wrote, "Judging the ages of the children, as well as their sex, the institution looked more like a kindergarten and elementary school than a college, seminary or university." Even before the Synod was formed, there was a strong commitment to the instruction of children.
There have been many changes in Lutheran schools since 1839. Writing tablets have given way to new kinds of tablets. German has given way to English and in some cases Spanish. Solid theoretical instruction in math and sciences has been supplemented with practical experience through STEAM labs. Even arts and humanities utilize technology in the teaching of students.
But even in spite of the changes in Lutheran schools, the central purpose remains the same. Lutheran schools have spread across the nation and even around the world, but the singular mission remains the same. Commemorating the 100th anniversary of the Synod, a series of volumes, called The Abiding Word were produced that set forth the Synod's doctrine and practice on a wide range of matters. Concerning Lutheran schools, Dr. Arthur Carl Repp wrote, "The principles of a Lutheran parochial school are determined by a Christian's goal in life. Since this is changeless, the principles underlying our schools will ever remain the same, unaffected fundamentally by transient problems or current philosophies. What is the Christian's goal in life? The answer will determine our definition of Christian education. Our goal is a life with God and in God. The purpose of a Christian's being is not only the here, though this is important, but also the hereafter which is the most important. Christian education must reach the individual from the cradle to the grave, but fit him for a life that does not end with the grave, but comes to its complete fruition. Anything less is decidedly inadequate." This remains as the primary purpose of our educational ministries from day-cares and pre-schools to high schools, universities and seminaries.
Lutheran schools are not the only ways by which we teach children the fear and instruction of the Lord. But they provide opportunity to teach children from within the Church the one thing needful, namely Jesus Christ and His Word. But in our world today, our Lutheran schools are filled with many children whose families are outside the Church and, yet, provide us with the opportunity to give their children a Christian education with the goal of eternal life to all who learn in our schools. As this new school year begins, may our church and school leaders and teachers never lose sight of this goal and may the Holy Spirit bring many to saving faith in this school-year ahead.
Prayer – Almighty God, the fount of all wisdom, by Your Holy Spirit enlighten those who teach and those who learn, that, rejoicing in the knowledge of Your truth, they may worship You and serve You from generation to generation; through Jesus Christ, our Lord. Amen.
Fraternally in Christ,
President Lee Hagan
Volunteers Needed for International Student Ministry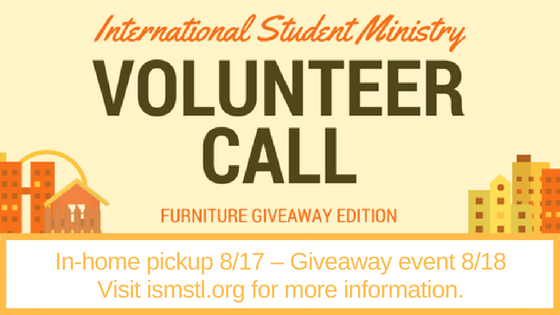 Don't get rid of that bed in the guest room, and don't throw away your old dishes … donate them! The International Student Ministry (ISM) is hosting a furniture giveaway for international students in the St. Louis area and will pick up your furniture or household items on August 17, the day before the furniture giveaway event.

If you have items to donate, you can:
Show an international student the kindness and generosity of American Christians by donating furniture or other household items. As a volunteer driven ministry, the ISM has many ways for interested Christians to get involved with international students. To find out more about the ISM, visit their website at https://ismstl.org/.
Third Annual St. Louis Area Winkel


August 29



All pastors who attend St. Louis and St. Charles Winkels are invited to the St. Louis Area Winkel on Wednesday, August 29th at Concordia Seminary, 801 Seminary Place, Clayton, MO 63105.

Registration is online only: Click here to register. We will not be able to take registrations over the phone or by email.

There is no cost to attend the Winkel, but you must register online as space is limited. Lunch will be provided. The deadline to register is August 20 (or when space is filled). Last year's gathering had a waiting list, so if you register and then need to cancel, please send an email to Sue.Thompson@mo.lcms.org.

The Winkel provides a great opportunity for pastors from all over the city and across circuit boundaries to come together for the mutual consolation and conversation of the brethren.


Tentative Schedule:


8:30 Refreshments (Chapel Plaza)

9:15 Welcome (Chapel Plaza)

9:30 Chapel – (Chapel of St. Timothy and St. Titus)

10:15 Text Study (Koburg Hall)

11:15 Confessions Study (Koburg Hall)

12:00 Lunch (Koburg Hall)

12:45 Announcements

1:00 Plenary Presentation (Koburg Hall) "Engaging Millennials" Rev. Mark
Kiessling, Director of LCMS Youth Ministry

1:45 Table Talk – (Koburg Hall)

2:30 Closing
Missouri District Pastors' Conference
District Pastors will meet at Tan-Tar-A in Osage Beach on September 30 – October 2 for the Missouri District Pastors' Conference.
The conference will focus on helping pastors continue to hone their homiletical skills through a preacher's clinic format and prepare pastors for utilization of the "Preach the Word" modules from the Synod.
The Divine Service will be held at Christ the King Lutheran Church in Lake Ozark on Sunday, September 30th at 7:00 p.m. No evening program has been planned, allowing time for "mutual conversation and consolation of the brethren."
The conference will begin on Monday morning, October 1st and conclude shortly after noon on Tuesday, October 2nd.
Click below for more information and to register.
LESA's 6th Annual "Brew in the Lou" Festival Returns to Francis Park


October 13




LESA's 6th Annual "Brew in the Lou" Festival Returns to Francis Park
October 13.

The St. Louis-based Lutheran Elementary School Association's (LESA) sixth annual "Brew in the Lou" festival will return to the Lily Pond at Francis Park, Saturday, Oct. 13, 2018, from 1-5 pm.

"Brew in the Lou" offers one-stop tasting of St. Louis' best beer, wine, spirits, coffee and good eats. Last year's festival raised a record $92,000 for Lutheran schools and showcased more than 40 local and regional craft breweries, along with unlimited tastings from The Stellar Hog, Gobble Stop Smokehouse, Volpi, Dogtown Pizza, Nothing Bundt Cakes and many more. Festivities include live entertainment, arts and craft vendors, a "People's Choice" Home Brew Competition, a "Battle of the Bratwurst" and our annual Brew Chili Contest.

Wristbands are available now at special pre-sale price of just $30 through June 30, 2018 – a $20 savings over same-day admission. On July 1, tickets will increase to $40 advance/$50 day-of-event. To purchase at the special pre-sale rate, call (314) 200-0797 by 4 pm on Friday June 29, 2018, or purchase online by midnight June 30, 2018, on the event website by clicking here. Wristband purchases include a commemorative glass.

More than 8,800 children attend LESA member Lutheran schools in the St. Louis Metro Area, making Lutheran schools the second-largest private school system in the Bi-State area. A Recognized Service Organization of the Lutheran Church-Missouri Synod, LESA represents 35 elementary and high schools and five related agencies. For more information, visit www.LESAstl.org.

Don't miss this year's "Brew in the Lou!" We hope to see you October 13 at Francis Park in the St. Louis Hills - 5399 Donovan Avenue, St. Louis, MO 63109.
Volunteers Needed for LEA Convocation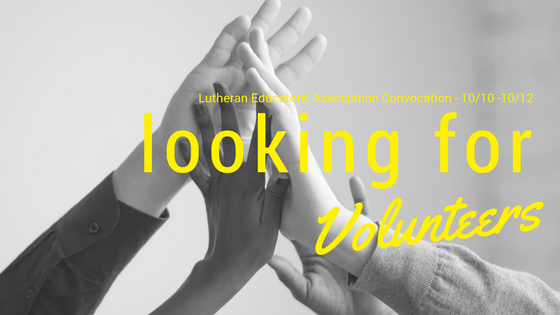 The Missouri District is looking for volunteers to help out at the Lutheran Educators' Association (LEA) Convocation October 10-12 at the Americas Center in St. Louis.

Volunteers will be needed to welcome and direct participants, run errands and assist with registration and hospitality. This is the perfect opportunity for retirees, especially retired educators, so that current educators can attend events rather than serve in volunteer roles.

There are many opportunities available, so everyone is sure to find a fit for their skills, talents and desire. Whether you can be there for a few hours, half a day, or multiple days, we'd love to have your help.

If interested, please send an email with your name, phone number, email address and availability to Alan Freeman at alan.freeman@mo.lcms.org.
Plus One Participation Forms
Many congregations are turning their attention to our community outreach effort, the Plus One Initiative. Congregations are encouraged to complete a Plus One participation form and either mail it to the district office or email it to plusone@mo.lcms.org. If you want additional information about Plus One or a copy of the Plus One participation form, go to http://mo.lcms.org/plus-one/.
| | |