"Therefore encourage one another and build one another up, just as you are doing." 1 Thessalonians 5:11
Encourage Newsletter
Rev. Dr. R. Lee Hagan

You Lack No Good Thing!
Oh, taste and see that the Lord is good! Blessed is the man who takes refuge in him!
Oh, fear the Lord, you his saints, for those who fear him have no lack!
The young lions suffer want and hunger; but those who seek the Lord lack no good thing. Psalm 34:8-10
Many congregations today operate from a scarcity mindset. They often see only those things that they think that they are lacking rather than all of the blessings that they have received. It easy for congregations to fall into the trap of counting all of the things that we think that we are missing. From sprawling buildings and fleets of vehicles to large staffs and cutting-edge technology, the list seems to go on and on. Congregations operating from a scarcity mindset are left to wonder, "We could grow If only we had…"
At the same time, the Lord is giving tremendous growth to the Church in other parts of the world. Africa and Asia, in particular, new people are being brought to faith in Christ without the things for which we spend so much time pining after. Pastors, missionaries, and all of the people of God are carrying the Word of God into their homes and communities each day. Without websites or even outdated technology, the Church lacks for nothing because it has the Word of God.
Our congregations have so much more than just the Word of God though. From the first articles gifts and abilities that God has given the church members to the blessing of sister congregations and other shared assets within the Synod, it is time for us to see that we lack no good things. Rather than operating with a scarcity mindset, we can carry out our life as the people of God from a blessing mindset. The Lord has showered countless blessings upon the congregations of our Synod and it is time for us to stop circling the wagons in fear and isolation, but work together with a blessing mindset to see how we might share our blessings with one another for the sake of God's people and God's mission to seek and to save the lost. From the small urban and rural congregations to the large suburban congregations, we all share the Word of God and therefore we lack for no good thing. But together we are able to see even more blessings that we share from God's gracious provision for His people and mission. God is the giver of all good gifts and this means that you and your congregation lack for nothing. May God enable us to see the blessings that He has given to His Church and live and work each day with a blessing mindset.
Prayer - Lord God, bless Your Word wherever it is proclaimed. Make it a word of power and peace to convert those not yet Your own and to confirm those who have come to saving faith. May Your Word pass from the ear to the heart, from the heart to the lip, and from the lip to the life that, as You have promised, Your Word may achieve the purpose for which You send it; through Jesus Christ, our Lord. Amen.
Fraternally in Christ,
President Lee Hagan
Missouri District Pastors' Conference
District Pastors will meet at Tan-Tar-A in Osage Beach on September 30 – October 2 for the Missouri District Pastors' Conference.
The conference will focus on helping pastors continue to hone their homiletical skills through a preacher's clinic format and prepare pastors for utilization of the "Preach the Word" modules from the Synod.
The Divine Service will be held at Christ the King Lutheran Church in Lake Ozark on Sunday, September 30th at 7:00 p.m. No evening program has been planned, allowing time for "mutual conversation and consolation of the brethren."
The conference will begin on Monday morning, October 1st and conclude shortly after noon on Tuesday, October 2nd.
Click below for more information and to register.
LESA's 6th Annual "Brew in the Lou" Festival Returns to Francis Park


October 13




LESA's 6th Annual "Brew in the Lou" Festival Returns to Francis Park
October 13.

The St. Louis-based Lutheran Elementary School Association's (LESA) sixth annual "Brew in the Lou" festival will return to the Lily Pond at Francis Park, Saturday, Oct. 13, 2018, from 1-5 pm.

"Brew in the Lou" offers one-stop tasting of St. Louis' best beer, wine, spirits, coffee and good eats. Last year's festival raised a record $92,000 for Lutheran schools and showcased more than 40 local and regional craft breweries, along with unlimited tastings from The Stellar Hog, Gobble Stop Smokehouse, Volpi, Dogtown Pizza, Nothing Bundt Cakes and many more. Festivities include live entertainment, arts and craft vendors, a "People's Choice" Home Brew Competition, a "Battle of the Bratwurst" and our annual Brew Chili Contest.

Wristbands are available now at special pre-sale price of just $30 through June 30, 2018 – a $20 savings over same-day admission. On July 1, tickets will increase to $40 advance/$50 day-of-event. To purchase at the special pre-sale rate, call (314) 200-0797 by 4 pm on Friday June 29, 2018, or purchase online by midnight June 30, 2018, on the event website by clicking here. Wristband purchases include a commemorative glass.

More than 8,800 children attend LESA member Lutheran schools in the St. Louis Metro Area, making Lutheran schools the second-largest private school system in the Bi-State area. A Recognized Service Organization of the Lutheran Church-Missouri Synod, LESA represents 35 elementary and high schools and five related agencies. For more information, visit www.LESAstl.org.

Don't miss this year's "Brew in the Lou!" We hope to see you October 13 at Francis Park in the St. Louis Hills - 5399 Donovan Avenue, St. Louis, MO 63109.


The Missouri District Lutheran Jr High Retreat is returning this Fall on October 19-21 around the theme, "One". Our focus this year is the Sacrament of the Altar. Our presenter & worship leader is Rev. Matthew Ryan Gonzalez, pastor at Trinity Evangelical Lutheran Church – The Bronx, New York. You may have seen him as a Bible Study Presenter at the 2016 National Youth Gathering. We are excited to have him join us! Click here for complete bio and more info.
Missouri District Pastors' Wives Retreat
Sr. High District Youth Gathering

November 16-18

This year our District Youth Gathering Theme will simply be "I AM." In Exodus 3 Moses encounters God at the burning bush. It is here that God gives Moses his personal name, Yahweh, and the authority of "I AM" to go to the people of Israel. His message: "I AM" has seen your affliction and I will bring you up out of it!
Today young Christians experience many different kinds of afflictions – personal, emotional, spiritual, mental, and physical – and God is the one who delivers us from these afflictions.
Join us as we gather together to worship, experience the Living Word of God November 16-18, 2018 at Cross Pointe Retreat Center in Rocky Mount, MO. Several of our interest centers will focus on common afflictions that we face as Christians such as depression and suicide. We will also have interest centers focusing on sharing the Word of God with others. Specific Interest Center presenters and other information will be available soon.

For more information visit http: //mo.lcms.org/event/missouri-district-senior-high-gathering/
LWML Carnival Fantasy Cruise
June 24-29, 2019

Post the National LWML Convention in Mobile Alabama, the LWML is pleased to offer a cruise on the Carnival Fantasy for FUN from June 24- 29, 2019. Well-deserved rest and relaxation with proceeds which benefit the mission projects of the LWML.
Would you like to take part in this fun getaway while benefiting LWML?
McGehee Cruise & Vacation Inc. will assist with all reservations for the cruise.
Registration is now open:

Please click here for more information.
Volunteers Needed for LEA Convocation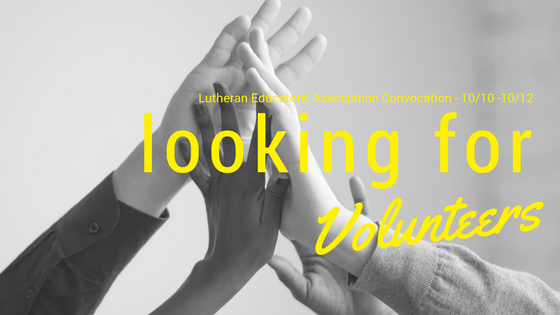 The Missouri District is looking for volunteers to help out at the Lutheran Educators' Association (LEA) Convocation October 10-12, 2019 at the Americas Center in St. Louis.

Volunteers will be needed to welcome and direct participants, run errands and assist with registration and hospitality. This is the perfect opportunity for retirees, especially retired educators, so that current educators can attend events rather than serve in volunteer roles.

There are many opportunities available, so everyone is sure to find a fit for their skills, talents and desire. Whether you can be there for a few hours, half a day, or multiple days, we'd love to have your help.

If interested, please send an email with your name, phone number, email address and availability to Alan Freeman at alan.freeman@mo.lcms.org.
Plus One Participation Forms
Many congregations are turning their attention to our community outreach effort, the Plus One Initiative. Congregations are encouraged to complete a Plus One participation form and either mail it to the district office or email it to plusone@mo.lcms.org. If you want additional information about Plus One or a copy of the Plus One participation form, go to http://mo.lcms.org/plus-one/.
| | |