"Therefore encourage one another and build one another up, just as you are doing." 1 Thessalonians 5:11
Encourage Newsletter
Rev. Dr. R. Lee Hagan

Confession and Love
By this we know that we abide in him and he in us, because he has given us of his Spirit. And we have seen and testify that the Father has sent his Son to be the Savior of the world. Whoever confesses that Jesus is the Son of God, God abides in him, and he in God. So we have come to know and to believe the love that God has for us. God is love, and whoever abides in love abides in God, and God abides in him. 1 John 4:13-16
Even casual Bible students know that 1 John deals extensively with love. "Beloved, let us love another." Elsewhere he writes, "let us love not in word or talk, but in deed and truth." But this epistle of John also focuses on truth and the avoidance of error and falsehood. Three times in chapter four, John encourages the people of God to confess Jesus as the Son of God. Plus, he repeatedly calls them to demonstrate a love for God and one's neighbor that is a response to God's love for us. So there is no division of confession and love. Any attempts to create a division between zeal for the truth and love for God's people is a false dichotomy.
This means that we are not choosing between truth and people, but are committed to both. We do not sacrifice the truth for the sake of mission for the lost, nor do we sacrifice relationships with one another out of our passion for doctrine. John's epistle exhibits a church with a rigorous concern for confession of the truth alongside a love for God and one another. In an age of polarizing political views and anti-social social media platforms, God's people are given the opportunity to show hold the first and second tables of the Law together because of God's love for us in the sending of His Son. What John describes is a Church that never sacrifices the truth or people, but upholds love for God and for one another.
It really is possible! Imagine a church where the people are bold confessors of Christ and bold lovers of one another. In 4:9, John wrote, "God sent his only Son into the world, so that we might live through him." All things are possible through Christ! That's who how confession and love live together in the Church through Christ. May we abide in God and in His love!
Prayer – O God, through the grace of Your Holy Spirit You pour the gifts of love into the hearts of Your faithful people. Grant Your servants health both of mind and body that they may love You with their whole heart and with their whole strength perform those things that are pleasing to You; through Jesus Christ, our Lord. Amen.
Fraternally in Christ,
President Lee Hagan
Missouri District Pastors' Conference
District Pastors will meet at Tan-Tar-A in Osage Beach on September 30 – October 2 for the Missouri District Pastors' Conference.
The conference will focus on helping pastors continue to hone their homiletical skills through a preacher's clinic format and prepare pastors for utilization of the "Preach the Word" modules from the Synod.
The Divine Service will be held at Christ the King Lutheran Church in Lake Ozark on Sunday, September 30th at 7:00 p.m. No evening program has been planned, allowing time for "mutual conversation and consolation of the brethren."
The conference will begin on Monday morning, October 1st and conclude shortly after noon on Tuesday, October 2nd.
Click below for more information and to register.
LESA's 6th Annual "Brew in the Lou" Festival Returns to Francis Park


October 13




LESA's 6th Annual "Brew in the Lou" Festival Returns to Francis Park
October 13.

The St. Louis-based Lutheran Elementary School Association's (LESA) sixth annual "Brew in the Lou" festival will return to the Lily Pond at Francis Park, Saturday, Oct. 13, 2018, from 1-5 pm.

"Brew in the Lou" offers one-stop tasting of St. Louis' best beer, wine, spirits, coffee and good eats. Last year's festival raised a record $92,000 for Lutheran schools and showcased more than 40 local and regional craft breweries, along with unlimited tastings from The Stellar Hog, Gobble Stop Smokehouse, Volpi, Dogtown Pizza, Nothing Bundt Cakes and many more. Festivities include live entertainment, arts and craft vendors, a "People's Choice" Home Brew Competition, a "Battle of the Bratwurst" and our annual Brew Chili Contest.

Wristbands are available now at special pre-sale price of just $30 through June 30, 2018 – a $20 savings over same-day admission. On July 1, tickets will increase to $40 advance/$50 day-of-event. To purchase at the special pre-sale rate, call (314) 200-0797 by 4 pm on Friday June 29, 2018, or purchase online by midnight June 30, 2018, on the event website by clicking here. Wristband purchases include a commemorative glass.

More than 8,800 children attend LESA member Lutheran schools in the St. Louis Metro Area, making Lutheran schools the second-largest private school system in the Bi-State area. A Recognized Service Organization of the Lutheran Church-Missouri Synod, LESA represents 35 elementary and high schools and five related agencies. For more information, visit www.LESAstl.org.

Don't miss this year's "Brew in the Lou!" We hope to see you October 13 at Francis Park in the St. Louis Hills - 5399 Donovan Avenue, St. Louis, MO 63109.


The Missouri District Lutheran Jr High Retreat is returning this Fall on October 19-21 around the theme, "One". Our focus this year is the Sacrament of the Altar. Our presenter & worship leader is Rev. Matthew Ryan Gonzalez, pastor at Trinity Evangelical Lutheran Church – The Bronx, New York. You may have seen him as a Bible Study Presenter at the 2016 National Youth Gathering. We are excited to have him join us! Click here for complete bio and more info.
Missouri District Pastors' Wives Retreat
LWML Carnival Fantasy Cruise
June 24-29, 2019

Post the National LWML Convention in Mobile Alabama, the LWML is pleased to offer a cruise on the Carnival Fantasy for FUN from June 24- 29, 2019. Well-deserved rest and relaxation with proceeds which benefit the mission projects of the LWML.
Would you like to take part in this fun getaway while benefiting LWML?
McGehee Cruise & Vacation Inc. will assist with all reservations for the cruise.
Registration is now open:

Please click here for more information.
Volunteers Needed for LEA Convocation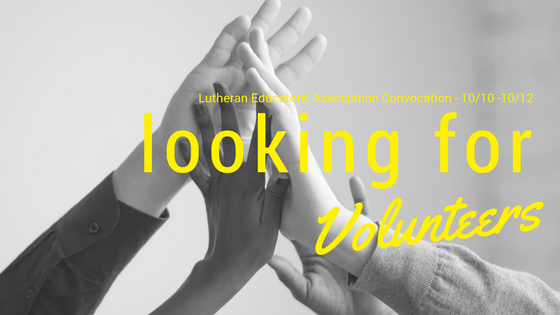 The Missouri District is looking for volunteers to help out at the Lutheran Educators' Association (LEA) Convocation October 10-12, 2019 at the Americas Center in St. Louis.

Volunteers will be needed to welcome and direct participants, run errands and assist with registration and hospitality. This is the perfect opportunity for retirees, especially retired educators, so that current educators can attend events rather than serve in volunteer roles.

There are many opportunities available, so everyone is sure to find a fit for their skills, talents and desire. Whether you can be there for a few hours, half a day, or multiple days, we'd love to have your help.

If interested, please send an email with your name, phone number, email address and availability to Alan Freeman at alan.freeman@mo.lcms.org.
Plus One Participation Forms
Many congregations are turning their attention to our community outreach effort, the Plus One Initiative. Congregations are encouraged to complete a Plus One participation form and either mail it to the district office or email it to plusone@mo.lcms.org. If you want additional information about Plus One or a copy of the Plus One participation form, go to http://mo.lcms.org/plus-one/.
| | |