PUBLISHED BY THE MISSOURI DISTRICT OF THE LUTHERAN CHURCH—MISSOURI SYNOD
August 17, 2018
VBS Brings Together the Nations
Abiding Savior Lutheran Church hosted two evenings of Vacation Bible School on July 24th and 26th. Attendees included church and community members as well as a group from Christian Friends of New Americans (CFNA). Countries outside of the United States that were represented included Eritrea, Ethiopia, Nepal, Sudan,Syria, and the Congo.
"We at CFNA greatly appreciate all the special efforts Abiding Savior made to transport,
welcome and bless our kids and families. The arrangements made by Abiding Savior to
transport and welcome refugee families, the friendship displayed by staff and volunteers, VBS and games led by youths and adults; touched the hearts of participating families," said Rev. Dr. Stanish Stanley, CFNA Executive Director.
VBS participants were served dinner by church volunteers and then the adults were a part of a Bible study while the children enjoyed games, crafts, and a story.
"This Church is so big and people are so good. Thank you for bringing me here. They are
helping people like us...it is so good!" said Fatuma Nirumpe a 10th grader who attended both days with her mother and her five Congolese siblings.
"I have never been more proud to be the Pastor of Abiding Savior Lutheran Church. I witnessed our members sharing the love of Jesus with each other and with guests, both from our community and from other countries. How often do you get a chance to do that!" said Pastor David McBurney of Abiding Savior.
In addition to the VBS activities, a group of volunteers also assembled donated backpacks and school supplies to benefit students at Monroe Elementary in St. Louis.
Since 1982, Abiding Savior Lutheran Church has been a vibrant and growing missional
LCMS church serving South County, St. Louis and the surrounding areas. For more information, visit http://www.knowthesavior.org.
Abiding Savior's Fun in the Son VBS Event brings Jesus' love to the international community.
Photos courtesy of Abiding Savior in St. Louis

2018 NLSA Schools of Distinction
Recently, the National Lutheran School Accreditation (NLSA) Commission met to accredit schools and conduct the business of the organization. The 2018 commission accredited 121 schools at its annual meeting in July. Several of the schools were awarded special recognition as Schools of Distinction.
Miriam Webster's dictionary defines distinction as "an accomplishment that sets one apart." This year, five schools distinguished themselves through the evidence prepared by the school substantiating assigned accreditation ratings and the practices observed by the Validation Team during the school's site visit. The schools are rated in the top five percent of overall school accreditation ratings awarded by Validation Teams and evaluation by the NLSA membership committee. The following schools were recognized as Accredited Schools of Distinction.
Christ Community Lutheran Schoo, Kirkwood, Missouri

Crean Lutheran High School, Irvine, California

Peace Lutheran School, Saginaw, Michigan

Salem Lutheran Schoo, Tomball, Texas

Valley Lutheran High School, Saginaw, Michigan
A School of Distinction is awarded this recognition for the year that it is accredited. The five schools are recognized for the 2018-19 school year. This recognition provides the schools with the opportunity to celebrate with their community.
The status of a School of Distinction is a tremendous accomplishment. The award demonstrates a school's commitment to providing a distinctive level of quality Christian education for the children that it serves. As a result of its effort, each school receives a special award that is reflective of this accomplishment.
National Lutheran School Accreditation, based in St Louis, Mo., encourages and recognizes schools that provide quality Christian education and engage in continuous improvement. NLSA currently accredits 688 Lutheran schools that have chosen to submit to the vigorous self-study and evaluation. Nationwide, there are 1,992 Lutheran schools in with 1,127 early childhood, 778 elementary schools and 87 high schools.
Ordination Announcement for Rev. Chris Heaton
From left to right: Rev. Warren Brandt, Rev. Dr. Kent Pierce, Rev. John Hobratschk, Rev. Chris Heaton,
Rev. Donaldo Sonntag, Rev. Sam Powell, Rev. Rory Karg, and Rev. Brian Thieme.
Photo courtesy of Brian Thieme
Rev. Chris Heaton was ordained on June 16, 2018 at St. Paul Lutheran Church in Jackson, Missouri and was installed at St. Paul Lutheran Church in Fulton on July 21, 2018.
Rev. Heaton, a graduate of Concordia Seminary in St. Louis, reflected on his journey.
"My ordination was one of the most incredible moments in my life. Ever since I started at Seminary, the focus is always on the next thing, and then the next thing. Then there's Call Day, then Graduation, and so forth. And then…there you are…kneeling at the chancel rail, with some of the most significant pastors in your life beside you, and your family and friends seated behind…and then, it hits you. This isn't the next thing. This is THE THING. It's what it's all been about.
Shortly after, then, comes the Installation. While at that point, I am called and ordained, I don't yet have a home. So, at your installation, you turn around after the rite, and you see the people God has given you to serve and love. There is a gravity with the responsibility given and an intimacy with the special connection that one's Installation entails.
With both of those things, Ordination and Installation, there is a confounding of scale. One is big and universal, the other is local, special and particular. Both are incredible experiences."
We rejoice and pray for Rev. Heaton and the congregation as he begins his minitry at St. Paul.
Rev. Chris Heaton pictured with his wife, Abby, and daughters Elsa and Sophia.
Photo courtesy of Brian Thieme
Announcements & Other News
International Student Ministry Furniture Giveaway
August 18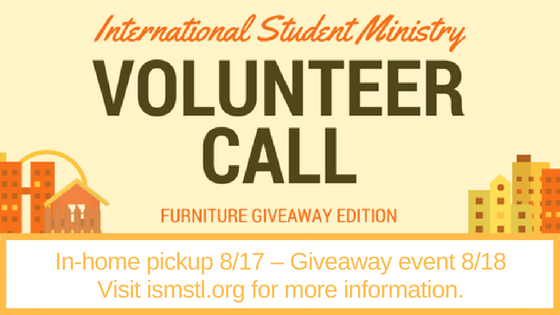 Don't get rid of that bed in the guest room, and don't throw away your old dishes … donate them! The International Student Ministry (ISM) is hosting a furniture giveaway for international students in the St. Louis area and will pick up your furniture or household items on August 17, the day before the furniture giveaway event.

If you have items to donate, you can:
•Call Ann or leave a message at 636-273-6239 (St. Paul's, Wildwood)
•Email Ann at: annismstl@gmail.com

Show an international student the kindness and generosity of American Christians by donating furniture or other household items. As a volunteer driven ministry, the ISM has many ways for interested Christians to get involved with international students. To find out more about the ISM, visit their website at www.ismstl.org.
Why do Christians, just like you, participate in the giveaway?
Volunteer!
Please join us on August 18 by helping in one of the following ways:
UNLOADING TRUCKS of donated furniture (morning)

ORGANIZING donated furniture / household items

DELIVERING FURNITURE to students' homes (afternoon)
Also...please consider:
Bringing a PICK-UP TRUCK (for delivering furniture to students' homes)
Bringing a HELPER / PARTNER (Doesn't your strong nephew owe you a favor?)
Helping with FURNITURE PICK-UP the day before (August 17)
All St. Louis Winkel
August 29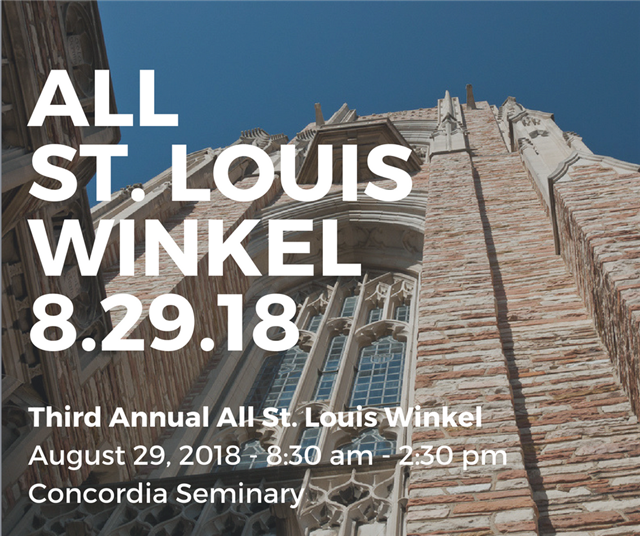 All pastors who attend St. Louis and St. Charles Winkels are invited to the St. Louis Area Winkel on Wednesday, August 29th at Concordia Seminary, 801 Seminary Place, Clayton, MO 63105.

Registration is online only: Click here to register. We will not be able to take registrations over the phone or by email.

There is no cost to attend the Winkel, but you must register online as space is limited. Lunch will be provided. The deadline to register is August 20 (or when space is filled). Last year's gathering had a waiting list, so if you register and then need to cancel, please send an email to Sue.Thompson@mo.lcms.org.

The Winkel provides a great opportunity for pastors from all over the city and across circuit boundaries to come together for the mutual consolation and conversation of the brethren.
Missouri District Pastors' Conference


September 30-October 2
District Pastors will meet at Tan-Tar-A in Osage Beach on September 30 – October 2 for the Missouri District Pastors' Conference.
The conference will focus on helping pastors continue to hone their homiletical skills through a preacher's clinic format and prepare pastors for utilization of the "Preach the Word" modules from the Synod.
The Divine Service will be held at Christ the King Lutheran Church in Lake Ozark on Sunday, September 30th at 7:00 p.m. No evening program has been planned, allowing time for "mutual conversation and consolation of the brethren."
The conference will begin on Monday morning, October 1st and conclude shortly after noon on Tuesday, October 2nd.
Click below for more information and to register.
LESA's 6th Annual "Brew in the Lou" Festival Returns to Francis Park
October 13
The St. Louis-based Lutheran Elementary School Association's (LESA) sixth annual "Brew in the Lou" festival will return to the Lily Pond at Francis Park, Saturday, Oct. 13, 2018, from 1-5 pm.

"Brew in the Lou" offers one-stop tasting of St. Louis' best beer, wine, spirits, coffee and good eats. Last year's festival raised a record $92,000 for Lutheran schools and showcased more than 40 local and regional craft breweries, along with unlimited tastings from The Stellar Hog, Gobble Stop Smokehouse, Volpi, Dogtown Pizza, Nothing Bundt Cakes and many more. Festivities include live entertainment, arts and craft vendors, a "People's Choice" Home Brew Competition, a "Battle of the Bratwurst" and our annual Brew Chili Contest.

Wristbands are available now at special pre-sale price of just $30 through June 30, 2018 – a $20 savings over same-day admission. On July 1, tickets will increase to $40 advance/$50 day-of-event. To purchase at the special pre-sale rate, call (314) 200-0797 by 4 pm on Friday June 29, 2018, or purchase online by midnight June 30, 2018, on the event website by clicking here. Wristband purchases include a commemorative glass.

More than 8,800 children attend LESA member Lutheran schools in the St. Louis Metro Area, making Lutheran schools the second-largest private school system in the Bi-State area. A Recognized Service Organization of the Lutheran Church-Missouri Synod, LESA represents 35 elementary and high schools and five related agencies. For more information, visit www.LESAstl.org.

Don't miss this year's "Brew in the Lou!" We hope to see you October 13 at Francis Park in the St. Louis Hills - 5399 Donovan Avenue, St. Louis, MO 63109.
Save the Date for the Sr. High District Youth Gathering
November 16-18
Save the date for the Missouri District Sr. High Youth Gathering. It will be at Cross Pointe Retreat Center in Rocky Mount, Mo., November 16-18, 2018.

Watch for more information, including a registration link, coming soon.
2018 National Rural & Small Town Mission Conference
November 8-10


The Lutheran Church — Missouri Synod will host its 2018 National Rural & Small Town Mission Conference on Nov. 8-10 in Kansas City, Mo., at the Hilton Kansas City Airport Hotel.

Geared for anyone from a rural and small-town setting, the conference will address the blessings and challenges facing rural and small-town congregations today. It's also designed to encourage those congregations and their leaders in cultivating healthy churches that are eager to bear witness to Christ, show mercy to those in need in their communities and develop a robust life together with their fellow members.

Building on the theme "Have No Fear," the conference will feature a few keynote speakers including Rev. Timothy Koch, Rev. Dr. Robert H. Bennett, Rev. Tom Schlund and Chaplain Craig Muehler.

Participants will choose from breakout topics such as disaster training, youth ministry, ministry to inactives, family ministry outreach, stewardship, hope during grief, opportunities with Recognized Service Organizations and many other topics affecting our rural and small-town congregations.

The conference rate of $215 includes all plenary, breakout and Bible study sessions; Thursday dinner, Friday lunch and Friday dinner; and all conference materials.

Online registration is available; the deadline is Sept. 15.

Special rates are available for couples, students, meals only and groups. Please contact the RSTM office with questions. Click here for more information or to register.
New Spanish Resources for Hispanic Ministry
If you'd like to share the Gospel with your Spanish-speaking neighbors, or if you're heading out on a short-term mission trip to Central or South America, the Lutheran Heritage Foundation ( www.LHFmissions.org) has translated and published two new resources for you: A Child's Garden of Bible Stories and the Bible with Small Catechism, both in the Spanish language.

Donations to help cover the printing and shipping costs are gratefully accepted, but as with all of LHF's translated materials, both of these books are free of charge to the ministries, churches, or individuals who need them. Call the LHF office at (800)554-0723 or email info@LHFmissions.org with your order (number of copies, hardcover or paperback).
Volunteers Needed for LEA Convocation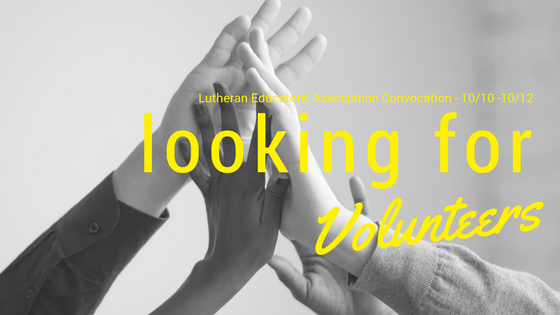 The Missouri District is looking for volunteers to help out at the Lutheran Educators' Association (LEA) Convocation October 10-12 at the Americas Center in St. Louis.
Volunteers will be needed to welcome and direct participants, run errands and assist with registration and hospitality. This is the perfect opportunity for retirees, especially retired educators, so that current educators can attend events rather than serve in volunteer roles.
There are many opportunities available, so everyone is sure to find a fit for their skills, talents and desire. Whether you can be there for a few hours, half a day, or multiple days, we'd love to have your help.
If interested, please send an email with your name, phone number, email address and availability to Alan Freeman at alan.freeman@mo.lcms.org.
Help Wanted in the District

Director of Music
St. Lucas Lutheran Church, LCMS, St. Louis, Missouri is seeking a candidate to serve as a Director of Music. Online applications are available at http://www.stlucaslcms.org/. For more information, please contact the church office at 314-351-2628, Tuesday through Friday, 9am to 3pm.

Early Childhood Center Director
St. Lucas Lutheran Church, LCMS, St. Louis, Missouri is seeking a candidate to serve as an Early Childhood Center Director. Online applications are available at http://www.stlucaslcms.org/. For more information, please contact the church office at 314-351-2628, Tuesday through Friday, 9am to 3pm.

Youth & Family Ministry
Epiphany Lutheran in St. Louis is seeking a personable, organized, and energenic self- starter with experience in youth and family ministry for a part time position. This position will assist the pastor in developing discipleship milestones, coordinating intergenerational fellowship and mission events, develop youth mentors, and equip parents in their role as primary Spiritual care givers to their children. This position will be approximately 15-20 hours per week. For the full position description, contact Pastor Zeigler at pastorzeigler@sbcglobal.net or call the church office at 314-752-7065.
Get $20,000 to become a church worker in the LCMS!
Is God calling you into church work in the Lutheran Church - Missouri Synod? Are you concerned about how you are going to pay for the hight cost of college?

At Concordia University Irvine we value the formation of future leaders for our church. Therefore we are pleased to announce that, starting with the 2018-2019 school year, we are offering qualified church work students a guaranteed total of $20,000 in institutional aid per year, plus a housing grant.

Ready to begin? To start the application process, go to www.cui.edu/app.

To learn more about the church vocations scholarship, who is qualified, and additional application requirements for church work programs, go to www.cui.edu/churchworkscholarship.
Plus One Participation Forms
Many congregations are participating in our community outreach effort, the Plus One Initiative. Congregations are encouraged to complete a Plus One participation form and either mail it to the district office or email it to

plusone@mo.lcms.org

. If you want additional information about Plus One or a copy of the Plus One participation form, go to

http://mo.lcms.org/plus-one/

.
| | |