PUBLISHED BY THE MISSOURI DISTRICT OF THE LUTHERAN CHURCH—MISSOURI SYNOD
September 7, 2018
New Workers Get An Upclose Look at Local Ministries
Upper left: Rev. Stanish Stanley of CFNA Upper right: Chris Shearman-Executive Director of Lutheran Development Group Lower left: Rev. Gerard Bolling and Rev. John Schmidtke of Bethlehem-St. Louis
Lower right: New workers listen to presentation at All Nations
Photos courtesy of Dr. Lee Hagan & Leah Sieveking
Missouri District hosted an orientation of new parish-based workers that included a tour of St. Louis missions and ministry sites. New pastors, D.C.E.'s and vicars were invited to the orientation that included discussions about church worker health and introduction to a member of the district Church Worker Care Team. Members of the district Board of Directors and the newly created Council on Mission and Ministry were also invited to attend. There were four stops on the tour were Christian Friends of New Americans, Holy Cross and Intersect Arts Center in South St. Louis, Bethlehem in North St. Louis, and All Nations in University City. The tour provided time for conversations about changing communities, church planting, community engagement and partnerships with other congregations and ministries.
The new pastors stayed for an additional day of orientation at the district office with members of the staff and Rev. Wayne Huebner, PALS coordinator for the east side of the district. The program included conversations about the pastor's devotional life, team or sole ministry, working with Boards of Elders, and support of the pastor and his family.
Pastors and Professors Gather for
Third Annual All-St. Louis Winkel
Photos courtesy of Dr. Lee Hagan & Leah Sieveking
The Missouri District hosted, in conjunction with Concordia Seminary, the third annual All-St. Louis Winkel on August 29. More than 100 pastors and professors gathered for worship, study and conversation. Former District Vice-President Ron Rall was the preacher for the chapel service. Studies were led by seminary professors Mark Seifrid and Erik Herrmann. The afternoon program included a presentation by LCMS Director of Youth Ministry Mark Kiessling regarding Millennials followed by table discussions. The winkel provides the opportunity to gather pastors together from across the circuits of the metro-St. Louis area. President Lee Hagan said, "Our hope is to continue that this gathering is a blessing to our pastors and the seminary professors as we grow together in and around the Word of God and as we discuss the joys and challenges of ministry in our world today. For the third straight year, this has been a very positive and encouraging event for those who attend."
Lutherans for Life National Conference
Comes to St. Louis
The annual Lutherans for Life Conference has been held all around the country, but we are blessed to have the conference in St. Louis this year. The event will take place October 12-13 at Immanuel Lutheran in Olivette, MO, and all are encouraged to come.
"What a great opportunity!" commented Rev. Dr. Jason Wagner, who is pastor of Hope Lutheran in High Ridge and the new Missouri District Life Coordinator. "Maybe you've thought about attending in the past, but the travel expenses have held you back. With the conference in our backyard, it is a great time to learn about the work of Lutherans for Life and be better equipped to serve as voices for life in our congregations and communities."
The conference theme is "From Age to Age the Same" based on Isaiah 46:4, and speakers including Rev. Dr. Dale Meyer, Rev. Dr. James I. Lamb and Rev. Edward Fehskens III will highlight God's care for life through every stage from conception to natural death with every stage of life given eternal perspective through the redemption of Christ. A dozen different topics will be covered, events are scheduled for children and youth, and a special luncheon is being provided free of charge on Friday to Pastors, seminarians and spouses.
For more information and to sign up for part or all of the conference go to https://www.lutheransforlife.org/2018-lutherans-for-life-national-conference/
Also, be looking to hear more from Pastor Wagner. As District Life Coordinator, he will be seeking new ways to connect congregations with the important work of Lutherans for Life and LCMS Life Ministry as together we share the meaning and hope that Christ brings to life now and eternally.
Rev. Rod Benkendorf Accepts Call To LHF
The Rev. Rod Benkendorf has accepted a call to serve in development and church relations at the Lutheran Heritage Foundation. He will be installed at Concordia Lutheran Church in Frohna, Missouri on Sept. 16 at 4 p.m. The public is invited to attend the service and a reception afterward.


In his new position, Rev. Benkendorf will be responsible for developing strong connections with churches and individual members, so that they may play a part in the LHF mission.
"What I love the most about the LHF mission is the simplicity of it," Rev. Benkendorf said. "There's a simple need: People need God's Word in the
Small Catechism
, in the
Book of Concord
, in children's Bible books, and they need it translated into their own languages. [LHF Founder] Rev. Robert Rahn saw that need, and then decided to establish LHF to get God's Word out there from our Lutheran perspective."


Rev. Benkendorf will be based out of Missouri, where he will be available as a guest preacher and Bible study leader at LCMS congregations. "We are really looking forward to Rev. Benkendorf being part of the LHF mission," said LHF Executive Director Rev. Dr. Matthew Heise. "He has such enthusiasm for spreading the Gospel and for LHF's work in particular, which will undoubtedly be passed on to the congregations he visits."


Prior to joining LHF, Rev. Benkendorf received his Master of Sacred Theology (STM) from Concordia Seminary in 2007. He accepted a call to Concordia Lutheran Church in Frohna, Missouri in 2008, where he has been sole pastor for the past decade. Rev. Benkendorf also served on the LHF Board of Directors since early 2017.

Rev. Benkendorf is married to Sarah. They have two children, Katie and Megan.
Courtesy of Lutheran Heritage Foundation-Public Relations
Announcements & Other News
Concordia Seminary, St. Louis has scheduled a variety of on-campus visitation events for prospective students for the 2018-19 academic year.
All events are aimed at providing a preview of the Seminary's ministerial formation experience as students prepare for pastoral and diaconal ministry. There is something for everyone – including events for prospective students who are in high school or college, as well as for those who are considering ministry as a second career.
"Formation for ministry happens in community," said Rev. Bill Wrede, the Seminary's director of Ministerial Recruitment and Admissions. "Participants have an opportunity to experience life on campus, hear from others who've made this journey and consider a full-time vocation in the church."

Upcoming visitation events include:

Contemplate (Oct. 4-6, 2018; Feb. 28-March 2, 2019): For college students and second-career men and women, this three-day visit offers an in-depth view of the preparation that leads to service as a pastor or deaconess. The event is free.
Register: www.csl.edu/contemplate

Green & Gold Days (Nov. 2, 2018; Feb. 8 and April 12, 2019): For college students and second-career men and women, Green & Gold Days is an opportunity to spend a day on campus and see what the Seminary has to offer. The day includes meeting with current students and professors, attending classes and chapel, and ending the day with dinner and discussion. The event is free.
Register: www.csl.edu/greengold

Taste of the Sem (Feb. 16-18, 2019): For high school men, this is the chance to spend a weekend on campus diving into Lutheran theology, prayer and worship. Participants can talk with current students and professors. Because preparation extends beyond the classroom, participants accompany their mentors Sunday to the church the mentor serves. The event is free.
Register: www.csl.edu/taste

Vocatio (June 22-27, 2019): For high school men and women, this weeklong retreat explores God's calling and direction. Included are Bible study, worship, vocation discussion, a servant event and some St. Louis fun. A Concordia University System college fair also is scheduled. Registration is $150, but travel assistance is available upon request.
Register: www.csl.edu/vocatio

Next Steps (July 26-27, 2019): For prospective students who are married and their spouse and children, this two-day event provides participants an opportunity to connect with the Concordia Seminary community. From visiting the campus to experiencing life with Seminary families, participants learn about transitioning to life at the Seminary from those who already have taken this step. The event is free.
Register: www.csl.edu/nextsteps
To learn more about Seminary's visitation events, call 800-822-9545, email admissions@csl.edu or visit www.csl.edu/admissions.
About Concordia Seminary
Concordia Seminary, St. Louis provides Gospel-centered graduate-level theological education for pastors, missionaries, deaconesses, scholars and other leaders in the name of The Lutheran Church—Missouri Synod (LCMS). To learn more, visit www.csl.edu.
Missouri District Pastors' Conference


September 30-October 2
District Pastors will meet at Tan-Tar-A in Osage Beach on September 30 – October 2 for the Missouri District Pastors' Conference.
The conference will focus on helping pastors continue to hone their homiletical skills through a preacher's clinic format and prepare pastors for utilization of the "Preach the Word" modules from the Synod.
The Divine Service will be held at Christ the King Lutheran Church in Lake Ozark on Sunday, September 30th at 7:00 p.m. No evening program has been planned, allowing time for "mutual conversation and consolation of the brethren."
The conference will begin on Monday morning, October 1st and conclude shortly after noon on Tuesday, October 2nd.
Click below for more information and to register.
LESA's 6th Annual "Brew in the Lou" Festival Returns to Francis Park
October 13
The St. Louis-based Lutheran Elementary School Association's (LESA) sixth annual "Brew in the Lou" festival will return to the Lily Pond at Francis Park, Saturday, Oct. 13, 2018, from 1-5 pm.

"Brew in the Lou" offers one-stop tasting of St. Louis' best beer, wine, spirits, coffee and good eats. Last year's festival raised a record $92,000 for Lutheran schools and showcased more than 40 local and regional craft breweries, along with unlimited tastings from The Stellar Hog, Gobble Stop Smokehouse, Volpi, Dogtown Pizza, Nothing Bundt Cakes and many more. Festivities include live entertainment, arts and craft vendors, a "People's Choice" Home Brew Competition, a "Battle of the Bratwurst" and our annual Brew Chili Contest.

Wristbands are available now at special pre-sale price of just $30 through June 30, 2018 – a $20 savings over same-day admission. On July 1, tickets will increase to $40 advance/$50 day-of-event. To purchase at the special pre-sale rate, call (314) 200-0797 by 4 pm on Friday June 29, 2018, or purchase online by midnight June 30, 2018, on the event website by clicking here. Wristband purchases include a commemorative glass.

More than 8,800 children attend LESA member Lutheran schools in the St. Louis Metro Area, making Lutheran schools the second-largest private school system in the Bi-State area. A Recognized Service Organization of the Lutheran Church-Missouri Synod, LESA represents 35 elementary and high schools and five related agencies. For more information, visit www.LESAstl.org.

Don't miss this year's "Brew in the Lou!" We hope to see you October 13 at Francis Park in the St. Louis Hills - 5399 Donovan Avenue, St. Louis, MO 63109.
Fall Junior High Retreat
October 19-22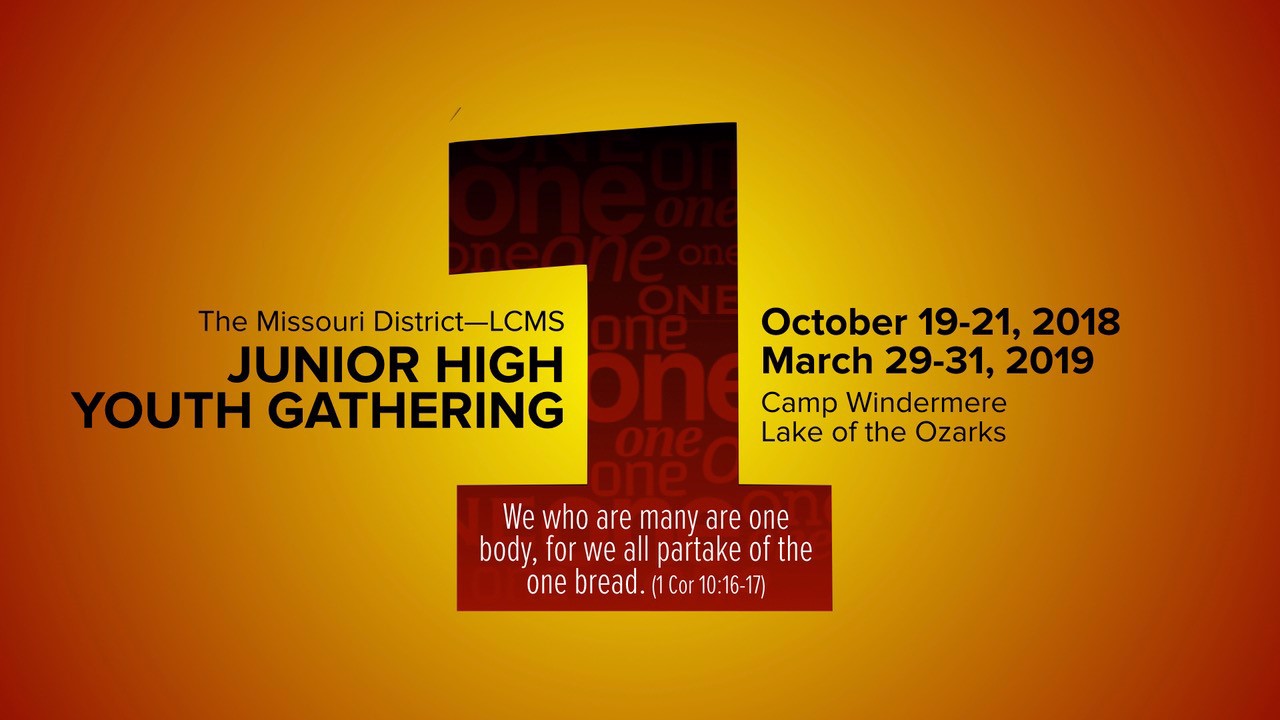 The Missouri District Lutheran Jr High Retreat is returning this Fall on October 19-21 around the theme, "One". Our focus this year is the Sacrament of the Altar. Our presenter & worship leader is Rev. Matthew Ryan Gonzalez, pastor at Trinity Evangelical Lutheran Church – The Bronx, New York. You may have seen him as a Bible Study Presenter at the 2016 National Youth Gathering. We are excited to have him join us! Click here for complete bio and more info.
Save the Date for the Sr. High District Youth Gathering
November 16-18
Save the date for the Missouri District Sr. High Youth Gathering. It will be at Cross Pointe Retreat Center in Rocky Mount, Mo., November 16-18, 2018.

Watch for more information, including a registration link, coming soon.
2018 National Rural & Small Town Mission Conference
November 8-10


The Lutheran Church — Missouri Synod will host its 2018 National Rural & Small Town Mission Conference on Nov. 8-10 in Kansas City, Mo., at the Hilton Kansas City Airport Hotel.

Geared for anyone from a rural and small-town setting, the conference will address the blessings and challenges facing rural and small-town congregations today. It's also designed to encourage those congregations and their leaders in cultivating healthy churches that are eager to bear witness to Christ, show mercy to those in need in their communities and develop a robust life together with their fellow members.

Building on the theme "Have No Fear," the conference will feature a few keynote speakers including Rev. Timothy Koch, Rev. Dr. Robert H. Bennett, Rev. Tom Schlund and Chaplain Craig Muehler.

Participants will choose from breakout topics such as disaster training, youth ministry, ministry to inactives, family ministry outreach, stewardship, hope during grief, opportunities with Recognized Service Organizations and many other topics affecting our rural and small-town congregations.

The conference rate of $215 includes all plenary, breakout and Bible study sessions; Thursday dinner, Friday lunch and Friday dinner; and all conference materials.

Online registration is available; the deadline is Sept. 15.

Special rates are available for couples, students, meals only and groups. Please contact the RSTM office with questions. Click here for more information or to register.
New Spanish Resources for Hispanic Ministry
If you'd like to share the Gospel with your Spanish-speaking neighbors, or if you're heading out on a short-term mission trip to Central or South America, the Lutheran Heritage Foundation ( www.LHFmissions.org) has translated and published two new resources for you: A Child's Garden of Bible Stories and the Bible with Small Catechism, both in the Spanish language.

Donations to help cover the printing and shipping costs are gratefully accepted, but as with all of LHF's translated materials, both of these books are free of charge to the ministries, churches, or individuals who need them. Call the LHF office at (800)554-0723 or email info@LHFmissions.org with your order (number of copies, hardcover or paperback).
Volunteers Needed for LEA Convocation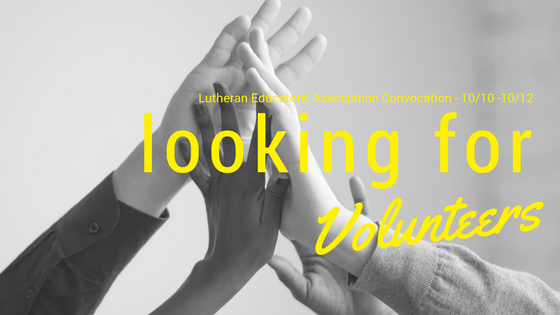 The Missouri District is looking for volunteers to help out at the Lutheran Educators' Association (LEA) Convocation October 10-12, 2019 at the Americas Center in St. Louis.
Volunteers will be needed to welcome and direct participants, run errands and assist with registration and hospitality. This is the perfect opportunity for retirees, especially retired educators, so that current educators can attend events rather than serve in volunteer roles.
There are many opportunities available, so everyone is sure to find a fit for their skills, talents and desire. Whether you can be there for a few hours, half a day, or multiple days, we'd love to have your help.
If interested, please send an email with your name, phone number, email address and availability to Alan Freeman at alan.freeman@mo.lcms.org.
LWML Carnival Fantasy Cruise
Post the National LWML Convention in Mobile Alabama, the LWML is pleased to offer a cruise on the Carnival Fantasy for FUN from June 24- 29, 2019. Well-deserved rest and relaxation with proceeds which benefit the mission projects of the LWML.
Would you like to take part in this fun getaway while benefiting LWML?
McGehee Cruise & Vacation Inc. will assist with all reservations for the cruise.
Registration is now open:
Please click here for more information.
Help Wanted in the District

Director of Music
St. Lucas Lutheran Church, LCMS, St. Louis, Missouri is seeking a candidate to serve as a Director of Music. Online applications are available at http://www.stlucaslcms.org/. For more information, please contact the church office at 314-351-2628, Tuesday through Friday, 9am to 3pm.

Early Childhood Center Director
St. Lucas Lutheran Church, LCMS, St. Louis, Missouri is seeking a candidate to serve as an Early Childhood Center Director. Online applications are available at http://www.stlucaslcms.org/. For more information, please contact the church office at 314-351-2628, Tuesday through Friday, 9am to 3pm.

Get $20,000 to become a church worker in the LCMS!
Is God calling you into church work in the Lutheran Church - Missouri Synod? Are you concerned about how you are going to pay for the hight cost of college?

At Concordia University Irvine we value the formation of future leaders for our church. Therefore we are pleased to announce that, starting with the 2018-2019 school year, we are offering qualified church work students a guaranteed total of $20,000 in institutional aid per year, plus a housing grant.

Ready to begin? To start the application process, go to www.cui.edu/app.

To learn more about the church vocations scholarship, who is qualified, and additional application requirements for church work programs, go to www.cui.edu/churchworkscholarship.
Plus One Participation Forms
Many congregations are participating in our community outreach effort, the Plus One Initiative. Congregations are encouraged to complete a Plus One participation form and either mail it to the district office or email it to

plusone@mo.lcms.org

. If you want additional information about Plus One or a copy of the Plus One participation form, go to

http://mo.lcms.org/plus-one/

.
| | |