New Committee and
New Constitution


38 members attended the Annual General Meeting on 14th March at MOFSC.
We voted to adopt the Rules of the Association (formerly known as the constitution) which were revised to comply with the Associations Incorporation Act 2015.

We also voted in the new committee:
Jim Booker (President), Max Begley, Crawford Flaherty, Steve Pearson, Linda Thorpe plus new committee members Marilyn Carpenter and Ross Gibbs.

Here is the 2018 Annual Report.
Please let us know if you'd like a copy of the treasurer's report delivered to you.

After the meeting our special guest speaker Krista Nicholson from the Mandurah Dolphin Research Project told us all about the local bottlenose dolphin population.

Former committee members Kerrie Andrews, Dianne O'Driscoll and Peter Hick did not seek re-election, and we thank these three members for their many years of service to the Association.
Although no longer on the committee, they will still be involved in PMRA activities.

New Boundary


Prior to the AGM, the committee voted to expand the Port Mandurah membership boundary. Here is the full list of streets within the new boundary.



Every ratepayer within the boundary - even if they don't pay the Port Mandurah Specified Area Rate - is now a member of PMRA, unless they contact us to opt out.



The new rules of the association state that the boundary can be changed by committee resolution, and so the new committee welcomes your feedback about this revision.

We will be delivering a printed newsletter to all our members to spell out the changes.
Please email us if you're able to deliver some newsletters to a street or two near you.

Councillor Update


Please click here for the latest newsletter from Cr. Peter Rogers.


Please support our sponsors
If you're a ratepayer in the Port Mandurah area and care about your neighbourhood, please consider joining the committee.
We meet every 6 weeks or so for a couple of hours, on a day/time to suit all committee members.
You don't need any specific skills, just a willingness to work as part of a team, and a commitment to attend at least 50% of the meetings.
If you have a particular interest in social events, the Christmas season or the waterways, you will be welcomed with open arms!
The next committee meeting is scheduled for Tuesday 30th April at 4.15pm. For more information please contact us.
Speed Radar being trialled in Port Mandurah
The PMRA Committee has spent the last 12 months bringing a speed radar to our canals.
We had previously been advised that there wasn't a speed detector on the market that could measure speed on the water with any degree of accuracy. Undeterred, your committee engaged Queensland business Epistar and brought them to Port Mandurah to test their Speedleader marine radar. Thanks to the cooperation of the City of Mandurah and the Department of Transport, the trial is up and running and we look forward to bringing you the results in due course.
Read more courtesy of the Mandurah Mail.
Christmas Lights Meeting with the Mayor

Port Mandurah residents were invited to meet with Mayor Rhys Williams on 28th March to have their say about the Christmas lights season and to make their recommendations.
Residents' concerns included: hire boats, speeding boats, volume of boats in the lead-up to Christmas, safety concerns at canal intersections, and house boats trying to turn at the canal ends.
Director of Works & Services Allan Claydon was at the meeting and he agreed to talk to the Department of Transport about these issues.
Also discussed were: improvements to the Mandurah Bridge, more real-time signs showing available parking spaces in town, and improvements needed for Yaburgurt Kaaleepga Reserve where Santavea Mews meets McLarty Road (Winjan's Camp and water hole).
Additionally, Allan confirmed that if your verge tree needs pruning, you can ask the City to do this.
The Mayor suggested holding another meeting in September to which he would invite a representative from the Department of Transport.


Mandurah Cruises has produced a Christmas thank you video: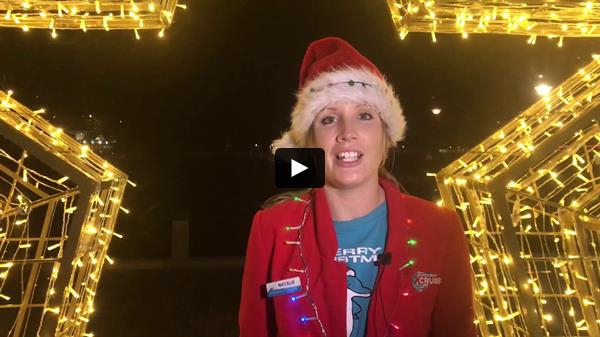 News from Mandurah Police
Mandurah police have seized this boat trailer, which is believed to be stolen.
If you are the owner or have any information, contact Team 9 at Mandurah police station on 9581 0222.
Quote incident report 050419 1230 15188.
Samphire Cove Nature Reserve

The annual clean-up on 31st March resulted in 22 volunteers collecting a remarkable 250kg of rubbish "from places where you never would have imagined there was that much to be collected" according to coordinator Barry Small.
The nature reserve is now looking better than ever, with more improvements in the pipeline including bat boxes, trail signage and a revamp of the signs in the bird hide and outside the reserve by the bike rack.
The next friends' meeting at Samphire Cove is on Sunday 28th April.
Please bring weeding tools, gloves, water to drink and mozzie repellent.
Work starts at 9am – until BYO morning tea get-together at 10.30am.
Visit mehg.org.au/samphire-cove for more information.
| | |