Annual General Meeting

A reminder that the AGM of Port Mandurah Residents' Association Inc. will be held at Mandurah Offshore Fishing & Sailing Club (Dolphin Room) 115 Breakwater Parade, Mandurah on Thursday 14th March 2019
at 6.30pm.
Doors open at 5.30pm for complimentary nibbles and a welcome drink.

We are delighted that Krista Nicholson from the Mandurah Dolphin Research Project is our guest speaker and will answer any questions you have about our local dolphins.
For seating and catering purposes RSVP to info@portmandurah.com.au by 10th March with the names of those attending the meeting.

Following the meeting (at 7.30ish) you are invited to eat in the restaurant at your own cost. Please book direct with MOFSC.


Notice of Special Resolution
PMRA is required by law to alter the rules of the association (also known as the constitution) to meet the requirements of the Associations Incorporation Act 2015.
Please view the proposed new rules that have been updated by the committee.


PMRA Boundary
You will notice in the proposed new rules of the Association that PMRA membership has been redefined as follows: "Membership is automatic to owners of property in the boundary determined by committee resolution who have paid residential rates to the City of Mandurah on one or more properties within the association's boundary during that financial year."
The committee determined the boundary earlier this month.
Please see the list of streets included.
The boundary can be changed by committee resolution at any time as needed.

Agenda
1. Opening of Meeting | 2. Apologies
3. Confirmation of minutes of AGM 2018
4. Annual Report | 5. Adopt the New Rules
6. Elect Committee | 7. General Business
8. Guest Speaker – Krista Nicholson



Please consider nominating to the committee
Have you ever thought about joining (or rejoining) the PMRA committee? We meet nine times a year to help improve and maintain the Port Mandurah area.
Whether you have an interest in waterways management or event planning, or just want to contribute something to this fabulous community, then please consider nominating to the committee.
Please download a nomination form.
If you're unable to attend the AGM, you can appoint a proxy to vote on your behalf.

Please support our sponsors
Canal Wall Stability
Some of the canal walls in Port Mandurah are now 30 years old. In most cases they have stood up well to the test of time. But in a few cases, failure of wall alignment and loss of back fill material can be traced back to additional loading from attached jetty structures (which is not recommended), and also from propeller wash.
The increased use of floating docks that require significant engine power to enable boats to be launched or loaded can, if located parallel to the wall, create undercutting and failure of your wall and also your neighbour's wall.
Repairing walls is the responsibility of home owners, but PMRA in conjunction with the City's Waterways Manager have been working on wall maintenance strategies.
Please consider if your activities may affect canal wall stability as repairs are expensive and often very difficult to complete satisfactorily.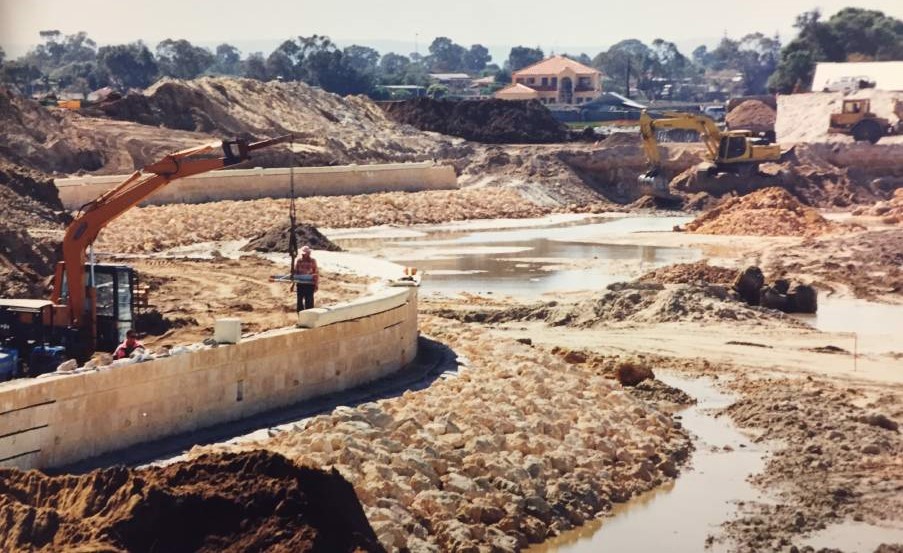 Photo courtesy of the Mandurah Mail
PMRA History Book
The committee has agreed that the Association should formally adopt this project and pay for a quantity of books to be produced.
Final costings have yet to be worked out, but a grant could be applied for to help finance the book.
Also some of the expenditure may be recouped in sales.
Are you able to contribute any high-resolution photos / stories / anecdotes about Port Mandurah? Also do you have skills in any of the following areas: graphic design, journalism, copywriting, editing or photography? If so, please contact us.
Litter Collectors needed for the Stage One area of Port Mandurah
The City of Mandurah pays us to collect rubbish from the streets in our precinct but we don't currently have anyone to pick up the litter in the Mary Street area of Port Mandurah.
If you can help on an occasional or regular basis please contact us.
Anyone who is able to commit on a regular long-term basis can be provided with clothing and tools as needed.
Thank you to our star picker-upper John Randall who maintains Stage Two and beyond.
Christmas Lights Awards
Mandurah Cruises received over 200 replies to their invitation to the awards party on 3rd February. We enjoyed a sumptuous surf and turf buffet, and listened to Paddi Creevey and a representative from MAPTO describing how our efforts help to boost the local economy.
The Wishing Well total was announced by Rotarian Martin Robinson – over $28,000 – which included a generous donation from Mandurah Cruises. After thanking everyone on the canals for joining in the spirit of Christmas, Renee Hardman announced the winners. View the photos HERE.
Check out our improved website
Thank you to Naked IT in Mandurah for helping us to update the PMRA website. We now have a secure site which fits neatly on all devices.

| | |