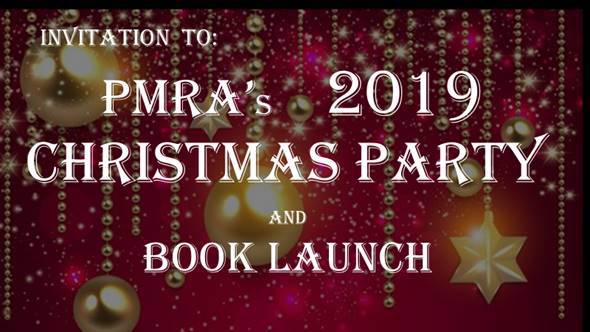 You are warmly invited to our Christmas Party and Book Launch on
Sunday 15th December at Mandurah Offshore Fishing & Sailing Club.
We will be launching the long-awaited Port Mandurah History Book.

5.30–6.30pm: Greeting by Santa, complimentary welcome drink & canapés.
7.00pm: Book Launch.
Special diets can be catered for if advised beforehand | Cash bar
$40.00
This event is for Port Mandurah residents and invited guests over 18.
Please fill in the Reply Form at the bottom of this email.

Every Port Mandurah household is eligible to receive one of these limited edition books at no cost, courtesy of your PMRA.
Additional books are available at only $20 each; the perfect Christmas gift!
Pre-order and pay for additional books using the form below.
Books also available for sale at the Book Launch – cash or cheque only.


On Christmas Eve every year, Santa cruises through the Port Mandurah canals to deliver lollies to children waiting on their jetties.
Listen out for Santa's bell and also loud Christmas carols coming from the water between 5.30pm and 7.00pm.
Thank you to all the volunteers who contribute to and help at this event including the organising committee, the boaties, and of course Santa and his busy elves who will be packing hundreds of bags of lollies on 22nd December in readiness for Santa Afloat.
Please contact us if you'd like to assist with any of PMRA's activities.

CHRISTMAS PARTY REPLY FORM

I / We will be attending the Christmas Party & Book Launch on 15th December.
This form is editable after you've hit the "Reply" button on your email.

Payee's Name:

Names of Partner/Guests:

Your address:

Your email address:

Total number attending @ $40 each:

Number of additional books @ $20 each:

Total payment made:

Please select your payment method below. RSVP by post or by email. (Email preferred.)

Cheque Please make cheques payable to Port Mandurah Residents Association
and mail to: PMRA, PO Box 1339, Mandurah 6210

EFT Or electronically transfer funds to the PMRA account: Bendigo Bank BSB: 633000
Account No: 136986080 quoting your name as reference. Please include a copy of the electronic receipt with your application. Email address: info@portmandurah.com.au


| | |