New eBook!

Sake's Hidden Stories
The Personalities, Philosophies, and Tricks-of-the-Trade Behind the Brew.

Go beyond the basics of grades and production, and read stories about actual brewers and what makes their sake what it is. This is what the seminars and newsletters cannot teach you!

For a nice

third-party review

, see this cool blog.
Learn more and buy Sake's Hidden Stories HERE.

While neither the heat nor the humidity of summer have set in
here in Japan, the feeling surely has. That may be, perhaps, due to the fact that it has been such a busy year for me until now, but in truth there is a ways to go before the lazy daze of summer arrives. We have that long, wet rainy season to plow through yet...all good things in all good time.

This month I have thrown together in a decidedly non-prose format a list of odds and ends related to the series on growing rice, and in particular Yamada Nishiki. That and a handful of announcements of events, as well a quick write-up on the first sake brew-pub in the US, moto-i in Minneapolis.

Where ever you are, enjoy the newsletter, most preferably with a glass of your favorite sake.

Warm regards,

John Gauntner
Part VI: Peripheral Observations

After several months of covering rice growing and all its attendant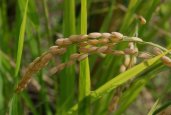 complexities and subtleties, I have come to the realization that there is no end. As such, it is not like I can say, "well, this is the last installment." Nah. Not gonna happen.

Still, there are other things to cover and talk about, as this is a sake newsletter, and not just a rice-growing newsletter. So, in this issue, I would like to convey a few points that did not make it in to the past few articles, yet are still relevant, interesting, and worth knowing. With no further ado, here goes:


In order to keep Yamada Nishiki as pure and close to the ideal as possible there is a seed bank in Hyogo Prefecture that keeps the best of the best intact and re-grows it every two years just to keep those seeds vital and pure and fresh. "But still," insists Honda-san of Tatsuriki, "it is more than anything else a matter of how it looks rather than some objective measurement."
Each year there is a contest of the best Yamada Nishiki from the Harima area where it grows best. And every year the same guy wins it: One Mr. Katashima, from the village of Akitsu in the township of Yokawa-cho.
Most rice, not only sake rice but all rice, goes through "agricultural cooperatives," politically powerful organizations that have their good points and less good points, much in the way labor unions might. That is a topic worthy of several articles alone, but is a tad off topic for this newsletter. But the point is that until perhaps a decade ago, all sake rice had to be purchased by brewers through those co-ops. That is slowly changing and direct contracts with growers are now not only possible but becoming more common. However, there is some risk involved for all parties, risk that is normally absorbed by the co-op but now falls on the shoulders of the two parties involved in contract growing.

In short, if you want a certain amount of rice, let us say 1000 30-kilogram bags, and you order it from the local co-op, you'll get it, guaranteed. What you do not get is the knowledge of exactly who grew it or where. Sure, you'll know about where, just not precisely. But you will get the volume you ordered, no more, no less. However, direct contract exposes brewers to the risks that mother nature throws into the mix. In other words, you buy the field, or rather the yields of a field.

So say a brewer wants the above 1000 bags of 30 kilograms each. And usually he might get that from, say, five or six football-field (soccer pitch) sized fields. About. Usually. Well, mother nature has her say, and he might get only half of that. Tough luck. On the other hand, a good year might produce one-and-a-half times the needed amount. Tough luck again, because now he has to buy it. All of it.

Surely it is not all this neatly cut and dried, but while many brewers use contracts for their best rice, the agricultural co-ops serve a purpose as well.
Most rice has about the same thickness of skin. So bigger rice, like Yamada Nishiki, has a lower skin-to-innards ratio. In other words, you have to mill off a lower percentage of the total to get rid of the fat, protein, lipids and other undesirables with bigger rice than with smaller rice. This point I found particularly interesting. (This leads to more richness with bigger rice than with smaller rice, at least in the opinion of the above-mentioned Mr. Honda.)
In the Harima area we have been talking about, they make about 30,000 "hyou" of Yamada Nishiki a year, and one "hyou" is a traditional unit of rice equaling 60 kilograms. That means a total of about 1,800 metric tons a year. About ten percent of that qualifies for "Toku-jo" top grade by inspection, and also from Special A fields. (Remember, not all the grains from any one field will qualify for a given grade; they are separated by quality after harvest.) Global warming, unfortunately, is reducing the amount of "Toku-jo" top grade rice.
Last year, I took six seedlings and raised Yamada Nishiki at home. This year, I have taken seeds from that "harvest" and grown my own seedlings from scratch. For what it is worth, it will be the world's first Kamakura-native Yamada Nishiki rice. If I can grow it right, that is… not that I can actually

do

anything with it.

* * *



From time to time, this newsletter will again come back to the topic of rice. In truth, so much of the information about sake these days focuses on the grades and the production process and how to enjoy it and what to actually drink. As well it should, too. That is, in the end, of paramount importance. But to thoroughly understand and appreciate sake, we need to understand a bit about its raw materials. Let's all bear that in mind as we enjoy sake.

I told him he was nuts. Perhaps not in so many words, but that was the message, just the same.

"My course is the most comprehensive sake education on the planet; about that I am confident. But you are not going to learn how to brew the stuff to the degree that you can sell it commercially!" I was actually trying to talk him out of coming. But he was adamant.

"Listen," he began, "the biggest mistake I made when starting up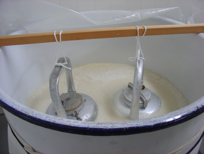 my brewpub featuring German-style lagers was not having gone to Germany first. I don't want to make that mistake this time." Hm. That was certainly good logic.

"OK, fine," I acquiesced. And that led to Blake Richardson, owner of the first sake brewpub outside of Japan, moto-i, to get his project rolling. He took both levels of my Sake Professional Course, but then undertook massive education on his own. And it all paid off, as moto-i opened late last year in Minneapolis.

I had the pleasure of visiting moto-i and Blake late last year and again a couple of weeks ago. And all I can say is that the stuff is good. Surprisingly good. Sure, it is all nama, all shiboritate (just pressed) and most of it is genshu. But I was - and am - impressed. Should you be anywhere near Minneapolis, ya gotta get there. The restaurant has plenty of other drinkies to choose from, and a nice, pub-style food menu with just a slight Asian feel to it.

While Blake and his brewing staff get lots of support from SakeOne in Oregon, he has otherwise created this by himself. Naturally, his formidable beer brewing experience must have helped, but nonetheless, I am (OK, I admit it!) a tad surprised on how good it is coming out.

To my further bewilderment, they recently came out with a yamahai style (about which more can be learned in the archives of this newsletter here). What made that even more astounding was that he used as a reference for the temperature curve of the yeast starter a curve that I had drawn by hand. By hand! While using it to brew a commercial sake was never my intention, they have certainly done

something

right at moto-i.

Learn all you need to know about moto-i at www.moto-i.com. There is, in fact, plenty more to say. But just get there.


"BY21" is about to begin.



There are fiscal years and calendar years. Often, these are
different. Well, in the sake industry, they also have "brewing years," or "BY."

What's the point? What's the difference? Sake brewing begins in the fall and runs until the next spring, necessarily crossing into a new calendar year. In Japan, the fiscal year of most companies begins April 1, so it would straddle two fiscal years as well. So in order to capture one season cleanly - eliminating the need to account for half-done batches et al - the BY (brewing year) concept was formed.

But note that different kura (breweries) have different scales of operation. Some brew lots more than others. Accordingly, when each kura stops and starts for the year varies hugely. The less they brew, the later in the year they begin, and the sooner they finish. Conversely, the larger brewers start earlier and earlier, some approaching late summer as their starting point, and approaching early summer (of the next year) as their wrap-up for the season.

As such, the brewing industry here recognizes July 1 as the first day of BY, and June 30th of the following year as the last. This way, the brewing seasons of all kura are caught neatly and cleanly between.

The "21" refers to the year Heisei 21, or 2009 in the Japanese calendar. So ring in BY21 with a glass of your favorite sake on July 1, 2009.
New York City, on July 2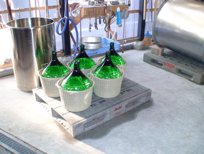 7, 28 and 29

(Monday through Wednesday). The location will be in Manhattan, at Astor Center. The cost for the three day intensive program will be $775. Go here for more details. Those interested in more detail can contact me by email. Attendance is limited but there are a few seats open as of yet. .
Sake Events

Below are a couple of events happening in the San Francisco area.
MATCHA
Sake and the Samurai
Join Miwa Wang, sake sommelier and Kirsten Shlakes, art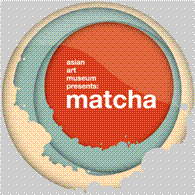 history lecturer for a samurai inspired sake tasting and art presentation about the museum's Lords of the Samurai exhibition. Enjoy a complementary tasting of the The Seven Spearsmen sake.

Thursday, June 18

Asian Art Museum of San Francisco

7 pm Sake Tasting, Ground Floor

$10 Admission

www.asianart.org/samurai/specialevents.htm#spirits

RAISING SPRITS

Raising Spirits is a dynamic fusion of art, food and sake produced by author, art history lecturer, Kirsten Shilakes. This 90-minute, upbeat multimedia and multi-sensory exploration of the museum's collection through tales of art and wine carefully synchronized with the artworks. Sake sommelier, Miwa Wang will introduce and evaluate four premium sakes for you to try.

Thursday, June 25, 7:00 pm-8:30 pm

$30 general, $20 members (includes general admission, sake tastes, and a light snack). Tickets at:

www.asianart.org/samurai/specialevents.htm#spirits

Further Reading


Dancyu Blog
I have begun a blog on sake related ramblings for the gourmet magazine Dancyu. It is, however, in Japanese. Should you be interested and able to check it out, you can find it here.



Further Listening


I have also begun an audio program - five minutes at a time - that includes sake recommendations. The monthly posts can be heard at www.japanlivingarts.com a fascinating blog covering a wide range of arts and traditions of Japan, done by Steve Beimel, a decades-long resident of Kyoto. It is worth visiting for much more than the few measly sake updates!


Are you not getting this newsletter? I realize that is likeasking that "those not present please raise your hand," but for future reference, should you spontaneously stop receiving this newsletter, please go here and sign up again. Should that not work, please go to www.sake-world.com.


Email newsletter services are very careful not to be considered spam enablers, but the problem is that often very valid email addresses come back bounced as invalid. It is an unavoidable problem. So if you or someone you know is not getting this, or stop(s) receiving it inexplicably, please do take a moment to double check that you are still subscribed.

Sincere apologies for the hassle, mixed with gratitude for reading this newsletter.

Sake's Hidden Stories
I am very pleased, if not relieved, to finally announce the publication of my
new ebook, Sake's Hidden Stories
, subtitled The Personalities, Philosophies, and Tricks-of-the-Trade Behind the Brew.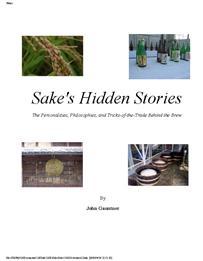 Sake's Hidden Stories ($14.99) will give you a view to what goes on in the sake industry behind the brew we all love so much. The book goes into stories much deeper than the information we most commonly encounter; way beyond simply what ginjo-shu is, what junmai-shu is, or what the role of koji is. You will learn about the personalities behind the sake. You will see in just how much detail some brewers make sake, and how each is different in where importance is placed. And most significantly, something that has not been written about in any book on sake in English, you will meet more than a dozen brewers, and encounter their personalities. You'll see what makes them tick, what drives them in their work, and how their histories and idiosyncrasies affect the sake they brew.

For more information on content and get your copy, go

here

.As with any ebook or informational product I offer, satisfaction is 100% guaranteed. If you don't like it or feel it was worth what you paid for it, I will cheerfully refund your money.

Finally, for a nice

third-party review

of the book, check out

this cool blog.
Sake Educational Products

Jump-start your sake savvy



Just a reminder to check out the Sake-World e-store,currently offering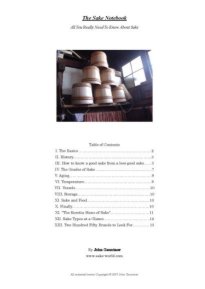 three educational products immediately downloadable for your education and further sake enjoyment. See Educational Products at Sake-world.com. Currently, we have three products, with more to come soon, including a full-blown, comprehensive self-study course covering all the material in the Sake Professional Course, and more.

First is The Sake Notebook, a 15-page pdf file guaranteed to jump-start your sake understanding and appreciation. It covers everything related to sake in a tight, concise and easily digestible presentation replete with plenty of photos and diagrams for at-a-glance enlightenment. Sake basics, history, grades and quality levels, aging, temperature, storage and more are all briefly touched upon to create a foundation upon which more sake learning can flourish. There is also a list of 250 (count 'em!) sake brands to look for and try. Finally, included with purchase is access to a password protected area on www.sake-world.com known as "The Goodstuff" a regularly updated list of good sake recommendations, replete with brief commentary on each, and some indication of John's personal recommendations and preferences. Available for $15.

Next is The Sake Production Slideshow, an executable file (Photojam) wherein resides a 15-minute slideshow of photos of the sake-brewing process from beginning to end, giving you a glimpse into the day-to-day brewing environment of sakagura in Japan. Available for $15. Also, access to "The Goodstuff" comes with this product as well.

Third is a bundled package of both The Sake Notebook and The Sake Production Slideshow for those that cannot make up their minds or simply have to have - or give - both as gifts. Available as a set for $25.

Surely these would make wonderful gifts for those close to you that are itching to get into good sake, and their easily downloadable digital format makes it all that much easier.

Links to Sake Book Info and Archives
Past Issues Posted
The archives of this newsletter are again up-to-date. If you have missed any, feel free to check them out on the Sake-World site.
More information on the following topics can be found at
www.sake-world.com/html/nl_related.html

Sake Homebrewing
Books on Sake
Information on the archives of this newsletter
General information related to this publication
I hope you have found the above information helpful and entertaining. For more information about all things sake, please check out www.sake-world.com. Until next month, warm regards, and enjoy your sake.

Questions and comments should be directed to John Gauntner, at the email address above.

All material Copyright, John Gauntner & Sake World Inc.

Regards,

John Gauntner
Sake World, Inc.