The Personalities, Philosophies, and Tricks-of-the-Trade Behind the Brew.

Go beyond the basics of grades and production, and read stories about actual brewers and what makes their sake what it is. This is what the seminars and newsletters cannot teach you!

For a nice

third-party review

, see this cool blog.
Learn more and buy Sake's Hidden Stories HERE.

Another third-party cool blog review is here.

And yet a third cool blog review is here !


Happy New Year
To All Readers



Happy 2010 to all readers! Sincere wishes for a blessed, prosperous healthy and happy 2010 to all of you and yours. It is the year of the Tiger in the 12-year Asian cycle. So let us use that auspicious point and pounce upon every chance for joy and kindness that come our way.

Even sakeguys have to take some time off, so this month please enjoy an abbreviated issue of the Sake World Newsletter. Look forward to a return to a longer version next month, and for now enjoy the respite by contenting yourself with Did You Know, and Sake Basics - both best enjoyed with a glass of new year's sake.

Warm regards, and all good things in 2010,


John


O-toso is sake that has been specially prepared by steeping a

mixture of herbs in it for several hours. Drinking it with family in ceremonial fashion first thing on New Year's day is said to ward off sickness for the entire year ahead, as well as invite peace within the household.

The tradition of O-toso originally came from China, and originally the mixture consisted of eight herbs. Included in the mixture are cinnamon, rhubarb and sanshou (Japanese pepper), as well as a few not commonly seen in the west, like okera (atractylodis rhizome) and kikyou (platycodi radix).

O-toso was adopted in Japan back in the ninth century during the Heian era. and the custom has evolved into a fairly ritualized form over the years. After morning greetings on O-shogatsu, the O-toso is drunk using a special set of three lacquered vermillion cups sitting on a small dais. The three cups fit inside each other, and are drunk from in order of size: small, medium then large. It is poured not from a normal sake tokkuri, but from a special vessel resembling a kyusu (teapot).

The O-toso is drunk in order from the youngest in the family to the oldest with the intention that the older members of the family can share in the joy of youth imparted as the cups are passed.

Teabags containing the herbal concoction are sold at drugstores all over Japan during the weeks running up to the new year. Surey it would be available at some Japanese grocery stores overseas as well.

Also, should guests visit during the first three days of the new year, they are first given a glass of O-toso, and after that a glass of sake.



As is the fate for many traditional rituals, the O-toso ceremony is not as commonly practiced these days as it has been in the past. Many younger people, in fact, may not know all that much about it. Although all things run their natural course, it would be a pity if O-toso were to totally fade away.

Introducing yet another "corner" to the Sake World email newsletter: Sake Basics.

Why Sake Basics? Because most of us are busy, and we may not have the time or willingness to memorize things. Sure, you can pass over terms here and there, time and again, but often we think, "Man, I've seen and heard that word before, but what does it mean again?" And since not know for sure does not interrupt our enjoyment of what we are reading (or drinking!), and we can gather all we need from context, we move on. As well we should.

So here, each month, we will review one term or buzzword, define it concisely, and move on. The whole thing is designed to take no more than ten seconds of your time. So enjoy. And with no further ado:

Ginjo-shu

Ah, ginjo-shu. What is it? premium sake. Ginjo is to regular sake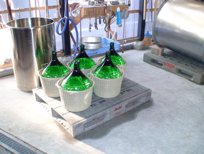 what single malt scotch is to regular scotch, or what 100% agave tequila is to regular tequila: it is the same stuff, just made with better ingredients (better sake rice, milled more to make it more refined) and using special methods (like long term, low temperature fermentation). This makes it more refined, generally lighter and smoother, and often but not always fruity and aromatic.

Only about 7-8% of the market is ginjo, so if you are drinking something with the word ginjo on the bottle, you are in the safe zone of premium sake.

Note, ginjo has four subclasses: junmai ginjo, junmai daiginjo, daiginjo and relular ole' ginjo. For more about these see the Sake World website and the Sake Notebook, but just remember that if the word ginjo is on the bottle somewhere, you are drinking super premium sake.



Want to visit sake breweries in Japan? Now you can!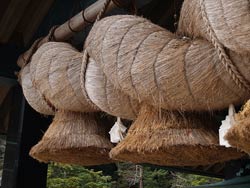 I am pleased to announce the starting of the Sake World Sake Brewery Tours program. Now, anyone can access the inner workings of the sake world. Visit Japan, start off with a bit of formal sake education by yours truly, then you are off to see several sake breweries while under the care of an experienced sake-savvy interpreter. Events include sake-centered meals and other cultural sight-seeing options - and even a bit of free time. This brewing season, there are two tours planned:




Tour I: February 23 to 27

in the Kansai (Osaka/Kyoto/Kobe) area


Tour II: March 15 to 19

in the San-in (Shimane and Tottori) area

For more information, pricing and reservations please go to www.saketours.com. Participation is extremely limited this season for the two tours that are scheduled.
The 2010 Sake Professional Course
...in Japan
January 25 to 29, 2009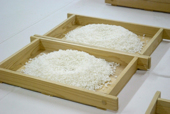 The 2010 Sake Professional Course will take place in Tokyo (and Osaka, Kyoto and Kobe) Japan from Monday January 25 to Friday January 29, 2010.This is it, folks: simply the most thorough sake education on the planet. Three days of instruction and tasting are augmented by two days of sake brewery visits, with evenings filled with good food and the best sake Japan has to offer. "No sake stone remains left unturned," is the motto, and "Exceed all expectations" is the goal. This course will provide you with the education and experience to do whatever you desire in the world of sake. For more information please go here, and/or to reserve, please email me at sakeguy@gol.com.

Currently there are but four spots left for this seminar.

Holiday Gift Idea: The Sake Dictionary
Give the gift that keeps one drinking...only $6.99
Announcing the (pre-)release of The Sake Dictionary - available at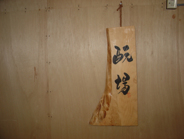 a special introductory price now to readers of this newsletter for a very limited time only.
Have you ever found yourself out and about at perhaps a retail shop or at a sushi bar, perusing the sake menu and wondering - or trying to recall - just what the dickens all those terms actually mean? Wouldn't it have been great to have a quick guide that fits in your pocket, pda, or phone that you could whip out to confirm a term or two? Well, here it is.
The Sake Dictionary is just that: A concise little package of all the terms you might ever come across when dealing with sake. Almost 200 of them - including sake grades, rice variety names, seasonal sake terms, special varieties, rare types, post-brewing processing words and the myriad terms used in sake production - many of which are not even familiar to the average Japanese person on the street - are listed up here with concise, useful and clear definitions and the written Japanese version as well.
Start to toss around Japanese sake terms like you were raised knowing them! Gain a level of familiarity hitherto unimaginable! Avoid frustrating paralysis when faced with a sake-related purchase!
Get your copy of The Sake Dictionary now and never be confused by sake terms again.
And, for a short time limited to this holiday season only, you - as a valued reader of the Sake World Email Newsletter - can purchase The Sake Dictionary at special SWEN Reader price of $6.99.
So click
here
to purchase your copy of The Sake Dictionary and eliminate sake stress and get a permanent grip on those pesky terms, and start really enjoying your sake.
For more information, go
here
. But trust me, it is a simple document, well laid out and concise, and will perform just as you'd imagine. You know that term, you've heard it before, you just cannot recall what it means right now. Just whip out the Sake Dictionary and Bingo! You've got it.
Go
here
to get your copy now.


More holiday gift ideas...
Sake's Hidden Stories
I am very pleased finally announce the publication of my
new ebook, Sake's Hidden Stories
, subtitled The Personalities, Philosophies, and Tricks-of-the-Trade Behind the Brew.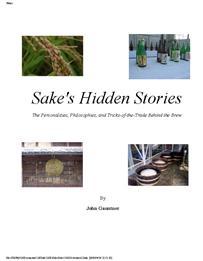 Sake's Hidden Stories ($14.99) will give you a view to what goes on in the sake industry behind the brew we all love so much. The book goes into stories much deeper than the information we most commonly encounter; way beyond simply what ginjo-shu is, what junmai-shu is, or what the role of koji is. You will learn about the personalities behind the sake. You will see in just how much detail some brewers make sake, and how each is different in where importance is placed. And most significantly, something that has not been written about in any book on sake in English, you will meet more than a dozen brewers, and encounter their personalities. You'll see what makes them tick, what drives them in their work, and how their histories and idiosyncrasies affect the sake they brew.

For more information on content and get your copy, go

here

.As with any ebook or informational product I offer, satisfaction is 100% guaranteed. If you don't like it or feel it was worth what you paid for it, I will cheerfully refund your money.

Finally, for a nice

third-party review

of the book, check out

this cool blog.
Sake Educational Products

"Jump-start your sake savvy

"

ust a reminder to check out the Sake-World e-store,currently offering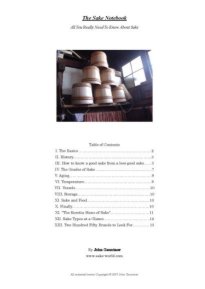 three educational products immediately downloadable for your education and further sake enjoyment. See Educational Products at Sake-world.com. Currently, we have three products, with more to come soon, including a full-blown, comprehensive self-study course covering all the material in the Sake Professional Course, and more.

First is The Sake Notebook, a 15-page pdf file guaranteed to jump-start your sake understanding and appreciation. It covers everything related to sake in a tight, concise and easily digestible presentation replete with plenty of photos and diagrams for at-a-glance enlightenment. Sake basics, history, grades and quality levels, aging, temperature, storage and more are all briefly touched upon to create a foundation upon which more sake learning can flourish. There is also a list of 250 (count 'em!) sake brands to look for and try. Finally, included with purchase is access to a password protected area on www.sake-world.com known as "The Goodstuff" a regularly updated list of good sake recommendations, replete with brief commentary on each, and some indication of John's personal recommendations and preferences. Available for $15.

Next is The Sake Production Slideshow, an executable file (Photojam) wherein resides a 15-minute slideshow of photos of the sake-brewing process from beginning to end, giving you a glimpse into the day-to-day brewing environment of sakagura in Japan. Available for $15. Also, access to "The Goodstuff" comes with this product as well.

Third is a bundled package of both The Sake Notebook and The Sake Production Slideshow for those that cannot make up their minds or simply have to have - or give - both as gifts. Available as a set for $25.

Surely these would make wonderful gifts for those close to you that are itching to get into good sake, and their easily downloadable digital format makes it all that much easier.
Odds-n-Ends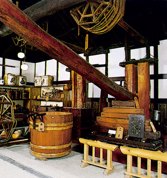 Links to Sake Book Info and Archives
Past Issues Posted
The
archives
of this newsletter are again up-to-date. If you have missed any, feel free to check them out on the Sake-World site.
More information on the following topics can be found at
www.sake-world.com/html/nl_related.html
Sake Homebrewing
Books on Sake
Information on the archives of this newsletter
General information related to this publication


Are you not getting this newsletter? I realize that is likeasking that "those not present please raise your hand," but for future reference, should you spontaneously stop receiving this newsletter, please go here and sign up again. Should that not work, please go to www.sake-world.com.


Email newsletter services are very careful not to be considered spam enablers, but the problem is that often very valid email addresses come back bounced as invalid. It is an unavoidable problem. So if you or someone you know is not getting this, or stop(s) receiving it inexplicably, please do take a moment to double check that you are still subscribed.

Sincere apologies for the hassle, mixed with gratitude for reading this newsletter.

I hope you have found the above information helpful and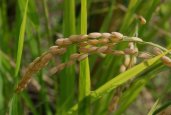 entertaining. For more information about all things sake, please check out www.sake-world.com. Until next month, warm regards, and enjoy your sake.

Questions and comments should be directed to John Gauntner, at the email address above.

All material Copyright, John Gauntner & Sake World Inc.


Regards,
John Gauntner
Sake World, Inc.