Daiginjo Brewing Peak Season
Greetings to all readers,
It's daiginjo brewing season, when the ambient temperatures are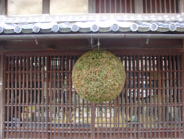 coldest, minimizing bacteria and maximizing control. Most contest sake are brewed just about now, with lesser daiginjo (how's
that
for an oxymoron!) on either side of that, flanked by lower and lower grades.The reports I have heard from the brewers I have spoken to all indicate things are looking good this year - at least in general. The rice harvest was good, it is cold enough outside, and all I have tasted should make brewers brim with confidence.
I am also pleased to announce the first Sake World app for the iPhone, the iPhone version of The Sake Dictionary. Be sure to check it out.
Warm regards, and enjoy the newsletter


John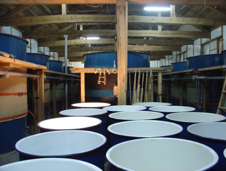 I have, over the 120-plus issues of this newsletter, written several times about the grades

tokubetsu junmai-shu and tokubetsu honjozo

. On such in-depth article is here. But I want to touch on them again, albeit briefly, to clear up an important point.

The word "tokubetsu" means "special," so that these two terms translate as "special junmai" and "special honjozo." But before that important point to be cleared up, though, let me just go ahead and say that some of my favorite sake can be found in these classifications. Why is that? While I am getting ahead of myself here, maybe, the answer is because these two grade classifications, tokubetsu junmai-shu and tokubetsu honjozo, hover effectively between the converging vortex of ginjo and the borderling-plebian rank-n-file realm of junmaishu and honjozo.

What is behind these grades? What makes them what they are? What are the definitions that apply to these legal, official grades? More is here, but in short tokubetsu honjozo and tokubetsu junmai-shu are

special

in that they are either made with proper sake rice (rather than any ole' table rice), milled down to ginjo levels (no more than 60% of the original size of the grains remaining), or -get this -something else

special

, a

something

which should be listed on the label.

Note the vagary - both in rules and in positioning on the quality chart . I agree, it can be confusing at first. If these grades seem like an afterthought that's because they were an afterthought. Junmai and honjozo grades were firmly established, then came the sexy ginjo grades. With standard, representative products in each class, brewers faced a dilemma. Considering a new product, well, it might be better than their regular junmai or honjozo but not quite up to snuff for their personally-held image of their ginjo. So call 'em special junmai-shu and special honjozo. While it can seem a bit obfuscating, it does sorta make sense, in a sake kind of way.

However, lately I have heard people speak of a brewery's "

tokubetsu

," and people have asked me just what a

tokubetsu

is. It therefore seems important make it clear that the word tokubetsu has

no legal meaning or official meaning

unless used together with junmai or honjozo.

So if a sake only has the word

tokubetsu

on the label, or has that word in conjunction with a term other than junmai-shu or honjozo, it is not in an official capacity. Sure, brewers can call their sake special. They can call it just about anything they want. They can call it supercalifragilisticexpialidocious if they like, but that does not mean that it is, or that said terms has any official meaning. (It does not, by the way.)

And, in fact, there are indeed a couple of products called tokubetsu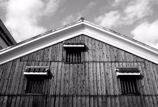 ginjo or tokubetsu daiginjo; I have seen them. Not many, but there are a couple. But these do not have any significance outside of the brewer's feeling, impression and marketing efforts. Of course, these things are significant enough - if it helps a brewer sell more sake, all power to him or her.

So the next time you hear someone speak of a

tokubetsu

sake, or call for another glass of

tokubetsu

, be sure to politely enquire, "tokubetsu

what

?"
.
The many methods of moto...

Did you know there are many ways of making the yeast starter?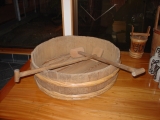 Most common is, of course, sokujo-moto ("fast-brew yeast starter"), which take two weeks and has been around since 1912. The precursors to that were kimoto (uh, I dunno, "original yeast starter" or something like that) and yamahai moto (similar to kimoto but less laborious). Kimoto was the sole method in use for literally centuries. Then there is bodai moto, which is the precursor to the kimoto method above

Bodai moto was developed at temples during a time when such institutions were producing much sake. The word "bodai" itself has been adapted from the Sanskrit "Bodhi," which is usually translated as enlightenment, but runs deeper in meaning (thanks Wikipedia). One would think that bodai moto sake would then aid one on the path to enlightenment, but only a couple of places in Nara Prefecture make now, reviving the method after a millennium of disuse. So it must not have worked… but I digress.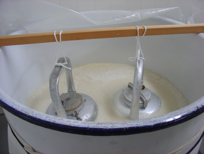 Then there are more modern methods, such as Koh-on Touka (high temperature saccharification) that lets the moto be ready in but six days, and its more recent relative, Chu-on Touka (sorta-high temperature saccharification) that lets it all be ready in about ten days.

None are intrinsically better than the others, although the most common method by far is the 14-day "sokujo" method. Brewers have different sake aims, preferences and conditions, and use the method(s) most suited to their situation.


Daiginjo-shu and Junmai Daiginjo-shu

Last month, we looked at the term ginjo-shu, and learned that it is

premium sake, the top 10% (most recent numbers) or so of all sake made. So what, then, is daiginjo, and how do they differ?

In short, daiginjo is the top one-third or so of all ginjo. In other words, it is super premium. Just remember that daiginjo is ginjo to die for.

How is it different? Legally, the rice has to be milled even more (down to 50% or less of its original size), but practically, it calls for colder, longer fermentation, and more exacting methods each step of the way. This makes it (usually) more refined and more aromatic.
The difference between daginjo and junmai daiginjo is that the former has a bit of alcohol added to help pull out flavor and aroma, where as the latter does not use this step. For more about these see the Sake World website and the Sake Notebook, but just remember that daiginjo is ginjo to die for, and you'll know all you really need to know.

The 2010 Sake Professional Course
...in Japan...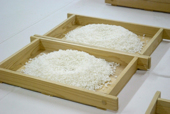 ...ended peacefully and blissfully for all involved on the 30th of January. It was a group was always on time, sharp as whips, and not at all shy about their fondness for sake and for exploring Tokyo and Osaka.



The next SPC will be held in the US on the West Coast tentatively in June. For more information, send an email to sakecoursestateside@sake-world.com.



Coming Soon: Japanese For Sake Lovers
A guide to proper pronunciation
Later this month, I will be releasing something that ensures you will enjoy your sake experience more and more - a short, concise instructional guide on how to properly and naturally pronounce the Japanese language, sake brand names, and all the terminology that is a part of the sake world. With the help of this l'il course, you will sound like a native when talking about sake.
Japanese for Sake Lovers consists of a short text and three audio files. It all begins with guide to the theory of pronouncing Japanese, which you will soon realize is surprisingly simple. Following that you have the opportunity to practice pronunciation of all the important terminology surrounding sake, and dozens of brand names that cement in your mind the principles, fundamentals, and principles of pronouncing Japanese. You'll sound like a native in no time.
It is not a language text. You will not learn grammar or much vocabulary outside of sake-specific terms, although it does include a handful of phrases to help you navigate your way to sake bliss in Japanese when at a sake pub, augmented by three audio files that allow you to practice, repeating the words and phrases after a native speaker.
A little language study goes a long way, especially for Japanese. Learn the basics of pronunciation and feel even more comfortable with the beverage you love.
If you would like to be notified the millisecond that the product is released, please send an email to learnaboutsake@sake-world.com. Otherwise, look for an announcement form this address later this month.
For Your iPhone: The Sake Dictionary
Give the gift that keeps one drinking...only $6.99
Announcing the release of
iPhone application version
of The Sake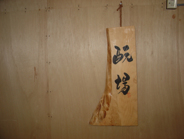 Dictionary - available now
here
. The content is the same as the "normal" Sake Dictionary, which is available for $8.99 here. Note the $2 savings for the iPhone app version!
Have you ever found yourself out and about at perhaps a retail shop or at a sushi bar, perusing the sake menu and wondering - or trying to recall - just what the dickens all those terms actually mean? Wouldn't it have been great to have a quick guide that fits in your pocket, pda, or best of all on your iPhone that you could whip out to confirm a term or two? Well, problem solved: here it is.
The Sake Dictionary is just that: A concise little package of all the terms you might ever come across when dealing with sake. Almost 200 of them - including sake grades, rice variety names, seasonal sake terms, special varieties, rare types, post-brewing processing words and the myriad terms used in sake production - many of which are not even familiar to the average Japanese person on the street - are listed up here with concise, useful and clear definitions and the written Japanese version as well.
Get your copy of The Sake Dictionary now and never be confused by sake terms again.
Note, The Sake Dictionary is a pdf file:
there is no physical book.
It is available for immediate download for use on whatever your unit of choice might be. You can even print it out! (remember that old physical medium?)
So click
here
to purchase your copy of The Sake Dictionary for $8.99 and eliminate sake stress and get a permanent grip on those pesky terms, and start really enjoying your sake. Satisfaction is 100% guaranteed. If you don't find it to be immensely helpful, just let us know, and your money will be cheerfully refunded. You've nothing to lose, and sake clarity when you need it most to gain.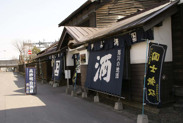 If you are an iphone user, go here now to
purchase
it for a $2 savings, for $6.99, and be the first on the block to have a sake app. It will soon prove to be the most informative app on your phone.
Guaranteed.
For more information, go
here
. But trust me, it is a simple document, well laid out and concise, and will perform just as you'd imagine. You know that term, you've heard it before, you just cannot recall what it means right now. Just whip out the Sake Dictionary and Bingo! You've got it.
Go
here
to get your copy now of the pdf version of The Sake Dictionary.
Go
here
to get your iPhone app version of The Sake Dictionary.


More sake educational reading...
Sake's Hidden Stories
I am very pleased finally announce the publication of my
new ebook, Sake's Hidden Stories
, subtitled The Personalities, Philosophies, and Tricks-of-the-Trade Behind the Brew.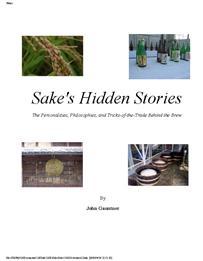 Sake's Hidden Stories ($14.99) will give you a view to what goes on in the sake industry behind the brew we all love so much. The book goes into stories much deeper than the information we most commonly encounter; way beyond simply what ginjo-shu is, what junmai-shu is, or what the role of koji is. You will learn about the personalities behind the sake. You will see in just how much detail some brewers make sake, and how each is different in where importance is placed. And most significantly, something that has not been written about in any book on sake in English, you will meet more than a dozen brewers, and encounter their personalities. You'll see what makes them tick, what drives them in their work, and how their histories and idiosyncrasies affect the sake they brew.

For more information on content and get your copy, go

here

.As with any ebook or informational product I offer, satisfaction is 100% guaranteed. If you don't like it or feel it was worth what you paid for it, I will cheerfully refund your money.

Finally, for a nice

third-party review

of the book, check out

this cool blog.

...and

this one.

...and

this one

. Three great write-ups for Sake's Hidden Stories.


Sake Educational Products

"Jump-start your sake savvy

"

Just a reminder to check out the Sake-World e-store,currently offering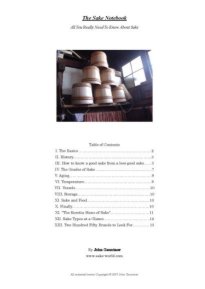 three educational products immediately downloadable for your education and further sake enjoyment. See Educational Products at Sake-world.com. Currently, we have three products, with more to come soon, including a full-blown, comprehensive self-study course covering all the material in the Sake Professional Course, and more.

First is The Sake Notebook, a 15-page pdf file guaranteed to jump-start your sake understanding and appreciation. It covers everything related to sake in a tight, concise and easily digestible presentation replete with plenty of photos and diagrams for at-a-glance enlightenment. Sake basics, history, grades and quality levels, aging, temperature, storage and more are all briefly touched upon to create a foundation upon which more sake learning can flourish. There is also a list of 250 (count 'em!) sake brands to look for and try. Finally, included with purchase is access to a password protected area on www.sake-world.com known as "The Goodstuff" a regularly updated list of good sake recommendations, replete with brief commentary on each, and some indication of John's personal recommendations and preferences. Available for $15.

Next is The Sake Production Slideshow, an executable file (Photojam) wherein resides a 15-minute slideshow of photos of the sake-brewing process from beginning to end, giving you a glimpse into the day-to-day brewing environment of sakagura in Japan. Available for $15. Also, access to "The Goodstuff" comes with this product as well.

Third is a bundled package of both The Sake Notebook and The Sake Production Slideshow for those that cannot make up their minds or simply have to have - or give - both as gifts. Available as a set for $25.

Surely these would make wonderful gifts for those close to you that are itching to get into good sake, and their easily downloadable digital format makes it all that much easier.
Odds-n-Ends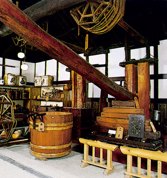 Links to Sake Book Info and Archives
Past Issues Posted
The
archives
of this newsletter are again up-to-date. If you have missed any, feel free to check them out on the Sake-World site.
More information on the following topics can be found at
www.sake-world.com/html/nl_related.html
Sake Homebrewing
Books on Sake
Information on the archives of this newsletter
General information related to this publication


Are you not getting this newsletter? I realize that is likeasking that "those not present please raise your hand," but for future reference, should you spontaneously stop receiving this newsletter, please go here and sign up again. Should that not work, please go to www.sake-world.com.


Email newsletter services are very careful not to be considered spam enablers, but the problem is that often very valid email addresses come back bounced as invalid. It is an unavoidable problem. So if you or someone you know is not getting this, or stop(s) receiving it inexplicably, please do take a moment to double check that you are still subscribed.

Sincere apologies for the hassle, mixed with gratitude for reading this newsletter.

I hope you have found the above information helpful and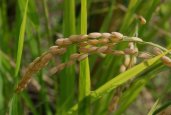 entertaining. For more information about all things sake, please check out www.sake-world.com. Until next month, warm regards, and enjoy your sake.

Questions and comments should be directed to John Gauntner, at the email address above.

All material Copyright, John Gauntner & Sake World Inc.


Regards,
John Gauntner
Sake World, Inc.