November Greetings,  


The late fall has firmly ensconced itself here in Japan, and the sake-brewing season is well, well underway. Behind us now are the warm September days where a visit to brewery would leave us feeling just a bit empty, since there was not yet any fermenting mash, nor newly-pressed sake. With us now is the season of tastings upon tastings, by groups of big brewers, groups of small brewers, groups of famous brewers and groups of counter-culture brewers. There are more tastings these days then any time in my recall.

And even if you are not in Japan surely there is some sake activity near you. And if not, by all means - make your own. The availability of a range of sake continue to grow just about anywhere in the US, and without a doubt, 'tis the season.  

Please enjoy the newsletter, along with whatever nihonshu is closest.

John

              ~~~~~~~~~~~~~~~~~~~~~~~~~~~~~~~~~~~~~~~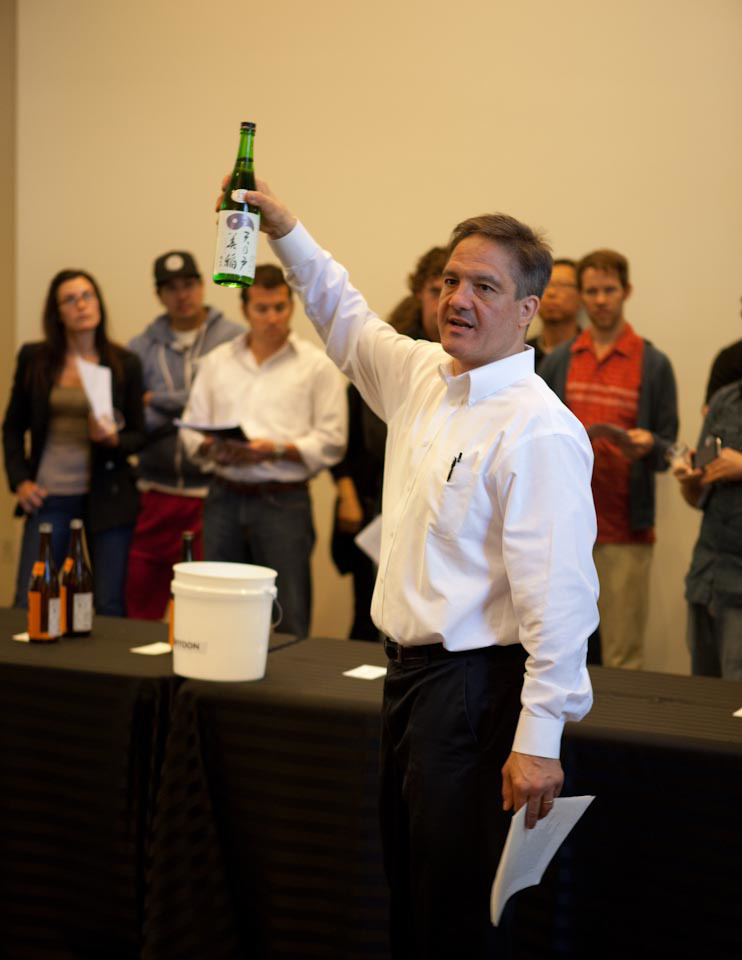 The 2015 New York City Sake Professional Course will be held December 7 to 9. Thanks to everyone's love for sake these days, the course has " checked in full," as they say. See below for more information and contact me if you are interested in being put on a notification list for the next course. I tentatively plan to hold one in the US again in April, and in Chicago. 
              

                 ~~~~~~~~~~~~~~~~~~~~~~~~~~~~~~~~~~~~~~~


Sake Today Issue #7 - soon to be available! 
Issue #7 of Sake Today is in the final stages of production, and will be available soon. This is, by far, the slickest, most attractive, and most content-rich issue yet. Kimoto sake, Fukushima Sake, New York Sushi & Sake, and articles on two breweries, Daishichi and Sohku - and more.  

If you are a subscriber, thank you, and look for it soon. Did you just renew that subscription? You should have received it. Not yet a subscriber? You can take care of that here, Why miss out on sake awesomeness?

Like the first five issues, Issue 6 is chock-full of sake information on many levels with something for everyone interested in sake. And take not of our packages: You can order any single issue, any permutation of issues,  or even all seven in a package - and/or  subscribe.

The digital version for your e-reader is ready for download too, and that includes iTunes. You can a lso view some content online as well. So check out sake-today.com now - and keep current on all things sake.
If you subsribed to Sake Today from the beginning, first and foremost, thank you! And if you have not done so yet, now would be a great time to renew your subscription! 


Sake Confidential - Now available
Interested in sake? Pick up a copy of my book! 
Sake Confidential is a beyond-the-basics guide to the sake world, and after a short introductory chapter on all things sake, it goes into depth on many topics not usually touched upon. It is a practical and concise yet complete guide to sake idiosyncrasies, misperceptions, and controversies presented in a conversational and informal tone. Easy to read and frank, it also includes sake recommendations tied into each of the topics presented.

Read a veritable cornucopia of reviews here a New York Times brief mention here, and order from your favorite bookseller here as well. 


Various philosophies


There are many things that determine how good a batch of sake will be. And there are equally as many opinions about each and every one of those things. Factors that some brewers consider indispensable or key, others will downplay or even outright contradict - if not diss - with opposite philosophies. Depending on your threshold for vagueness, it can either be frustrating or fascinating.
One of these factors is the size of the batch, or the "shikomi," measured in kilos of rice that went into a given tank to create that batch of sake.


Perhaps typical is a ton to a ton-and-a-half (a metric ton, mind you, so 1000 kg or 2200 pounds) of the combination of the rice and koji (the rice that has had koji mold propagated upon it). But there are those of the opinion that much smaller shikomi, say 600 kg or so, are infinitely better for super premium sake.


Perhaps the smallest size I have seen is 500kg on a practical level, although smaller sizes exist as well. But done at this scale, yields are quite low. And brewers need to ask themselves, from an economical point of view, is it worth it in the end? When considering the time required to do each of the many steps, then have it take up tank space, press it and filter it when fermentation is complete, bottle it and care for it and more - it would be so much more economical to double, triple or quadruple your yields for true efficiency. And many, many breweries function at those larger economies of scale.


Naturally, though, at some point, the law of diminishing returns kicks in with a vicious vengeance and quality begins to noticeably suffer. But just where that occurs, and how each toji (master brewer) feels about it, varies hugely.


For example, some do not think that smaller is always better, citing the truth that it is much harder to control parameters such as temperature in those smaller tanks over the long run. To achieve a given flavor and aromatic profile, brewers guide the moromi (fermenting mash) along a very tight temperature curve. Smaller batches are more subject to various factors that might send them out of spec, so to speak.


Conversely, a largish tank would lumber along so much more heavily that wild swings in temperature would not likely happen. But of course the counterpunch to this is that if your temperature and other parameters stray from the fold of the ideal, it is easy to bring them back into alignment with small batches, back to where you want them to be, whereas in big batches the sheer mass makes it harder to forcibly change the temperature once it has strayed.
But again: there are various philosophies. One hugely famous toji of almost unmatched accomplishment insists that larger batches of about 1.5 tons are ideal. He also insists on slightly customizing his tank dimensions, because by doing so the moromi mixes itself and he does not have to mess with using long poles to mix it up. It all occurs naturally in his kura as, inside the tanks, carbon dioxide bubbles stick to dissolving rice particles and the countless yeast cells, rising to the top, where the gas is released and the now-dense glob sinks again. And if your shikomi size is right, it all circulates perfectly, around and around and around...

One fact worth mentioning, however, is that almost always the more premium grades of sake are indeed made in comparatively smaller batches, at least compared to the shikomi size of the lower grades of sake for that brewer. And contest sake, too, is almost without exception made in smaller batches. But this surely arises from the aforementioned ability to tightly control key parameters.


Lately I have come across this information on the back labels of some sake bottles: they actually tell us the size of the shikomi.


Now what in the world are we supposed to do with this information? In the end, the flavors and aromas of a sake before us are either appealing, or they are not. Biasing our minds with such information before tasting will but encumber our enjoyment by unnecessarily prejudicing it.


But as always, there are a myriad of opinions. One big gun of a distributor in the Tokyo/Yokohama metropolis insists that a sake has to be made in a batch that is 600 kg or smaller to be decent. He cites his ten-year convincing effort focused on one famous kura to lower their shikomi size from a ton to 600 kg, and when they did, they won a major international award. True, the smaller shikomi size might have had something to do with it, but so might a gazillion other things. But hey, what do I know.


So enjoy your sake for its flavors and aromas. And should you come across the shikomi size, now you know its significance, and its potential liabilities.Stay tuned!
Toji Guilds: What Do They Do Differently? 
One of the biggest factors contributing to the quality of the sake from a given kura is the skill of the toji, or master brewer, in residence therein. And while technical texts and other means of advice and support are much more available to brewers today then, say a century ago, the experience, intuition, and decisiveness of the person in charge is still of paramount importance.

It is probably fair to say, though, that the industry is less dependent on the various guilds of master brewers than they were back in the old days. And in fact, I myself have been seeing less (not zero, mind you, but less) significance in the differences between the various guilds themselves, beyond their formidable cultural and historical presence.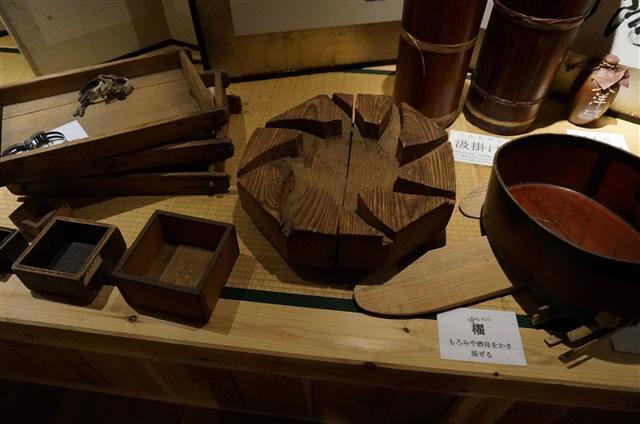 Sure, we hear about slight differences, like the Nanbu guild does it this way, but the Echigo guild does the same step another way. But in the end, the overall level of technical prowess is higher than it used to be, toji or no toji, guild or no guild. And so many other factors guide the decisions of any given toji - such as house style or modern consumer needs - that those little differences between the guilds get squashed in comparison.

Nevertheless, I am pretty sure there is a lot about sake brewing about which I have no clue, and recently learned a bit about some of the real technical differences in the way different guilds of toji brew, and teach their protégé.

The toji guilds are centered around old farming regions, and most of the toji of a particular guild would stay close to home. But as the number of guilds and therefore toji has declined drastically (many are gone for good, or have but a couple of members), those that have maintained their numbers begin to necessarily spread out a bit, practicing their craft in kura farther and farther from their main region. Also, as there are textbooks, computers and seminars these days, the differences between the gilds is less clear cut than it used to be, in terms of technology, methods, and logistics.

And so I found myself in Ishikawa Prefecture, on the Noto Peninsula, home to the Noto Toji Guild. It is a narrow strip of land so sparsely populated, mostly with tobacco farmers, that in some higher spots one can see water on both sides, a testament to how few buildings there are.

One brewer I was visiting, a tiny operation, had as their toji the son of the owner, destined to take over himself in due time. But oddly enough, due to some affiliation from university, he was affiliated with a totally different guild, the mighty Nanbu Guild, basically centered in Iwate way up north.

So here sat this Nanbu toji in the middle of the home town of Noto toji. While it may not seem like much in writing, I was surprised and impressed. In any event, this particular gent had the chance to speak with many a Noto Toji as he was surrounded by them, and that juxtaposition made for great conversation as we strolled around his kura.

I found one particular technical difference big enough to surprise me and encourage further discussion.

When brewing a tank of sake, after the yeast starter is prepared, it is mixed with more rice, enzyme-rich moldy rice called koji, and water, added in three separate doses over four days. After that, the resulting fermenting mash - called the moromi - is allowed to ferment away for from 20 to 35 days or so. As it goes about its fermenting business, the temperature in that tank will rise. The highest temperature it reaches can be anywhere from 10C to 18C, depending on the grade of sake and ten million other things.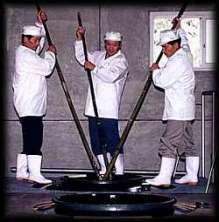 It was explained to me by this Nanbu Toji surrounded by Noto Toji that the Nanbu guild liked to let that temperature run up freely and of its own accord. "It gives us the fine-grained, clear flavor we are famous for," he explained. But the Noto guild prefers to hold that back, forcing the moromi to take as much time as is feasible to come up to that higher temperature. The words used to me were, "Osaete, osaete," or "They hold it back, as if saying 'Easy now, killer, easy now.'" As he explained to me, he held his arms out, palms facing me and pushing forward, as if holding back an invisible force. And again, there is a reason. "It gives them the full flavor and quick finish that is their trademark," I was told.

The differences are quite significant. We're not talking a day or two here, but more to the tune of a seven days. In other words, one school says the highest temperature can be hit in a week, another says hold it back and make it take 14 days or so. To me, having that much variance in the basic brewing methodology is surprising.

But they're right. If left on their own to brew sake as they like (i.e. without owner or consumer "suggestions" or "guidance"), Nanbu toji-brewed sake is indeed clear and fine-grained. And without a doubt, Noto toji-made juice is quite full - until the end, when it cleans out astonishingly quickly.

Well, I initially chalked this up to his particular perception. But the next day I had the good fortune to visit another brewery, this one firmly ensconced in the region's Noto toji hands. And as the evening's discussion with that toji wore on, we returned to this point.

I began to describe to him what I had been told. "I have heard that the Nanbu toji let the temperature of the moromi run up freely, whereas you Noto guys tend to..." He cut me off at that point.

With his arms out, palms pushing toward me as if holding back an invisible force, he interjected "Osaete, osaete?" And added a bit more verbiage to the tune of "Easy now, killer, easy now. Gotta hold that puppy back a bit." Not only did he know where I was going, the very words were the same. The gestures were too, for that matter. This kind of indicated to me just how deeply ingrained their thinking is on the issue. "It's what gives our sake the full flavor yet clean finish Noto Toji are known for."

I was impressed by not only the differences, but also by the acute awareness of those differences on the part of the journeymen themselves.

I reiterate, though, that these differences are likely less significant than they once were. Textbooks, computer-generated curves and the equipment to allow brewers to match them, and modern understanding of the processes have usurped much of the effect of those older, empirically driven methods. But still, the differences in the practices of the various toji guilds are alive, well, and infinitely interesting.
Announcements and Events

Sake Professional Course in New York City & Sake Professional Course in Japan 
The next Sake Professional Course in the US is scheduled for New York City, December 7 to 9, and thanks to sake's popularity, is full. 

The next Sake Professional Course in Japan, scheduled for January 18 to 22, 2016, is also full, thanks to worldwide sake popularity. 


More information about the courses is available here, and testimonials from graduates can be perused here as well. The three-day courses wrap up with Sake Education Council supported testing for the Certified Sake Professional (CSP) certification. If you are interested in making a reservation for a future course, or if you have any questions not answered via the link above, by all means please feel free to contact me. 
 
                               ~~~~~~~~~~~~~~~~~~~~


Sake Education Council Website
Please take a moment to check out the website for the Sake Education Council, the organization behind the Certified Sake Professional and Advanced Sake Professional certifications. We plan to grow steadily, strongly and continually, and we will need the support of all those that love sake to do so. Follow us through the "usual suspects" of social media.

Don't forget the archives!


Older editions of this newsletter are archived

here

.
Sake Education Central

Sake's Hidden Stories and The Sake Notebook are now available for the Kindle, Nook and iBooks!

The Sake Notebook is now available for the Kindle as well as the Nook. And now, it is available for iBooks on iTunes as well!

Sake's Hidden Stories too is now availabe on the Kindle as well as the Nook. And now, it is available for iBooks on iTunes as well!

Both are less expensive than their original pdf version too. Now is your chance to learn more about sake from your phone or tablet! Check 'em out!
Sake Dictionary App for the iPhone, iPod and iPad

"For 99 cents, this app ROCKS!!"
     -a satisfied customer

There you are, perusing a menu, or standing in front of a shelf of great sake, or perhaps reading a sake newsletter… and up pops one of those hairy, pesky sake terms in Japanese. You know you have heard it many times, but dammit, you just cannot remember what it means now…
No problem! Just whip out your iPhone or iPod and fire up your trusty old version of The Sake Dictionary. In a matter of seconds, you'll be amongst the cognoscenti once again. But… if only you could pronounce it properly. Now that would really rock!
Done! Just tap on the term and you will hear a clear example of how to pronounce the term in Japanese. Repeat it a couple of times and the term is yours for eternity, to toss about and impress your mates.
What's more, it's less! Less than what it cost before, much less. Like less than one-seventh less. For a limited time only, the audio-enhanced version of The Sake Dictionary iPhone app is available for a mere $0.99.

The Sake Dictionary is a concise little package of all the terms you might ever come across when dealing with sake. Almost 200 of them - including sake grades, rice variety names, seasonal sake terms, special varieties, rare types, post-brewing processing words and the myriad terms used in sake production - many of which are not even familiar to the average Japanese person on the street - are listed up here with concise, useful and clear definitions and the written Japanese version as well. And now, with the new audio component, you can listen and learn just how to pronounce those terms properly.

Start to toss around Japanese sake terms like you were raised knowing them! Gain a level of familiarity hitherto unimaginable! Avoid frustrating paralysis when faced with a sake-related purchase!

Get your copy of The Sake Dictionary now and never be confused by sake terms - or how to pronounce them - again.

Get it here: http://itunes.com/apps/sakedictionary

(Note if you have already purchased it, this upgrade to the audio version is free. Just go to iTunes and get it!) 
Are you not getting this newsletter? I realize that is like asking that
"those not present please raise your hand," but for future reference, should you spontaneously stop receiving this newsletter, please go here and sign up again. Should that not work, please go to www.sake-world.com.

Email newsletter services are very careful not to be considered spam enablers, but the problem is that often very valid email addresses come back bounced as invalid. It is an unavoidable problem. So if you or someone you know is not getting this, or stop(s) receiving it inexplicably, please do take a moment to double check that you are still subscribed.

Sincere apologies for the hassle, mixed with gratitude for reading this newsletter.
I hope you have found the above information helpful and entertaining. For more information about all things sake, please check out

www.sake-world.com

. Until next month, warm regards, and enjoy your sake.


Questions and comments should be directed to John Gauntner, at this 
email address.

All material Copyright, John Gauntner & Sake World Inc.

Regards,
John Gauntner
Sake World, Inc.