Year-end Greetings,  


The traditional name for December in the old Japanese calendar was "Shiwasu," the characters for which mean "teacher" and "run," implying that things get so busy at the end of the year that even the teacher is running around. As we enter the shiwasu season, I hope you have ample serenity and good sake. The second begets the first!

Expecting that many of us are busy this time of the year, this month's newsletter is bit shorter and more light-hearted than usual. Kampai to that! 

Please enjoy the newsletter, and happy holidays to all readers. Sake is a a great accompaniment to all things festive, so be sure to stock up! 

John                         

                 ~~~~~~~~~~~~~~~~~~~~~~~~~~~~~~~~~~~~~~~


Sake Today Issue #7 has shipped! 
Issue #7 of Sake Today has shipped and is available. This is, by far, the slickest, most attractive, and most content-rich issue yet. Kimoto sake, Fukushima Sake, New York Sushi & Sake, and articles on two breweries, Daishichi and Sohku - and more.  

If you are a subscriber, thank you, and look for it soon. Did you just renew that subscription? You should have received it. Not yet a subscriber? You can take care of that here, Why miss out on sake awesomeness?

Like all issues of Sake Today, this one as well is packed with sake information on many levels, with something for everyone interested in sake. And take note of our packages: You can order any single issue, any permutation of issues,  or even all seven in a package - and/or  subscribe.

The digital version for your e-reader is ready for download too, and that includes iTunes. You can a lso view some content online as well. So check out sake-today.com now - and keep current on all things sake.
If you subsribed to Sake Today from the beginning, first and foremost, thank you! And if you have not done so yet, now would be a great time to renew your subscription! 


Sake Confidential - Now available
Interested in sake? Pick up a copy of my book! 
Sake Confidential is a beyond-the-basics guide to the sake world, and after a short introductory chapter on all things sake, it goes into depth on many topics not usually touched upon. It is a practical and concise yet complete guide to sake idiosyncrasies, misperceptions, and controversies presented in a conversational and informal tone. Easy to read and frank, it also includes sake recommendations tied into each of the topics presented.

Read a veritable cornucopia of reviews here a New York Times brief mention here, and order from your favorite bookseller here as well. 

In the movie (and play), "A Bronx Tale," the members of a particular fraternal organization centered around their ethnicity ran a bar into which a group of members of another fraternal organization, this one centered on their preference for two-wheeled vehicles, attempted to enter.


"It's a private club," they were told. "You have to leave, you have to leave."
"But we want nothing more than to have a drink in your fine establishment, sir. We mean to cause no trouble," came the response.

"Fine," they were told by the semi-philosophical owner. "You are free to have a drink."

Well, not five seconds after getting beer in hand, the bar exploded into pandemonium, with the bikers shaking and shooting their beer and creating
every kind of ruckus imaginable. At which point the head wise guy shuts the door ominously, looks around the room, and says, "Now youse can't leave."
Immediately, a dozen of club-wielding affiliate members poured out of the back room and exacted justice.

"Now youse can't leave." The movie, as good as it was, has been relegated to the attics of my mind, save for that one line. "Now youse can't leave." And so it is with some of my sake.

Backing gingerly back into the realm of sake-talk, we are often told "the rules" of sake care and such, but it is very important to remember that in the world of sake there are countless exceptions to every rule. One of those is the rule of drinking your sake young. Sure, it is true that almost all sake is meant to be consumed young, and that traditionally and historically it has always been done so (again, with some exceptions notwithstanding).

Of course, all this naturally leads to questions relating to how young is still young enough, or conversely stated, how old is too old? In actuality, there is no simple answer, which is why following the "younger is better, don't mess around with aging sake at home" philosophy is best at first. But the ultimate truth is a bit higher than that.

The fact is that well matured sake can be very interesting, if you are into it, if you are open minded about what constitutes good, and if you have a sense of humor (for those inevitable mis-judgements).

There are several vaults for sake in my office, some cold, some not. Over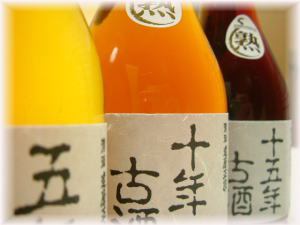 the course of time, the nature of my work dictates that many a bottle finds its way to me. Try as I might (and oh, I do try), I cannot drink them all in a timely manner. So I often find myself peering into a three-level storage bin six bottles deep and as many wide, pondering what has to go next. And inevitably, I will find one or two that I feel should be tasted soon or they could potentially begin that long, slow, downhill slide.

But one of the great joys of this process is to find one or two that definitely should have been consumed a couple of months earlier. And if I think they can stand up to it, I look at 'em and say with a forced sinister smile, "Now youse can't leave." And I deliberately lay them down for months or more, knowing full well the risk I am taking in doing so. Sometimes I am pleased with the results; other times I just tell myself that I am.

My point is decidedly not to suggest you indiscriminately leave your sake laying around. Rather, I simply want to point out that the world of aged sake does in fact exist. While it may be a small percentage of all sake made, and while few brewers make it, and even fewer apply an organized approach to producing it regularly, it can be a fascinating part of the sake world.

Aged sake is not unequivocally better, nor any more special, and in general only commands slightly higher prices. It is not really collectible and does not increase with value. And like most of us, it does not much resemble what it was in its youth. However, aged sake is in fact very interesting and worth checking out whenever you might come across it.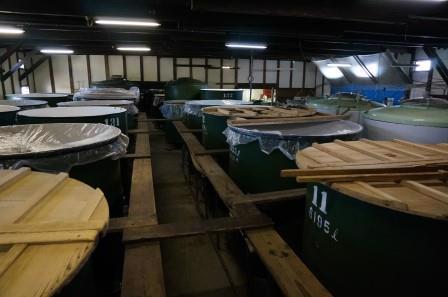 Should you come across an aged sake, by all means try it. Should you find one that has been forgotten, or one to which you did not get around to drinking after purchasing it years ago, do not despair! Lower your expectations, raise your sense of humor, and try it. You may be very pleased with the results, and if not, you have gained a useful education on how sake ages.

Such are the idiosyncrasies of the sometimes frustrating, often-times interesting, always one-step-ahead-of-human-intellect world of sake.
This kind of vagueness does not stop at aging sake; it keeps us all guessing at every step. After a certain period of time, after crossing a vague threshold of sake understanding, we become so interested in sake's intricacies and exceptions that even if we wanted to stop studying it, we find we cannot.

This is the point in time when sake itself looks us all in the eye and says, "Now youse can't leave."
Announcements and Events

Sake Professional Course in Japan & the US

The next Sake Professional Course in Japan, scheduled for January 18 to 22, 2016, is full, thanks to worldwide sake popularity. I am planning to do yet another one in either Boston or Chicago in either March or April. If you are comfortable with that vagueness and also have the requisite interest please do send me an email to that purport. 


More information about the courses is available here, and testimonials from graduates can be perused here as well. The three-day courses wrap up with Sake Education Council supported testing for the Certified Sake Professional (CSP) certification. If you are interested in making a reservation for a future course, or if you have any questions not answered via the link above, by all means please feel free to contact me. 
 
                               ~~~~~~~~~~~~~~~~~~~~


Sake Education Council Website
Please take a moment to check out the website for the Sake Education Council, the organization behind the Certified Sake Professional and Advanced Sake Professional certifications. We plan to grow steadily, strongly and continually, and we will need the support of all those that love sake to do so. Follow us through the "usual suspects" of social media.

Don't forget the archives!


Older editions of this newsletter are archived

here

.
Sake Education Central

Sake's Hidden Stories and The Sake Notebook are now available for the Kindle, Nook and iBooks!

The Sake Notebook is now available for the Kindle as well as the Nook. And now, it is available for iBooks on iTunes as well!

Sake's Hidden Stories too is now availabe on the Kindle as well as the Nook. And now, it is available for iBooks on iTunes as well!

Both are less expensive than their original pdf version too. Now is your chance to learn more about sake from your phone or tablet! Check 'em out!
Sake Dictionary App for the iPhone, iPod and iPad

"For 99 cents, this app ROCKS!!"
     -a satisfied customer

There you are, perusing a menu, or standing in front of a shelf of great sake, or perhaps reading a sake newsletter… and up pops one of those hairy, pesky sake terms in Japanese. You know you have heard it many times, but dammit, you just cannot remember what it means now…
No problem! Just whip out your iPhone or iPod and fire up your trusty old version of The Sake Dictionary. In a matter of seconds, you'll be amongst the cognoscenti once again. But… if only you could pronounce it properly. Now that would really rock!
Done! Just tap on the term and you will hear a clear example of how to pronounce the term in Japanese. Repeat it a couple of times and the term is yours for eternity, to toss about and impress your mates.
What's more, it's less! Less than what it cost before, much less. Like less than one-seventh less. For a limited time only, the audio-enhanced version of The Sake Dictionary iPhone app is available for a mere $0.99.

The Sake Dictionary is a concise little package of all the terms you might ever come across when dealing with sake. Almost 200 of them - including sake grades, rice variety names, seasonal sake terms, special varieties, rare types, post-brewing processing words and the myriad terms used in sake production - many of which are not even familiar to the average Japanese person on the street - are listed up here with concise, useful and clear definitions and the written Japanese version as well. And now, with the new audio component, you can listen and learn just how to pronounce those terms properly.

Start to toss around Japanese sake terms like you were raised knowing them! Gain a level of familiarity hitherto unimaginable! Avoid frustrating paralysis when faced with a sake-related purchase!

Get your copy of The Sake Dictionary now and never be confused by sake terms - or how to pronounce them - again.

Get it here: http://itunes.com/apps/sakedictionary

(Note if you have already purchased it, this upgrade to the audio version is free. Just go to iTunes and get it!) 
Are you not getting this newsletter? I realize that is like asking that
"those not present please raise your hand," but for future reference, should you spontaneously stop receiving this newsletter, please go here and sign up again. Should that not work, please go to www.sake-world.com.

Email newsletter services are very careful not to be considered spam enablers, but the problem is that often very valid email addresses come back bounced as invalid. It is an unavoidable problem. So if you or someone you know is not getting this, or stop(s) receiving it inexplicably, please do take a moment to double check that you are still subscribed.

Sincere apologies for the hassle, mixed with gratitude for reading this newsletter.
I hope you have found the above information helpful and entertaining. For more information about all things sake, please check out

www.sake-world.com

. Until next month, warm regards, and enjoy your sake.


Questions and comments should be directed to John Gauntner, at this 
email address.

All material Copyright, John Gauntner & Sake World Inc.

Regards,
John Gauntner
Sake World, Inc.